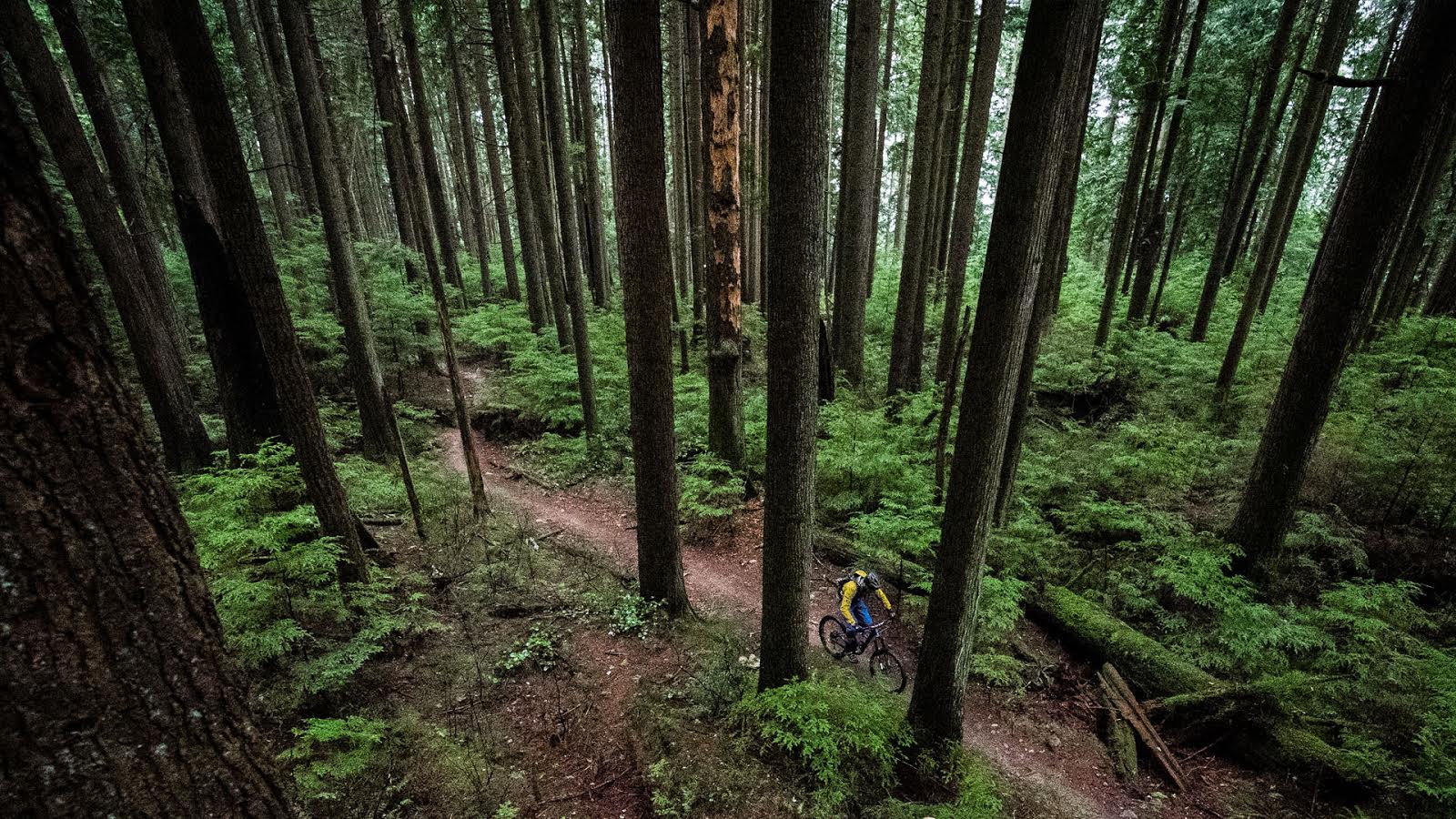 Full Circle
Last Sunday it was a group ride with some old friends and some new ones.  It really reminded me the days of old.  Meet the crew at local bike or coffee shop and ride from there… no shuttles and your bike can go up and down.  The crew consisted of Wade "The Mattress" Simmons, Arthur "Goat Legs" Gaillot, "Cammo" McRae, Andrew "Mr. Skinnie" Baker and a whole bunch of RaceFace dudes named John. 
   End of The Line coffee shop at the bottom of Fromme makes for a great meeting place.  You can either hit up Seymour or Fromme from here very easily.
The ideal bike for our journey would be a 6 and 6 but someone forgot to tell the RaceFace crew as most of them brought bigger bikes with full face helmets. Wade and Baker were on new Slayers, Cam was on a Carbon Enduro and Arthur and I were rolling our 29ers.
  My new weapon of choice for all mountain North Shore style.(note the matching trash can)  There are a lot of misconceptions about big wheels but 29 is going to be the future for XC/All Mountain. 
There was a debate on what mountain to ride as Wade wanted to ride Fromme but the snow line was low and riding in slush is not fun. Seymour was the call and Wade had a route. These "routes" usually involve a lot of bush whacking, hike a biking and "just 10 more minutes".  Be weary of riding with Wade, Lee Lau and Johnny Smoke as these old timers have the same modus operandi.
We started our journey through the Seymour Demo Forest past Twin Bridges up Bridle Trail.  Then a rocky steep climb up the powerlines.
  Arthur climbed it like it ain't no thing…  29er's roll over rocks and roots better.
  Wade is always stoked to ride and has the fitness of an XC pro.  A true "North Shore" rider does it all.
  It took some of the others a little longer to reach the top.  Everyone was happy when we started going down.
Once rested and fed, we dove in. Conditions were what Sterling Lorence dreams of…  "dank". The greens were greener than normal and a mist hovered throughout the forest. The rock was grippy but the woodwork was not…  the green algae on the cedar made it more like a skating rink.
Unfortunately Cam got the call we all hate to get… wife wants him home asap. The "it's my job" excuse didn't pan out this time. A man down we continued on our adventure.
  The gnarly optional line on the trail.  Most of the crew hit it.
    Arthur dropping in on his XC Santa Cruz Tall Boy.  No problem for a 29er.
After the said trail, we scooted over to Bottle Top and raced down to Fishermans. Everyone is amped. My best rides are always with Wade and there is no one who enjoys riding their bike more than this guy. He's travelled the world on his bike and he always says the best riding is here and I believe him.
Up Twin Bridges Trail and back to Waves Coffee in Lynn Valley for a little refreshment.
Not bad for a Sunday in January !
Cheers,
JW
---
This has been a pretty good winter for riding bikes – and this ride was a classic. Say anything here…