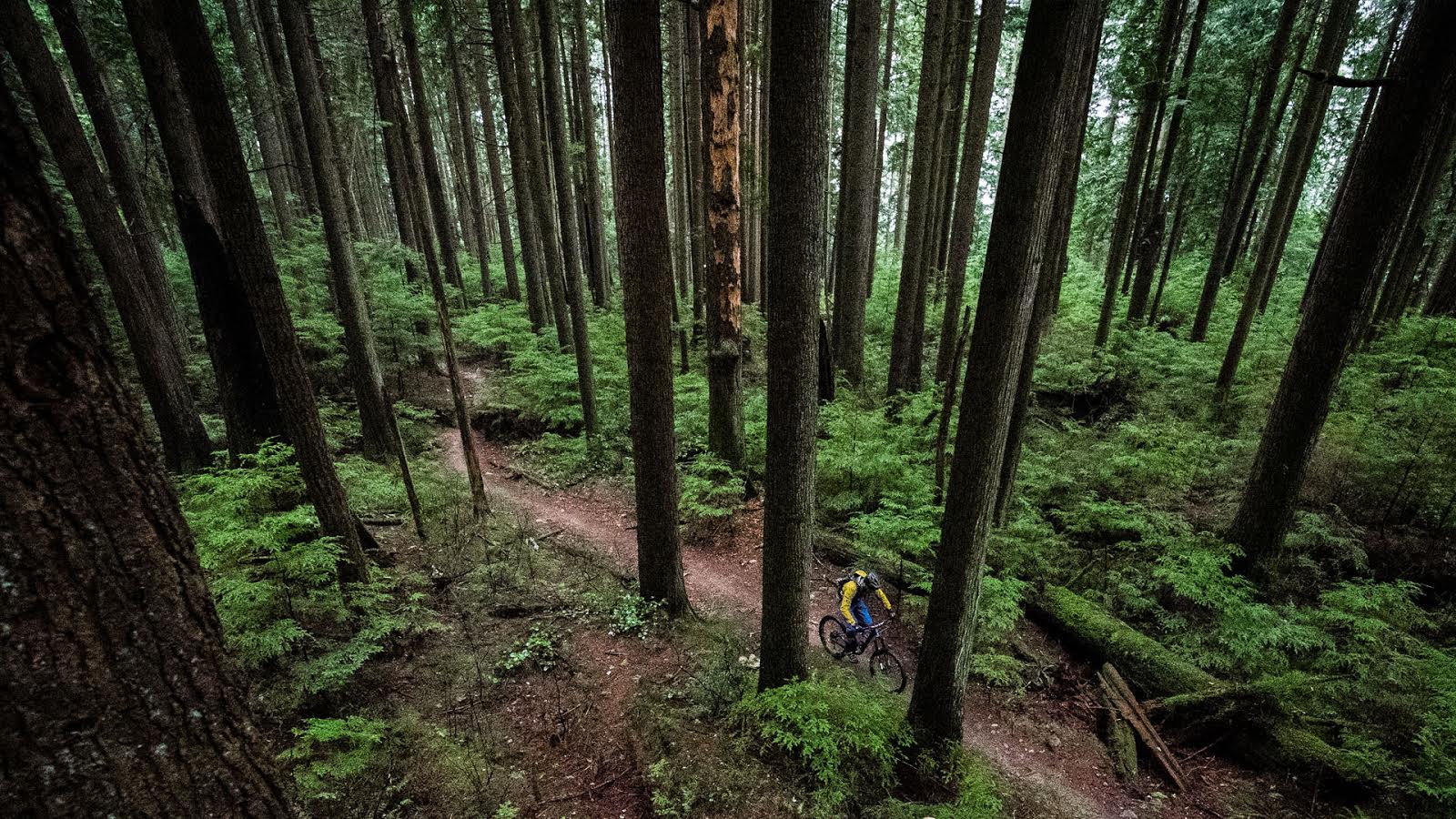 Norco's New Truax
What is a TRUAX you ask? Well, if you were to Google it you would find information on Barry Truax, an electroacoustic composer; the town of Truax, an unorganized hamlet in southern Saskatchewan; and Robert Truax, an inventor of low-cost rocket engines among other things.
But the real origin of the name stems from Mount Truax. Located in the Chilcotin mountain range of British Columbia, the rugged and beautiful scenery of this mountain provides the perfect setting for an adventure and the perfect name for the evolution of the legendary Shore bikes.
INTENDED USE
The TRUAX is designed for those riders who are just as likely to pedal up to the trailhead as they are to take a shuttle or chairlift to the top of the mountain before they dive in and revel in their descent. Seven inches of travel and a slack headtube angle make this bike right at home on the way down. Ride it everywhere, every day: jumps, ladders, berms, steep descents, park, shore … wherever you need a fast, versatile and incredibly fun bicycle.
"The TRUAX rides the line between a traditional shore bicycle, a freeride bike and a downhill bike, pulling the best from each world and essentially creating a new style of bicycle design and intended use."
The TRUAX is an evolution of the iconic Shore bicycles that Norco pioneered. The original Shores were built for and named after the fabled North Shore mountains near Vancouver, BC. This fairytale dreamland is filled with ladder bridges and skinny beams suspend- ed perilously high above the forest floor. To add to these harrow- ing stunts were drops, jumps and steep rock faces; the Shore is a place of great experimentation and pioneering which spawned new bicycles and riding styles.
As this style of riding has evolved and diversified, so too have the demands and needs of Shore-style riders on their equipment. The Shore style has grown to include long and fast descents, flowing trails, and drops, gaps and jumps with smooth transitions; most now term this riding in general as "freeride." And this is where the new TRUAX steps in.
The TRUAX rides the line between a traditional Shore bicycle, a freeride bike and a downhill bike, pulling the best from each world and essentially creating a new style of bicycle design and intended use. Just as at home on Vancouver's renowned North Shore as it is leading a pack of friends through the downhill park, the TRUAX makes short work of the climb up for those who chase self-access thrills as well. Lightweight, fast, nimble and adaptable, it is the one- for-all bike for those who tread on the side of steep, technical, good times over spandex-clad climbs.
INTEGRATED DROPOUTS
• Syntace X12 142mm x 12mm axle: stiffer, more precise than other axle design
• Integrated derailleur hanger is stronger and much stiffer than conventional designs.
• Post mount brake: Get rid of half the hardware from a normal brake and while you're at it toughen things up a bit and improve braking – done. Better braking, lighter system = more fun to ride.
• Tapered full-contact integrated gussets: Strong, light and nice to look at, these stiffen the rear end, improving riding performance.
•    Custom tapered tubing: strong and great to look at. Allows us to create lightweight tubing that is designed for specific applications while improving aesthetic appeal (like high-performance plastic surgery).
• Clevis-less pivot system (Clever Pivot Design): Having fewer welds allows us to make a stronger and lighter connection point for pivots.
Custom Hydroformd Tubing
Our tubing wasn't made in an Easy-Bake Oven – a great deal of time and technology goes into making every tube. This extra effort provides two major advantages: The first is that by using custom tubing, we can reduce weight while improving the strength of the bicycle, creating light, lively and exhilarating ride properties. The second is clean, inspired lines that lend to eye-catching aesthetics; a bicycle should look as good as it rides.
Integrated ISCG Tabs
As a part of the bottom bracket, the integrated ISCG tabs create a super strong connection point for chainguides.
Integrated Front Derailleur Mount   
To allow the front derailleur to follow a more natural path as the suspension compresses, we have integrated the front derailleur mount onto the chainstay.
Tapered Head Tube
This is a huge step forward in bicycle design that allows for three major benefits, all making the bike more exciting to ride.
The first is the design allows for larger tubing at the front end, making it stiffer and more resistant to side loading, ensuring precise steering and bicycle control. The second is it allows fork manufacturers to make a stronger crown (the piece that connects the legs of the fork to the steer tube) with no weight penalty. That means it can be stronger and more precise with no downsides – have your cake and eat it too. The third is the bearings in the lower headset cup are oversized, allowing them to be stronger and last longer.
Custom Stainless Hardware
It has been said that it is the little things that count. Our custom stainless steel hardware is designed to be both precise and easy on the eyes.
Asymmetrical Chainstays
The right chainstay is dropped to improve front derailleur clearance and to reduce chain slap while riding.
One-Piece Forged Link
Holloform one-piece forged link arm: The link arm is an integral connection point for full suspension bicycles. Traditional two-piece link arms tend to twist under pressure from side loading which is a problem. To remedy this perplexing kink in design the Holloform link is forged as two pieces, then CNC'd and finally welded together to create one very rigid and hearty link arm which also adds to the aesthetic attraction of the bicycle design. Super stiff and super strong = super responsive bicycle.
Integrated Seat Tube Pivot
Built right into the seat tube, it allows for fewer welds with added strength (like Popeye on a diet).


Clevis-Less Pivot System
If you were to look at a normal pivot point you would notice that the end point is connected by a piece material welded to the tube,also known as a clevis.As we take strides forward in bicycle design we found a way to do away with the traditional clevis system by producing clevis-less pivots. With fewer welds and custom tapered tubing these pivots are stiffer, stronger and lighter, giving you a better ride.
SUSPENSION
INCREASED PEDALING EffICIENCy
To combat the mortal enemy of suspension known as bob (the bouncing that occurs when pedaling), A.R.T. was designed to provide a 20% increase in chain growth. This improvement creates anti-squat forces, which effectively counter the forces that produce suspension bob. The result is an incredibly efficient power transfer that provides excellent climbing abilities for our bikes.
IMPROVED LEVERAGE RATIO CURVE
Ever notice how sometimes you can fiddle with a shock for what seems like hours, yet your suspension feels exactly the same? To remedy this, A.R.T. provides a lower and more progressive leverage ratio curve. In plain English it means that a bike with A.R.T. is easier to tune and has a bottomless feel to its suspension travel.
INCREASED SQUARE-EDGE BUMP COMPLIANCE
Square-edge bumps will slow most suspension designs down in a hurry. A.R.T., however, improves the wheel's ability to travel rearward as it travels up, allowing the wheel to move out of the way of obstacles. When put in practice it provides a smoother, faster ride over rough and varied terrain, perfect for mountain bikes.
Improved Braking Performance
You may have heard of brake-jack before, and perhaps you've seen the interesting contraptions bolted to the rear of bicycles to mitigate braking forces. With A.R.T. the rearward axle path allows the suspension to remain incredibly active under braking. The result is smooth, powerful braking with fully active suspension and a whole lot of traction when you need to slow down immediately. It's like magic, but really, it's just good engineering.
THE RIDE
There are three major benefits presented by the new TRUAX over previous Shore models: versatility, strength and precision.
VERSATILITY
A combination of excellent climbing ability with astounding prowess in the descents provides a thrilling experience for riders. With the new A.R.T. suspension the TRUAX is a much better climber than its predecessors. Combined with an uninterrupted seat tube and a lighter overall bike weight, self-access riding is now more accessible. On the descent, though, is where the TRUAX really excels: fast, nimble and light, it is at home anywhere it is pointing down. Ride it up and then point it down and repeat as necessary.
STRENGTH
The Shore style of riding is never kind to a bicycle, but our engineers have managed to make it lighter and stronger at the same time. The TRUAX is built to handle the abuse of the Shore, downhill parks or any other self – or lift-accessed descents you can find.
PRECISION
Custom tubing, integrated dropouts, a one-piece link arm and a tapered head tube make this bike incredibly stiff especially when side-loaded, like when you go through a corner. All you have to do is think about where you want the bike to go and it will go there. The TRUAX is responsive, nimble and playful, not to mention wickedly quick. This bike is guaranteed to put a smile on your face.
---
This may be the nicest bike Norco has ever made. Love the clean look. Any guesses about the weight? Let us know what you think
here…