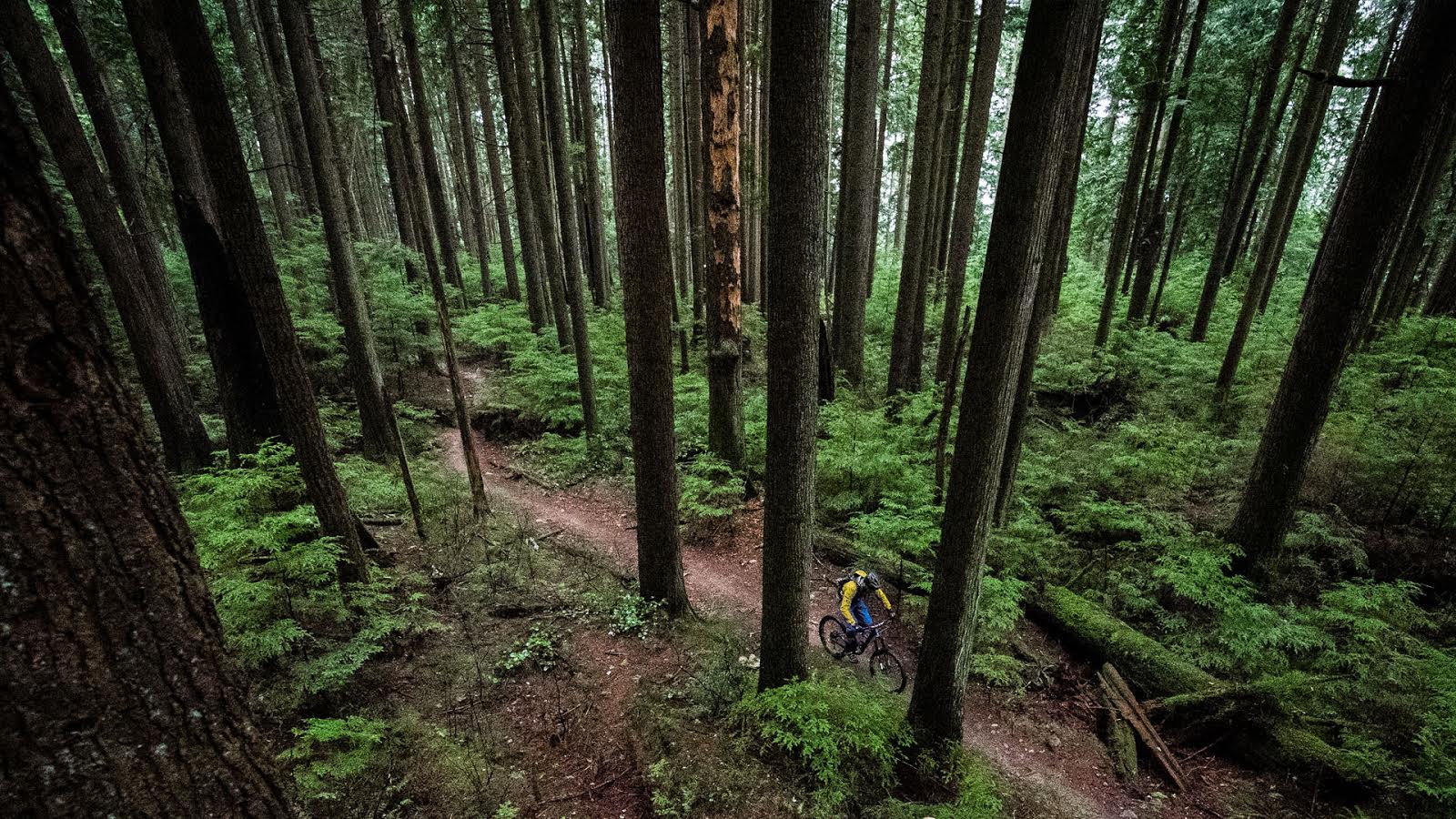 Thomas Vanderham Interview 2011
When you look at Rocky Mountain's current rider line up you realize they didn't bring Thomas on because of any gaps in their roster.  With Gully riding slopestyle events and peforming well at Rampage – and getting into some big films those angles were covered.  And nobody has a better pedigree or fan support than Wade Simmons – and he can still lay a silky line down just about any trail in the world.  And let's not forget the return of Brett Tippie.
So what sets Thomas apart?  Again I asked Pete Roggeman for his perspective: "Thomas is unique in several ways. Everyone knows about his big mountain chops, but he's one of the few guys of his ilk that can also hold his own on the race course. Some racers have found success at freeride events, but it doesn't happen in the other direction very often. He also brings a level of professionalism and experience that are rare for a guy who is younger than most people think – mostly because he's already been riding as a pro for a decade, but it's also a key part of his personality. Five minutes talking to him would make it obvious that he is confident forging his own path. In an industry full of me-tooism, that is refreshing."
And he doesn't even have to wear an afro.
Here's part II with one of freeriding's true originals.
In case you missed part I it's here…
---
nsmb – With some big releases in 2010 is there going to be a bit of a movie drought in 2011?
Thomas Vanderham – I'm going to be filming in 2011 but it probably won't be coming out until 2012.  It could be perceived as a drought but I'll be working hard. 
nsmb – Who will you be working with?  Can you tell me?
TV – I think so.  I'll be working with Anthill on another project – yet untitled – which is exciting because they're good guys and I enjoy working with them. And I'm also going to be working with the Coastal Crew on a couple of projects.

  Getting sideways on the Shore.  Screencap from Follow Me. Thomas will be working with Anthill again in 2011.
nsmb – You talked about your racing earlier on.  Do you have some racing planned this year?
TV – That's to be determined. My schedule allowed for it last year. Any chance I have to do a top end race like that I'm going to take it because it's a lot of fun and I think just for your skills there's really nothing better than pushing yourself that way. It's pretty intense to jump in behind some of those guys on a World Cup track and try and keep up.  I think it's really good for me at least. And I also feel it validates the segments in the movies. Riding with Sam or some of these guys. Some of these guys maybe perceived freeriders as maybe not able to race so maybe if I can bring a little validation to that that's good.
nsmb – You were talking about your brother Ryan earlier.  It seemed like he was around and then he disappeared for awhile and now he's back. 
TV – He made a real effort this year to make a season of it with racing and I was able to travel with him a lot.  We drove to Nationals together at Panorama and he's a guy who's really talented but hadn't had any results before last year and he blew me away at Nationals. He crashed in qualifying was back at 35th. I was riding the lift to go up and do my run and because he qualified so late I saw him at the most technical part of the track coming down and he was flying. I was blown away and by the time I did my run I knocked him off the hot seat by half a second or something. I was so impressed for him – he finished fifth a great result and we were together on the podium and he took the momentum from that to Windham to the World Cup and he qualified – top 80 which is really hard to do. He had a good year.  Hopefully he can build on it and see what he can do for next year.
nsmb – Riders who aren't sponsored think they know all about the upsides of sponsorship like free bikes and traveling to cool places.  What are some of the upsides that we might not know about. 

  Thomas' younger brother Ryan – shown here in Canadian National Team Colours – will also be riding a Rocky Mountain frame in 2011.
TV – Some of the upsides? Hmm. Good question. I mean it's definitely a great job. I love it every day. Traveling, meeting great people. I think one of the things I've learned over my career is the effect the movies and magazines and photos have on people and traveling to these tiny places – last year I traveled to Indonesia and Japan – places I'd never been and you don't really think of being into mountain biking and they've seen all the movies and they are big fans. It's a trip. For me that just blows me away. You don't think about it here in North Van – there's pros everywhere.  Otherwise meeting lots of people in the industry and learning how it all works is something I've really enjoyed.
nsmb – What are some of the downsides?
TV – Some of the downsides are injuries. It's a very dangerous sport. It's part of the job. I don't think you can necessarily call it a downside when you are a professional mountain biker that's something you're getting into. It does suck though when you're laid up though. And I don't ride 12 months of the year like I used to when I was a kid. I think taking a couple of months off a year is important to me to keep the stoke going.  As a kid growing up you ride the days you want to ride but as a professional you're forced to ride some days when you don't want to and you can get a little burnt out. It loses its sparkle. That's why taking a couple of months off is really important to me.

  I had never seen a scrub on a mountain bike until I saw Thomas pull one.  Screencap from Life Cycles.
nsmb – So how long do you stay off?
TV – I probably do a month and a half not touching the bike. Just do other things and get my exercise other ways.
nsmb – Have you had any awkward moments with fans?
TV – (Laughs)  Sure I've had a couple. I've been asked to sign a baby before.  One girl told me my name was her boyfriend's password for everything – email and everything – he uses Vanderham as a password.  Awkward?  There've been some but nothing comes to mind right now.
nsmb – But nothing really negative?
TV – Oh no.  Nothing bad.
nsmb – We've talked a little about your off season.  What are some of the things you do off the bike.
TV – Well I grew up playing all the sports. I've really tried to keep that going. I play on a soccer team all winter.  I play hockey, I ski. I still try and play some basketball. And I golf a lot. Those are some sports I try to keep going.
nsmb – Do you have some plans to hit some warm vacation spots this winter?
TV – Not yet. If I do I'll be taking my clubs.

  All geared up to shoot with Dylan Dunkerton on the Sunshine Coast. Photo ~ Sterling Lorence.
nsmb – For racers and slopestyle riders or dirt jumpers they can have really tangible goals for their training but for riders like you who make a living riding in movies and getting photos taken it's not the same.  How do you stay motivated to stay on top of your skills?
TV – Training wise I didn't start training until I hurt myself the first time. I didn't go to the gym – I really didn't train very much. The first time I hurt myself I rehabbed from it really well and really hard and I got the bug a little bit  And I realized if I want to stay healthy in the future I was going to have to be in the best shape possible. So when I train now injury prevention is the main thing I think and the added benefits of riding better, feeling stronger. In terms of specific goals. Otherwise I'm in a unique situation being technically a film only athlete. I think for me it's more of the creative side of it. I really enjoy that, trying to come up with new segments, new locations, new terrain to rider your bike down. I think that's the progression for me. 
nsmb – In terms of goals as a rider – obviously you've got some signature moves that lots of guys try and emulate – your whip or your suicide no hander.  Do you focus on learning new tricks?  Are there things you'd like to do that you don't do now?
TV – I don't put a tonne of focus into that. I sort of take it as it comes. If I have something in my mind I'm really motivated to do I may step out and learn it. Specifically though I never planned on having a signature move. It just sort of happened. It's still another thing that trips me out.
nsmb – The Whip specifically?
TV – For sure. The whip. Maybe because I was one of the first guys doing it. Now there's lots of guys doing it and doing it really well. It's become a move in mountain biking that people really like.  

  Another vintage shot of Vanderham – showing his emerging style at just 16 years of age.  Photo ~ Cam McRae
nsmb – Are there things to accomplish as a rider that you haven't accomplished yet? 
TV – I hope so. Specifically no – competition-wise when I go out and compete at something like Rampage I want to do my best but I'm not really, really driving to win it. It would be nice. That's something that I haven't done yet so that would be something. I think the main thing for me is expanding on what I said earlier just the influence that I'm realizing as I get deeper in my career and not everyone has that opportunity. 
nsmb – Let's move away from riding questions for a minute.  Where would you take someone for a dinner out in Vancouver? 
TV – Good question! Some nice restaurant downtown. Gotham Steakhouse, The Italian Kitchen or maybe Chambar.
nsmb – It's nice to get out of North Van. What's the best movie you've seen lately?
TV – I love sports documentaries. I love watching 30 for 30 on ESPN – all of those. I saw one on Vince Lombardi recently. 24/7 was unreal. That was spectacular – really cool to see. I love HBO, Boardwalk Empire. I think the best one I've seen lately was The Two Escobars.  It was about the Colombian soccer team and the drug money influence on the team. They went to the World Cup in the US that year as the number one contender and failed. The captain of the team was killed when they got home.  That was really interesting.
nsmb – I know you come from a literary family. Are you a reader.
TV – I do read. Mostly non-fiction. I like biographies. Right now I'm reading a book called Shantaram. Pretty interesting so far. About a guy who escapes from prison and goes to India. It's a great book.

  Inspecting the new sled. Photo ~ Sterling Lorence.
nsmb – Back to bikes. There have been some massive changes at Rocky Mountain since you left.  Did that make it an easier decision to return?
TV – Definitely. When I left Rocky I wouldn't say things were bad. We left on good terms and stayed in good contact.  This is a small industry so you know everyone. I got to know the new guys well and a lot of faces changed so when it came time to potentially work with them again I was excited about it.
nsmb – Can you tell me how the first contact happened?
TV – I don't quite remember actually. I remember we had parted ways before Seasons came out and it was well received and I remember the guys at Rocky saying 'if we could ever get you back that would be cool and maybe that was the first time but that was a long time ago.
nsmb – In the video announcing your return to Rocky you are shown building your bike. How often do you do that? Would you say there is anything unique about the way you build a bike?
TV – Unlike most racers…I build my own bikes the majority of the time.  It's a treat to have a bike built for me, or even have it cleaned. I build my bike like most mechanics, maybe a little slower with more cursing.  There are some unique things about my bike set up, I am pretty picky about my suspension and cockpit setup in particular.
nsmb – What is it like being back there.
TV – It's only been a short time but it's a company that's in my backyard and a brand that I really believe in so it's been really good so far.
nsmb – What are some things you're looking for being back with a larger company as a frame sponsor. 
TV – I think just a little more international support. When I travel to places like Europe and Japan they have distributors so it's a little easier to do my job really.  
nsmb – How much time have you spent on the Flatline?
TV – I've had a handful of days on it. It feels really good. I only got to ride a proto of the original Flatline back in the day when I rode in Seasons and the bike's changed a lot since then. It's a super nimble and strong bike. I'm looking forward to working with the engineers on the next version of it. I haven't ridden the Slayer yet or anything else. The bikes are looking great.
nsmb – The program has changed as well has it not. When you left you were part of a team.
TV – Before it was a team thing but for me an individual set up works better and that's the capacity in which I'm working for Rocky now. They're my frame supplier but that's your most prominent sponsor.

  A pro doesn't forget any sponsor mentions.  Thomas does some double checking.  Photo ~ Cam McRae
nsmb – Do you have any other changes in your program?
TV – I do.  I'm riding for Fox Suspension now and a different helmet company called OGK.  They sponsor Minnaar as well. They have been great to work with as well. Those are my only two changes.  So my full sponsor list is Rocky Mountain, Shimano, Dakine, Fox Shox, Oakley, PRO, Maxxis, Troy Lee Designs pads and Acros. 
nsmb – Have you pursued Monster and Red Bull at all?
TV – I know all of those guys at both companies really well. I like seeing those guys supporting the industry but it's not something I really drive for personally. I like working with them in whatever capacity.  But I've never been a branded energy drink athlete. Not at the moment but you never know.
nsmb – They don't really have any athletes who aren't racing or doing Slopestyle.
Not really.  I know slopestyle is really big for those guys. 
nsmb – With Evil you had Steve Smith, a B.C. Boy as a teammate.  What was that like?
TV – It was awesome. Steve's a great guy he's really enthusiastic about riding and man he can ride fast. I got to ride with him all over the world and chase him down the hill.  He's really Canada's hope on the scene right now. I wish him the best of luck. He's got big things in his future.  Hopefully it goes well for him in the future.
nsmb – Back on Rocky Mountain you are going to be spending time with Wade and Gully – guys you know well. What are you looking forward to about that?
TV – Me and Wade have known each other for years, we're good friends.  Hopefully I'll get to do some travelling with him and Gully as well.  I've known Gully for a long time. I like riding with him – we ride together a fair amount. They're both just real mountain bikers and that's what the team is built around now. Rocky's shown real support to freeriding and it's Rocky's roots.
---
And that's a wrap. Did I miss anything? Say what you've got to say here…