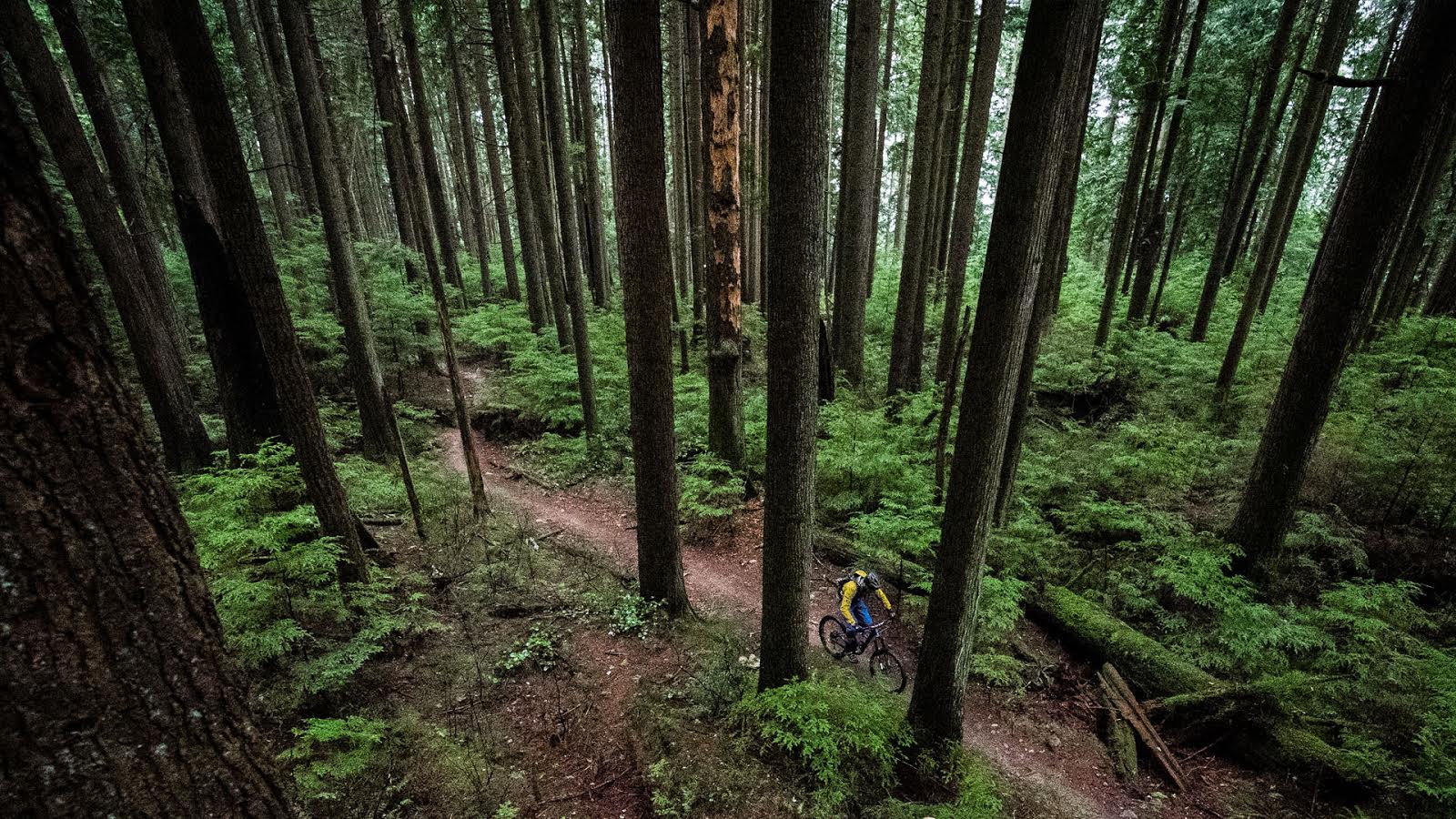 Lorraine Blancher interview
Chris Winter – Where are you based during the year? You seem to move around a bit from what I can tell.
Lorraine Blancher – Most of the year I live in Revelstoke, BC – a.k.a. the coolest, all-season, under the radar mountain town. It's where I own a home, and is my favorite place to come back to after any life adventure. I love it. Summer is usually spent crashing at my big brother's in Whistler, though (he has an amazing girlfriend who lets me stay for many extended trips!). I feel fortunate to be able to divide the majority of my time between two of the greatest mountain towns in BC (when you add in my Dad, who lives up at Silver Star, I feel like one lucky BC girl).

  Testing the Utah dirt. Day I, with the STUND Crew in Green River Utah.  Photo ~ Sven Martin

CW – What is your biggest accomplishment in mountain biking?

Lorraine Blancher – Biggest?!? Over the years I have accomplished some pretty cool things: Crankworx Gala Champ, National DH Champ, World Master DH Champ. I think the biggest accomplishment for me though, was being a feature rider with the STUND crew in a Decline article last April with writer/photographer Sven Martin. It was an honor to be a part of the rider mix, have the editor choose many of my shots, and be a female.
CW – What does mountain biking need to do to get more women in the sport?
Lorraine Blancher – I think if more women saw more women in the media – in magazine articles, ads, film, etc. – it would make the sport more friendly and approachable. There are tons of ladies Mtb camps, clinics and organized rides; the industry has made women's clothing, shoes, bikes, etc. It's out there and women are coming.  I coached a few of Whistler's Ladies nights and could not believe the turnout, and same goes for the demand for all-ladies mtb camps. Now, to get even more women into the sport, we need to put inspiring girl images in the media and give them a bigger role, like in the ski world. There are amazing women in mountain biking doing inspiring things: progressing, doing cool lines, sending it – and not just for a woman, but for anyone. Other women need to see that too.  

  Finding fun natural drops till the sun set.  Photo ~ Sven Martin
CW – What are a few things that you do in training that are keys to your success?
Lorraine Blancher – Core stability is HUGE for me.  I love "playing" – working on my core strength and body balance.  I also love stretching and yoga, and use the gym for strength. It all helps. I think just being mindful of your goals when doing other sports helps too. The years I spend time on my Moto, the faster I am. Doing progressive lines and big drops on my board (and now skis) keeps my perspective for what I consider BIG.
 
CW – What would be your ultimate achievement on your bike?
Lorraine Blancher – There are so many good goals and dreams, but if I could make anything happen, my all-time achievement would be getting sent on the Bike Magazine Trip of the Year. It would be amazing to go to a remote country that hasn't been covered, full of culture and amazing trails, to bring back sweet biking images that would inspire any rider to a) go there, and b) want to be better on their bike. 
 
CW – What is your biggest challenge and what do you do to manage this challenge?
Lorraine Blancher – Right now, my biggest challenge is balancing all the cool things to do in life with all the mandatory chores. There are some things that just need to be done and I sometimes have a hard time saying no to a powder day or epic ride…take this article, for example! I wish it wasn't late!

  Sampling some of Green River Utah's Big Terrain with a perfect hip jump. Photo ~ Sven Martin
CW – How do you define epic?
Lorraine Blancher – Epic for me is a little more positive than a dictionary. It's big, you have to work for it, and it involves drive, perseverance and determination to complete. It might not always be fun during the entire process, but when you are finished and many times throughout, there is a big ass smile found on every face.
CW – You've got a ton of experience coaching and leading mountain biking; what do you like most about being a teacher on your bike?
Lorraine Blancher – I love how a few key words can totally revolutionize the way someone experiences flow on their bike.  Pointing out a few key things to make them more balanced and seeing how those words elevate their riding experience brings a smile to my face. I love biking and if I can help make someone better at it, sweet!
 
CW – What's the best advice that you were ever given?
Lorraine Blancher – Keep positive, no matter how negative the situation seems.  If you spend all your time thinking about how bad it is, you miss out on all the good.
CW – Where do you draw your inspiration from?
Lorraine Blancher – Other riders and friends living their dream. I live in a town packed with phenomenal and inspiring people, ruling it at the top of their game. They inspire me to be better person and dream big. In turn, I hope how I live inspires their world.  

  t's easy to find flow in a place like this – for Lorraine at least. Photo ~ Sven Martin
CW – How many times in the last year have you been to see a physician? And why?
Lorraine Blancher – I have been riding my bike and pushing my ability (in many sports) for years and I love the fact that I have no broken bones. I say that to inspire young rippers pushing it (and to keep them safe), not jinx myself.   I don't want to be hurt and spend time on the bench. It sucks. Last year saw my first major injury and it was tough. At the Crankworx Gala I completely blew apart my knee: ACL, MCL, medial and lateral meniscus, and the kicker was a 2.5 cm lesion, a.k.a. a "pothole" in the bottom of my femur. It was so bad that there was no way I could function without major reconstruction surgery.  The rest of the year was prehab, surgery, rehab and then a devastating re-tear. After a winter of healing, I got too excited and forgot to wear a brace kite boarding in Maui; I blindly stepped into an off-camber hole while walking with my kite and pop! I was devastated.  It set me back a couple months, but thankfully it is only an ACL. Surgery can wait for a few years and until then, it's all the biking and skiing I want! Advanced technology and modern science is amazing.
CW – Do you have a single favorite ride of all time? If so, tell us about it.
Lorraine Blancher – There are so many amazing rides, but fun, flowy lines with lots of jumping are still my ultimate. There is nothing like spending a seemingly-endless summer day sending big jump lap after jump lap with a great cast of friends. But for all-time favorites rides so far would be a tie between the sweet, semi-secret local 6000 foot heli drop in Revelstoke or the uber fun and flowy 11000 foot singletrack descent in Olleros in Peru – big, long, flowy descents.

  The ultimate Natural Double, this feature was meant to jumped. Photo ~ Sven Martin
CW – You're guiding a trip in Costa Rica with Big Mountain next February; tell me how you're feeling about this?
Lorraine Blancher – It feels like a dream!!!  This is another ultimate bike accomplishment and dream come true.  Wade Simmons usually guides the trip with Paulo and raves about it!  I had beer with the two of them this summer (before this opportunity was a possibility) and hearing they way they talked about the trails and the experience, I wanted to go.  It's like winning the lottery in my world. I can't wait!
CW – What do you look forward to most about being in Costa Rica with your DH bike and new friends?
Lorraine Blancher – Experiencing the blend of great trails, local culture and a unique experience…all with my bike!  I think starting the day with a locally-grown coffee, loading up the trucks to ride some exciting DH trails, blasting down a  Costa Rican mountain and ending it with a few beers and great conversation with other passionate riders sounds pretty gem.  How cool will that mid winter experience be?!? 
---
Have you ridden with Lorraine?  Would you like to?  If so head to Costa Rica with Big Mountain Adventures for their Pura Vida trip – There are a few spots available for both the Feb. 18th and Feb 26th departures.
Is there a female freerider who shreds harder than Lorraine?  These photos suggest there isn't – but opinions are welcome here…