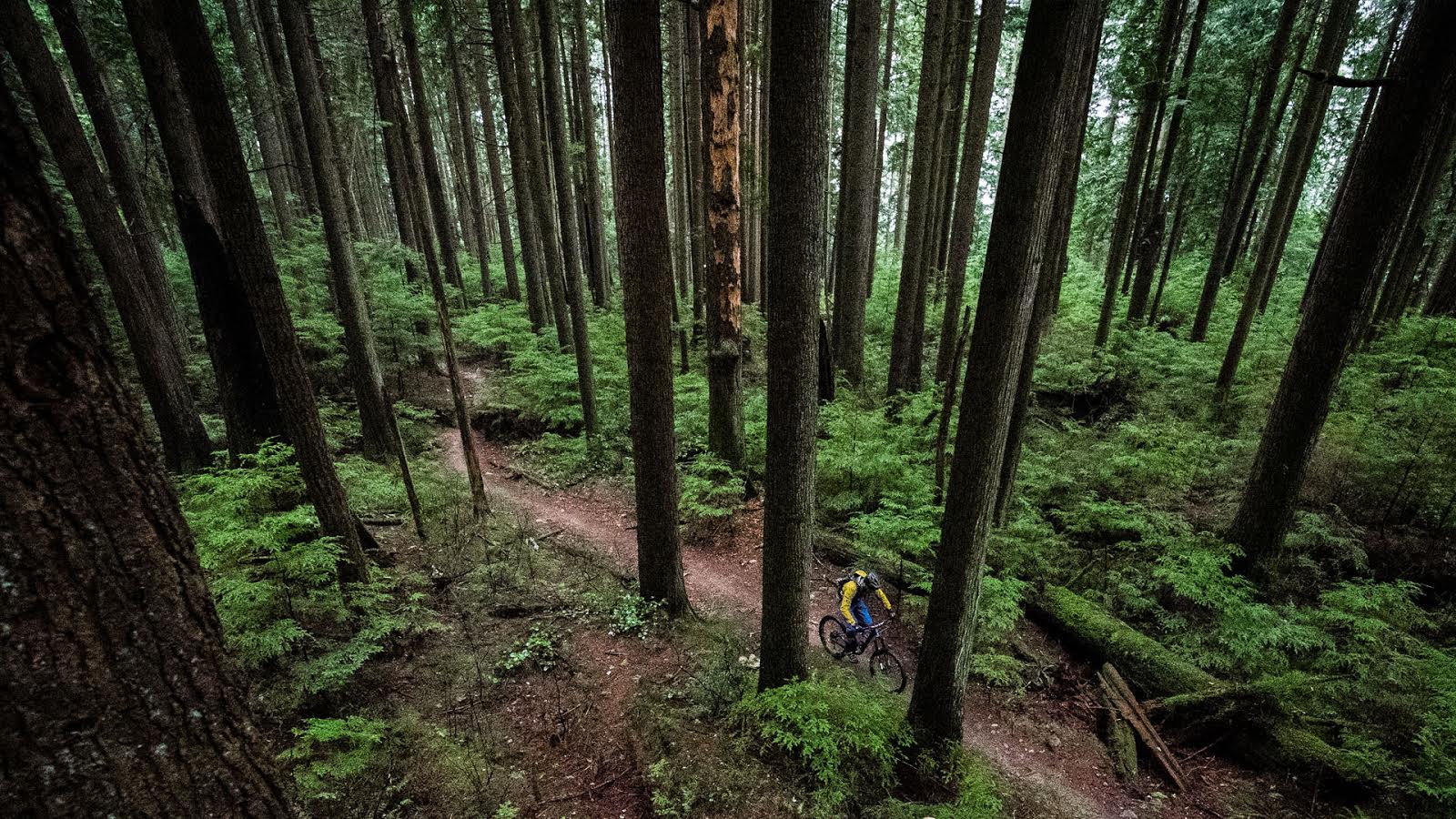 GT Bikes for 2011
If you're looking for a brand with a long history you can't get much deeper than GT Bicycles, founded in 1979. Nicolas Vouilloz, Julia Furtado, Steve Peat, Eric Carter, Brian Lopes, among many others, have called GT home at points in their careers, and they brought home countless World Cup and World Championship titles. Mick Hannah and Marc Beaumont have been handed the reigns the past couple of years, and with a number of podiums in the past couple seasons they are living up to their talent and promise, as well as the legacy left before them.
GT has been working hard, both on the racecourse and in the office, to regain the ground that was lost nearly 10 years ago when they went bankrupt after a 1998 merger with Schwinn failed to sustain the brand. Pacific Cycle acquired the two shortly thereafter, but that too ended with GT being sold in 2004 to Dorel Industries, who also own Mongoose, Schwinn, Cannondale, and more recently, Iron Horse.
   The mountains of Les Duex Alpes are as scenic as they come. Peaks reaching nearly 3600m with deep valleys, and lifts and trails running in every direction. This was the home of GT's 2011 product launch. P: Todd Hellinga
The mergers were not kind to the company, with their former glory team decimated, the brand focused on the low to mid end, and their reputation suffered. Having spent the years since the Dorel acquisition in a kind of mountain bike purgatory, with riders new to the scene not fully understanding the pedigree of the brand, and existing riders still with lingering memories of the gutting of the former glory brand, GT is aggressively seeking to re-establish itself as one of the industry's leading brands.
  Senior product manager Todd Seplavy has brought his expertise and passion to some impressive brands over the past few years; Iron Horse, Mountain Cycle, Specialized, and Evil have all benefited from his drive and industry knowledge. Now GT is tapping in and hopes to reap the same benefits. Here Todd rips the All-Mountain class Sanction on one of Les Duex Alpes lesser known, rock-filled gems. P: Todd Hellinga
Knowing that they have their work cut out for them in a market that is packed with quality offerings from nearly every brand, GT has decided to focus their energy on streamlining their line-up, producing proven technologies (Triple Triangle/I-Drive), in a wide range of models. GT has committed themselves to building bikes that are functional and durable, and will be easily serviceable by not using any proprietary design and instead using readily available replacement parts. Carbon is used liberally throughout the line-up, but with enough aluminum to keep the carbon-leery folks satisfied as well. GT also shows a firm commitment to 29'ers with offerings in nearly every endurance model. In addition to a close attention to specs within the lineup, riders will see colour matched components, height-adjustable seatposts across the board in the all mountain line, as well as smart, proven component choices. With strong support for their world cup athletes, who are once again proving the brands merit against the worlds best, and close attention to the details that entice buyers to their bikes, GT is positioning themselves well for a resurgence towards those former glory days.
   Almost every running chairlift in France has hooks installed for bikes, and yes, it's as amazing as it sounds! Here the Sanction hangs out on the way to the top. P: Todd Hellinga
Highlights – Monocoque Aluminum Frame, Tapered Headtube, Maxle Rear Axle, Height Adjustable Seatposts
Specs (medium) – 150mm Travel, 66 degree Head Angle, 16.96" Chainstay, 13.94" BB Height, 44.93" Wheel Base
Models – 1.0/2.0
In an attempt to add value on the front end to the consumer, GT is also offering out of the box custom style with their new "Indy Spec" component offerings. This option sees custom style component choices out of the box on selected models throughout the line-up. This allows the buyer to get a bit of an up-spec on selected choice parts, with the added benefit that OEM pricing allows. Additionally the line-up sees a lot of colour coordination out of the box, and love it or hate it, we've all seen this trend in how people are choosing to part their rigs. Most models in the line-up will see colour matching on cranks, seatpost collars, seats, stems, and in some cases wheels and seatposts. Combined with bold, eye-catching graphics, GT is really trying hard for you to notice them again. While the past few years GT's have tended to blend in and go unnoticed, it's safe to say that that is not going to be the case anymore.
  P: Todd Hellinga
Highlights – FOC Carbon or Monocoque Aluminum Frame, Tapered Headtube, Height Adjustable Seatposts
Specs (medium) – 150mm Travel, 69 degree Head Angle, 16.96" Chainstay, 13.66" BB Height, 43.54" Wheel Base
Models – Carbon (Team/Pro/Exp/Spt), Alloy 1.0/2.0/3.0
   The Force may be GT's sleeper model of the year. Of the bikes I sampled this was my favourite; Easy pedalling, with the big hit capabilities of the high pivot in the rough stuff, the I-drive suspension minimizing pedal feedback and allowing one to pedal through rougher sections of trail with ease. While I definitely appreciate the inclusion of height adjustable seatposts throughout the range, the Crank Brothers offering had issues out of the box remaining stuck down at times, this also happened with the one on the Sanction I rode. The Formula brakes also proved hard to adjust on the trail with inaccessible reach adjustment screws using standard multi-tools. Matching Avid brakes to the reliable SRAM XX drivetrain would have been a better call in my opinion. P: GT Bicycles
At this summer's press camp in Les Duez Alpes I had the opportunity to ride a few of the new bikes. The Fury Team, the Sanction, and the Force Carbon. All the models share the same i-drive suspension platform and it was good to finally spend some time on the system to see what it's all about.
   P: Todd Hellinga
Highlights – FOC Carbon Frame, 1.5" Headtube, 83mm BB, Maxle rear axle, angle-adjust headset
Specs (medium) – 211mm Travel, 65 degree Head Angle, 17.24" Chainstay, 14.02" BB Height, 45.42" Wheel Base
Models – WC/Team
   The Fury Team is a solid downhill machine, fitted with a proven and reliable parts spec (Boxxer RC, Fox Vanilla RC, Maxxis minion f's, SRAM X9, etc). This is a bike that felt comfortable from the moment I threw a leg over it, just point and shoot; jumping, cornering, and gnarly rough rocky sections, it just felt spot on without any bizarre handling traits to throw one off. Having spent more than a few years on a Balfa BB7, it was nice to enjoy the big hit bump absorption of a high pivot design again, combined with a floating drivetrain which prevented the chain growth usually associated with high-pivot designs. The carbon frame did not lack for strength or stiffness either. P: Todd Hellinga
I must say that overall I enjoyed the way the i-drive suspended bikes rode. Caleb Smith from the very fine Spoke Magazine in New Zealand had been in town a few days longer than the rest of us and shared a gem of a trail with a couple of us. A circuitous route led us out away from town and down to another village. The upper portion of the trail was littered with sharp rocks, loose babyheads, and tight corners with lots of stepped drops. Riding the Fury through this mess of rocks, trying their best to reach out and grate you down into them, I was impressed with how smooth and forgiving the ride was. The carbon frame does a wonderful job of damping out the trail vibrations and the rear suspension tracked the surface quite well without any untoward characteristics. The thing I noticed most about the I-Drive platform was the ability to pedal through very rough terrain. Having the drivetrain detached from the suspension action allowed for all the goodness and suppleness of a high forward pivot, without any of the weird chain growth issues which sometimes plague bikes with similar pivot locations. This trait was consistent across all categories, whether gravity, all-mountain, or endurance. Jumping from different models and categories of bike, it was nice to know what that the suspension characteristics and pedalling dynamics didn't really vary too much in the whole line up.
   If big hits and bar tricks are more your bag, the Ruckus 7 comes in singlecrown fork flavour. This bike was not light, but was clearly designed to handle some big riding. P: Todd Hellinga
Highlights – Monocoque Aluminum Frame, 1.5" Headtube, 83mm BB, 150mm rear end
Specs (medium) – 7" Travel, 66 degree Head Angle, 16.93" Chainstay, 13.94" BB Height, 44.37" Wheel Base
Models – 1.0/2.0
While my time on bike was limited to the Fury, Sanction, and Force, GT's lineup covers the full range of carbon and aluminium framed hardtails and duallies, in both 26 and 29" flavours. The Sensor 29er looked quite nice, and although I wasn't able to throw a leg over it, reports back from the aforementioned Caleb Smith of SPOKE were extremely favourable; he wanted to ride it all the time. The carbon Zaskar was also looking extremely nice and svelte in black carbon and will come in both 26" and 29" versions.
   The all new distortion was designed with input from Vancouver's own Andrew Cho. With shorter travel, and slack angles, this bike seems aimed directly at the burgeoning market of downhillers getting into pedalling, but with the ability to handle the occasional jump trail bike park lap. With shorter travel but slacker geometry, this bike seeks that happy middle ground for those that like to go really high in the air off big jumps. While I didn't get a chance to sample this ride, the Brits that did all came back with very good things to say about it's ride and capabilities. P: GT Bicycles
Highlights – Monocoque Aluminum Frame, Tapered Headtube, Maxle rear axle
Specs (medium) – 112mm Travel, 66.5 degree Head Angle, 17.04" Chainstay, 13.78" BB Height, 44.79" Wheel Base
Models – 2.0
At the end of it all, bikes notwithstanding, the thing I took from this trip was the focus the whole GT team has on returning this brand to a higher stature in the bike world. They were the best for a long time and they want to be again. That, and they probably love bikes as much as you do. And you know, let's face it, watching Sick Mik destroy a gnarly rough rhythm section with mad style and power just never gets old. They may not have been on your radar for a potential new bike, but maybe they should be. It's easy to hold on to stereotypes and negative impressions,but sometimes they mount a come back without you realizing it's happening. Unfortunately for Canadians interested in the lineup there is currently no distributor, although GT can go direct to dealers through Cycling Sports Group (CSG) Canada.
---
Considering a GT in 2011?  Wishing your local shop brought some in?  Talk it up here…