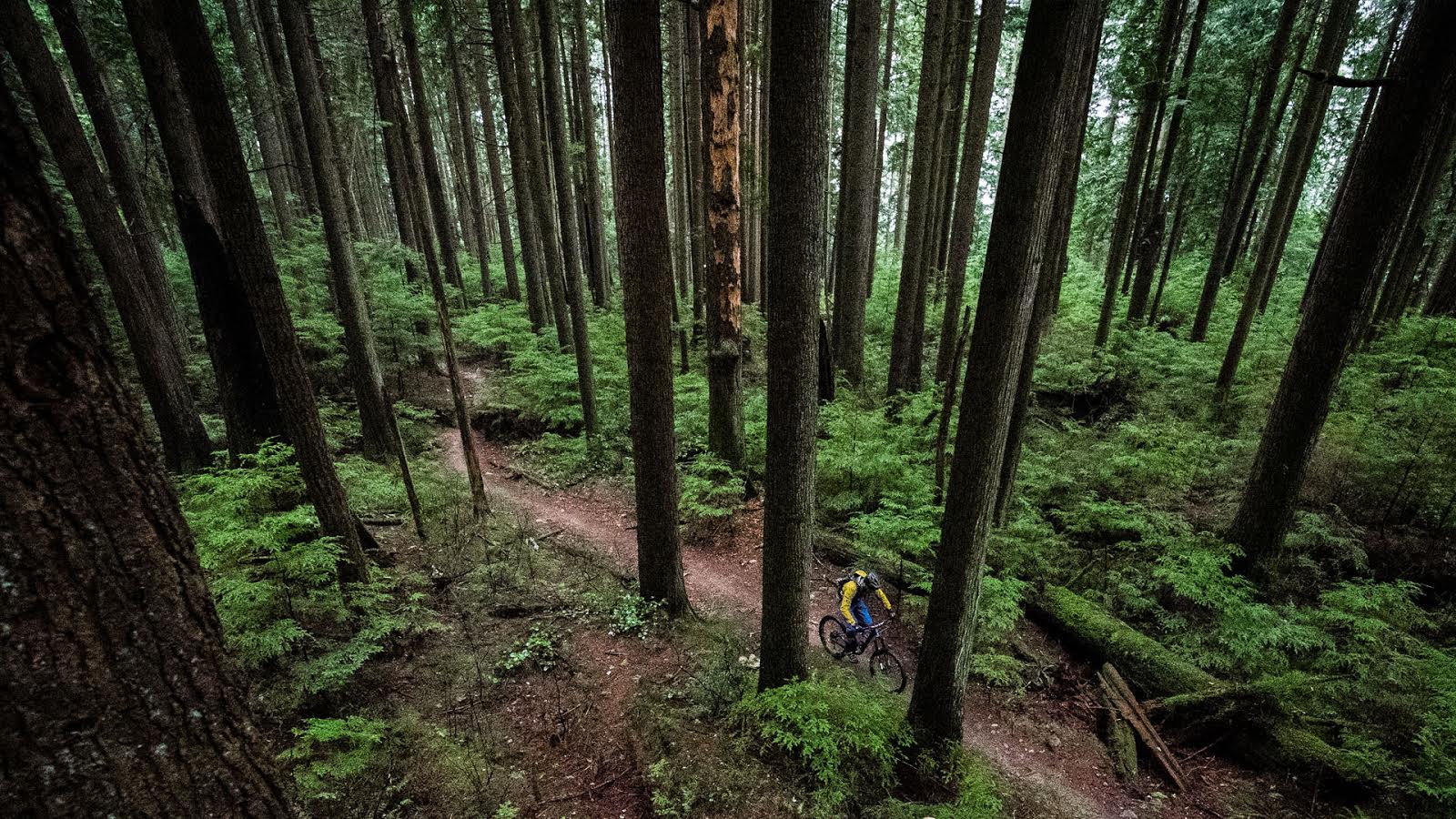 Thomas Vanderham Interview 2011
Thomas Vanderham's style inspires riders all over the world.  His effortless whips, the relaxed way he charges nasty terrain, manualling a section of trail before a nasty technical drop in Follow Me comes to mind; it all combines to make him one of the most emulated and admired riders on two wheels.  I asked Pete Roggeman, Rocky Mountain Bicycles' new marketing director, why Thomas is a good fit for the company and this is what he had to say.  "He started his career here and rode a Rocky a long time, during the years when freeride was turning into a globally-recognized part of the sport. As a result, Thomas and Rocky's histories are inextricably linked, so he's a good fit now for the same reason he was a good fit then: he's Canadian and exudes a lot of what Canadians like to think about themselves: hard working, humble, friendly, and influential – sometimes in an unconventional or understated way. He's the kind of guy who lets his riding do the talking."
Sounds a little like another Canadian icon.  If Thomas was a little younger we could call him mountain biking's Syd The Kid. I managed to get him to talk a little just after it was announced he would be returning to Rocky for his frame sponsorship. Here's the first part of our conversation.

---
nsmb – To start off with it looks like you had a bit of a mishap with your truck.
Thomas Vanderham – Oh yeah.  That was January 1st.  Just a break in.  I was parked downtown and somebody stole my – well just my ipod.  I had all sorts of stuff in there and they just took my really old ipod.  That was a real hassle.  First time it's happened though.

  Thomas relaxing at home in the off season.  Photo ~ Cam McRae
nsmb – You are 26 is that correct?  It's kind of crazy thinking how long you've been doing this and you are just 26.  
TV – It is kind of crazy.  I got started pretty early for sure.
nsmb – Do you remember when you first started to think about riding a bike as a career?
TV – I do.  It never had really crossed my mind in high school.  I was just a high school kid and as I was getting toward graduating I realized that a lot of my friends were going to be going to university or working and I was going to have to make that choice as well.  I ended up going to school but mountain biking was causing me a lot of problems.  I'd be away for three weeks at a time missing classes so I decided to make a go of being a professional mountain biker, which never occurred to be growing up.

  Thomas riding the Red Bull Rampage in 2004 – on an RMX.  Photo ~ David Ferguson

nsmb – So mountain biking was getting in the way of school?
TV – Yeah I guess.  My sponsors expected me to be at certain places.  I was 18 and I had to be at certain events so I was missing big chunks of school.  So that made it tough.  I completed my first semester and stopped there.  My mum was not very happy about it but maybe I'll go back one day.
nsmb – I think the first time I saw you riding in a film you were riding a Giant.  
TV – Uh yep.  That would be correct.  A Giant ATX 1 and that was the last bike I ever bought.  I rode that in Ride to the Hills and I rode it in some of the North Shore Extreme – Digger's movies.  I was 15 or 16.  I rode for Rocky when I was 16 so it would have been 15 when I was in my first movie.  At the time I was kind of sandwiched between the first generation of freeriders which is why I had nicknames like the kid because I was the first young guy.

  The whip emerges.  Thomas filming Roam in Morocco.  Photo ~ Chris Winter
nsmb – And was Rocky your first sponsor?
TV – Sombrio was actually my very first sponsor and Rocky followed about six months later.  At the time I worked at the Cove (bike shop) and I remember Wade also worked there which I was pretty stoked about and I talked to Wade about getting a Rocky frame and it didn't work out and then about a year later when I was in a couple of movies I was sponsored by Rocky and that was cool.

  A young Thomas getting ready for a shoot on Fromme circa 2001.  Photo ~ Cam McRae
nsmb – What did that feel like?
TV – At the time it was amazing.  You know – I had seen all these guys in the magazines growing up and they were really the guys I looked up to so it was the company to ride for – the original freeride brand so I was over the moon.  
nsmb – At that point you weren't thinking about making a living at it.  
TV – No you know I was really happy to be getting bikes and just having fun riding and I didn't think too much about it being a job.

  Thomas nailing Digger's stump drop way back in the day.  Photo ~ Cam McRae
nsmb – So – moving ahead a little here – then you had things that were stable and predictable for a long time.  When did you first realize  you'd be changing bike sponsors?
TV – Well – I rode for Rocky for 7 years.  It was good over those years.  At 7 years or at the point where I was making a change it was really a mutual thing.  We decided…  there was different management at the time and we decided it was best to go our separate ways at that time so it was about 3 years ago that I left Rocky.  
nsmb – How did that feel at first.
TV – At first I was excited about it.  A change.  I was going to be changing at that point from a team sponsored deal to more of an individual deal – you know working with people more closely and picking every part on the bike and choosing who I wanted to work with and I had a lot of good things happening at that time.  I had just filmed Seasons and I was really excited about that movie part.
nsmb – What was it like going to an established relatively large company to one (Evil) that was just being re-launched?
TV – It was a lot different obviously. Through my career – not just bike companies – I've worked with a variety of sponsors from companies of different sizes.  But it was definitely a lot different.  I knew going in to working with Evil that there would be some changes and sacrifices to be made but I was excited about the group they had there and working with Dave Weagle on the bikes.

  Puzzled by a tough question?  Photo ~ Cam McRae
nsmb – 2010 it seems was a really big year from you in terms of film releases and exposure?
TV – From 2010?  Well a couple of big films were released.  It's tough to say what I'm most proud of.  It's funny.  Those films were both shot in 2009 so I don't think of them as 2010.  We weren't really doing much filming but the films were coming out so I had a little more opportunity to do some racing which I haven't done forever.  I qualified for National Team and went to World's with my brother and that was an experience I'll never forget.  That was a personal achievement that I'm most proud of but it's not really what I'm sponsored for.  Definitely really happy with the films as well.  Rampage is always exciting and nerve racking so competing in that again would probably be a highlight as well.
nsmb – How would you compare your Rampage this year with previous years?
TV – I wasn't very happy with my result.  I wanted to be on the podium again but it's such a hard event to do that.  So many small factors go into the final result that you can't feel bad if you're not on the podium because it's so easy to have one little slip up and crash and not even place.  I kept my top 10 streak going.  Now that I've been third – I've been on the podium – you want to be back there.

  Thomas launching what has become a routine-sized drop at Rampage in 2010.  Photo ~ David Ferguson.
nsmb – Were you happy with the way you rode?
TV – I was happy with the way I rode for sure.  I got a lot of comments from people saying 'you did the same run as last year' but my result last year – I won the best trick for the no-hander over the canyon but then I crashed so I never got a score for any sort of trick over the canyon but you know how judging works and how events work.  That was sort of interesting to hear people's feedback afterwards.  I don't compete very often so I don't have that thought in my mind when I'm preparing for the event.
I made a decision to go back to the Canyon Gap because I thought it was the feature that best suited me but I built a different line into it and a little variation out of it and I was really happy with my line and the way I rode so no complaints.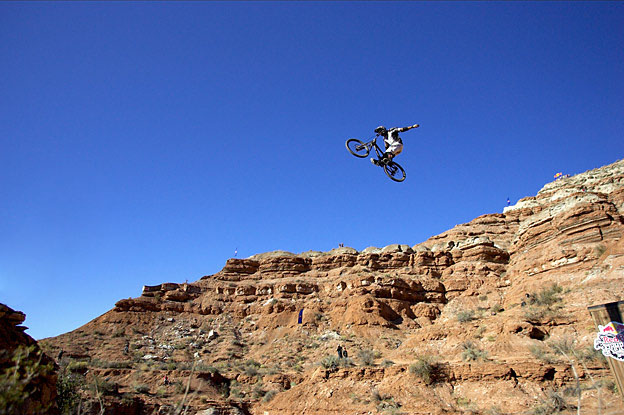 In 2008 Thomas collected 5Gs for this flight over the canyon by winning best trick. Photo ~ David Ferguson.
nsmb – How much different did the Canyon Gap feel this year?
TV – It felt quite a bit different.  There was a lot more air time.  The lip was twice as high so it really sent you higher.  It  was a sender.  It was a big jump.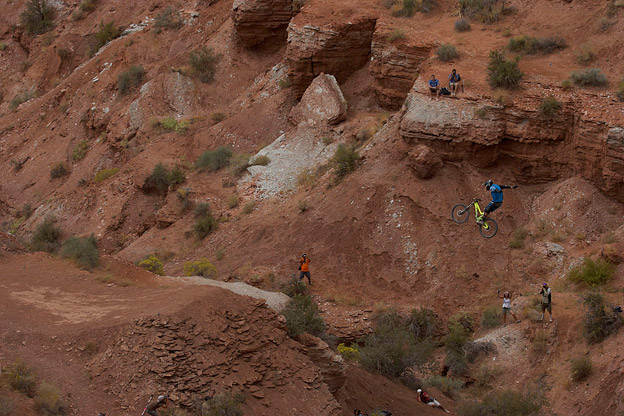 And here he goes in 2010 after the weather delay.  Thomas was 6th at Rampage in 2010.  Photo ~ David Ferguson.
nsmb – The landing was bigger as well.
TV – Overall I think it was better.  It was trickier to figure out the speed the first time.  The previous version was more of just a point it and go as fast as you can.  This one with the added loft it was a little more difficult to figure out.
nsmb – Who did it first this year?
TV – Graham Aggassiz did it first.  Which I was pretty happy about.  (laughs)  It was cool to watch. 

nsmb – Did you train him down or just watch him.  
TV – I watched and then I just did it.  I think I went next?  I don't remember.  But we talked together.  Any of the guys who were hitting that feature talked because it's so dangerous.  It's not like we're trying to be that competitive with one another.  So we talked about the speed and he (Aggassiz) nailed it the first time.  He nailed it perfect like butter.  So from then on we all saw that was the perfect speed.

  Riding Whistler in the dark. Screen cap from Life Cycles.

nsmb – Your Life Cycles segment was a bit of a departure.  In the past your segments have been about style as well as amplitude and your Life Cycles segment wasn't like that.   How different was the filming process for you?

TV – Well it was a whole new challenge.  We'd never filmed at night before and working with those guys is very different because they had a very clear idea of what they wanted.  They came in with a specific shot list 'we want to get this, this and this.' It was really about figuring out the light, figuring out what's possible to ride in the dark, figuring out what we could pull off.  It was a real learning experience just because it wasn't like a normal movie part.  
nsmb – A lot of scenes seemed like you were in the dark and then the light and then the dark again.
TV – Yeah.  I had a lot of runouts into dark where I'm grabbing brakes and not knowing where I'm going.  

  Boosting after dark.  Screen cap from Life Cycles.
nsmb – And light in your eyes?
TV – That wasn't really a big issue.  Most of the time the lights weren't directly in my eyes.  It was more about runouts.  They could only light about 50 feet and then as soon as I exited I had to grab a fistful of brakes in the dark. 


  Thomas and Brendan Fairclough between shots.  Photo ~ Sterling Lorence.
nsmb – For Follow Me you rode with Sam Hill and Brendan Fairclough.  You had some input into who you would ride with did you not?
TV – A little bit.  Not exactly in terms of specifics but I definitely had some input.  The Brendan Fairclough thing came from riding with him in Whistler over Crankworx and stuff so that was one of my suggestions.  The Sam Hill thing came from us brainstorming – like who would be a different type of person to bring to the Shore and introduce them to Shore riding.
nsmb – And how was it working with each of them?
TV – It was great.  They are world class racers, real professional riders.  Different guys.  Brendan's all about jumping around and having fun and Sam's all about going fast and straight but it was great working with both of them.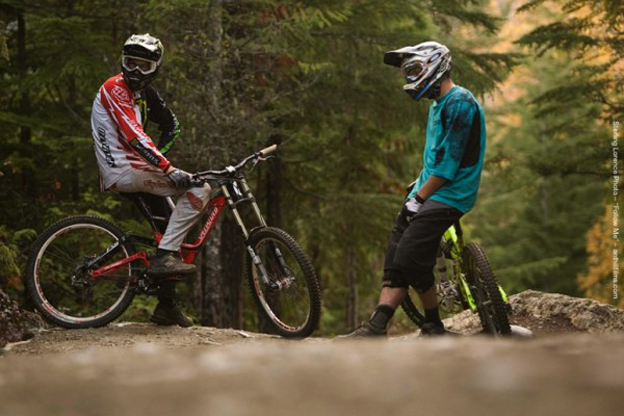 Taking a breather on ALine.  Photo ~ Sterling Lorence
nsmb – Sam talks a little bit in the video about how he found riding on the Shore.  What was your impression?
TV – It was good.  We all know we have world class riding here.  Those guys really like it.  Everyone's perception of the North Shore is skinnies and ladder bridges.  It's what made it famous but there's a lot more terrain than that. And Sam definitely had a lot of fun riding the Shore.  

  Thomas (left) and Sam ready to pin it on the Shore.  Photo ~ Sterling Lorence
---
Part II is
right here
. comments go
here…