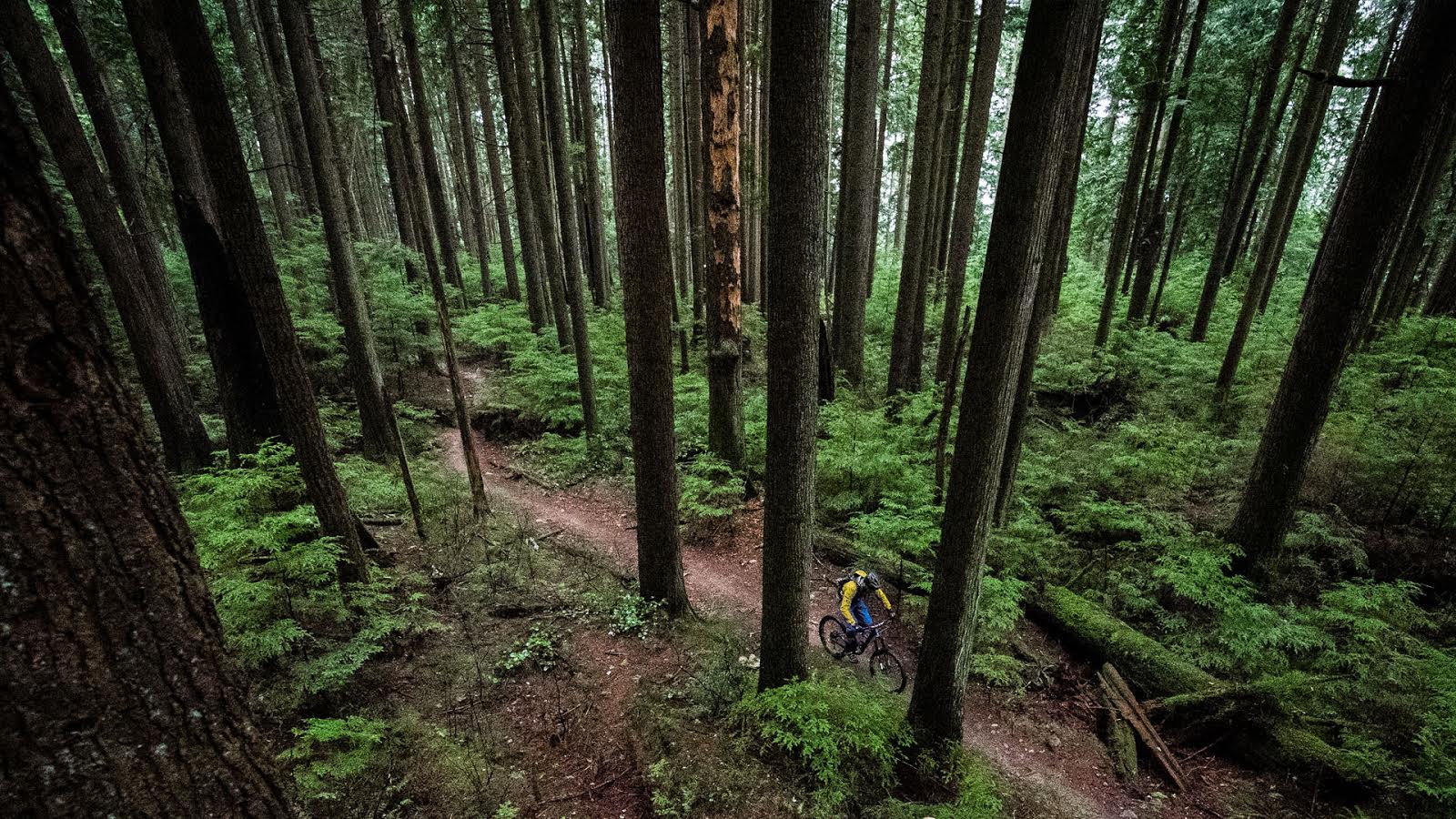 Frozen Peanut Butter
All the signs were positive so I knew it was going to be good.
I pedalled up to Eamonn's place and after a short pit stop we continued up the road to Fromme.  After 10 minutes of climbing Eamonn coasted to a stop and said "you aren't going to believe this."  Nothing would surpise me coming out of Eamonn's mouth but I silently let the suspense build; "I forgot my helmet."  We were close to the trailhead, starting to rack our brains to get out of this pickle when a young couple parked near us. They unloaded their two small children and were walking to their house when I noticed the bike rack on their car.  "Ask them for a helmet" I said, and Eamonn began to work his magic. After a few handshakes and expressions of gratitude we were on our way with a shiny looking Bern lid on Eamonn's brain.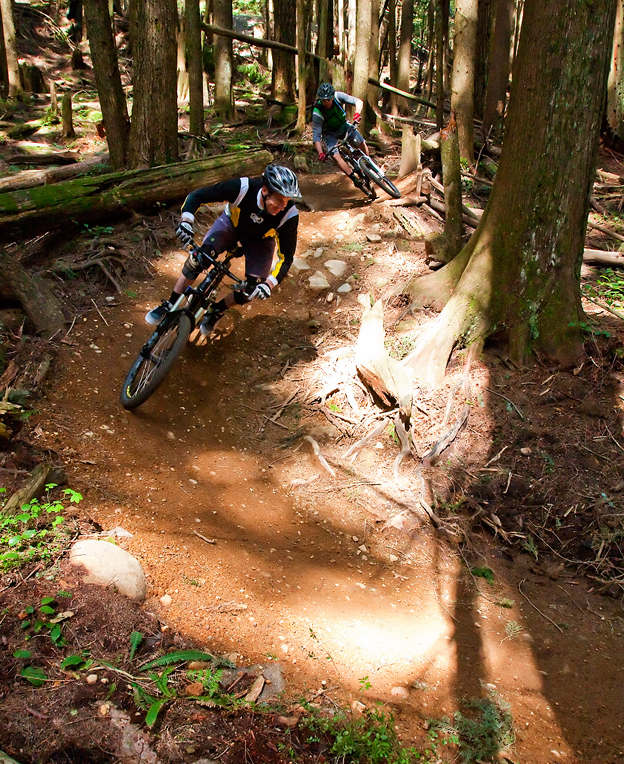 Wade Simmons following Mark Wood down Ladies Only.  Photo ~ John Housser
Instead of the Dempsey climb we took the straight up approach to the Baden and it became clear the conditions were going to be all-time.  When it's cold (a few degrees below freezing or colder) and dry for a few days the ground gets to be as firm and grippy as slickrock. Some years it's a frequent occurrence but this was my first perfect day of the winter – aside from some epic snow days.  It was a little chilly to start but we were perfectly comfortable after the climb and on our way down the Baden to the gate, which has become a decadently fun section to ride.  It seems to get faster and faster and I scared myself a few times without actually hitting the dirt.
A solo rider caught up with us  above the Stairs of Despair and he tagged along for the climb to Bobsled.  He confessed to being a member of our bulletin board and gave us his screen name – which I didn't forget.  While we were prepping to drop in a beginner rider coasted down the hill and, seated stiffly on his saddle with his feet at 12 and 6, coasted right into the trail.  We waited him out and then another tentative rider dropped in. Mid day on Monday January 3rd and there was a lineup to ride a trail on Fromme. What is the world coming to?  Most riders let faster riders go first but I guess this etiquette isn't universal – and I hate getting slowed up on Bobsled when I'm trying to ride it chainless style. Actually I hate getting slowed up on any trail these days. I should probably be more generous and patient – like Wade Simmons for example – but I'm greedy about my trail time.
On our second time up the fireroad Eamonn and I wrote un-printable articles lampooning a few of our riding buddies – one of which we've been 'working' on in this way for some time – and laughed away the vertical.
We exchanged names with the rider who had joined us, and Eamonn and I promptly forgot it.  I called him Paul – the name of the dude who lent Eamonn the helmet and Eamonn called him Brian – for reasons that can't be explained. We cranked to the first corner berm and let gravity do the rest.  The washed out berm hasn't been finished yet and the crew has been released so I'm not sure what's going to happen there.  Otherwise the trail is in stellar shape and I doubt it's ever run faster.  After some high fives at the bottom we cranked up the fireroad, still uncertain about our destination but since BrianPaulMike, a new North Shore resident with some solid skills, was riding Ladies we decided to join him.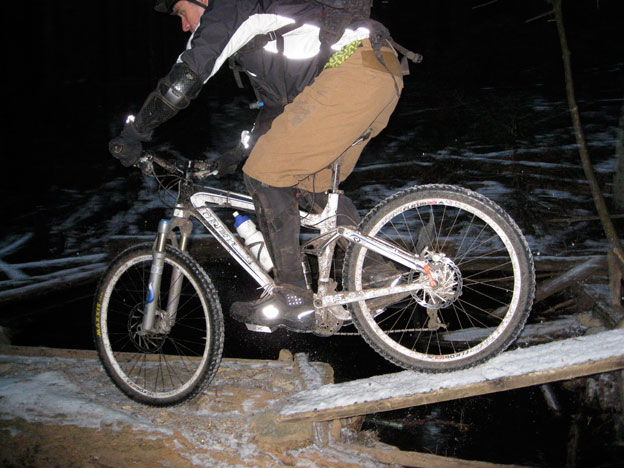 Never jinx the teeter totter or you'll end up swamped.  Photo ~ Pete Chambers

I was having a funny sort of riding day.  I went from feeling great and nailing moves to feeling sketchy and riding on the edge – and the shifts happened quickly.  I'd been off my bike for 10 days of too much eating and drinking so I assumed I'd be rusty – but what explained the occasional moments of mastery? I've been experimenting with higher tire pressure lately which may offer some insight. The cool temps make tires less pliable and the 40psi rear and 35 front were great in some situations (high speed corners and bombing through rough sections) and not so great in others (low speed steeps, wood, rock, tight and twisty tech and general bumpy rocky bits).  Back in the days of 2.5 and larger tires exclusively I used to run as low as 15psi.  This gave great feel and small bump compliance as well as amazing grip on wood and rock – but I didn't realize how much it was slowing me down and how sketchy it made everything feel once the speed ramped up. Tire pressure may be the most overlooked tuning factor and now that I'm paying more attention to it my riding seems to be benefitting.
For some reason we got to talking about the teeter totter in the swamp long before we got there – exchanging stories about falilng in or enjoying the magnificent sight of others getting dunked – and this turned out to be a bad omen.  Eamonn went first and jumped right into the deepest section, next to the heron, landing squarely in mid-calf depth ice water.  I was next and I was sketchy and slow but I stayed dry.  PaulBrianMike went last and he too had to eject – but he saved his skin while his SX trail got completely submerged.
After the teeter totter we got to sample Digger's most recent work.  He's re-surfaced the trail all the way to the top of Upper Skull and it's smooth and fast. From the high point of land Digger's got an alternate route planned to avoid some of the gnarl that gets continually braided – particularly at Big Stupid/Semi Retarded.  I'm not sure if his plan is to take this new line all the way to the Baden or to have it join Upper Skull at some point.  Either way I'm looking forward to this.
After Skull we headed west on the Baden.  We ran into a rider who was trying to tell us about a spot ahead that was icy.  Based on his description it sounded like it was past where we were going so we charged ahead blindly.  And then I took an inside line atop a root ball that dropped into an ice rink.  Somehow I reined it in and then yelled too late for Eamonn to stop.  He rode off the trail but kept it upright and then BrianPaulMike came along. He rolled it straight down the middle and it looked like he was going to keep the rubber down but then he folded like a card table and slid right into Eamonn who somersaulted down the slope a couple of times.  We hadn't climbed this way but BrianPaulMike had and he admitted sheepishly that he too was going to warn anyone he saw coming this way.

  Eamonn riding without wet feet.
We rode some sinewy lines back to Braemar and then continued down through the powerlines, lamenting the death (one can only assume) of the vicious lab that used to charge us as we rolled by his driveway. We made it through Princess Park before Eamonn realized he had forgotten to return Paul's helmet.  He shrugged; "I'll drive it over later with some beer."
Later that evening I got a call from Eamonn asking me where the house was exactly.  He was on the wrong street entirely but he redeemed himself by dropping off the helmet (after washing the liner) along with a six pack of Steve Peat's favourite beverage.  Then he told me I owed him for half the sixer for not noticing he'd forgotten his helmet – plus an extra tax for his friendship. 
Watch your mailbox Eamo – your cheque's on the way.
---
Did you ride during the cold sunny snap over New Year's?  Tell us about your ride – or lack thereof – here…