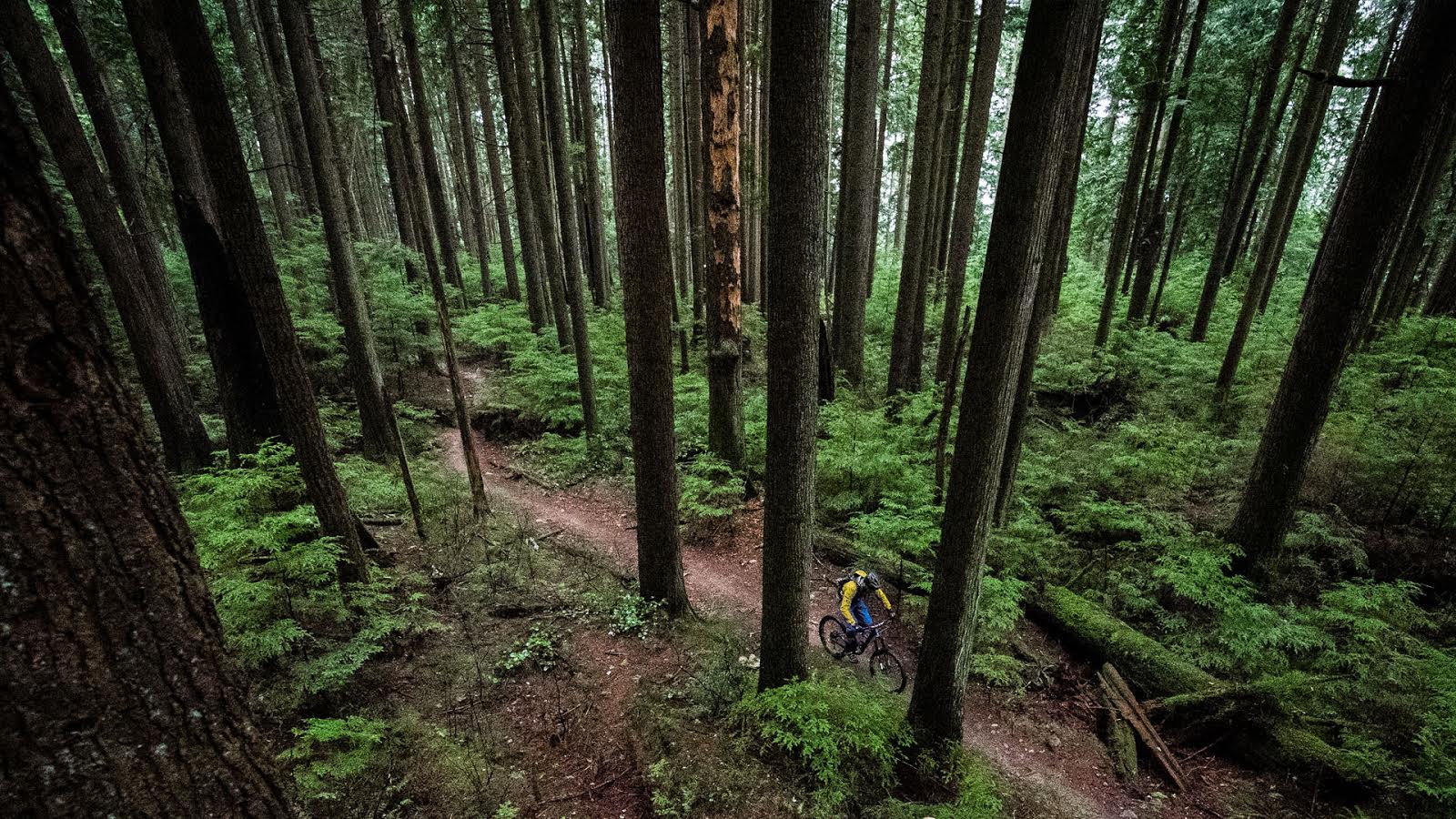 Riding Yukon Style – REDUX
*This article was originally published in early 2010
It wasn't the best sign.  The barbeque, the bike stand and the tools all lived in a mosquito tent.  I wasn't expecting much from the Boreale camp.  I imagined the yurts would be within spitting distance of a Quonset hut or heavy machinery yard.  Instead it was 15 minutes from town on a bluff with a 90 mile view.  The yurts blend into the pines and being inside them was comfortable and calming.  Wooden floors, leather chairs and attention to detail made staying and eating in the Yurts a rare pleasure.  The omens were improving.

  Pete and I had a bike building race.  I got mine together first but I didn't have everything dialled.  He won a Yurt to himself for our stay in the Yukon.
In the past when I traveled to ride I brought low expectations along.  Back then I was North Shore-spoiled.  If the trails weren't technically challenging or steep (both ideally) my short attention span was starved for interest.  Since that time I've learned the joys of peanut butter-smooth single track, of winding trail with epic views, and I've become reacquainted with the joys of the climb from my XC days. Not easy to please, but more open about what good riding can look like.

  The yurts exceeded our expectations for comfort and luxury.
Still my hopes for the Yukon were muted.   I'd been there twice – working on loan from B.C. fighting fires – and the terrain I saw near Whitehorse, Dawson and Carmacks didn't strike me as ideal for riding.  Whitehorse in my memory was surrounded by uninspiring hills and while I liked the place and the people, it didn't seem trail friendly.

  The main yurt was too nice to be called a mess hall. 
It turns out the peaks around Whitehorse are actually quite impressive.  The wide valleys dampen their impact but once you get up there the low elevation alpine is wild, steep and ideal for trails.  By the time we boarded our plane for home I was a convert: Whitehorse and the surrounding area is one of the best riding destinations I've had the pleasure to experience.

   Oops.  I managed to finish the ride thanks to some old school trickery.

The Yukon sticks to your skin like a friendly beer poured over your head.  The people and the landscapes are equal parts beautiful and rugged.  When combined with the rich and gritty gold rush history the place turns the word epic into an understatement. The people, the pace of life and the feeling that you are on the edge of civilization, perhaps destined to fall off, all contribute to the magic of the Klondike.

  The bent wheel wasn't our only concern.  Open hub surgery was required.
The weather when we arrived in early June was the fairest since 2004.  Last summer it never hit 23 degrees according to locals – and the day we arrived was the hottest for that date in 20 years.  It was exactly like the only weather I had experienced on my earlier Yukon trips; stinking hot and dry for 19 and a half hours a day.  

  It had its moments, with some sweet berms and flow, and it cured the lethargy after our flight, but we were hoping the first ride was merely an appetizer.
Our first ride was a windy singletrack journey that began at the stunning Boreale base camp.  I was riding with my Fox Talas wound down and just as I started to feel it, disaster struck.  I was on the gas on a smooth downhill section of trail when I planted my pedal onto a rock.  I bounced up, came down sideways on my wheel and was slammed to the ground.

  Evidence of shattered dreams is plentiful around Whitehorse.
A bang straightened the taco – almost to perfection – but the Syncros freehub popped off at the same time spraying palls all over the trail.  After 15 minutes we'd found 3 of a possible six palls and they were enough to make things work.  I wasn't hurt but the message was clear; take it down a notch when you are far from home.

  Now this feels like a northern adventure!  We were almost stuck for days.
The rabbits' warren of intersecting trails was a good way to get the blood moving but I was hoping for more.  The next day delivered.  Our journey to Goat Trail started at the top of a mountain.   It's a stone's throw from town but it feels like you are on Baffin Island.  Rugged tundra dotted with rocky outcroppings met us when we finally made it to the top.  The late melt left a snowdrift on the road up and we almost didn't make it there.  Thanks to Marsha's skilful piloting, and some old fashioned roosting, our rental made it up and down.

  The frontier spirit – and some fine driving by Marsha – got us out of a near pickle.
The top was just for scenery and we rolled down the scenic double track until we hit a spongy old road.  It was slow going but we eventually reached hard ground and a fun sluice box of a trail that kept you on your game the whole time.  The trail was better but still not worth putting your bike in a Dakine box for.  

  Now we're talking about big country.  This wasn't far from Whitehorse but it felt like the dark side of the moon.

Already we were well acquainted with Yukon time and we rolled into our brewery tour about an hour late.  Hard feelings were soon forgotten as the beer flowed along with the story of the Yukon's favourite beer maker.  These are not run of the mill draughts – our tastings confirmed the authenticity of the awards and medals the beers have won all over the world.  Micro is the right word though – for an operation that puts beers in cans and closes each one by hand.

  Some tasty downhill singletrack.  Things were looking up fast. Rider – Spence Clark  Photo ~ Cam McRae
I didn't meet a Yukon beer I didn't like but my favourites were the Lead Dog Ale and the Espresso Stout.  Have a look for Yukon Brewing Co.  products if you happen to wander into a BC Liquor store.  Or ask them to bring some in for you.  Or if you are in Whitehorse grab a 'growler' jug and they'll rinse it out and refill it for you.  Be sure to tell them your growler's dirty when you bring it back.  They love that.

  The Yukon Brewing Co. is still small enough to can all of their beer by hand.  Luckily they sell lots of bottles as well.
Now that we were thoroughly pickled it was time for some dinner to prepare us for the evening – which was to be our biggest riding adventure of the trip…
---
There are several installments of this article yet to come.  This was without a doubt my best trip of 2009  and one of my best ever.  After the second day – which included two rides bookending a brewery tour – the riding got interesting and stayed that way.
Have you ever ridden in the Yukon?  Do you like the place?  Been on a trip with Boréale Mountain Biking?   We think they rule.  Fire your thoughts over here…