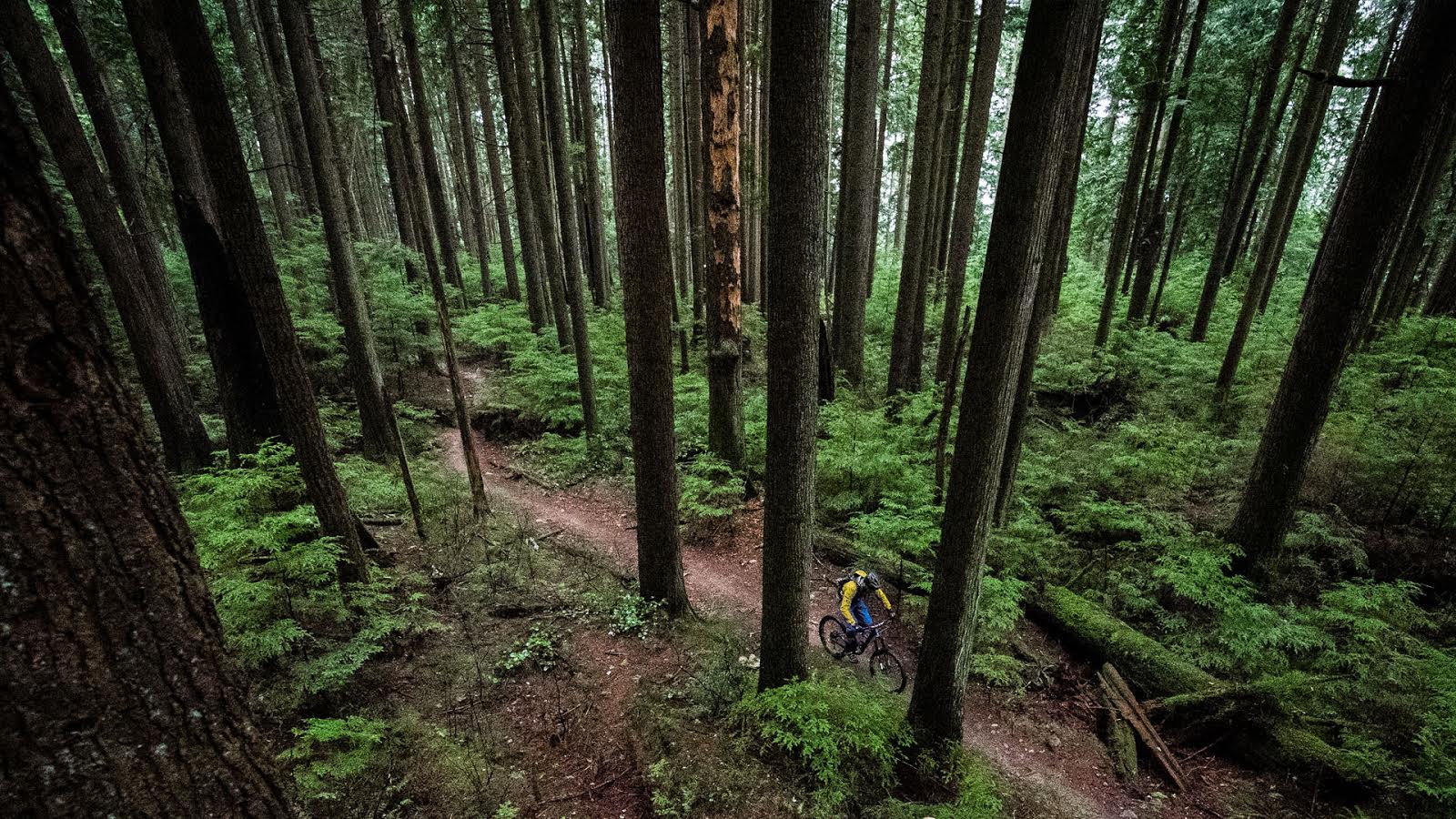 Readers' Rides #19
In the Spring of 2004, my Brodie Sovereign was stolen from my parents' shed, still muddy from its first race. The insurance policy only covered bicycles up to $500, but my mother felt bad about having forbidden me from keeping my bike inside the house, so for my birthday she indulged in a bit of skulduggery and presented my broke ass with a check for $1500. I'd always ridden XC hardtails, but knew they wouldn't cut it for the kind of riding to be found locally. So the check burned a hole in my pocket as I researched appropriate bikes for BC riding, until the fateful I day stepped into Dizzy Cycles on 4th ave. and was introduced to Chromag.

  That was then.  The first build of the Samurai included derailleurs.
Designed around a 5 inch fork and sporting some burly hardware, the frame I saw was eerily reminiscent of my Sovereign. After a bit of research and a few emails with Chromag owner Ian Ritz I figured out why: Mike Truelove, who was welding all of Chromag's frames at the time, had built a lot of the high end Brodie frames. I spent the summer on a borrowed dually and after piecing together the necessary parts, put an order in for a large Samura, as plain in appearance as possible, please. Ian agreed to forego decals, and asked me to trust him on the paint job – two months later, I picked up what is still to my mind the most beautiful frame I've ever seen, in a grainy, textured stove-top black. Serial number CH57.

  Now she's all about sleek simplicity – with a few glitches for flavour. This was a poached parts version rather than the complete current build.
Since its original build my Samurai has seen a bit of everything: XC trails to days in the WBP to being built as an Xtracycle for a review for Momentum Magazine. During the Winter of 2009, niggling complaints led me to make an impulse purchase: a new Norco Fluid frame on winter blowout from Kelowna Cycles. I spent the 2009 riding season on the Norco, amazed with how much more speed I could carry through rough and varying terrain, and how much better I felt after a day in the saddle, on a full suspension frame. Convinced that my Samurai had been holding me back, I resolved to put frame up for sale, and built it back up for a few farewell winter rides using the parts from my Fluid and a new-to-me travel adjust fork: an 07 Rockshox Revelation.
As it turned out, the Revelation ended up solving most of my issues with the Samurai, which were:
•    Slack seat tube angle. Spec'd with a static 5" fork, this made the bike an indifferent climber, but the bigger problem is that it made the seatpost, at anything close to full extension, difficult to get behind when the trail suddenly turned downhill and impossible to remount. The Samurai chugged uphills on fire roads and was a great descender, but gave me a lot of trouble on technical, varying terrain (think the middle section of Comfortably Numb). Wound down to 85mm of travel, the Revelation turned the bike into a descent climber and a capable trail bike, with a couple of extra inches of travel in reserve for descents.
•    Short head tube. In fact, Chromag frames have the same size headtube in all sizes. I pointed out to Ian that this necessitated running a bunch of spacers between my headset and stem, which made the front end feel pretty noodley – he pointed out that most riders appreciated short head tubes so they had the option of running their handlebars low for better cornering traction. I decided to test this theory when I rebuilt the Samurai last year – the result was a bike that climbed better and, once I got used to being more committed up front, descended and cornered better too. Chalk that one up to experience and good advice.
•    Rear tire clearance. Tire width is limited not by the stays, but by front derailleur interference. To his credit Ian mentioned this potential issue unsolicited during out initial conversations, as a necessary design compromise needed to keep chainstay length short. Once I stopped running 2.5" wide tires this was no longer an issue – go figure.

  Ian Ritz told Omar to 'trust him' with the paint job.
Getting back on the Samurai reminded me what a great descender it was. That, along with the versatility provided by the travel adjust front fork and a modest amount of rider progression rekindled my love for the frame and produced another conundrum – with only 1 bike's worth of parts, what would I ride, the Samurai or the Fluid? That was solved by the lucky acquisition of my first proper North Shore bike, a Banshee Rune. The Fluid was sold, the Rune got pretty much all of my saddle time in 2010, and the Samurai frame hung in the basement, all but unused. But careful scrounging and a bit of finicking has brought her back to life – she was finally made whole (ie. riding her didn't necessitate poaching parts from another bike) on December 1st in an admittedly motley build that I humbly submit for your consideration.
Frame: 2005 Chromag Samurai in Large. Black powdercoat, no decals, old style headtube badge. Slightly slacker head tube angle than the current version but I think all the other numbers are the same.

  The Revelation turned out to be aptly names and it coerced Omar not to part with the Samurai.

Fork: 2007 Rockshox Revelation. Bought second hand from a guy in Southern California, and probably the reason I still own and love the frame. 5" of coil sprung travel with 45mm of travel adjust. Quick release drop outs but much better torsional stiffness than the fork it replaced – an '05 Fox Vanilla RLC – though nowhere near as plush.
Headset: Old School Chris King NoThreadset, purchased sans crown race off Craigslist from a girl who was parting out an old hardtail her ex had built her. It turns out it was a relatively rare "tall cup" model that hadn't been made in some time, and stock replacement crown races wouldn't fit. After a quick chat with Bobbie Winchell at Chris King, I sent down the headset. They made me a custom crown race, installed new bearings, sent it back and charged me nothing but return shipping. Classy.

  All hail Chris King!  The headset comes with a story as well.
Stem: 90 mm Chromag Ranger. Bought NIB from a DH racer in Whistler through the NSMB Buy'n Sell. He'd won it at a race and couldn't ever see himself building a little bike.
Handlebars: Raceface Atlas AM 680mm. Bought unused off Craigslist for a hardtail I was building for my wife, they ended up being too wide for her liking. So I pulled an old set of XC bars out of the parts bin and kept these for myself.
Brakes: I met Wayne Felder (WOT on these boards) when I gave him a ride up to Whistler to race the Four Queens. Before he moved back to Onterrible he sold me a set of Shimano Deore BL-M486 Hydraulic Disk Brakes for $20. These things are truly awful. Even after several bleeds, new pads and meticulous alignment they provide insufficient power and squeal like pigs under hard braking. If it weren't for the drive train (see below) these things would be the bike's weakest link. 

  The brakes are largely ornamental.
Grips: ODI "intense" lock on's. Upon arriving at the Lost Lake parking lot in Whistler to take my wife on her first trail ride, I discovered I had forgotten to poach the grips from my Rune leaving me with naked bars. A salesman at a shop in the village almost succeeded in selling me a pair of Oury's for $25 when I noticed these grips in the bargain bin. They're just like Ruffian MXs, except they have this goofy little flange. Good enough for Canada, as they say.
Wheels: During the time I was juggling two frames and only one bike worth of parts, a friend who had recently been bitten by the MTB bug came down from the Yukon for a visit. I stripped the drive train from my commuter, borrowed some brakes and a fork, and was only short a wheelset to get the Samurai back up and running in a pinch. Put the call out on NSMB and DrewM came through with a set of Sun Singletracks laced to XT hubs, complete with 160mm rotors. I rode out to Drew's place in North Vancouver and strapped the wheels to my backpack for the ride home. Bailed on a sheet of black ice coming down Lonsdale but the wheels made it to the bar that night and then home in time for the next day's ride on the Sunshine Coast. The rear has seen better days, as attested to by an emergency re-tensioning a few weeks back at the corner of Mountain Highway and McNair (thanks Morgan) but they're still rrrrrrolling.
Bottom Bracket: Probably the same UN-72 square tapered unit I pulled out of the used bin during the original build. Those things never die.
Tires: Tioga Factory DH 2.1 front and rear. I've ridden these tires in 2.3" and 2.5" versions and they're solid performers, if a bit heavy. Tread seems very similar to that of the highly praised Schwalbe Muddy Marie. Used off the tire rack at Our Community Bikes.
Cranks: Race Face Turbine LP square taper. My first mountain bike was a '94 Rocky Mountain Hammer I saved up all summer to buy. All of the higher-end models were sporting Turbines in various sweet anodized colours – and ever since I have had an unhealthy lust for those cranks. I was given a pair of green anodized square tapers by a grateful customer who "never liked the colour" during my first summer working as a mechanic. I've never been able to track down an adapter to run a granny ring, and they sat in my parts bin for 5 years untouched before finding a home on this build.

  A 32 x 19 magic gear?  Not so magical it turns out.
Drive Train: Lacking the parts or funds for a proper drive train, I was delighted to learn on the MTBR boards that Chromag frames have a "magic" single speed gear: 32×19. In theory, this combination of gears allows a single-speed setup to be run sans tensioner – I grabbed a 19 tooth Uniglide cog and some plastic cassette spacers, flipped an old 32 tooth front chainring around, bought a cheapo chain a had a drive train with gearing that is perfect about 3% of the time. Unfortunately, my experience with the "magic" gear hasn't been as good as advertised: chain tension is good but not great, and I tend to drop the chain at least a couple of times on each ride. Possibly this would be sorted out by shelling out for new parts, but if I'm going to drop money on a drive train I might as well pony up for some gears. In the meantime I have a tensioner in the parts bin that I just need to get around to installing.
Seatclamp: Some no name QR jobby I pulled out of the used bin. I had originally installed a bolt-on clamp, but upgraded after a few rides as adjusting seat-post height is pretty key to riding a hardtail off road. If it ever dies I might splurge on one of the brass beauties from Chromag, or a green Salsa clamp to match the headset and cranks, but it's still going strong after 6 years.
Seatpost: Syncros FL MicroAdjust. In 2006 I bought a beat-to-shit Brodie Sovereign frame off Craigslist from a recovering drug addict in Maple Ridge who was trying to un-clutter his life. I got Paul Peyto to fix it up and turned it into an off-road touring bike that I rode from Dawson City to Inuvik. But I eventually had to admit it was too small for me and passed it on. This seatpost came with the frame and was longer than whatever I was running at the time, so I kept it. It's scratched all to hell and seems to be creaking something fierce so its days are probably numbered.

  This Selle Italia Flite saddle came with a great story to tell over a few pints.
Saddle: Selle Italia Flite TransAlps Ti Rail. My manager at Our Community Bikes revered these as the "holy grail" of off road saddles: classy; light; strategically cut out to make it easier to get off the back on descents; no longer in production; and, most importantly, "really big in Europe." He had them on all of his bikes save his commuter, but when I pulled one out of a box of donations, he immediately claimed it as his own. Several months later, while we were prepping the shop for a Halloween party, I found the saddle sitting on a shelf beneath the cash register. My manager admitted that he didn't really need it and said I could have it, but when he showed up the next morning for work it was on his bike – though he professed to have no memory as to how it had ended up there.* A year later he put the commuter up for sale, and I snuck in after hours and swapped the saddle for another one I had on hand. If he ever noticed, he didn't mention it.
Pedals: XTR M970s. After months of pedal-swapping, the final piece of the puzzle were purchased from a guy on PinkBike for $50. Cosmetically they've seen better days, but the engagement is great and the bearings butter smooth.
As built, the Samurai is perfect for riding buff trails with my wife and/or careful off-roading with my son in the I-bert. It works well for solo XC rides when I want a bit more challenge, or when I'm riding with my few friends who are less skilled or fit than I am. And I can take non MTB friends riding, letting them feel like Superman on the Banshee while I toil along with lousy brakes and one gear. I'm surprised at how well it climbs: I made it up to the top of the Mt. Elphinstone trails above Roberts Creek with only a bit more walking (and much more suffering) than usual, and grinding up Mountain Highway (at least as far as Bobsled) is a breeze. Though the low gear spins out pretty quickly on descents, it combines with the crappy brakes to force me to conserve momentum at all costs, adding an element of fun and danger to any ride. Well designed and expertly crafted, even with a lousy spec., the Samurai is a very capable bike for BC riding – though it is great to have a proper 6" dually as a primary bike for riding the Shore.
The Samurai's current incarnation is serviceable but it won't last long: I've got almost all the parts I need to get her built back up to her former glory. A pair of silver polished Race Face Deus Cranks stand ready to replace their Turbine forbearers: lighter, stiffer and with just the right amount of industrial-design sex appeal. These, along with a set of lightly used X7 shifters and X9 derailleurs will add some gears – all that remains is to find a descent cassette and chain – while a pair of Shimano Saint brake calipers picked up at a fall sale at Different Bikes mated to a set of XT brake levers that just arrived from Jenson USA should provide a commensurable upgrade in stopping power. 

  The Samurai can be enjoyed with a passeger as well.
My Samurai served as my only mountain bike for 4 years, and reintroduced me to BC riding after a 10 year hiatus. I thought it was holding me back, but after watching guys rides stuff on their Chromags during the Four Queens that I walked on my Rune, I'm pretty sure it was the Indian, not the arrow. I look forward to growing old with this frame.
*During a Halloween party 5 years later, the same guy pulled out an adjustable wrench and a bin of kickstands and installed one on every fixie parked within walking distance of the shop – and again, he professed to have no memory of the installation.
---
Readers' Rides brings some crazy beasts out of the woodwork.  It doesn't necessarily have to be crazy – it just has to have a story behind it to qualify for readers' rides.  Or it can just be freaking cool.  If you've got one send it here and we'll fire back some guidelines.
The steel hardtail lovers are coming out of the woodwork.  Maybe you'll find some chromoly under the tree?