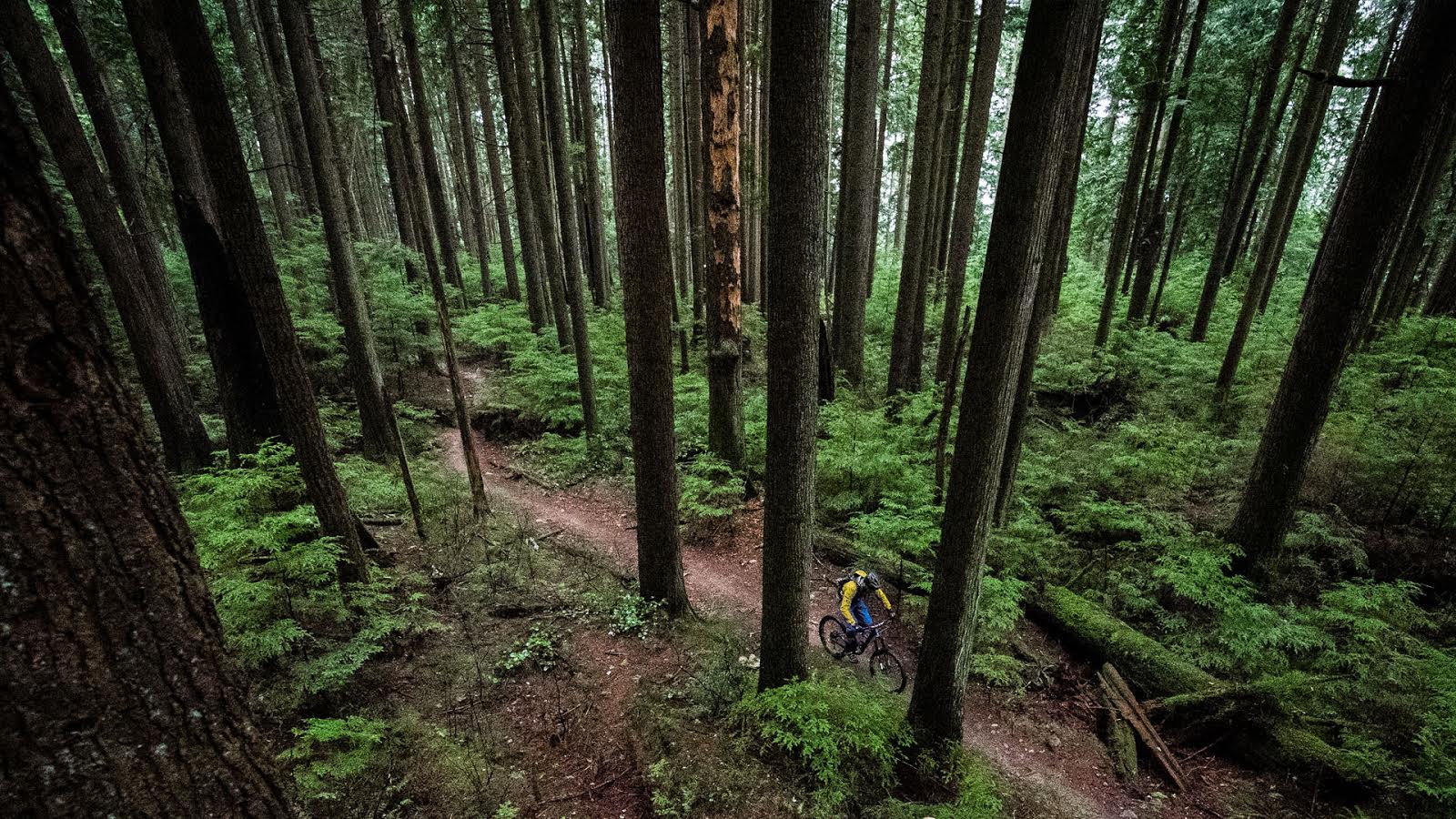 2010 Trek Scratch Air 6
This year I had the chance to try quite a few bikes out. This is in part thanks to Trail Bicycles and the excellent demo program Jeff runs.  At different points in the season, if you had asked Jeff nicely, you could have ridden a Banshee Spitfire, a Trek Session 88 free ride and the bike I tried a couple of times, a Trek Scratch Air Six.  If you ask really nicely, Jeff will even let you try out his personal Trek Fuel.
I have to say, all of the current line of Treks are great looking bikes.  Well-executed, quality welds and finish and attractive decal packages.  On the Scratch Air 6, the all-black paint job is mated well with a mix of Bontrager parts (bars, stem, saddle, seat-post, wheels and tires) for a very refined, custom look with lots of white and black components.
Paired off with the Trek house brand parts are a set of Avid Elxir 5 brakes (in white) and a Shimano SLX drive train.  Squishy parts are a Rock Shox Lyrik Air fork (rebound adjustment only) and a Fox RP-23 rear shock.  Overall, nothing really fancy, but no weak links either.
Fortunately, I have loads of time on the Lyrik fork as I had one on my trail bike last year, and I have been riding an RP-23 for the last couple of months on the Spitfire test bike.  I say this to add some credence to my comments on the bike's performance.
I managed to get out for two decent rides on the Scratch.  The first was a two-hour all self-propelled ride in Cumberland, up the road and out on the trails to the top of Thirsty Beaver.  This is a new trail this year, and starts up high with mostly rolling terrain, trending down back to the valley. It's a mix of some pretty beefy looking wood work and pretty fresh (and squishy) single track.  After Thirsty Beaver comes Tea Pot, which has one of the fastest, and most fun descents in our zone. With the new berm work built up last year, this trail is on par with Karate Monkey in Whistler for fun factor.
The Scratch excelled in this terrain.  The low weight for a bike of this type (my 16 inch test bike weighed in at 33.31 lbs) and firm pro-pedal setting on the RP-23 combined for impressive climbing ability.  The excellent characteristics of the Lyrik fork combined with the frames stiffness and quality parts spec (even the "gasp" Bontrager Tires weren't half bad) made for a confident ride down.
The second ride was the standard Forbidden shuttle, starting with Two Sheiks to Cabin Fever to Slither to Bear Bait and back to Nymph Falls.  This route mixes some tech descending, high speed singletrack and a decent cruise back on flat trails to Nymph Falls Park.  I have ridden this route a few times already this year, so I'm pretty familiar with the terrain.  Again, the Scratch did not disappoint and was very fun to ride.

  33.31 lbs on the shop scale.

If I had to describe the feel of the rear suspension, I would place it smack in the middle of the feel of a VPS/FSR set-up and the VF4B linkage of the Spitfire.  Now that I have ridden a few more bikes besides VPS/FSR bikes (which I rode for 6 years straight) I have come to learn that the VPS/FSR linkage is a very inefficient set-up for climbing.  While the VPS/FSR linkage feels very "safe" when going down, this is because as it absorbs shocks and hits, it's also absorbing power and speed. 
The VF4B linkage that is on the Banshee Spitfire feels much, much snappier.  Hits get absorbed but the way the linkage and axle path are configured it feels like you are gaining speed over the rough stuff. I found the Trek linkage to be right in the middle – plusher in feel than the VF4B, but not as power-robbing as I have found some VPS / FSR bikes to be.  Not a bad compromise.
Will a Trek Scratch find its way into my man cave for a more permanent stay?  Well, if the price were right, I wouldn't say no.  I am a bit surprised that I have nothing bad to say about this bike, but to be honest for the short time I had it in the cave, it was all smiles!  Great frame, solid parts and a very nice feel.
This time of year you could probably get a deal on a 2010 but the retail price was US$3799 and $4200 here in Canada when these bikes first hit the sales floor.
---
We were able to ride the Scratch at the Trek launch in Moab and those impressions are here. A second opinion never hurts though.  To see the 2011 Scratch hit up Trekbikes.com

Does a 33lb 7″ travel bike fit in your quiver?  Tell us how a bike like this could work for you here…