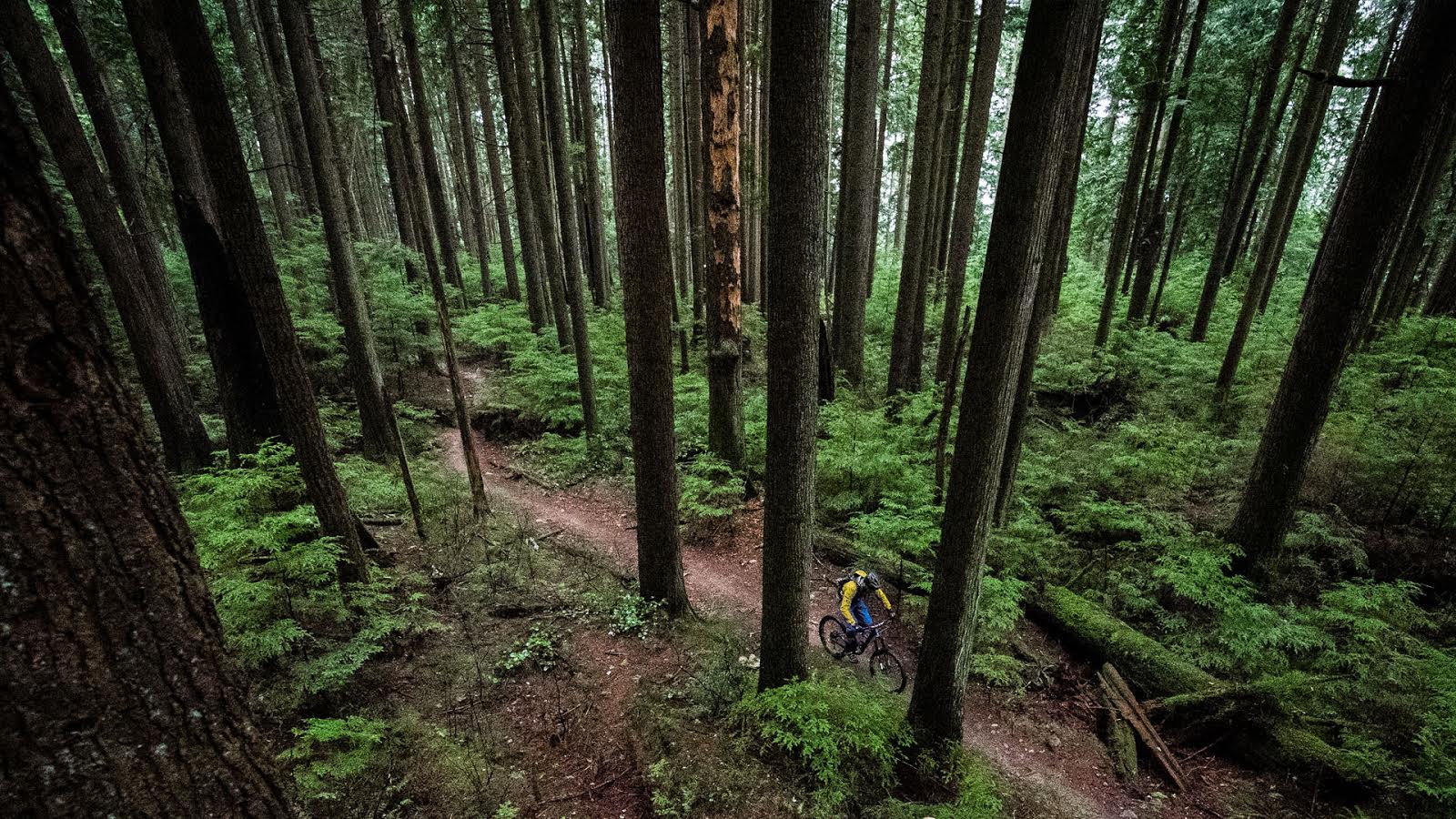 Gear Shots #66
X-Fusion Vengeance HLR
I was lucky enough to spend some quality time on the prototype version of this fork last year.  I chronicled my experiences and went over the basics in the final NSMB Project Bike write-up which you can find right here. Basically it boils down to this: X-Fusion has staked a pretty bold claim in the front suspension wars.  X-Fusion was interested in me doing an apples-to-apples comparison with the production version of the fork on the same bike I ran the prototype on; so the swap was made and off I went.
The Vengeance HLR is crafted from proprietary technology from the ground up.  The prototype was quite impressive and rode very well for an initial effort. It was terrific at holding a line through rough sections of trail, was highly adjustable and came in at an impressively light weight (a hair over 5 pounds with an uncut steerer) for such a capable package.

  This fork really tracks in the corners.  Notice how little of the travel the fork has gone through despite my pushing down fairly hard on the bars.  I had the low speed compression cranked up a bit for this tight, twisty little jump trail.
The only negative issue of note had little to do with performance and everything to do with perception.  There was a noticeable soft thud (or thunk) when the fork topped out of its travel. X-Fusion knew about the issue before they ever gave me the prototype and said they were on their way to crafting a fix for the production version.
Does the final production version (the one you can buy right off the shelf) go thunk?  No.  Absolutely not.  Never (believe me, I tried).  Does it make any funny noises at all?  Nope.  Nada.  This thing is tight as drum mechanically and as smooth as silk.  In fact, after quickly verifying that the noise was absent I set out to see if I could spot any major differences from the prototype.
The only things I found were minor… and they were all good or slightly better than the original.  All the small details felt like they had been worked over just a bit, to be even more focused than they were in the previous model.  The action felt smoother, the stanchions a bit more slippery, the adjustment knobs felt decidedly more crisp than the already impressive originals had been.  Even the paint and graphics seem to have just a bit more shine.  In short, everything about the production version of the Vengeance HLR is first rate.

  The production version of the Vengeance HLR is just flat out drool worthy.  It rides like champ, makes you look like you know what you are doing and comes in choice of black or white colour schemes.
The only thing that didn't change is the axle.  The 20mm thu-axle is a simple screw-in design secured by a single pinch bolt at the bottom of each leg.  While it is not tool-free, I don't find it to be a huge hassle.  I always ride with a multi-tool and don't find myself needing to remove the front wheel all that much.  When those times do arise one wrench (5mm hex) gets you in and out quickly.  If you don't ride with tools or do take your front wheel off all the time, it might be a bigger deal.  For me it didn't really register.  Three positives from this approach are that it keeps the cost of the fork down, is very light and plenty secure.
This fork does what it promises and looks great doing it.  I have spent time on most of the offerings from its direct competitors and I can say with confidence that it is every bit good as those forks.  Would I consider buying one?  Yup.  Especially given the price, which is strategically set just below similar forks that it is hoping to go head to head with.  It is worth a very serious look if you are considering a new fork for the front of your ride.
Canadian MSRP on the Vengeance HLR is $850

Kali Carbon Avita helmet
I was looking back through all the articles I have written for NSMB and realized that in all the photos, I was wearing the same helmet.  Considering I bought it before I started writing for the site, that made it over five years old.  Although it had never taken any major impacts, that is too old for helmet to be considered safe. 
Helmets age.  From the moment they are made they begin to degrade.  Plenty of things can certainly speed up that decline; rough treatment, being left in hot cars all summer, storage in direct sunlight and of course crashing on them.  But even if treated royally, helmets still lose the battle with time.  Will they still protect you?  Probably… but not as well as a new one could.  And do you really want to gamble with your head?  While I love my old helmet, this realization allowed me to look for something new.  I contacted Kali Protectives and arranged to try one of their slick-looking all-mountain helmets, the Carbon Avita. 

  The Avita cuts a sharp profile and fits me like a glove.  The visor is adjustable and the visible carbon inlays hint at the massive amount of shell strength this helmet has.

Testing helmets is a funny thing.  You can comment on fit, comfort, ventilation and style but you never really want to fully test it for its intended purpose.  About two weeks after the Avita arrived I was on a new freeride trail following the builder.  We were taking it easy but the trail was a blast we were moving at a good clip near the bottom.  I came over a rise and the front wheel came down looking for traction; but there was none to be found in a greasy section slick from spring rains.  I thought I could ride it out.  I thought I had it.  I was wrong.
The front wheel washed out from under me and I pitched towards a bank on the left side, head first, having waited a split second too long to let go of the bars.  I got my hands off and up, but they hit the bank at the same time as the crown of my helmet.  There was some solid impact, a loud crack in my ears and I pogoed off the bank and down the trail.  As I sat there stunned, I thought "I just broke my stupid neck".  I sat up very still, waiting for the pain.  It came, but was much less than I expected.  I tested out all my extremities and eventually rode slowly down the rest of the trail and out of the woods.

  One of the only pictures of the original Carbon Avita Kali sent me.  This was about a week before it saved my noggin in a scary crash.  It did a great job, but paid the ultimate price.  |  photo: Jim Clagett
The helmet looked fine, minus the bark mulch and mud wedged in the visor.  It had some scratches but outwardly looked as though you could put it right back on.  I knew the amount of force it had absorbed and that it was done.  All I could think about (after the x-rays came back negative) was what would have happened if I had been wearing my old helmet, and how happy I was I had a fresh lid on when I really needed it. 
So in short, this thing works.  If you still have questions about Kali's quality check out the massive bail Jordie Lunn took wearing his Kali full face (note: you might want to turn the speakers down if you are at work).  Kali was happy to hear how well my lid had worked and nice enough to send me fresh version, so I was able to finish up the test. 

  Plenty of venting at the back of this lid and the little spoiler on top adss a dash of style that I like.
When not being slammed in to a muddy bank, the Avita is still a great helmet.  It has a ton of vents (22), washable pads, a breakaway visor and an eye-pleasing design that provides ample coverage for the back of your head.  All of this protection weighs in at 387g.  Not bad for as much helmet as you are getting. 

The downside?  The Avita Carbon is not inexpensive as helmets go.  Th way I see it, neither are concussions, head wounds or trips to the ER either.  As a value proposition, a good lid like this one is solid value if it does its job (and I can say definitively that this one does). There is also a fiberglass version of the Avita available that will appeal to those on a tighter budget.  
If your helmet is older than you can remember, or if it has taken one too many good diggers, do yourself a favor and put a fresh helmet on your holiday list.  Or better yet, buy yourself the one you really like and put it under the tree with an anonymous "From" tag on it.  The peace of mind from knowing that your protection is up to date is worth its weight in gold.
 MSRP for the Kali's Carbon Avita helmet is U.S. $189, the fiberglass version can be had for $139

Race Face Aquanot jacket
If you are going to ride year-round outside of the sun belt you need good shell to keep you dry when Mother Nature waters the plants.  If you are a rider you know that any old jacket will get you by, but one made for specifically for riding bikes is so much better.   Race Face knows that too, and they offer the Aquanot jacket for just such occasions.

  A pretty solid-looking jacket that has backed it up with some serious performance; keeping me dry through a almost a full season despite what I will kindly call "rough" treatment.  |  photo: Beck Snyder
I have had this shell for almost a year now and done everything in it, from riding, to building trail and even changing truck tires on ill-fated shuttle runs.  It has held up amazingly well and it still looks great.  The basis for the jacket's waterproof protection comes from a 2.5 layer laminate featuring polyester on the outside bonded to a waterproof breathable laminate layer on the inside.  The outside is then topped off with a durable water repellent (DWR) finish to help water bead up and run off.
After taking are of the basics the Aquanot keeps going and really tailors itself to riders.  From the water-resistant zippers, to the soft lining in the collar and stretchy lycra cuffs that keep drafts out, the whole thing is designed for one thing: wet rides.  If it really starts coming down there is an adjustable hood that stows in the collar.  If the opposite happens and the weather starts to warm up, it has something up (or in this case "under") its sleeves: horizontal pit zips. 

  I had no idea how well these pit zips would work.  Want to simulate it at your place?  Put a canned beverage in the freezer for about and hour, then take it out and stick it in your armpit.  You'll get the idea.  |  photo: Beck Snyder
I was a bit skeptical of this design until I tried it.  The unusual orientation of the zip combines perfectly with your slight forward lean on the bike to create venting that is extremely effective; almost too effective.  Even when I was sweating up a storm pedaling uphill I rarely opened the vents all the way.  Halfway was plenty to cool off my core quickly and get the temperature back under control. Count me as a total convert to this innovative design.
Even though it has been used hard and put away wet (usually after being tossed over the fence and having all the crud hosed off it), the jacket is still excellent at keeping even the heaviest downpours at bay. Thanks to its striped black and gray design it doesn't show off dirt easily.  It can be (and has been) filthy and still look great.  It has a slightly dropped back that helps cover your tail when the knobbies start tossing the trail on to your posterior and there are nice reflective accents to help increase your visibility in low light situations. 
The only thing I think this jacket lacks is some kind of liner to keep you from sticking to the inside when it is wet.  Without a layer over your forearms it can be clammy when the going gets wet and cold.  A little bit of nylon mesh on the interior would go a long way towards reducing or eliminating that feeling.  The main zipper seems a touch small but has performed well and continues to do so; tough to fault it on those grounds.

The lycra cuffs keep the drafts out, have thumbholes in them (if you are in to that) and generally make wearing this jacket a lot more comfy.  The textured wrist adjustment is good-looking and has survived plenty of mud without peeling or cracking.  |  photo: Beck Snyder
All in all, this is a terrific piece to have in your quiver of outwear.  When the wet stuff starts falling out of the sky and you still have to scratch the itch to ride, the Aquanot can help you do it with a little added comfort and plenty of durability to go the distance.
Canadian MSRP is $199.99 (U.S. MSRP $180)
FSA Gravity Carbon handlebar
Even though I know how strong carbon can be made I still had lingering reservations about its durability in certain applications.  Handlebars were one of those areas where I was a holdout.  As time and progress march on, advancements in carbon technology have come fast and furious.  Just about everything on a bike can now be found made out of carbon; DH frames, cranks, stems and even rims.  So I figured it deserved a shot to change my old-school brain and FSA was willing to hand over their Gravity Carbon handlebar for a thrashing.
FSA's line of Gravity components is meant for the heavy hitters of the world, riders who are notoriously hard on their equipment.  So their inclusion of a carbon bar raised my eyebrows.  They had to know who they were targeting, didn't they?  I saw it as basically challenging people to make it fail.  So I jumped on the bandwagon last spring.
I was building up a project freeride bike (The infamous Thunder Smurf) and figured slapping the carbon bar on it would be an ideal chance to see if it would hold up, and of course have the Marin look sexy while doing it. The second part of that mission was accomplished first.  The bar stood out and started getting comments from the minute it went on the bike.  FSA has done a great job making a piece that is strong enough for the abuse but has enough style to make you forget about all the engineering lurking under that beautiful clearcoat. 

  Nothing like a big hunk of nude carbon right out in front to make people take notice.  This bar does a great job of running things up front on the Thunder Smurf.
Speaking of that engineering, carbon is only part of the story.  FSA was taking no chances with durability on this project so they mated the carbon fibers with Kevlar and reinforced the clamping zone to resist crushing.  All of that is great but bars usually come down to how they feel in your hands.  The Gravity bars feature and 8 degree rise and 3 degrees worth of sweep.  They come in two different rises (25 and 40mm) but only one length (710mm).  While this may not be wide enough to keep with 'ultra-wide' bar trend sweeping the riding world, I found it to be plenty wide to suit my needs, even at just over six feet tall.  If they are too long for your tastes they can be cut down as well.
Putting the bar on the scale was a bit of shock.  I triple-checked, but 206g it is.  I'm not sure if that made me any more confident in its ability to take hit but it was nice to save a little weight on an already plenty heavy bike.  Once the bars were on the bike they felt good in my hands and very sturdy; no hint flex even when pushing down pretty hard out at the ends.  That being said one of great qualities of carbon is its ability to absorb vibrations.  That can come in pretty handy on a big bike.  While it didn't go as far as feeling like it added to the suspension, all the small sharp-edged trail chatter felt a little more muted with these bars on the bike.
So what about durability?  Can they take a hit?  In a word, "yes".  I had a couple of good get-offs at Sun Peaks and another at Whistler.  The bike bounced and tumbled a bit on the last one and I was worried I might have snapped a lever.  When I was checking the bike over I did find a small scuff in the clearcoat but nothing else, and the bars were straight and true.   Bouncing down the rocks like that, I was sure there would have been a gouge, but none showed up.  My fears about impact resistance slowly started to melt away and I soon forgot the bars were carbon until someone else would notice and say something. 
So after a good season of riding the bars still shine like new (save the one small scuff mentioned above) and show no signs of giving up the fight any time soon.  The highest compliment I can give them as a piece of dedicated big bike gear is that delivered on their promise of performance well enough to make me forget they were there, and let me concentrate on pushing my limits.  There is not too much more you can ask for out of a handlebar.   So apparently carbon can teach an old-school rider new tricks.
MSRP for the Gravity Carbon handlebar is U.S. $164.99 (Canadian MSR was not available)
---
A fork, a helmet, a rain jacket and a carbon bar. 
Ed's been keeping busy.
Any questions about these products for Ed?  Anything else to say?  We're listening Seattle…