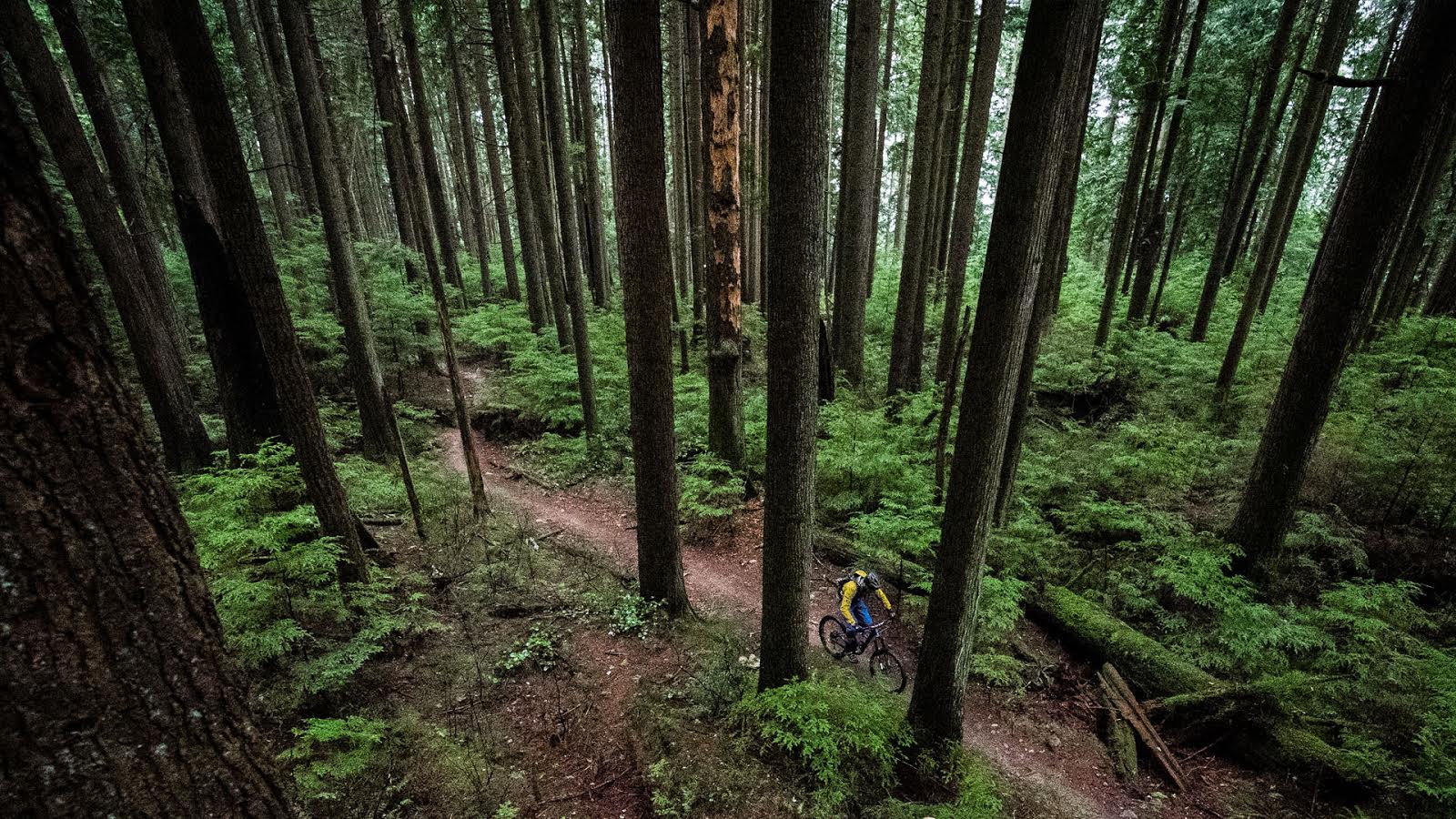 Snow Days!
It's always a crapshoot on the trails when the winter gods start delivering.  It's tough to judge what's going on at higher elevations based on the meager snow cover we get lower down.  Sometimes there is so much more snow on Fromme, Seymour or Cypress that the trails are impassable.  Other times there's a crust that isn't hard enough to support tires, but it's robust enough to make pedalling or descending impossible.  But when the conditions align a snowy ride can be the best ride of the year.

  Eamonn ready to roll – and less whiney than the day before.
On Saturday I couldn't get free in time to ride in full daylight so Trevor, Eamonn and I packed headlamps and began our tour in the crisp, fading afternoon light.  Lately it's been lights out by 4:30 and we weren't going to be off the hill by then.  Eamo was a bit sick, and whiney as a result, but we cajoled him into joining us.  Our first lap took us up to Krickem Krankum (aka Crinkem Crankem) at the 5th switchback.  The road was easy going until just before the 5th corner but we had no idea how the trails would be.

  The view from the third switchback was a beaut.
The snow was light and forgiving and the dry air meant the ground beneath was tacky.  Even the wood had decent grip.  After whooping it up the whole way down we emerged from the trail at the first switchback.  Eamonn's whinging hit the next level but we again bullied him into continuing and this time we meandered only to the third to re-live the fun bottom section of our first descent at Kirkford. This time our lights were useful and after having an all-time first lap I struggled.  It felt like the bike wouldn't stay on line and I couldn't get my feet well-positioned.  It was still fun but it had me shaking my head about the mystery of those moments – one of which I had been blessed with just minutes before – when bike and rider meld.  When I have those glimpses of nirvana on the bike – when it feels completely natural and pure – I'm certain that I'll never go back to my normal bumbling, choppy riding style.  Inevitably and often literally I crash back to earth, but this time my descent was faster and more humbling that usual.

  With snow on the ground a single light source works great.
More convincing got Eamo up to Bobsled for the final lap.  After Darren Butler's suggestion I've been riding the North Shore's newest and most novel trail without pedalling after the first corner.  When berms are tacky and wood is dry this presents few problems – but when things are slick and unknown it's more of an adventure.  With the opposing goals of preserving momentum and avoiding a ladder bridge grating are competing, and the light all but gone, Bobsled serves up more adrenaline than usual.  I was feeling gripped on the longest kinked ladder but I managed to keep just enough speed going to make it up the next rise.  The frosted cedar rungs provided lots of grip – but when they are glistening white you are rolling the dice.

  It turns out that Bobsled in the snow is fantastic.  At least this particular brand of dry snow combined with very cold temperatures. Photo ~ Trevor Hansen
A quick rip down the Baden finished things off and then we cracked a couple of Old Miluakees at TBone's bachelor pad.
This was fun riding and the forest was beautiful but it wasn't the sort of super star conditions the white stuff sometimes serves up.  It got a little colder on Sunday but you can never tell if there has been an inversion or some other invivisible factor that causes things to get overly slippery or crunchy – but I was keen to get out again all the same.

  nsmb team cap'n Trevor Hansen modelling his Adidas Goggles in appropriate conditions.

On Sunday we got an earlier start and we left the lights at home. Tbone bailed but Eamonn and I were joined by Pedro Chambré (aka Papparazzi Pete) and Johnny Flair. We started at the Dempsey and rode the Baden across to the gate.  Aside from a slick ladder next to the Stairs of Despair the riding was grippy and fun.  We weren't going to finish on the Mountain Highway side so a Bobsled for round one was called.

  Riding up the slippery single line was a fun challenge – and it made us forget the climb.
I'll admit I was one of the skeptical ones.  Sure, I thought, a machine built trail will work fine in the dry summer months, but once the rains begin all bets would be off.  I was proven partially correct when a heavy September rain tore out one berm (which is currently being replaced by an elevated cedar structure) but otherwise the trail has held up beautifully.  Owen, James and the rest of the crew have been serving up some TLC  when holes develop but for the most part the trail is surviving on its own.

  Pedro Chambré (left) and Johnny Flair enjoy an end of ride embrace as the November sun filters through the trees.
Sunday's Bobsled conditions were full hero.  Tacky but just a little frozen, I even managed an un-planned two-wheel drift.   Carrying speed was easier than the evening before and the no-pedal technique linked everything up.  I even passed Eamonn – who was hardly whinging at all.
The road was in better shape but we were planning to climb further.  After switchback five there was a single track packed down by Minions, Nevegals and High Rollers.  It was slick enough to force you to stay light on the pedals and bars – but it was rideable the whole way with a little finesse.

  Must one feel shame for walking up the final hill? 
We settled on Crippler and were lucky enough to get first tracks.  Shortly after dropping in it became apparent that this was the day.  The snow was deeper here but it provided an unlikely combination of grip and slip.  Because the snow was about 10 cms deep you could use it as a bank when you got into trouble – but at the same time you had to be light on the tires because any hastiness would put you in the rhubbarb.  Getting sideways was both a neccessity and a pleasure.  You could ride fast and charge hard but the bike would follow the contour of the trail so you had to be ready.  Grins and high fives all around when we eventually stopped to reconvene.

  Eamonn was still up for the climb.
Johnny Flair showed how he got his nickname by leading out the last section of trail while reminding me what style is all about.
After we emerged on Braemar we pedalled up to our trucks and enjoyed a frosty beverage (in coffee mugs so as to not annoy the neighbours) and soaked in the bromance as the sun went down.  It was truly a powder day on the bike and with the exception of some epics I may have forgotten, it was my best day on the bike of 2010.
---
Have you been up for a snow ride?  Waiting until it gets warm?  Tell us about your frosted bike adventures here…