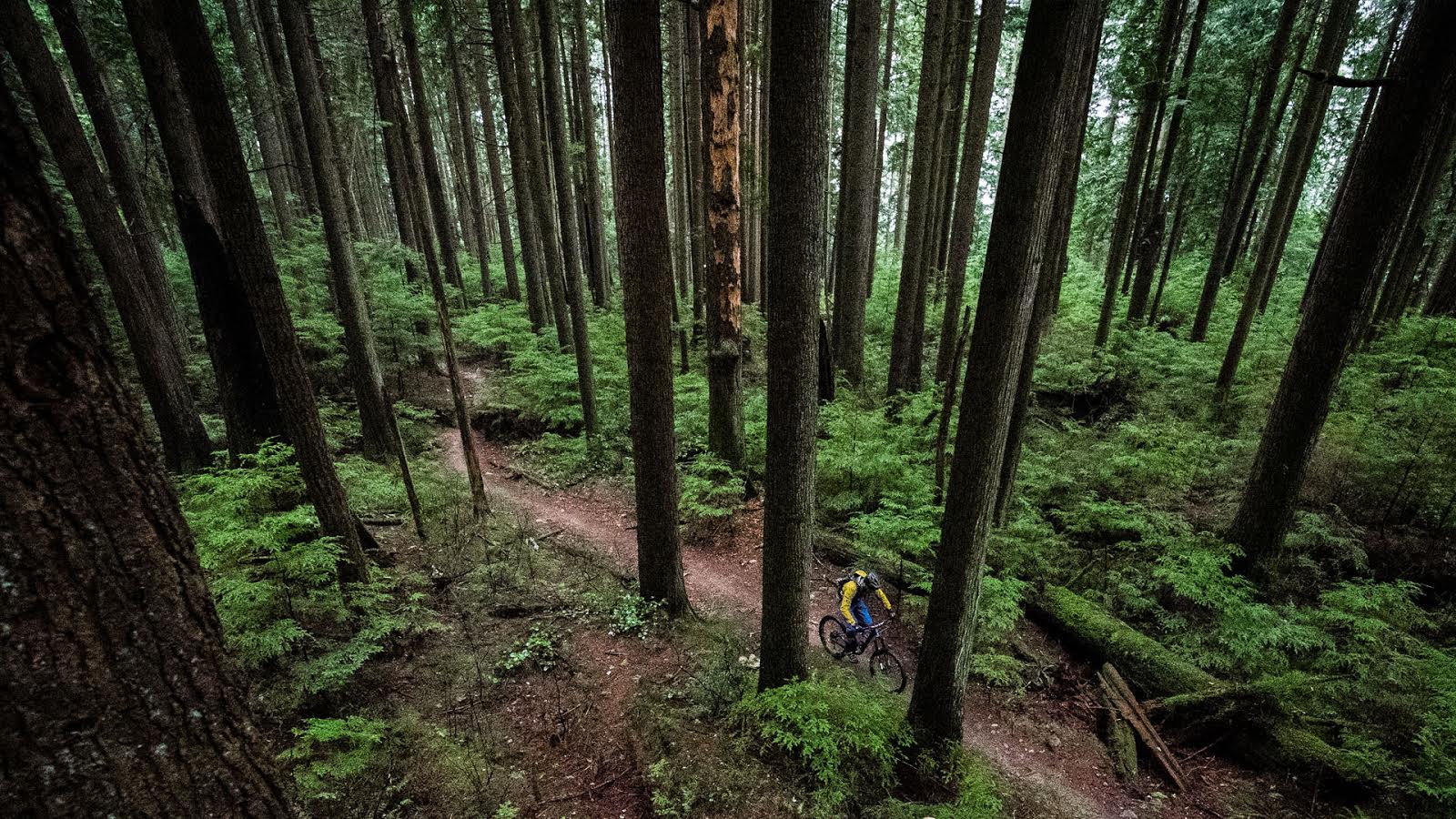 Gear Shots #65 – RockShox, Specialized, Avid
2011 RockShox Lyrik SoloAir RC2 DH
Words by Dan Austin
With my late season ride-stoke fading, the arrival of the a new RockShox Lyrik fork was just what I needed to help squeeze the last little bit of riding out of 2010 before the snow flies. RockShox has been making the Lyrik all-mountain fork since 2006, and this year's instalment is the next step in an evolutionary process. But is this really the lean, mean, do-it-all machine that RockShox says it is? That's what I plan to find out.
The flavour of Lyrik I am testing is the 160mm version of the 2011 Lyrik SoloAir RC2 DH, with a standard 1 1/8" steerer. RC2 stands for rebound plus low speed and high-speed compression settings, while the DH refers to a downhill-specific Mission Control damping system. (The Lyrik is also available in an RC and R version, but only as an OEM fork, while the RC2 DH or L are available as an aftermarket product.)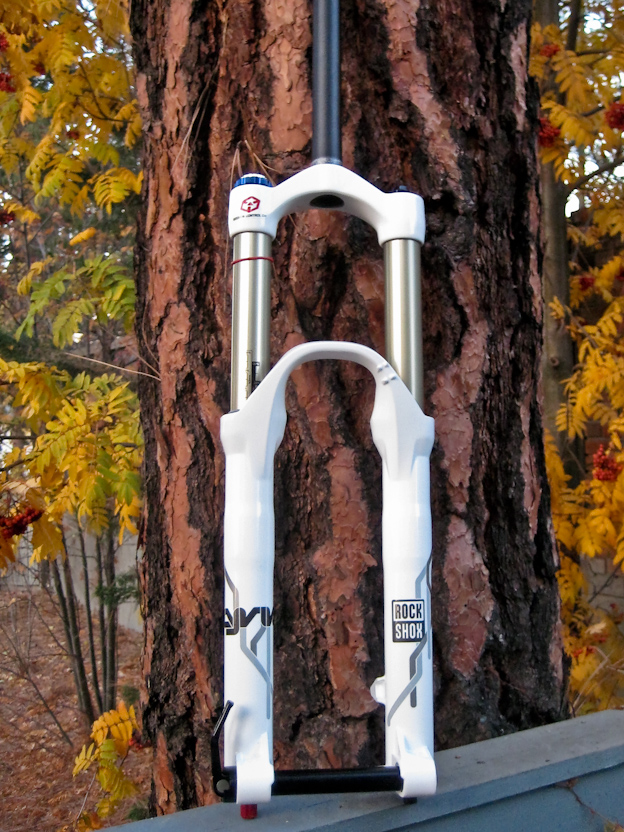 The 2011 RockShox Lyrik RC2 DH, nestled among the fall splendor, just waiting to be abused. || Photo: Dan Austin
2011 is a refinement year for the Lyrik, rather than a new technology year, and the update for the 2011 Lyrik is the switch to the Maxle Lite through axle. That saves over 50g from last year's Lyrik. And while this fork isn't revolutionary, we haven't reviewed one here on nsmb so we thought it would be useful to go over the basics and some of the technology you get with the Lyrik DH.
The fork offers 160mm of travel, which can be changed to 170mm internally by simply removing a 10mm spacer. Weight is 4.8 lbs, and this particular fork comes with two damping systems: Mission Control DH and Dual Flow rebound, and uses a SoloAir spring. The crown is forged and made from Al 66 TV. Stanchions are 35mm, 7000 series straight wall aluminum with low friction anodizing. Lowers are magnesium, accept a post disc mount and come with the Maxle Lite 20mm axle. Maximum rotor size is 210mm.
Most of that stuff doesn't need much of an explanation but the SoloAir spring and damping system could use a little bit more detail  (most of which is summarized directly from the RockShox web site).
The SoloAir spring, found in the left leg, employs RockShox's patented floating negative chamber to optimize the spring curve – basically, it helps keep the ramping up feeling typically associated with an air spring down to a minimum.
The damping system, found in the right leg, includes two RockShox technologies: Mission Control DH and Dual Flow rebound circuits. Mission Control DH controls the compression damping on the Lyrik. It looks a lot like the Mission Control set up found on other RockShox forks, except that they have removed the threshold (Floodgate) control and replaced it with a high-flow compression piston.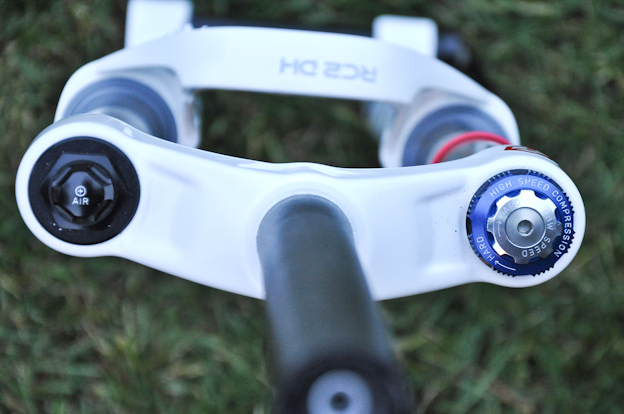 SoloAir on the left and Mission Control DH on the right make for a very tuneable fork. || Photo: Damien Burggraeve
Dual Flow rebound refers to two independent damping circuits, allowing for separate rebound speeds for big hits and small ones.  The rebound knob at the bottom of the right leg allows you to control the beginning stroke rebound circuit while a factory set end stroke rebound for big-hits makes up the second circuit.  One thing that is immediately evident is that the Lyrik seems to be set up not only to help you get to the top without killing yourself, but also give you the tools to come down and rip it up no matter what the trail throws at you.
Air springs tend to take a little more work to set up than a coil spring, so a couple things I appreciated right off the bat were the air guide and sag indicator.  The air guide is a little table on the left leg of the fork that gives you the best starting point for your air pressure based on the rider's weight.  Follow that up with some fine adjustments based on the sag indicator incorporated into the surface of the right stanchion, and you are off to the races.  With those resources at my fingertips set up took minutes and provided me with a great starting point from which I can fine-tune the fork.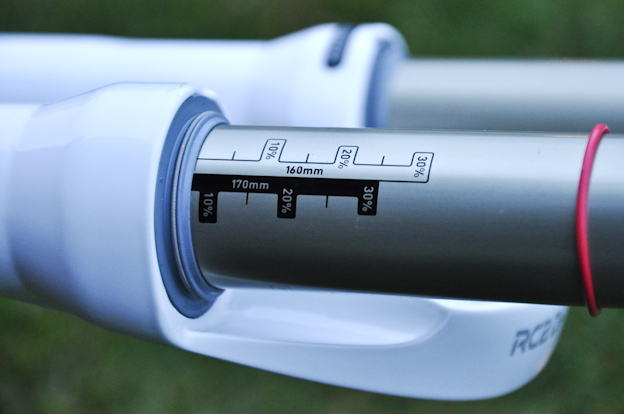 Set-up is super easy with sag gradients printed right on the stanchion. || Photo: Damien Burggraeve
RockShox says "CHARGE UP. BOMB DOWN." on the Lyrik web page, and I'm planning on finding out just how realistic that claim is. I will say, though, that after a couple inaugural rides involving solid climbs and equally solid downhills, the Lyrik has me stoked to see just how far I can push this fork.  I'll be happy to let you know what I find out after a couple of months of hard testing.
MSRP for the 2011 Lyriks is pending, and we'll update once we have that info.
Specialized S-Works MTB shoes
Words by Stuart Kernaghan
I spend a lot of time riding mountain bikes with clipless pedals. I like feeling connected to the bike when I'm riding XC terrain, and really appreciate the efficiency of clipless pedals when I'm on a multi-hour ride that involves plenty of climbing.
I've always preferred performance-oriented clipless shoes over softer lace-up clipless shoes, because they're stiffer, fit more snugly and are generally more efficient. Specialized's BG S-Works MTB shoe meets all of those criteria – plus they're available in size 14, which fits my large feet.
The BG S-Works MTB shoe sits one model down from the top of Specialized's 14-model mountain bike shoe line-up. It features the Boa rotary closure and lacing system combined with a Velcro strap, Specialized's Body Geometry technology and a carbon fiber midsole for supreme stiffness. All of that high-performance material makes for a seriously light shoe – and an expensive one. MSRP on the S-Works shoes is $300.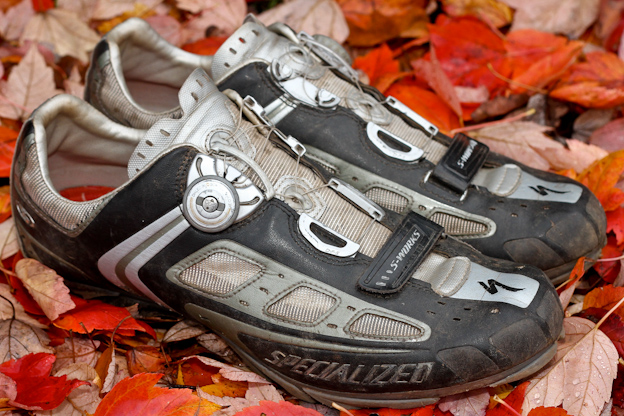 The S-Works MTB shoes, still going strong after a year of considerable abuse. || Photo: Stuart Kernaghan
Other technical details: the Micromatrix synthetic upper is light but still durable, there are numerous mesh vents for added breathability on hot days, the outsole is made from hard thermoplastic rubber and the carbon midsole is made from Specialized's proprietary FACT carbon fiber. Toe spikes for increased traction are also an option.
I've been using this particular pair of shoes for over a year now with Shimano 545 and 520 SPD pedals and they've been on many adventures in that time.  They've seen their share of use and abuse on wet and muddy Shore XC rides, dry and dusty Okanagan loops, fast and technical Squamish singletrack and rocky Chilcotin hike-a-bikes. And all of that considered, the S-Works shoes are holding up remarkably well.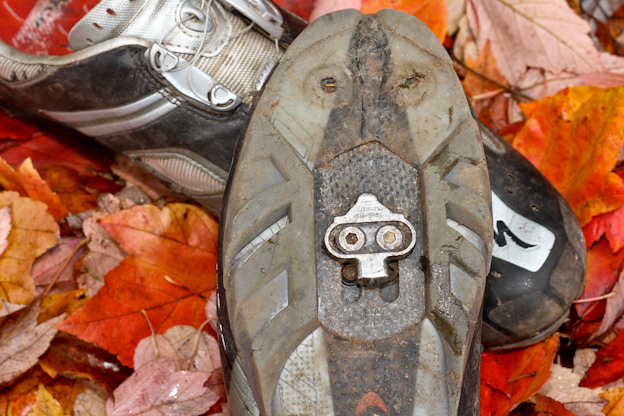 The hard thermoplastic outsoles held up very well, but the inserts for toe spikes did get a bit mangled. || Photo: Stuart Kernaghan
You might expect comfort from a race-oriented shoe like this to be lacking, but these shoes are actually quite comfortable. Fit on the S-Works shoe will depend on the shape of your foot – I have a long foot but it's not very thick or wide, so I ended up putting a second insole in the shoe to take up some of the extra space. Riders with medium to large-volume feet should be fine with the high-performance insoles that come with Specialized's top-tier shoes. Regardless of your foot shape, the Boa lacing system makes it possible to get even tension across the top of your foot to prevent pressure points and that's a real plus over a Velcro and ratcheting strap system.
The best thing about the S-Works shoes – apart from the fact that they fit my big feet – is the stiffness. The carbon midsole in these shoes ensures that there is virtually no flex at all. And that's saying a lot, considering the big feet and the fact that they're dealing with 260 lbs of rider and gear. The stiff sole translates into more power to the pedal when I'm climbing or hammering along singletrack, and less foot fatigue on long descents when I'm standing on the pedals.
Another big plus about these shoes is the durable outsole, which held up to a whole lot of hiking in really tough environments. It did show wear, but not nearly as much as other shoes that I've used. Another thing – soles often separate from the uppers on mountain bike shoes, but other than a very minor gap in one heel, everything is still tight on these shoes.
The synthetic uppers on the S-Works shoes also held up amazingly well, considering the abuse they faced. Ankle-deep shale in the Chilcotins, months of sloppy wetness on the Shore and the kind of abuse that comes from regularly walking through the bush definitely resulted in damage but it was more like a number of flesh wounds to the shoe than anything fatal.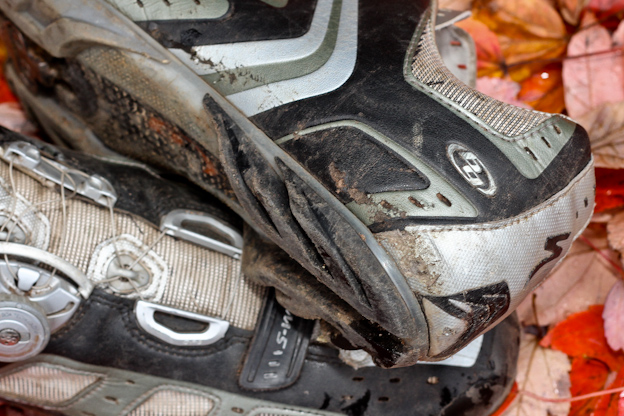 Wear is definitely noticeable, but not out of the ordinary – and certainly better than on some clipless shoes I've used in the past. || Photo: Stuart Kernaghan
There was no one worst thing about the shoes, but there were a few things that sure weren't great. First, the heel cup didn't hold my foot tightly and my heels would slip on extended hike-a-bikes. More than once, I've ended up with blisters – long after the shoes were broken in. I now put trainer's tape on my heels if I know I'll be hiking during a ride. Given that these are designed to be a racing shoe rather than an all-mountain shoe, however, it's hard to bitch too much about this particular shortcoming.
Although the Boa lacing system has its good points (it doesn't come loose, unlike wet Velcro closures), the plastic-coated steel cable laces tend to get mangled after repeated tightening and untightening. There are times when I have to fight to get the lacing to unspool, a problem that was further compounded when the rotary closure dial stopped working smoothly a few months into the test. 

This rat's nest can be a pain in the ass to deal with after a long ride. || Photo: Stuart Kernaghan
All in all, the S-Works shoe gets a mixed review. They're light, comfortable to wear, very efficient for pedalling and durability is better than expected. You can deal with the Boa lace issue by replacing the laces every once in a while, but the heel slippage would probably be a deal breaker for me if I were regularly doing rides with a lot of hike-a-bikes.
PROS
stiff, light and comfortable
set-and-forget closure system
better than average durability
CONS
heel slip on hike-a-bikes
wear on Boa laces and mechanism makes it difficult to undo shoes
soles can be slippery on hard surfaces
not cheap
2011 Avid Code hydraulic disk brakes
Four years after Avid introduced its Code freeride / DH disc , the company updated the big bike stoppers.  Changes in the second generation of Codes are largely tied to the inclusion of TaperBore Technology, originally unveiled in Avid's Elixir brakes. TaperBore eliminates the need for an independent reservoir, which results in a more streamlined and lighter lever. The system is also supposed to improve lever feedback and provide more stopping power.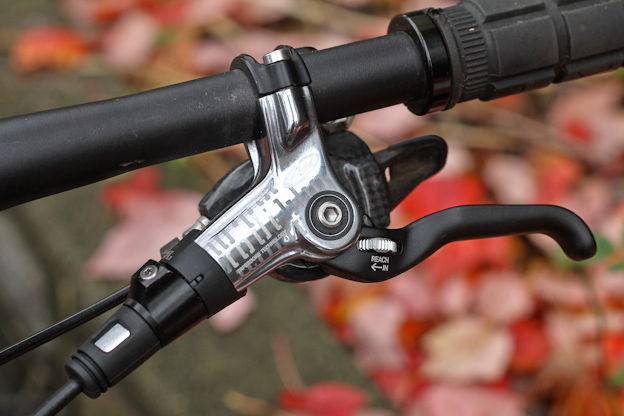 The new TaperBore technology changes the look of the lever and cylinder considerably, while the new reach adjustment dial is much easier to use. || Photo: Stuart Kernaghan
Other refinements include dual diameter pistons (as opposed to four pistons of the same size), top loading brake pads, a revised tool-free reach adjustment system, as well as a slick new finish.
The Codes continue to use a number of features that worked well in the first generation of these brakes: contact point adjustment, four pistons, a forged two-piece caliper, a two-piece lever with breakaway cam, cartridge bearing lever pivots and an adjustable banjo are the big ones.
You still get ambidextrous mounting and MatchMaker compatibility with the Codes, both of which are nice. Rotor sizes follow the Avid standards: 160mm, 185mm and 203mm, and the brakes run on DOT fluid. Weight for a front post-mount brake with 160mm rotor is a claimed 410 grams (add about 100g for a 203mm rotor).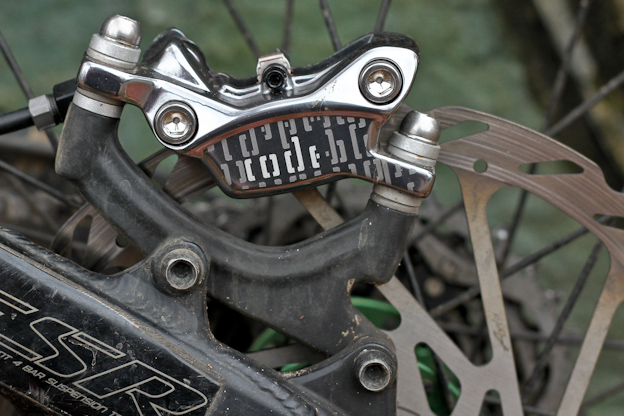 Two-piece caliper is standars, but the pistons are now different diameters. Top loading pads also make life easier. || Photo: Stuart Kernaghan
I've got one ride in on the new Codes, and so far, everything seems to be working well. I didn't have to bleed them right out of the box, which was nice, but time will tell how these brakes stand up to some serious abuse on the Shore. Stay tuned for a full review.
MSRP for the new Codes is US$235 per wheel. A less expensive option is the Code R, which uses a re-badged Elixir R lever. Cost for those is $157 per wheel.
---
Think that the Lyrik is the ideal AM fork? Lusting after your own set of new Code brakes? Head over to the boards and talk amongst yourselves.