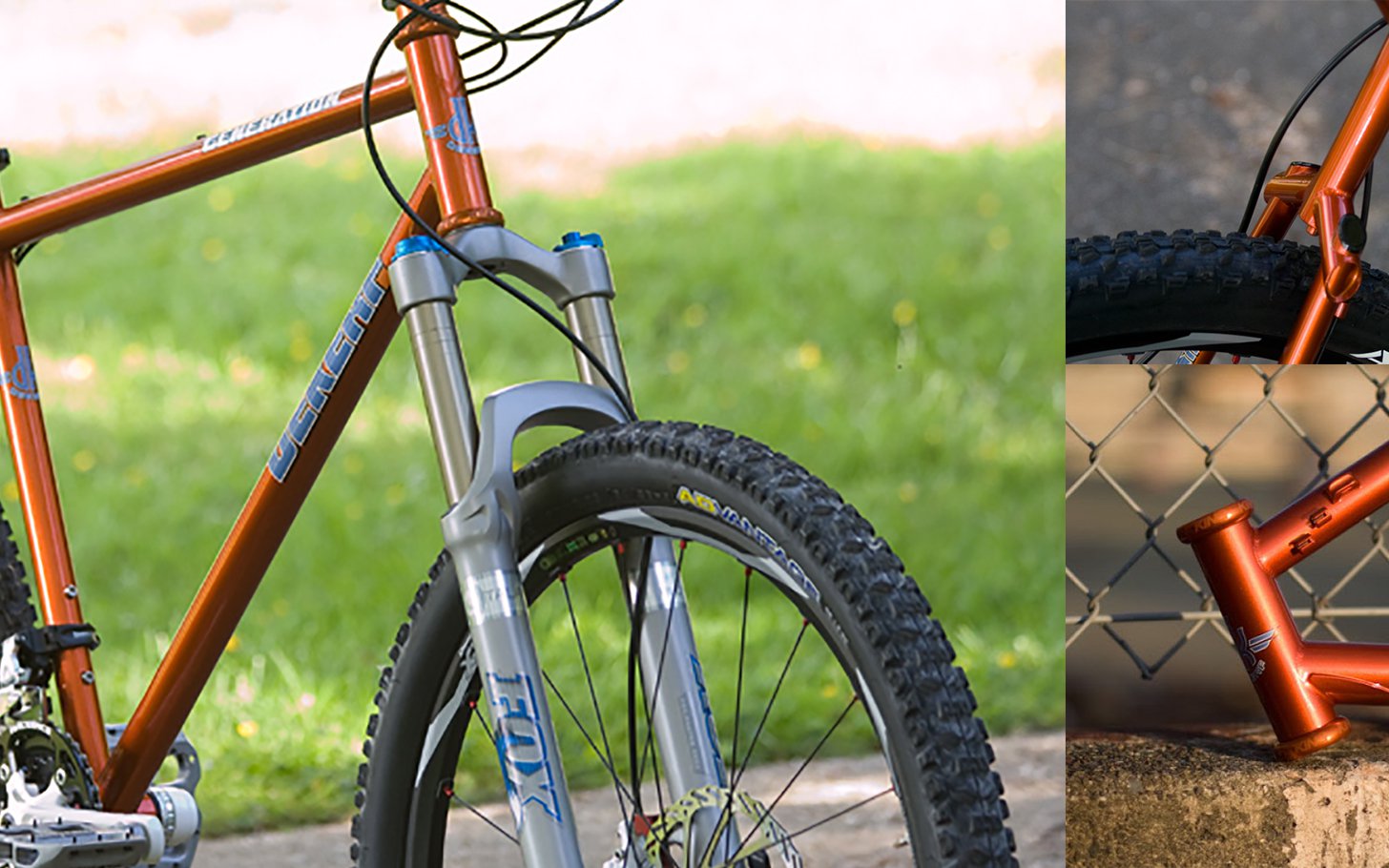 Project Dekerf – Done
The project was a crapshoot. I've built other bikes not knowing how they'd turn out; making small bikes ride bigger and vice versa – but I always knew I could strip them down and return them to their original purpose. If I didn't like the Dekerf I'd be stuck with a pretty, but useless tangerine-painted wall ornament.
The frame came to me by way of my friend, and former nsmb team rider, Colin Miller. Chris Dekerf used to hold legendary Valentines parties and he gave away great prizes. Colin won the draw prize one year ('96?) and it was the frame you see here – a Generation model. He rode it hard back in the day – wheelie dropping to flat like a madman – but eventuatlly he was lured to the duallie side so he stripped it and left it to hang on his wall. Colin gave me the bike at least five years ago and after hanging on my wall for a few years it hung on Dekerf's wall for at least two more. At one point I'd wondered if he'd lost it.
My build idea was relatively simple. Take an aging frame (circa '96 we think) have it refurbished with new paint, disc tabs and guides for brake lines and then adorn it with whiz bang parts from 2010. When I was last on a Dekerf V brakes were an exciting new innovation that vastly improved braking power!
I had Chris Dekerf deal with part one. The frame looked almost too pretty to ride once it was painted up like a Bangkok street walker. I had some of the parts for the build on hand. I even dug out an old XTR front derailleur (top pull, band type with the correct diameter for the skinny chromo tubeset – likely from my original Dekerf) that strapped right on. I also added some choice bits in important places and the bike turned out even better than I'd hoped.

Aside from an update of technology, I wanted to maximize the frame's repertoire. Back in the day we rode steel XC hardtails down everything because we didn't know any better. In fact my original tangerine Dekerf Team succumbed to its injuries on GMG – one of the nastiest trails on the Shore. Experience has shown that a 70 degree head angle is not ideal for steep and gnarly terrain, nor the 50-75mm fork this frame was designed to be paired with. And I can't take a slam like I used to either.

I needed more travel and a slacker front end. I pressed in a Chris King headset (mango of course) and then slid in a Fox Talas 150 fork with a 15mm front axle. At full travel the frame tips back to a Shore-worthy 66.5 degrees. Chris Dekerf told me the long travel fork would mess up the geometry, but for my purposes it turned out to be a bullseye. I can screw the fork down to 110 mm or put it in the middle setting of 130 when I'm not descending something challenging.
A few gearheads have suggested the bb would be too high with the fork at 150mm. It sits at 13.75" (350mm) with the fork extended and when it's down at 110 it drops to 13.4" (340mm). In contrast a modern steel all mountain hardtail from Chromag – the very tasty Aperture – has a 12.25" BB height based on a 125mm fork. Low bikes should corner better and in general allow you to ride more aggressively because your centre of gravity is lower. I'm glad I didn't measure this before I spent a lot of time on the bike – because my Dekerf rails despite being a little tall.

Light and strong XT wheels. Mixing Shimano and SRAM together is part of my personal campaign to encourage peace in the bike industry.
A set of XT wheels were the next part of the foundation. I've used these before and they can handle some pounding but they are exotic, (straight pull spokes and red alloy nipples!) light and sexy looking as well. I used Shimano's adapters to allow me to install Avid six-bolt rotors and they worked perfectly. I've always been a fan of Race Face cranks so a pair of white Deus was a no-brainer. White cranks were nowhere to be seen in the early 90s so these added to the visual impact I sought.

There was a set of white Avid Juicys in my parts locker that I'd been keeping for a special project. It may have been gilding the lily (as my mum used to say), but I added Straitline levers that Greg Parish branded just for us. I really like the lever feel with the single finger shaping and added texture. A SRAM drivetrain was a natural fit and an XO rear derailleur, 990 chain and XO shifters managed the gear selection. After a test ride I remembered how crappy front derailleurs were back in the day and I quickly swapped in a 2011 Shimano Dynasys unit designed for their new XT 10 speed config. and now the front shifting is buttery.

North Shore Billet is now making anno adapters for almost any rotor size. They are much prettier than stock and you can choose from four colours.
At first I jammed in a Ritchey 27.2 post but I quickly realized this wasn't going to work. After years of hanging on the wall postless, the seat tube was reluctant to accept more than just the tip. Or is the frame a 27.0 or a 26.8? I chose not too think to much about that. Rase to the rescue! Their full travel, 20 position 27.2 post does the trick perfectly. It's a little loose and it rattles some but the action has been flawless thus far. Below is a little video showing what the Rase post can do.
WTB's Vigo saddle is designed for Marathon use but it's comfort and stealth suit me fine. The nose is a little pointy for my liking but so far it hasn't tried to sodomize me. Tires were a little tricky. I wanted good grip as well as some volume to make up for the absence of rear sproing. I slapped a Maxxis Advantage 2.25 up front (I may go to a 2.4 later) but there wasn't enough clearance for the same tire in the rear. A 2.25 Maxxis Ardent was a little narrower and it wasn't going to wear through the pencil-thin chainstays.

The Fox brake line guides – also from North Shore Billet – come in five colours. Much tidier!
Race Face's new fat grips (in perfectly contrasting green) and Syncros carbon bars (690mm) finished things up. About the only part I wasn't happy with was the Syncros stem. It's a little clunky-looking for such a thoroughbred machine. Luckily Syncros made something that is svelte as can be for me to swap in. The Fric stem – in 45mm length – was just what I was looking for at only 124 grams. It's cold forged and minimalist – but it's not easy to deal with. Because of the 260 degree it's a bit tricky getting the bar on. Then you need to set up the headset tension before tightening your bar because the clamps operate in concert. Like a high maintenance partner, the finished product is worth a little extra effort.

This tidy little Syncros stem was a welcome late addition. It weighs just 124 grams – and I love the minimalist styling.

I opted for some jewellery from North Shore Billet to put a cherry on top. First of all I mounted their brakeline guide from Fox up front and then I used their red-annodized brake adapters front and rear. I've always been a fan of NSB's attention to detail.
So she was done. I spent most of the summer in the B.C. Interior riding nubuck-smooth XC trails on the Dekerf – and I knew she'd excel at that. There are no trails like that here on the North Shore – where 95% of my riding happens – and I had know idea how she'd handle home turf.

Proof. Also notice the Rase post fully retracted (so the front tire didn't hit the ground and fudge the weight).
The first time I tackled the Shore on the Generation I had lent the Specialized S-Works Enduro in my stable to a friend and my other pedal bike was out of commish. Basically I was cornered into riding it. I expected it would be like that; the Dekerf would be my last resort bike. When other bikes were broken I'd grab it but otherwise I figured other options would catch my fickle eye.
I locked out the fork for the climb and I'll be damned if it didn't climb even better than a hardtail. The novelty of standing up without losing any energy does not wear off. Once we got to the trail I picked my way through at first but gradually my confidence grew. By my second Shore ride I was loving the way the Dekerf rides. At 28lbs I could flick her around but the slack geo and 150mm fork loved the steep and technical. The bike is perfect for the North Shore's new pump trail – Bobsled – and every other trail I've taken her on. I've been picking my battles though and trails like CBC, Ned's or Team Pangor likely won't be on the menu.

She looks good dirty too.
The overworked Fox Talas 32 fork has performed admirably. Another tester mentioned recently that he hasn't been able to make friends with the fork but I have had a better experience. At the same time I understand where he is coming from. For some reason off the trail the fork feels too linear and I worry I'm going to bottom out. Once I get up to speed it ramps up in all the right places but it feels nice and supple off the top. If I cranked the pressure to where I think it needed to be at a standstill it would be too firm to smooth out the North Shore but erring on the soft side seems to be the ticket. The 15QR feels adequately stiff as well. My first choice would be to run this fork as a 20mm but without that option the 15 is a solid runner-up.
Riding the hardtail makes you pick your lines more carefully and to see the trail differently – and it's also a lot more work. On a six inch travel AM bike you can pretty much stand and make it down the trail. On the steel machine your legs get an extra workout trying to compensate for the lack of squish. This extra effort makes the whole experience even more engrossing and satisfying that usual. The cost is that my body feels it more.

The trademark Dekerf wishbone stays. On the fancier models (the Team) this portion of the bike was fillet brazed and even prettier.
Instead of being my last resort the Tangerine rocket is often my first choice for a day on the trail. Last Friday's Chromag North Shore ride made it a natural choice because I knew I'd be in good company. I think there were 8 of us on steel hardtails – 7 of them from Chromag – out of a group of 21 riders. It was a fast group and I struggled to keep up – but I had a blast on the Dekerf.
The Dekerf is a great choice if I'm riding alone – because I can scare myself without caring how fast I'm going. The bike also makes old trails new again and it encourages you to use the terrain differently. Perhaps the biggest bonus is that hopping on the Enduro afterward makes me feel like a superhero. There is no feeling like ripping down the same trail on a wickedly capable bike after riding it on the Dekerf the day before. I feel like I'm channeling Sam Hill and giggling the whole way down.

Do yourself a favour – track down a steel hardtail (or Ti for even more compliance and bling) and build it up as a secret weapon.

This whole exercise has been a great reminder. The most newfangled technology can be great – but when you can have a ridiculously fun time on a 14-year old frame you realize that we mountain bikers are on to something that's greater than the sum of its parts. It's also a wake up call to those who think mountain biking is expensive. You can find a used hardtail for under $1000 with no effort at all – and there's less to break.
Hopefully all that fork won't snap the frame any time soon because this is a bike I'd like to keep in the quiver for as long as I'm a rider. Long live Dekerf!
---
Is she too tall to ride well? Should I have opted for a 125mm fork? Or do you like my Generation? Get retro here…