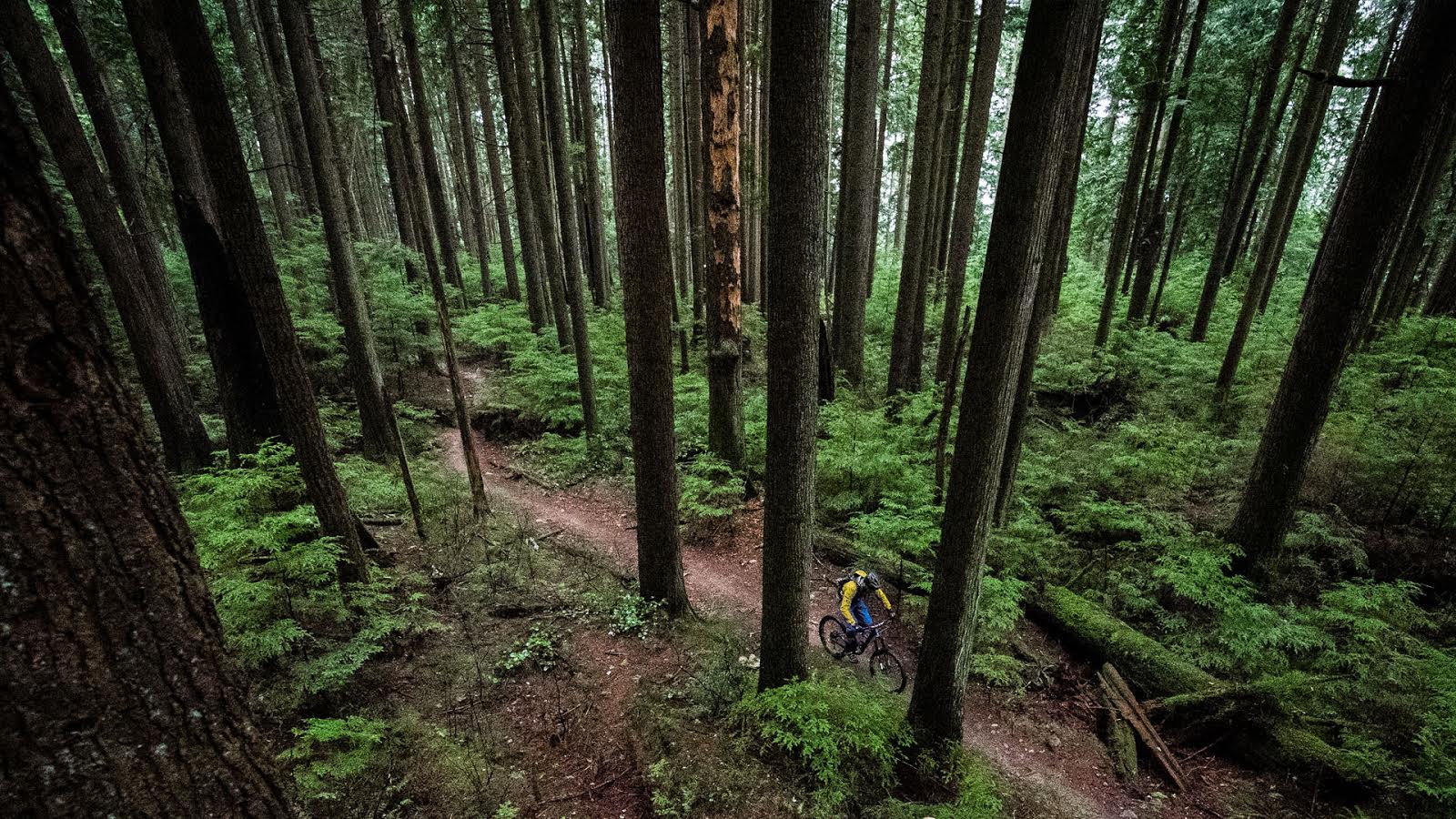 2010 Banshee Spitfire
High Flight
Oh! I have slipped the surly bonds of Earth

And danced the skies on laughter-silvered wings;
Sunward I've climbed, and joined the tumbling mirth

Of sun-split clouds, — and done a hundred things

You have not dreamed of — wheeled and soared and swung
High in the sunlit silence. Hov'ring there,
I've chased the shouting wind along, and flung

My eager craft through footless halls of air. . . .
Up, up the long, delirious burning blue
I've topped the wind-swept heights with easy grace

Where never lark, or ever eagle flew щ۬
And, while with silent, lifting mind I've trod

The high untrespassed sanctity of space,

Put out my hand, and touched the face of God.
— John Gillespie Magee, Jr – WW2 Spitfire pilot

  The Spitfire at rest beside Trail Bicycles in its final configuration
 
Up until about several months ago I had no intention of keeping this bike for next season.  Things just didn't feel right.  Sure, sure – the thing climbed like a rocket, but going down was a lot of freakin' work!  Then, with the simple addition of wider handlebars, some painstaking re-set-up of the suspension, suddenly this "little" bike wasn't just a super climber …it became one of the fastest two wheeled machines I have ever been on.  The above poem may seem like it's a bit of an over the top description for riding a mountain bike, but given my experience on the Spitfire in the last little while, it feels appropriate.

  The new cockpit is damn sexy thank you.  Photo ~ Andrew Gower
The new for 2010 Spitfire frame comes with 5 inches or rear travel, has an adjustable head angle, and depending on fork, upper shock mount setting and head set choice this can range from 66 to 68.1 degrees.  The suspension linkage is Banshee's own virtual pivot point design, known as VF4B and the frame also has a tapered steerer tube designed to take a 1 1/8" zero stack top with a 1.5" traditional bottom for the headset. The Spitfire also comes standard with a Fox RP-23 rear shock.
Frame and Shock
2010 Banshee Spitfire Medium – Fox RP-23 Rear Shock 120 mm travel
Fork
Fox 32 TALAS RLC
Brakes
Avid Elixir CR – 7 inch front and 6 inch rear rotors
Shifters
SRAM X9
Cockpit
Bontrager Big Earl bars, Straitline 50 mm zero rise stem (stock bars/stem were Race Face Evolve 31.8 mm XC Riser bars and 90 mm 6 degree rise stem)
Seat/Post
WTB Silverado (still white) / KS i950 travel adjust seat post
Cranks
Shimano XT's (originally Raceface – a Deus XC) with Stinger and Bash
Rear D/Cogset
Sram X-9, Sram PG950 11-34T, 9spd cassette
Wheels
Mavic Crossrides
Tires
Kenda Nevegal Fold Bead – 2.5 front, 2.35 rear (stock tires were 2.2 WTB Wolverine Race XC)
Pedals
Crank Brothers Smarty
Part Swapping
Tires – the stock WTBs were not very confidence inspiring.  They work well on pavement and grass, and would probably be fine for that 5 minute window after a rain storm right as the roots and rocks get dry, and right before the dirt starts to get dusty again.  Otherwise, no thank you.

  Yes I found a blue Blackspire Stinger guide. Photo ~ Andrew Gower
Bar/Stem – this is largely a personal thing, but I found the stock bars too narrow and the stock stem too long.  Given that this bike likes to go fast, I felt too far forward and had to work too hard to keep things under control.  The short stem and longer bars made the bike feel much more lively and easier to flick around.
Front Rotor – on flats, and not too steep descents, the power of the Avid Elixir CR's was a little overwhelming at first.  However, after a few rides I began to notice that at speed, on steeper sections of trail, I wasn't feeling enough in control.  The switch to the 7 inch front rotor offered just the right amount of power increase.
KS i950r Seatpost – OK – the Spitfire really should come stock with this.  If there were ever a bike suited for fast rolling terrain with sharp climbs and steep descents, it's the Spitfire.  The remotely adjustable seat post makes everything work so much better.
The final build, with a bash guard, Stinger, i950 seat post, bigger tires and wider bars, was still only 31.3 lbs.
   Climbing up to Sykes Bridge in Cumberland.  Photo ~ Tree Murdock
Spitfire Missions
I have ridden the hell out of this bike.  The only thing I haven't done is take it to the bike park (may still try it…but it's really not designed for park riding…).  Epic climbs, shuttled downhills, one very bad (for me) XC race and even a win at the 12 hours of Cumberland!  This bike went with me to finally hit Snowden Demonstration Forest in Campbell River, has touched just about every piece of dirt on the trails in Cumberland and even got to go try a little bit of Hornby Island goodness.
Gaining Altitude
This bike is an excellent climber.   Even without the rear locked out, the suspension settles into the travel and exhibits very little bob.  However, engaging the ProPedal lets it ride up like a hard tail, just not quite as painful.  The Spitfire has proven adept at both long, smooth fireroad churns and in picking its way up technical, rocky ascents.  If you are having trouble climbing on a Spitfire it's not about the bike. Acceleration is instantaneous and smooth when you lay down the power.  Winding the fork travel down to the middle setting was all I usually did for climbs, and it reduced the head angle enough so I never had any real problems with the front wheel wandering.  Out of the saddle efforts with the ProPedal off should be avoided as this is the one instance where the suspension bobs noticeably.

  The Spitfire hefting Andrew to victory with his team at the 12 hours of Cumberland.  Photo ~ Mike Leblanc
Losing Altitude
At first, it took me some time to get used to how light the bike is and how different the suspension feels, especially compared to the Scythe I usually use for riding down.  For the first couple of months of riding going down was nerve racking. The Spitfire gives you the illusion of there being very little under you when you start going fast.  However, the combination of compliant, high performance suspension, a stiff frame and a relatively slack head angle for the category make this an able descender in all conditions.  I use the term 'high performance' with reason – the Spitfire doesn't feel plush, but it is responsive.

  With some adjustments to the original spec the Spitfire went to battle. The Baron didn't stand a chance.  Photo ~ Mike Leblanc
Slow speed descending over technical terrain is doable, but not this bike's forte (at least in the 'aggressive trail' setting – read on for more on this).  Where the Spitfire truly shines is going fast.  The low bottom bracket and stiff chassis combine for a bike that is flickable, yet with the slack head angle also very stable.  Railing corners is incredible, once you get used to the feel of the bike.  There is now nothing I like better than throwing this bike through all kinds of terrain.
Aeronautical Manoeuvres
While small, smooth jumps with well built transitions and smaller drops are absorbed with ease, I definitely felt uncomfortable on anything over about three feet high.  The bike just did not feel burly enough, and the rear travel blew out completely on anything too big.  Lighter, more skilled riders may be able to push the Spitfire over bigger drops, but as that is not what this bike is really designed for.  Keep in mind, I weigh 205 lbs which adds up to 220 with gear.
Fine Tuning
For the majority of my time on the Spitfire I have left the travel setting in 'aggressive trail' or the upper front shock mount.  I did, however recently try out the lower shock mount which Banshee refers to as the 'trail setting.  The difference was immediately noticeable.  Climbing, with the fork in the middle travel setting I could feel significantly more weight on my hands.  Riding through rough stuff, there was less pedal contact.  Descending, I think it all balanced out – so while the head angle was steeper and the bb higher, my weight was further forward so I was riding more aggressively.  I will be leaving it in the trail setting for a while, and would encourage all Spitfire owners to try both settings.
Landing Gear
Despite constant tinkering, tracking all of my settings ride to ride and reading all about it on the web, I just can't get the Fox Talas 32 RLC fork to feel right.  In comparison to some air sprung Rock Shox products I have tried this year, the Talas doesn't come close.  It's either too stiff or too plush and never really balanced.  I will be getting it Pushed over the winter, so we will see if it can be improved.

  Riding one of the many bridges on Thirsty Beaver in Cumberland – note the intense concentration. Climbing up to Sykes Bridge in Cumberland.  Photo ~ Tree Murdock
Debrief
This is a true all mountain machine.  Any trail, anywhere, as long is the drops don't top 3 feet in height. This bike will get you to the top fast, and down again even faster.  Just be ready to hold on.
Pros
Stiff, light, good angles especially with a travel adjust fork.
Rails corners like nobody's business
Climbs like the airplane it is named after
Cons
Some components of the stock parts package leave a little to be desired.
Low bottom bracket takes a little getting used to
Not super impressed with the Fox Talas 32 fork
---
Is there a spot in your quiver for a bike like the Banshee Spitfire?  Do you have a quiver (I suspect many of you do) or are you a one bike kind of person?  Tell us what you think here…