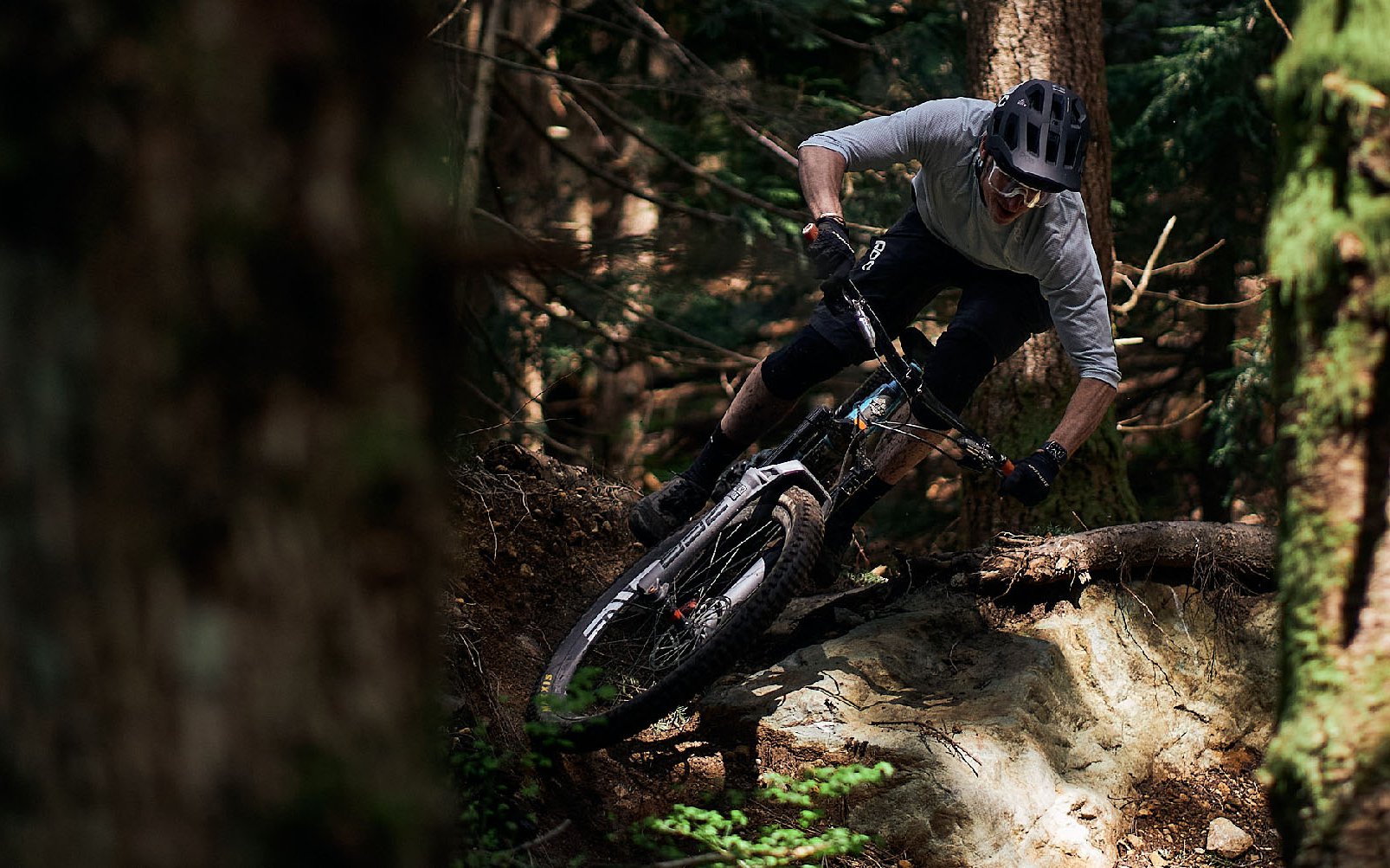 REVIEW
4 Products From POC Reviewed
First off I should confess that I'm a fan of POC gear. I love the spare and stylish aesthetic, the bold but thoughtful use of colour, and the dedication to safety within a cohesive visual presentation. To speak plainly, from my experience, POC stuff looks cool and generally performs well, so I come in with high expectations.
Some of the gear in this review came in a package of the Fabio Wibmer line from POC. I had no idea the Youtube star had such a big following, but I guess that's what millions of views will do for you. It turns out the riding eyewear selections in Fabio's collection are white. White works out for mountain bike gear when you are sponsored and can pull out a new pair of goggles weekly when the strap inevitably turns the colour of the trail, but it's more challenging when you have to buy your gear, or when you don't want to look like an 'influencer.'
Devour Eyewear
Which brings us to the subtle and economical (ahem!) Devour riding glasses. These are as close as you can come to goggles in terms of coverage but without the sweaty foam ring attached to your face. They are vented at the top of the lens and they do a reasonable job staying free of fog, particularly considering the size of the lens. Part of this ability to stay clear likely relates to the dearth of contact points between the frame and the lens, giving vapour fewer spots to accumulate. The field of view is excellent, but the features I appreciate most are the adjustable temples and nose piece. The custom fit allows them to sit very securely on my face and even in rough terrain they resist the annoying bounce that afflicts some eyewear. I've only worn them with the included clear lenses because our dark and dank forests require you to collect as much available light as possible, even in the middle of the day.
These are very effective, adjustable, and highly functional glasses, but I think I'd look like (a little) less of a tool in a pair with a dark frame. The lenses are scratch resistant, easily swapped, and rated at UV400. They are also coated to repel water, dirt, sweat, salt, oil, dust, and nuclear particulate. I added that last bit but I'd rather be wearing them than not if faced with an unexpected mushroom cloud. If you can handle the 250 USD 280 CAD price tag, these glasses should serve you very well.
---
POC Resistance Enduro Shorts
It's not always clear to me why I appreciate a pair of shorts before I take stock. There are often subtle factors like cut, stretch, and material feel that combine to make you feel good as soon as you pull on a favourite garment, and that's the case with POC's Resistance Enduro Shorts. I keep reaching for them as soon as they are clean from the previous ride, or even when they aren't yet laundered. They aren't perfect for me in every way, but they tick enough boxes to keep me very happy. You'll notice there are two textures to these shorts; a conventional matt black finish and a speckled grey fabric that surrounds the lower thigh and runs up the sides to the waist. This is Vectran, a fabric with a similar tensile strength to Kevlar that's used in many aerospace applications, but has a reasonably soft hand-feel. In this application it also has a significant amount of stretch.
The cut is great but the sizing is a little large. My waist is around 31" and a medium usually fits me fine, but I've used up all my velcro runway and the shorts are still a little loose. I can't understand why makers of shorts with velcro adjustments can't double or even triple the length of the loop part of the the velcro equation; it's soft to the touch and won't snag on anything and it makes the product much more versatile. My only other complaint is that I'd like to see one more pocket on the side of the thigh on one side, for those of us trying to ditch our pack whenever possible.
There are actually three pockets however, two zippered slash pockets and a third in the small of your back that's only big enough for a credit card, and for many people this will be enough. These are really nice shorts but as with the Devour glasses, you'll have to decide if they are worth 160 USD or 200 CAD.
A decent comparable is another pair of shorts I like, made by Abit Gear. I won't go too deep, because we'll be reviewing the new model shortly, but they will only set you back 110 USD, and they come in 7 sizes, two fits (slim and athletic) and with two choices of inseam, for a total of 28 options. Oh - and they have 4 usable pockets for everything you want to stash and an excellent retention system. The POC Resistance win the style wars however, and the Vectran gives them an edge in durability as well.
---
POC Kortal MIPS Helmet
This is the first POC helmet I've owned that has a visor that enables your goggles to nest beneath it - or almost at least. A few goggles I tried didn't fit because of width but the POC Fabio edition ORA Clarity goggs almost fit, but not quite as you can see in the photo. They drooped below the level of the helmet and they don't quite fit in terms of width either meaning it wasn't ideal to ride with the goggles nested, but it would be okay for ordering a beer, especially if you've already had a couple.
As you may have heard, MIPS and POC had a bit of a falling out. Lawsuits were launched and blood was bad in a very un-Swedish way. The companies were almost acting like they came from an English speaking country. Fortunately, that alternate timeline corrected itself and the former partners remembering they were both Swedish and far too sensible for such nonsense, vowed never to stray again. This all started when POC announced they were launching their own rotational slip plane technology called SPIN, which MIPS didn't like. That's old news and since 2019 they've been forging a "deeper partnership." which is why you'll find MIPS in this helmet.
The rotational component in the Kortal actually doesn't seem to rotate much and it's not attached front to back down the middle. In fact, unlike other mips, rather than a structure that mirrors the inside of the helmet and rotates independently with ease, MIPS Integra seems to be simply a halo around the temples that attaches to the dialled retention system at the back. That system is adjustable up and down and before I discovered that feature I was having trouble with eyewear being pushed down by the helmet in front. A quick tweak and all was good. Thankfully hair is pretty slippery and this execution of MIPS is quite comfortable and doesn't interrupt venting.
Airflow is the biggest story with this helmet in fact, with massive gaping maws up front, uninterrupted by the visor thanks to matching maws. Inside the helmet, deep, wide channels allow that air to keep moving with only thin beams supporting the padding that contacts your cranium and it's very cool to wear as the weather gets warmer, perhaps the best vented helmet I've worn.
In terms of tech, the Kortal features a RECCO reflector to help others locate you when you are unable to locate yourself, and the NFC Medical ID system. I couldn't find anything useful about this system on POC's website but in the age of the internet I recycle any included paper literature immediately, so it might have been there. Google wasn't very helpful until I noticed the words MY ICE INFO in tiny letters on the back of the helmet. That eventually led me to twiceme.com which eventually led me to the Apple App Store. Once I entered all my info all I needed to do was place the NFC antenna on my phone on the symbol on the helmet to upload the info. There is a spot for your medical info, contact info, next of kin and your insurance provider, where I just wrote "CANADA." It took a couple of tries but eventually I got there and managed to upload all this info to my helmet, which is pretty amazing. I think this is a really good idea that will only be really useful if it gains wide acceptance. If only one out of every thousand cyclists or skiers/snowboarders has a helmet with this feature it's unlikely first responders will even look for it.
Rear coverage is good, the visor is adjustable without tools, which I love, and will apparently break away easily in the event of a crash. The retention system is simple and secure and has a basic buckle closure. Fit and comfort are excellent and I like the look of this lid. It's aramid reinforced and it passes the new "Dutch NTA8776 standard" which is an e-bike certification.
The Kortal MIPS will set you back 280 CAD or 250 USD
---
POC Joint VPD Air Kneepads
Padding up your boniest and most exposed outcropping is a tricky procedure. Pads need to provide enough protection to make any discomfort worth our while, but also comfy enough to allow us to pedal for hours at a time. Bulky knee armour is often too hot and bulky to keep in place for the whole ride, and I end up wearing them around my ankles for the climb, which works fine, as long as you don't smash your un-sheathed patella into your stem. I generally find that ultra low profile pads aren't worth the trouble so I try to wear the same pads on every ride, or occasionally go with naked knees. About 90% of my rides are on terrain that I find extremely challenging and going down hard is always a real possibility, so pulling on some glorified knee warmers feels a little like wearing water-wings going over Niagara Falls.
My goals for knee protection are to prevent a wound that would end my ride, and even more importantly, prevent an injury that would put me in the ER and/or on injured reserve for an extended period. But within that context I'd like to be able to pedal with them on for the entire ride if possible, have excellent coverage, and a fit that keeps them in place in the event of a fall. All of those criteria are met here.
At first glance these look very low pro, and they are also nice and light at just 154g. They make up for their svelte silhouette with a well contoured shape. They cup your knee but then extend the protection above your patella, an area often overlooked by minimalist pads and one that is often victimized during a fall. The moulded shape also does an excellent job, along with the generous neoprene insert at the top, keeping these from sliding down.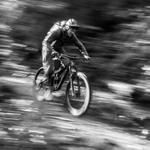 Cam McRae
Height - 6'/183cm (mostly legs)
Weight - 170lbs/77kg
Inseam - 34"/86cm
Ape Index - 0.986
Age - 56
Trail I've been stoked on lately - Boogieman
Bar Width - 760mm
Preferred Reach - 485-500mm (longer with 27.5 wheels than 29)