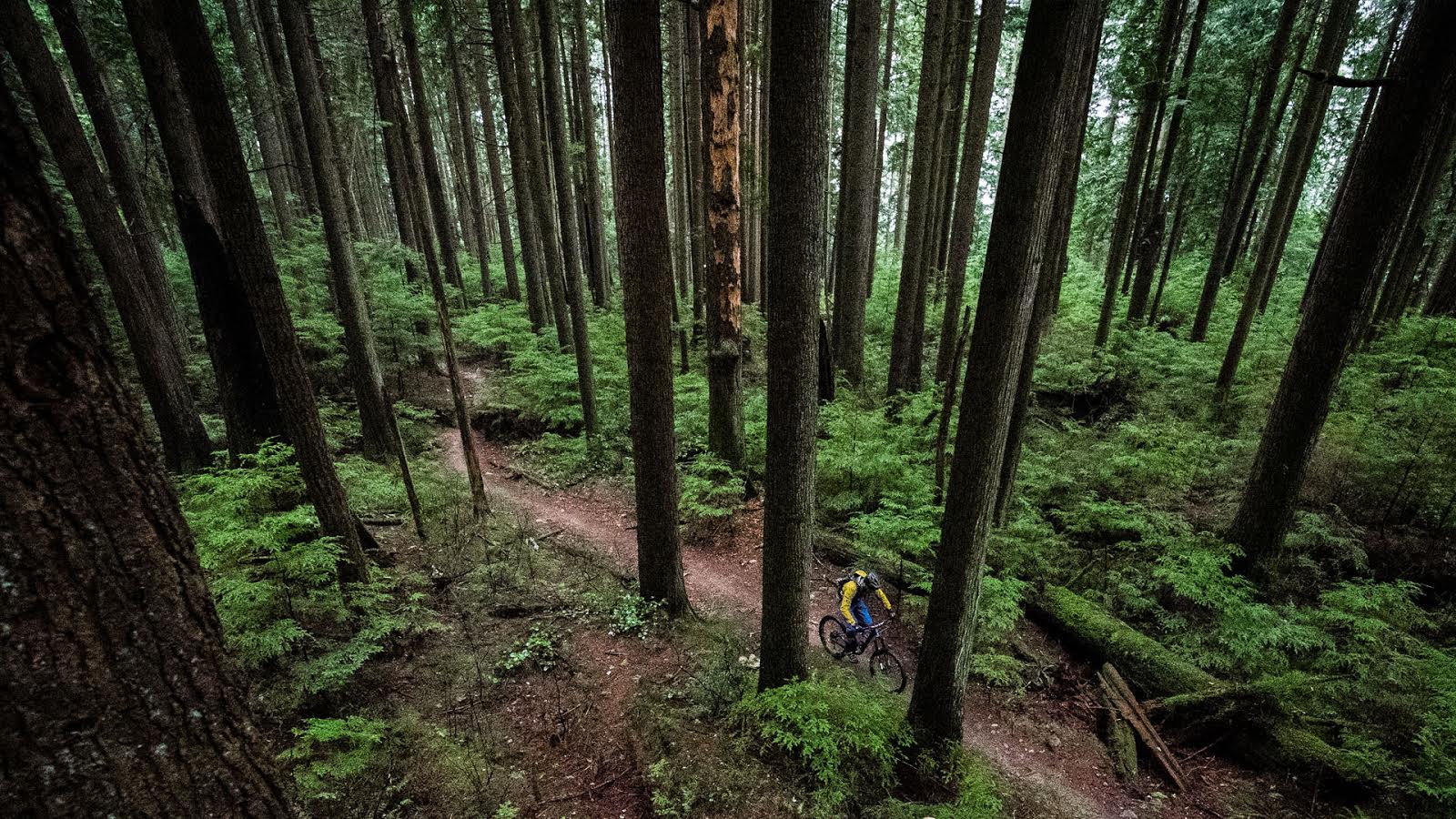 Gear Shots #64
Rock Shox Reverb Post
I am an unabashed fan of the remote adjustable seatpost.  I was a naysayer at first but I've eaten my crow and turned into an evangelist.  These things add fun, speed and stamina – what more could you ask for? I've tried a few in my time as well and come away occasionally disappointed – so I was cautiously optimistic about the Rock Shox Reverb.  Stuart Kernaghan did a thorough write up on the product recently here – so I won't go crazy on details – but I'll serve up some important points.

The discrete clamp mounted lever for controlling post height. The barrel adjuster can be dialled in or out to speed up or slow down compression and rebound rates for the post (Slap or Tickle!). Photo ~ Stuart Kernaghan
The Reverb moves up and down 5 full inches.  If you ride aggressive trails and you have long legs this is a sweet spot.  For me 6″ would be even sweeter but for most situations 5″ does the job (for some reason my number keeps going up).  It's hydraulically actuated and damped and air pressure propels it up on your command (your arse does the job on the way down).  The best news is that it's infinitely adjustable; you can have it 3mms up from the bottom or halfway, three quarters – anywhere within the 5″ range is possible.

 In the full down position.  If you want it lower than this you'll have to use your QR.

A unique feature of the Reverb is the 'Slap or Tickle' adjustment as Rock Shox has taken to calling it.  With a dial mounted at the lever you can adjust the damping so that the post returns with a bang or slow it down so it floats upward like a helium balloon.  After some fiddling I'm a fan of the latter action.

  And here's fully extended.  One of the benefits of this design is that it is infinitely adjustable between the two extremes.

The Competition
Thus far the Reverb is high on my list of favourites.  Specialized's Command Post can be adjusted to return slowly or quickly using air pressure – but it has only three positions.  Early models leaked but more recent versions don't seem to have that problem.  An advantage of the collet mechanism (which expands and contracts within the cylinder of the post and seats in detents machined into the inside diameter) used by the Command Post is that it will still work manually (and go down remotely) if air pressure leaves you.  While a 5″ Command is apparently in the pipeline, for now all you can get is 100mm or just shy of 4″.  The Crankbrothers Joplin hasn't proven its reliability and it too sports only 100mm of travel.  The fully mechanical Gravity Dropper is reliable generally but it again stops at 4″ travel – and like the CP it has only three positions.  No damping for the GD either which could make your boys suffer. Another downside is that I sent a GD in for warranty almost a year ago – anonymously – and it hasn't returned yet. I like the Rase post for max adjustability (20 positions) and sheer travel (9″!) but it has more slop and rattle than most riders would put up with.  Fox Shox has a post in the pipeline and X-Fusion is even closer to production. I've heard good things about the KS (Kind Shock) post but I haven't tried one out.

Reverb guts, exposed. It's not a particularly complicated system, but it works very well. Photo ~ Stuart Kernaghan
Thus Far
To begin with I had a little trouble setting up my Reverb.  I pumped it to the recommended pressure (250 psi) and it wouldn't actuate.  Eventually I settled on around 200 psi and everything began to work fine.  On the trail the post has been flawless.  It always reaches full height, there is no fishing around to find a position like some other models and the damping keeps your jewels safe.  I wasn't sure about the thumb-actuated release at first but I have adjusted to it without issues – and I like having the release on the left side.  Now we'll have to see how it does over the long haul.  The overall impression of the Reverb is more polished than any of the other production posts I've seen yet.  Everything on the Reverb seems thorougly engineered for this application, while most other posts have some element that appears to have been built from spare parts in your grandfather's basement.
Online the Reverb is selling for US$295.

 The Matchmaker X clamp and Xloc combination allows you to attach everything to both sides of your bars with one clamp per side. Photo ~ Stuart Kernaghan
---
Blackspire Sub 400 pedals
Not long ago nobody made a decent flat. Now there is some pretty good competition and manufacturers have begun to pay more attention to riders' needs.  That means a durable, grippy platform that won't weigh down your sled while remaining nice and slim.
Blackspire's new foot holders address weight concerns with their name – they come in at less than 400 grams – 350 to be exact.  The pedals look elegant and svelte thanks to their CNC pedigree.  I had heard Blackspire was taking an off-the-shelf pedal and then using their machining capabilities to modify the shape and remove excess material.  This was a rumour and it turns out to be completely untrue according to Aaron at Blackspire.  They machine a Canadian-made extrusion, of their own design, into the pedal body you see here.  

  This is what the purple model looks like fresh out of the box – except they have a black end cap.
The pedals have a barely discernable concavity and the body is 17mm at its thickest (approx 21mms when pins are measured as well). The pins are plated steel to provide some corrosion resistance – and they thread in from the underside so they can be removed if they get scraped or sheared by an unfriendly rock.
Five Ten shoes have forever changed the flat pedal landscape. It used to be that grip was a huge concern and pins had to be tall, numerous and fearsome to keep your feet in contact – and even then it wasn't foolproof.  Now that we have sticky rubber, cheap plastic pedals often provide enough grip – and many platforms provide too much leading riders to remove or de-tune pins.  

  And here's how they look after a several months of hard use.  I love the look of these pedals on the bike – and the performance has been equally attractive.

Blackspire was well aware of this shift and their pedals address the new reality; if you are serious about riding flats you are wearing Five Tens.  As such the pointy bits are not very pointy or very tall, but for me the grip provided is just right.  I've never felt like there was too little friction but I'm able to readjust my foot when it gets out of position.  I was a little worried about wet weather performance but they were up to the task when it gets pissy as well. To some the platform looks small but it's actually generous and my large feet fit nicely.
I've seen some reports of cage failures on our bulletin boards but thus far the examples I've been riding have been perfect – and I've been lending them out a fair bit as well.  The Sub 4s are available in Black, Red, Blue, Green, Purple, Pink, Grey, Gold and Burnt Orange.
The only difference between the Sub 4s and their exotic siblings The Sub 3 is a Titanium spindle which saves 80 grams but costs twice as much!
| | | | |
| --- | --- | --- | --- |
|   | Canada | US         | Weight |
| Blackspire Sub 4 pedals | $105 | $110 | 350g |
| Blackspire Sub 3 pedals | $250 | $260 | 270g |
---
Shimano XT Dyna-Sys 3 x 10 drivetrain (sort of)
You had to know it was coming – and now 10 speed is here in full force.  SRAM lead the charge with XX and now Shimano is rolling their 10 speed drivetrains in SLX, XT and XTR trim levels.  We were sent the XT Dyna-Sys combo and I slapped it on a Specialized Enduro S-Works frame to give it a whirl.
I know some of you are still lamenting the demise of 6 speed but I've never been one of those.  If anything I've seen shifting precision increase as the number of rear cogs has risen.  It may take a little less to knock your changer out of whack, and getting it dialled in might be slightly more finicky, but in terms of day to day function every jump has been a good one thus far (IMHO).

  You won't notice anything new here.  The crank arms are unchanged – which is nothing to complain about – but the chainrings are new.  The ones concealed behind my bashguard.  I apologize for getting everything dirty – but I couldn't wait to try it.
Is that a 36-tooth cog?  It is indeed.  This may be the best part about this 10-cogged cluster – its range from 11-36 teeth without any big jumps in the middle.  Most suspension bikes pedal best in their middle ring so the more you can avoid your granny the better – and with a 32 up front and a 36 in the rear it should take a nasty climb at day's end to have you dropping down (or maybe a hungover morning).  For some riders this will be the push they have needed to drop the granny and run a single ring on an All Mountain bike.  I'm certainly thinking that way.
What is Dyna-Sys?  Here's what Shimano says:
"Dyna-Sys technology makes shifting seamless and intuitive, enabling riders to deliver consistent, efficient power while maintaining that delicate balance of traction and momentum control. Take a rider accustomed to a traditional 3×9 drivetrain and put them on a 3×10 Dyna-Sys drivetrain in a blind test, and that rider will be faster and more efficient around the same test track. Dyna-Sys delivers a more efficient gear, more of the time."
As you can see I'm running a bash guard but this system is designed to be run as a triple.  I'd be down with that if I lived somewhere else but a big ring – even a slightly smaller one at 42 teeth – is of little use and it's certainly a hindrance here on the Shore.

  A mtb-specific hollow pin directional chain. Yep! An 11-36 10-speed cogset?  Indeed.
The Dyna-Sys chain is an interesting piece.  It's mountain bike-specific and directional.  You need to mount it so the logos face out because the inner and outer plates have different functions. The inner plates are designed to climb cogs while the outer plates are built to scale chainrings.  
How's she running?
So far so good I'd say.  I've enjoyed the wide range in the rear as well as the performance of the tweaked rear derailleur.  It's still a shadow but Shimano has beefed up the spring on the pulley cage to keep things from slapping around too much.  For the most part shifting has been smooth and trouble free but I noticed some reluctance on a ride last week when shifting under load.  Not more than your average system – but not less either.  I may need to tweak things some now that cables are stretched and things are getting broken in, but only time in the saddle will tell.
---
When will the madness end?  Is 11 speed around the corner?  4 x 12?  Have you tried a remote adjust post?  Are you addicted?  Perplexed or passionate about pretty purple pedals? 
Ponder here…