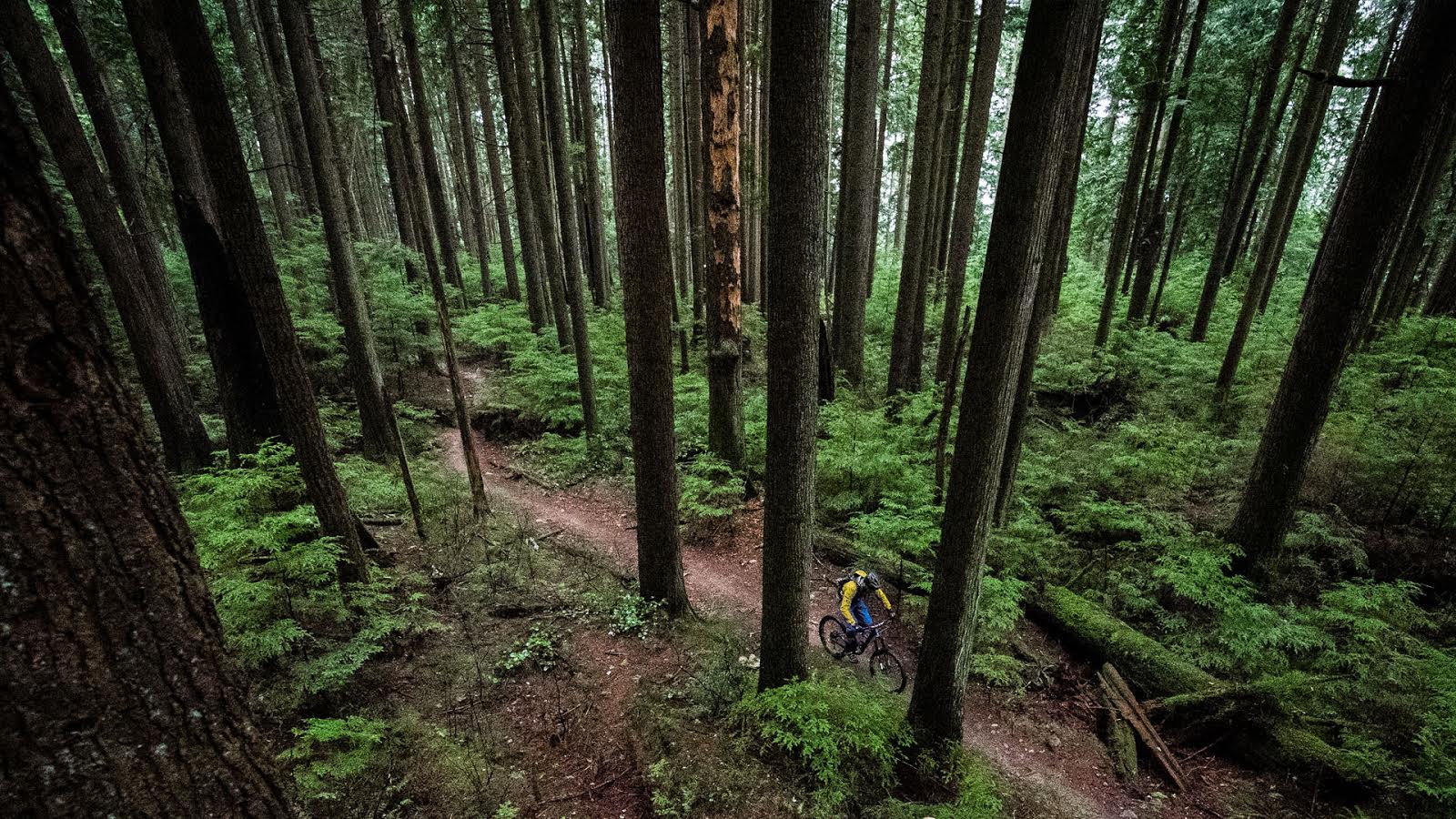 2010 Rampage Play by Play I
Rampage has been an interesting event to follow.  First it was four straight years, 2001 to 2004 inclusive and then there was a four year break.  I had never even heard of Red Bull energy drink before the first event – and it wasn't even available in Canada until some time later. How times have changed.  Now the company runs crazy events world wide, sponsors hundreds of athletes and even runs and F1 team.
Rampage returned in 2008 as The Evolution and, although 2012 hasn't been confirmed to my knowledge, it looks like it'll roll out every two years.  This allows the hype to build a little higher in the interim and it makes performing well more important for an athlete.  I was told that the media buy alone for the event was $1.5 mill – making it one of their highest profile parties.

  Tyler McCaul impressed many in his first Rampage.  The judges?  Not so much. First out of the Red Bull arch on the far right start was Tyler McCaul.  At his first Rampage, TMac was riding everything like it was his favourite trail back home.  Confident from the start he owned his fast ridgeline and nailed his daring hip over the huge boulder. Photo ~ Kyle McLaws
I've struggled with how to portray this year's Rampage – both because of the excellent online broadcast brought to us by Pinkbike and Freeride Entertainment – and also because of the Pontiac Fever 10 of us brought back from the Bumbleberry Lodge. Now that I'm finally healthy I'm back at the keys.

  Alex Pro was next and he displayed no Rampage jitters.  He rode the same line as qualifying but faster this time – trying to get speed to launch his original drop at the end from the top instead of creeping into it.  Unfortunately he didn't land it and would have to wait for round two.
It used to be that the only way to see Rampage was live.  This year not only wasn't it the only way – it wasn't even the best way.  The energy was great and the excitement put a lump in my throat on several occasions – but to see the details of each riders' performance I would have been better off at home in front of my computer to see what was captured by the five cameras and the heli.  The judges usually set up camp in the best place to see the entire venue and virtually every other spot is a compromise for one section or another.  There are spots down low where you can see the riders all the way down – but then you miss the subleties up top.  I opted to stay a little higher and miss some of the lower stuff – which unfortunately included Gee's gap, Bourdo's flat spin attempt and the landing of Claw's 360.

   And then there was Gee Atherton.  Admittedly the expectations were unnaturally high, but Gee's performance on the top ridge didn't strike me as his best effort.  He seemed to have it reined in some to my eyes.  But then it came was time to charge.  Gee and his crew had built a new line into the huge stepdown to wallride Romo came so close to making in the qualifier.  He landed it exactly where Romo had hoped to, tight against the vertical section of wall, and rode away like it ain't no thing.
Comparing Rampage to a freeski comp makes sense because of the format – but Rampage is much more important to mountain bikers than a particular mountain is to skiers.  Red Bull with the help of Freeride Entertainment, have scoured the globe looking for a second venue where Rampage could be held – and they've come up empty.  For these riders with these specific skills there is nowhere on earth for them to shine the way they can in the Utah desert.  Without Rampage these riders, particularly the ones who don't do slopestyle or DH, would be basejumpers in Saskatchewan.

   Greg Watts sketched out up top taking his first run out of contention but he did his backflip stepdown for the crowd.  I like your style Greg.
In 2008 Rampage became "The Evolution" which meant that instead of just leaving the riders to build or discover lines, a crew was hired to fabricate, sculpt and buff the course.  This year the crew and the riders themselves did a much better job of getting rid of the soft surface layer of dirt so riders had a solid landing platform.  In year's past the classic wipeout was a result of the bike digging in on impact while the rider sailed ahead.  The course was faster smoother and more groomed than before.  Yanking a shark's tooth doesn't make him any less mean, and Rampage 2010 still came with ample bite.

  Chris Van Dine got lots of distance and a big cheer when he punted his helmet after a hard fall.  He charged the top ridge racer style but he crashed on the huge step down that followed.  He stayed down for some time before getting his boot on.
After the entertaining qualifiers we were left with 21 riders to battle for the crown on Sunday.  Riders were given all day Saturday to practice and build lines (although a few like Michal Marosi were content to poach) but the wind came up late in the day scuttling many training runs.  By Saturday morning Cedric Gracia still hadn't launched the Oakley Icon Sender, built just for him, but he nailed it thrice before the riders' meeting quelling any doubters.

  Andreu Lacondeguy is one of those riders you can never count out – and he came charging into his finals line.  He landed the Icon a little hard but then dialled a backflip on the 45-foot gapper that followed – and went upside down again shortly after.
Riders with experience in the Utah desert know the wind comes up in the afternoon – meaning there was no sense saving your best for round two.  It was time to throw down – straight out of the gate.

  Never count out the flying Frenchman. At 32 Cedric Gracia and Michal Marosi were the old men in the competition – but CG rode with the youthful piss and vinegar he's known for.  After styling the Icon Sender he threw in this one-foot table over the huge step up.  Photo ~ Malcolm McLaws.

  Vanderham's first run wasn't what he was hoping for – likely because the wind had begun to pick up.  He overshot the tranny on the canyon gap some but managed to ride it out.  He'd have to wait for round two to make an impact.

  Everyone knew what Cam Zink was up to but it was still shocking to see him begin his spin off the Oakley Sender.  He came close to landing it but ended up crashing hard, his noggin slamming into the ground.  His helmet broken, he was seen with an icepack placed directly on his skull between rounds.  Most mortals would have called it a day at this point, but not Zink.

  This shot by Malcolm McLaws gives you another perspective on just how large The Oakley Icon Sender really was – just as Zink begins his rotation.

  Kyle Strait has had a rough few years with sponsors and results – so it was wicked to see him lay down a sizzling first run at Rampage.  He was the first one to suicide the Sender – and he did it with his customary commitment, reminiscent of his Rampage win in 2004.  He then tricked the step up immediately following with a Superman Seatgrab Indian Air.  Unfortunately he failed to make tranny on the Red Bull kicker lower down which must have cost him some points.  Otherwise his could have been the leading run from round one.

  Graham Aggassiz was watching a movie on Saturday night in his hotel room when someone noticed something the light filtering through his frame didn't  look right.  Luckily Bicycle Café Kamloops' Head Mechanic Taylor Hollstedt was there to source a replacement frame and swap everything over the night before.  Without Taylor's help Aggy may not have been able to style out this huge flattie. The kid's got style for miles.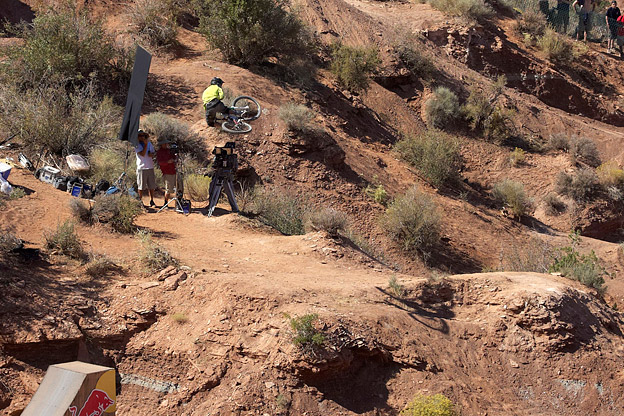 There was so much to like in Geoff Gulevich's runs it's hard to know where to begin – but I'll start here with his table off the Red Bull kicker.  Does it look huge?  It was huge and styley.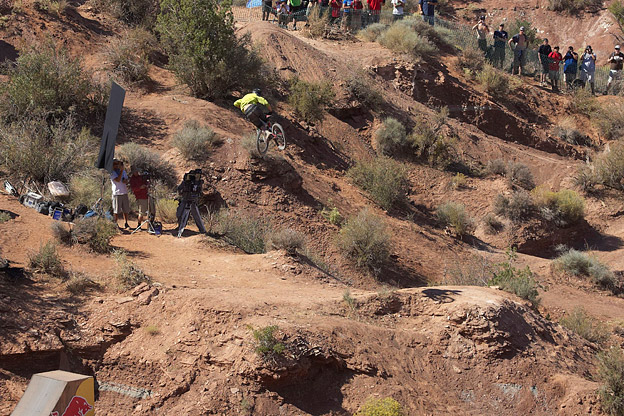 But wait – Gully's tabled into a hip.  Before this he'd launched the Icon Sender and then off axis flipped the 45 footer.  This was great action.

  Robbie Bourdon's first run had a unique line and some amplitude but I didn't take as much of a shine to it as the judges.

  Darren Berrecloth had a few issues on his first run.  His line up top got stomped on, he got blown off line on a drop lower down and had another issue at the bottom.  Clearly not his finest hour at Rampage.  I was surprised to see him choose almost the same line as 2008 when the previous judges failed to reward him for it.

  It was great to see nsmb team grad and Coastal Crew member Curtis Robinson make the big show.  Here he is dropping in from the furthest line rider's right (Ridge 3) while Dylan Dunkerton (right) films his progress.

  Curtis bit off one of the meanest lines on the course – the one that took out Gee Atherton in 2008.  He looked great but a fall took him out of round one contention.
That was round one.  The wind was coming up and the weather was coming in.  The idea was to have the riders go back to their lines and keep things going without a pause.  Unfortunately the riders didn't cooperate with that plan and things got pushed back.
Here's what the standings looked like
| | | |
| --- | --- | --- |
|   | Rider | Rnd. 1 Score |
| 1 | Gee Atherton | 82.4 |
| 2 | Andreu Lacondeguy | 79.0 |
| 3 | Geoff Gulevich | 77.2 |
| 4 | Robbie Bourdon | 76.0 |
| 5 | Kyle Strait | 75.6 |
| 6 | Logan Binggeli | 74.8 |
| 7 | Tyler McCaul | 71.8 |
| 8 | Cedric Gracia | 68.8 |
| 9 | Kurt Sorge | 66.0 |
| 10 | Michal Marosi | 64.2 |
| 11 | Jamie Goldman | 63.8 |
| 12 | Curtis Robinson | 62.4 |
| 13 | Darren Berrecloth | 61.6 |
| 14 | Alex Prochazka | 57.2 |
| 15 | Thomas Vanderham | 56.4 |
| 16 | Graham Agassiz | 56.2 |
| 17 | Greg Watts | 54.6 |
| 18 | Cameron Zink | 00.0 |
| 19 | Mike Hopkins | 00.0 |
| 20 | Chris Van Dine | 0.00 |
| 21 | James Doerfling | 0.00 |
---
Stay tuned for Part II of my tardy report.  Until then please correct my errors (since you probably saw more than I did) and set me straight here…