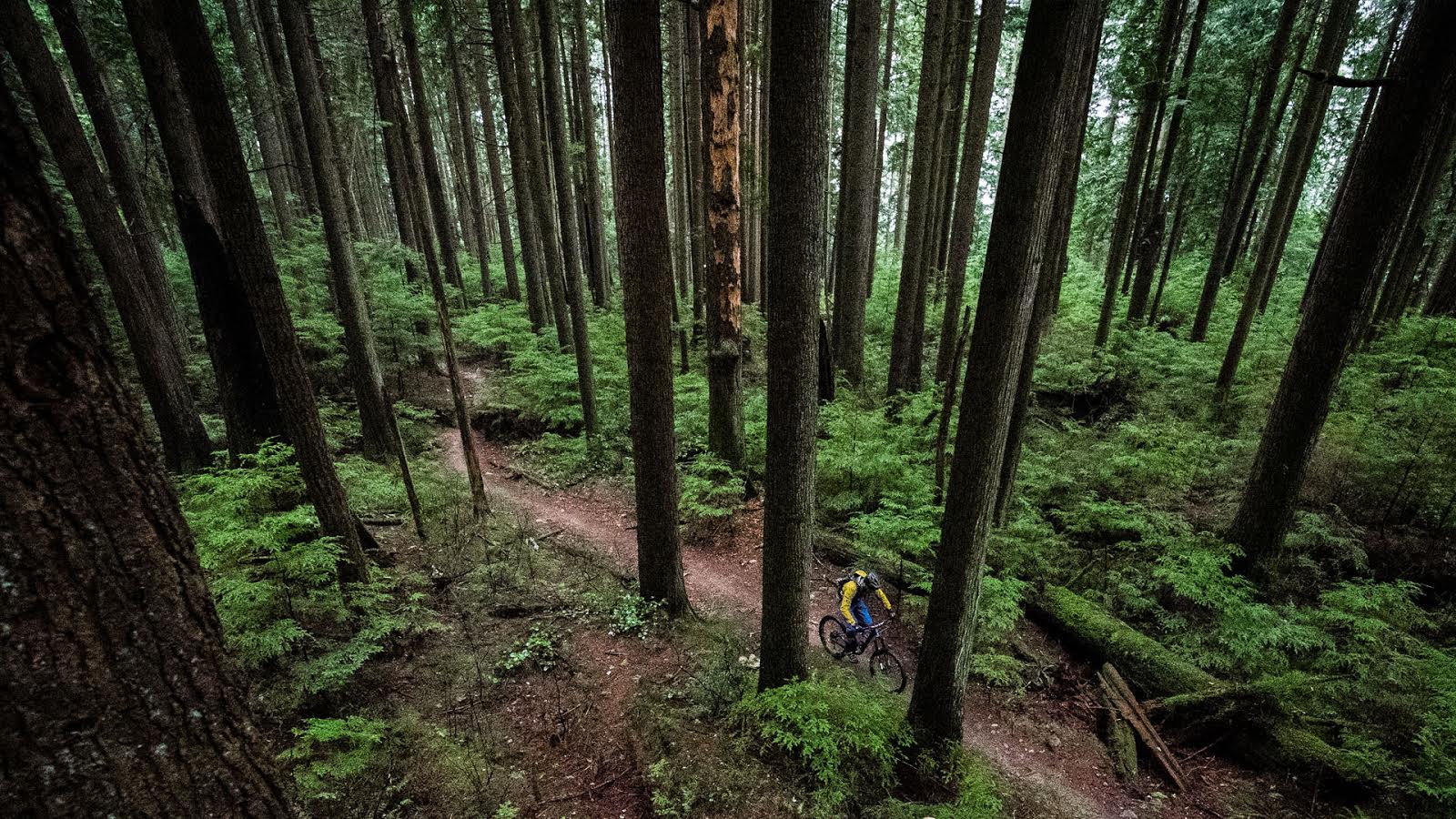 REVIEW: Cove Shocker frameset
Downhill bikes are a special breed. They're designed to get a rider from the top of the hill to the bottom as quickly as possible. But some DH sleds are also very capable of handling other types of riding, from shuttling to bike parks to big-mountain freeride duties.
I've come to realize that I don't have the drive necessary to race, but I can still enjoy all the perks of a long, low-slung bike with a whole heap of travel. When I ride, I like to go fast, to push my limits, launch manageable-sized drops, hit step-ups, carve berms and fly over roots in just about every type of weather you could imagine.
That, to me, sounds like the type of riding that calls for a bike with a double-crown fork, a single chainring set-up, big tires and at least 8" of rear travel. Something that will make high-speed, technical, demanding riding a whole boatload of fun.
My goal this past summer was to see if the Cove Bikes Shocker, a Vancouver-manufactured DH bike, could fit the bill and be the ideal park / shuttle / big-mountain bike. Evaluating the Shocker's DH race capabilities was also an option, but as far as I'm concerned, the bike has already proved itself as a podium contender under the likes of Tyler Morland and Steve Smith.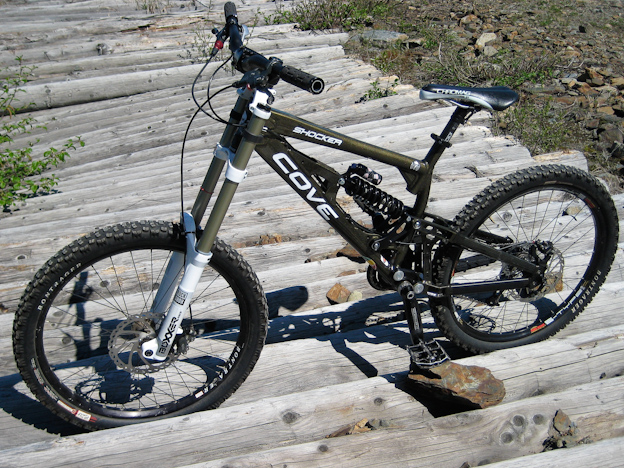 A size large Cove Shocker, built for pleasure more than speed. That's not to say it was slow. Not by any means…
So, was the Shocker up to the task or does it most at home on the race course? Read on and find out…
The frame – details and build
First thing's first – what's the deal with the frame? The Shocker frame is built by Yess Products in the Vancouver suburb of Surrey. They've been building frames for over 15 years, and the results speak for themselves. Welds on the Shocker frame are big but even, an important sign when you're looking for strong bonds between the Easton's RAD tubing.
There are several features on the Shocker frame that add to overall strength. The front triangle uses gusseting in several places, including both sides of the 1 1/8" forged head tube and on the underside of the seat tube / top tube junction.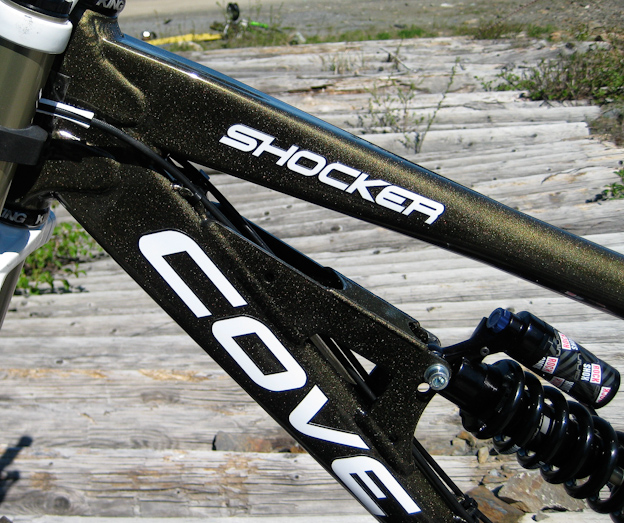 Head tube gussets and boxy tubing at the front end of the bike definitely added to the overall stiffness of the bike.
The down tube has a massive square profile where it joins the head tube, but transforms to round at the bottom bracket. The large flat surface near the head tube provides an ideal location to attach the plates for the front shock mount. The top tube shape is similar to the down tube, but on a smaller scale. The interrupted seat tube on the Shocker is very short, which is fine because you shouldn't be running a long post on this type of frame.
Both the seat and chain stays on the Shocker are made from beefy, boxy tubing for a seriously stiff rear end. At the hub end of the stays are bolt-on dropouts, which use two bolts on each size for further stiffness. The rear brake mount and derailleur hanger are machined into the dropouts.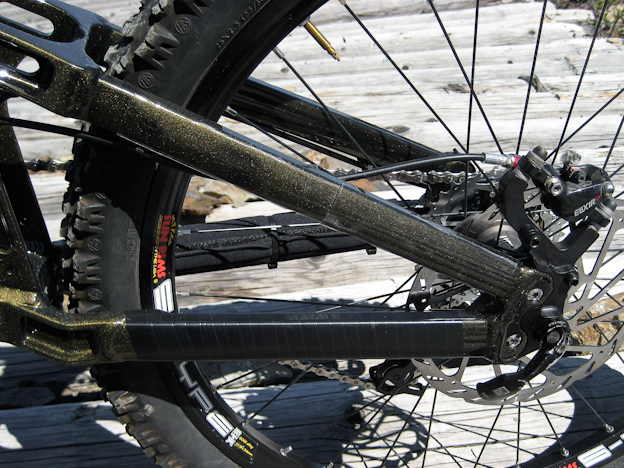 The rear stays and massive bolt-on dropouts also ensured that the bike didn't squirm around on the trail, no matter how hard I leaned into corners.
Coves uses its Dual Link suspension design for the Shocker. Dual Link is Cove's version of a floating pivot point, and is similar to Giant's Maestro or Santa Cruz / Intense's VPP design. The front triangle of the bike is connected to a one-piece rear using two rocker arm linkages. The suspension is designed to remain active even under braking forces, as well as optimizing small bump compliance.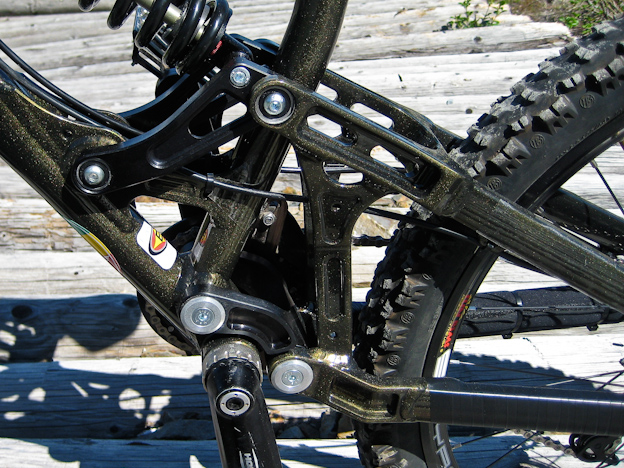 A close-up of the Dual Link suspension design. I did have to tighten the bolts once during the test, but they stayed tight after that.
Other pertinent numbers for the Shocker frame: it comes with 8.75" of rear end travel (sorry, no travel adjust) and150mm x 12mm rear end spacing for added stiffness. Fortunately, the frame ships with a SRAM Maxle rear axle. The seat tube is the less common 30.0mm size.
Unfortunately, this frame and earlier versions of the Shocker didn't come with an ISCG chainguide mount; word has it that future versions will. If you're building up a frame, make sure you have the necessary 83mm bottom bracket on hand. The frame isn't designed to be run with a front derailleur. Weight for the greeny-gold monster, including the rear shock and shock hardware, was 13.2lbs for a size large frame.
With regards to bike geometry and frame numbers, chain stay length is 17.6" / 447mm, bottom bracket height is 14.7" and head angle is 65°. Wheelbase runs from 44.85" for the size small all the way up to 46.9" for the large.  For comparison, the chain stays are longer than the Specialized Demo 8 by almost an inch but only 0.1" longer than the Santa Cruz Driver 8, while the head angle comes in between the two (64° and 66.5°, respectively).
BB height is over an inch higher than the Demo 8 in the low setting, but 0.1" higher than the Driver. Top tube length on the Large Shocker was 24.125", which will work for tall riders. (I'm 6'4" and ended up running the Shocker with a 70mm stem just because I don't like the bar underneath me when I ride the bike park.)

The forged and machined head tube displays the iconic Cove logo.
Because this was a frame test only, I built up the Cove with a mix of my own parts and focused on functionality over light weight. I started with a size large Cove Shocker frame with a black gold paintjob that came with a RockShox Vivid 5.1 rear shock, a Boxxer Team fork, Avid hydraulic discs with 8" rotors, Truvativ Holzfeller cranks with a 32T chainring and a Howitzer bottom bracket, a 12-34T cassette, Straitline pedals, a Truvativ stem, Gravity Light bars and chainguide, Sun / Bontrager wheels and Bontrager Big Earl 2.5" tires. Total weight for this build was just a hair over 43 lbs.
Ride impressions
Right from the start, it was apparent that the Shocker was going to be a lot of fun to ride. Sure, not the highly technical, analytical answer you might expect from a bike review, but damn, this bike was fun. I rode it in Whistler, on the North Shore and at Silver Star bike park over the course of four months and enjoyed myself every time I jumped on board. Even when I was having issues with some of the parts, I still enjoyed riding the Shocker.
There are a few things that make this bike work well: a stiff chassis, an efficient suspension design and the right angles.
Let's start with the chassis. Stiffness is key for a bike to perform well under race conditions, but it's also important to the everyday rider. You don't want to feel your bike squirming around under you, and in spite of the fact that I'm pushing 260 lbs with gear on, that was never an issue whatsoever with the Shocker.
Beefy tubing throughout the front triangle, large head tube junction and wide bottom bracket ensure the front end of the bike is rock solid. Forged linkage arms that are widely spaced apart ensure that there's no lateral flex as the suspension compresses. The 150mm rear end, combined with boxy seat / chain stays and the axle dropouts that are bolted in two places on each side, ensure that there won't be any flex coming out of the rear end.

Taking off and landing on the Shocker were a piece of cake, and encouraged me to push my boundaries a little more each ride. || Photo: Vicki Cunningham
The benefit to all of that stiffness is a bike that tracks exceptionally well through almost any terrain. Rocky chute? Check. Root-infested North Shore trail? Check. High-speed braking bumps in a corner at the bike park? Check. It also means that the bike handles landings very proficiently, even when the launch is a little ugly. Pulling too hard on one side of the bars can lead to a crooked landing, but those kind of pilot errors never phased the Shocker.
Next, the Dual Link suspension design. There are a few suspension designs that work well in almost any application, and the floating pivot point is one of them. The rear end of the bike is able to handle small bumps as well as large hits. More importantly, especially in a bike park setting where you're more likely to find braking bumps than on the trail, it doesn't suffer from brake jack like a single pivot or four-bar (non-Horst Link) bike does.
There wasn't one occasion when the rear end of the Shocker felt like it was over its head, whether it was hammering nasty, rocky runs at speed at Whistler, going hard into corners filled with braking bumps that had turned into bomb craters, or over a series of small drops. It also didn't feel like it was doing more work than the front suspension, meaning the bike was nicely balanced on the trail.
The rear suspension was active in every situation, no matter what it was being asked to do and no matter how hard I was making it work by braking late, landing poorly or picking a bad line.  Don't ride expect the Shocker to be ridiculously plush like some DH bikes can be, though. The Shocker doesn't turn the trail into a paved path, and that's actually a good thing because it prevents you from getting lazy.
Hammering down the trail will get the rear end bobbing underneath you, but you don't really buy a bike with almost 9" of travel because it's efficient to pedal. Increasing the compression damping on the rear shock would have toned that down, but I enjoy a comfortable ride so didn't want the rear suspension too stiff.

The Shocker was able to handle skinnies and stunts very well, as Vicki Cunningham demonstrates here. The key is to have some momentum going into them, because it's hard to get a 43 lb bike up to speed quickly. || Photo: Stuart Kernaghan
Although the design works well, I did have a few set-up issues with the Vivid shock. There were times at the beginning of the test when it felt like the rear end fell into a hole, rather than following the terrain. Tinkering with the rebound resolved most of that, as did switching out the medium bottom-out bumper in the shock for the firm one, but I would have liked to have tried out a few different spring rates. Make sure you have that option if you purchase a Shocker frame.
Angles are the last major part of the puzzle. Slack angles are good on a steep race course, but they can lead to poor handling if you're not travelling at Mach 3. Fortunately, the Shocker has been designed in such a way that it is able to do a good job when you ease up on the gas pedal. Technical singletrack trails, elevated stunts and slow speed manoeuvres aren't a problem at all on the Shocker. Another couple of degrees slacker on the head angle and it would have been a different story.
Although the Shocker is good at slower speeds, it's not great and certainly doesn't handle the same way as a 7" bike would. As long as you know that and are willing to accept the compromise there in exchange for excellent performance on the fast runs, you won't be disappointed by the lack of tight slow-speed handling
The best place to make the most of the Shocker is at speed. That doesn't necessarily mean flat out – anything that has you heading downhill without checking the brakes every 5' is enough – but the bike really does shine when you open it wide up. There were times at Whistler when I felt myself going as fast or faster than I'd ever gone before, but still didn't feel scared or that I wasn't in control. And that's a pretty cool feeling when you're a long way from being a podium contender.
Handling on the Shocker was also excellent, thanks in large part to the solid numbers. The bike sat into its travel without feeling as though it was weighed down. The higher-than-average bottom bracket aided in that respect, and kept pedal strikes to a minimum on all but the rockiest / rootiest trails.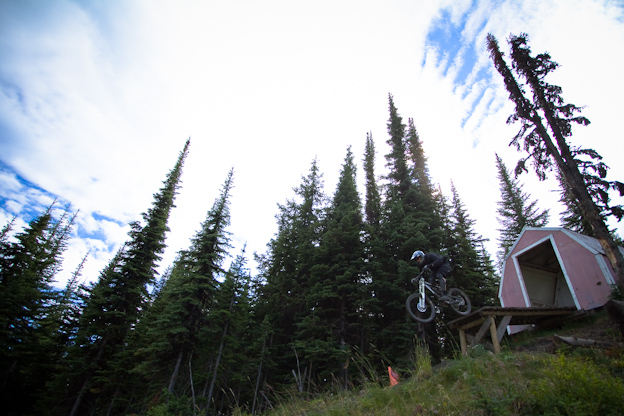 This was the launch point for one very fast trail. The Shocker ate it up, allowing me to transition quickly between fade-away tables, giant berms and fast, wide-open sections. || Photo: Vicki Cunningham
The Shocker was a solidly predictable bike, and that's a big compliment. It responded quickly to rider input on the trail but never felt twitchy or unstable. In the air, the bike was easy to manoeuvre over tables and off of hip jumps, in spite of the weight. I added a slightly longer stem to the bike in order to get the handlebar out from under me, and it ended up being in the perfect position.
---
nsmb tester Dan Austin also had a chance to rip it up on the Shocker , and was able to sum up his thoughts pretty succinctly:
The ride of the Shocker was a little unexpected.  Being a longer wheelbase, full-on DH ride, I figured it would be a bit slower handling and a bit more of a tank, compared to my 7" Norco Shore, but I was pleasantly surprised by its agility and liveliness. 
With the Boxxer Team up front, the Shocker felt bombproof through the berms and rough stuff and even with its 8.75″ of rear travel, it felt light popped well on jumps.  The Shocker's suspension design also effortlessly took care of braking bumps and landings yet it didn't seem to chew up pedalling energy too much.
Where the Shocker really excelled was at speed. The Shocker's size and heft is noticeable when you are getting it up to a comfortable speed, but once up and running, it felt like a light responsive machine that was happy to be pushed.
I didn't have enough time on the Shocker to really get comfortable and push the bikes' limits, or mine but it didn't take long to get to the limits of my comfort zone. With a little more time on the bike, I would feel confident taking things up a notch or two further.
---
Riding the bike on the technical trails of the North Shore was an interesting experience, and definitely different than the bike park. The longish wheelbase made the bike less nimble in tight situations than something like a 7-and-7 bike, but as I mentioned above, the head angle didn't put you at a noticeable disadvantage. As long as you're willing to deal with slower handling, the bike can navigate just about any line. This is also where the Shocker's stiffness comes in handy: tight, off-camber corners, rocky lines, roots are all wanting to drive a bike in different directions and a flexy bike will feels like it's getting worked by the terrain. There's none of that on the Shocker. Choose a line, power through it and the bike stays solid throughout.
The real challenge riding a bike like this on skinnies, stunts and undulating terrain was the weight, which is why I built it with a 11-34T cassette and a smaller chainring as opposed to using something like a 12-25T cassette. I liked having the option of running an easy gear that made it possible to pedal up ramps or small rises in the trail without killing myself. It was still work, and you certainly noticed that you were hauling a big bike around the trails, but it was manageable. Once the trail started heading down, the Shocker was in its element and you could get on the gas again.
Put the three elements – stiffness, suspension design and angles – together and you have a bike that inspires confidence. I went faster, higher and further on the Shocker than I've gone on just about any other bike. Best of all, there were mercifully few "oh shit" moments. So few that they're actually hard to remember…
Any shortcomings?
There really weren't that many things to dislike about the Shocker, but there were a few things that could be improved. First, the weight. At 13.2 lbs for a large frame, the Shocker is a bit of a beast – especially when other DH framesets are weighing in between 9 and 11 lbs. That makes it a fair bit harder to build a bike that comes in under 40lbs, as I found out when I built up the Shocker. It's not impossible, but you have to get very selective with your build. Losing a few pounds off the frame would be a good thing. 

Dan Austin in racer mode, keeping the Shocker low and tight on a very fast section of the hill. || Photo: Stuart Kernaghan
The second shortcoming for the Shocker is that the frame doesn't have an ISCG mount, which means you have to use a bottom bracket-mounted chainguide. Not the end of the world, but you have more choices of guides when you're using an ISCG-mounted guide. You're also able to attach it more securely to prevent the guide from slipping. I didn't have any issues with the guide slipping during the test, but it still would have been nice to have a more secure mounting option.
As I mentioned above, the word is that new generation Shockers come with an ISCG mount. I suspect there will be some of the non-ISCG frames kicking around for a while, so be aware of that if you're building a bike from scratch and choose the appropriate chainguide.
The other issue I had was the 30.0mm seat tube diameter. It's not a problem once you get your hands on a seatpost, but it's not the most common size out there. A 30.9mm post would make life a lot easier, especially if you ever needed to replace a post on a road trip.
Final thoughts
Riding the Shocker everywhere else but the race course proved to be an interesting experience. It was able to take everything that I could throw at it in the Whistler and Silver Star bike parks, and could likely take a lot more than that in the hands of a highly skilled rider. It also did very well on North Shore shuttle runs, easily carving technical lines that would challenge many other bikes and making it possible to navigate lines that might otherwise be avoided.
Choosing a parts spec that suits a more varied type of riding, as opposed to just racing, makes that Shocker a very capable bike in almost any situation. It's also a great way to get into racing if you split your time between the bike park and the race course – a few minor parts swaps and you'd have a killer race machine. If Cove is able to drop some weight on the new generation Shocker and you're careful with the build, it would be possible to have a bike in the sub-40 lbs range. And then this would be one hell of a weapon to add to your quiver.
Pros
incredibly versatile ride
works very well in all types of terrain, from bike parks to shuttle runs (and big mountain freeride)
very, very stiff
active suspension without brake jack
well-made frame
Cons
frame weight
seatpost size
lack of ISCG mount on some current frames

Color choice will be dependant on availability; check the Cove for current color options. MSRP for the Shocker frame with the Vivid rear shock is CDN$2,899 and US$2,869. Contact your local Cove dealer for color and build options. 
---
Like what you see here? Wondering how it would handle your local trails? Want to share a little Shocker love? Head to the boards and begin hammering away on that keyboard of yours.