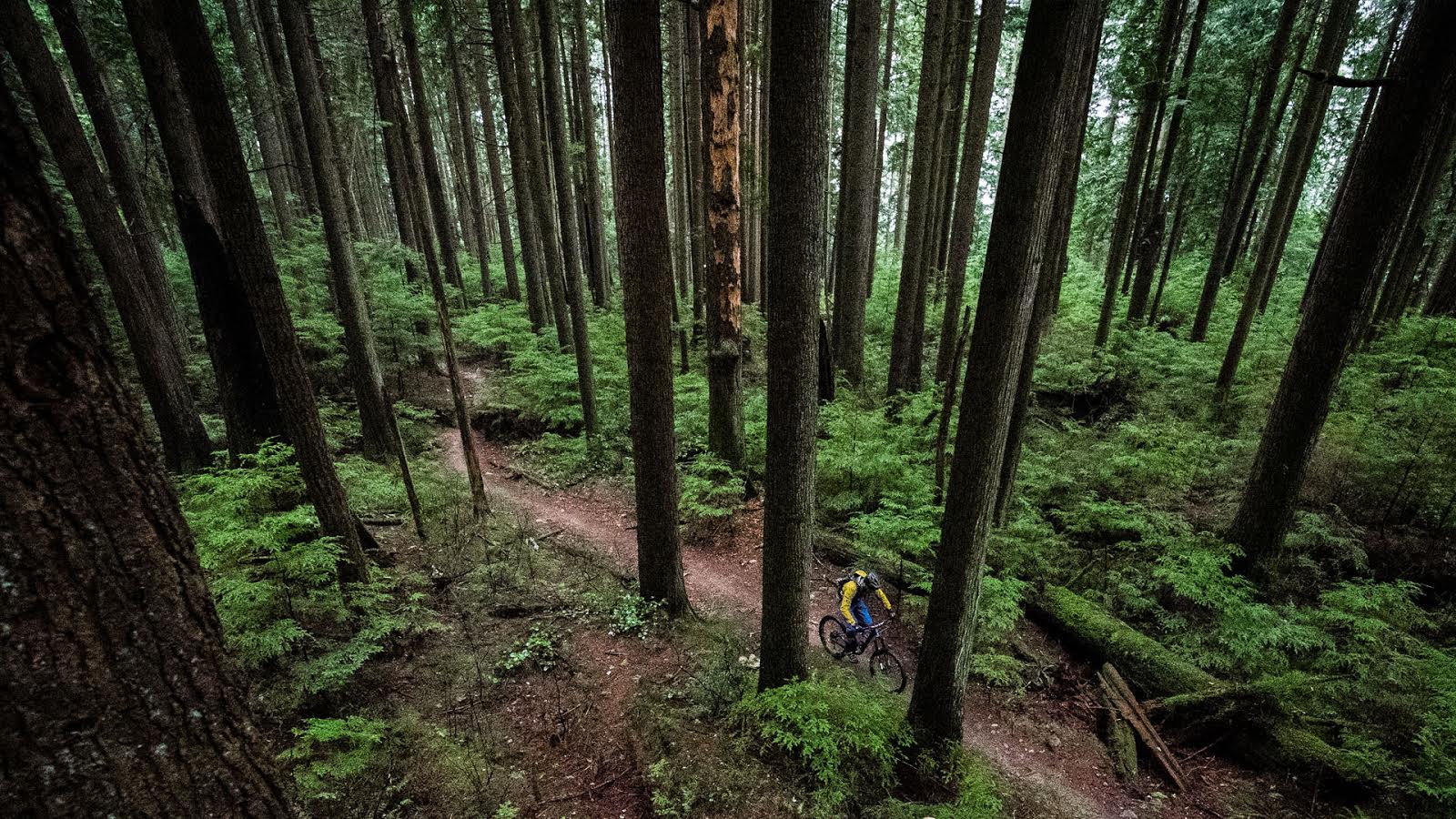 Interbike: Randoms
So we have tried to be as methodical with the Intebike coverage as we can, but it has been hard keeping track of the time of the day, let alone keeping order in a place like Las Vegas. I'm back at home in lovely wet Whistler as I write this so I'm trying to get back some normalcy, but I feel brain fried. I'm thankful that Fergs took plenty of good photos and I used my notebook, because otherwise it would be impossible to sift through the immense pile of stuff that we wanted to document.
This article is an attempt to lasso together a lot of the thingamybobs we saw, rode or touched.

   Foes Hydro. This one doesn't use a Carnutt shock, instead you can use anything else currently available. It is a single pivot with linkage driven. It is beautiful in detail, but no idea what the price is going to be but supposedly it is going to be reasonable. We found this lone Foes propped up on a random stand in the weird aisle.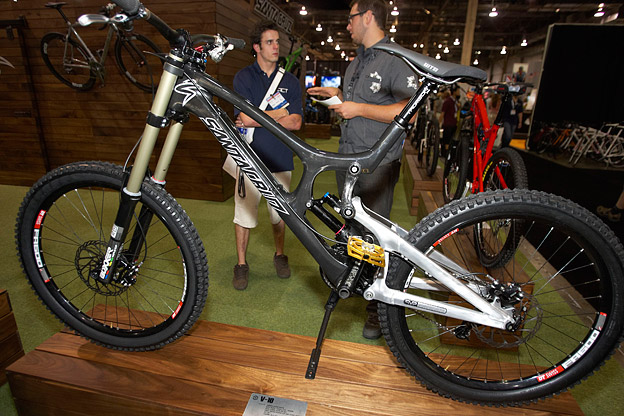 Carbon kickstand on the V-10. Not offered as stock, but as an after market upgrade. I put my order in during the show.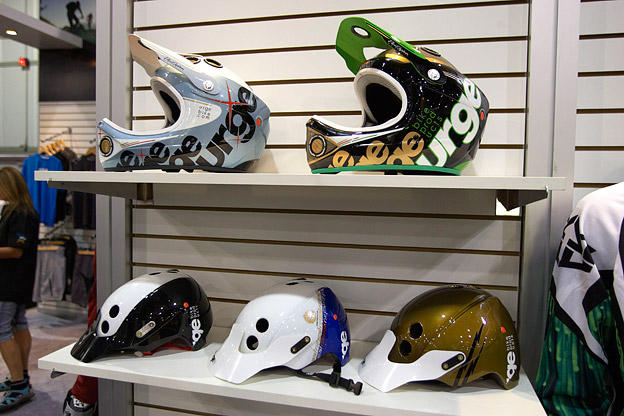 URGE helmets. I missed this one and should add it to the protection and clothing post but to be honest I don't know anything about the helmet that would offer you any assistance. I can say they are light and have brave colorways. *side note from Cam:  Urge helmets will soon be available in Canada (distributor announced soon).  I have been wearing the Enduromatic all summer and I really like it.  It's light, fits well and has adequate venting. Urge also makes a helmet to fit between a full DH and an Enduro helmet called the Archi-Enduro Classic (not shown).  It has a scaled down jawpiece and is lighter  and cooler than your average full face.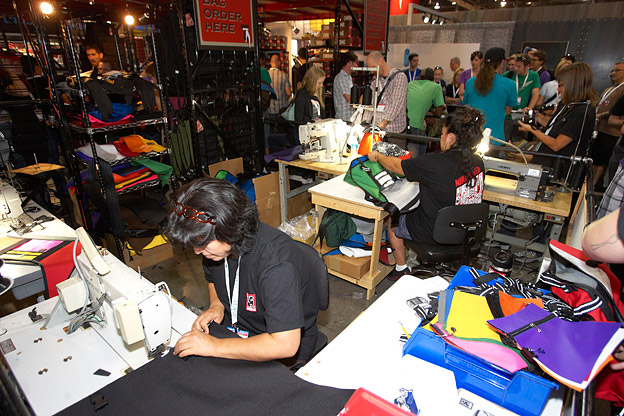 Chrome were offering custom courier bags made on-site. On day one they were offering free tattoos too. I missed the opportunity to get one. I was going to get a picture of my favourite booth babes finest assets.


   6lb road bike. Don't ask how much. In the background you can see Willow Koerbers legs. I reckon Willow could snap a bike like that if she put her back into it.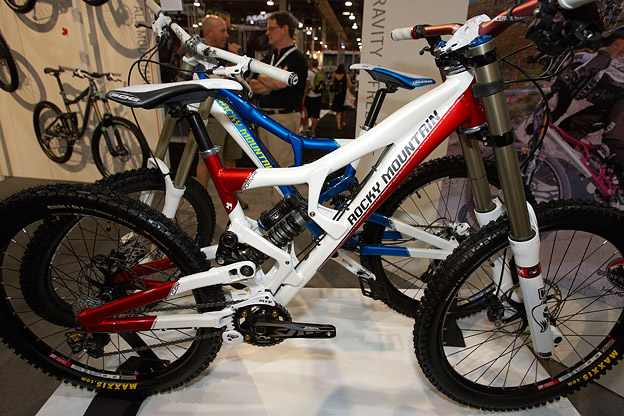 2011 colorways for the RMB Flatline.


   The more rowdy of the two colorways the Scott Voltage FR will be available in next year. Love it and this bike. Fun times.


   The Scott Genius LT is a pull shock equipped transformer of bike. It has geo adjust using this little nubbin…


   …and on the fly travel adjust using this widget. 110-185mm is a giant leap. Add a remote dropper, front shifting, a Garmin and you'll be needing to do some serious preflight checks?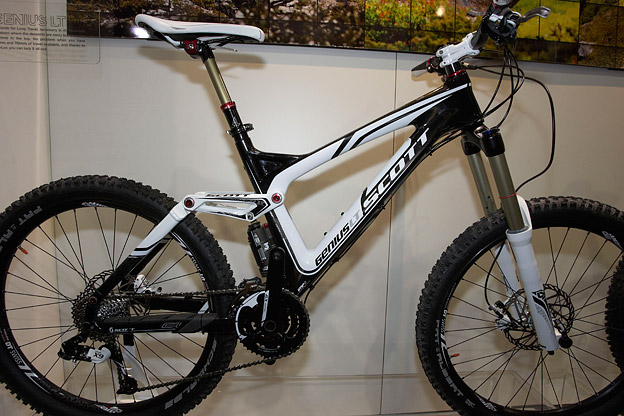 The whole thing. Two models in Carbon and aluminum each. Expect a comprehensive review of this beast coming very soon, eh flip?


   You don't see many Nicolais this side of the Atlantic. You see even less that don't look terrible. This one, however, was stunner. Cane Creeked out to the max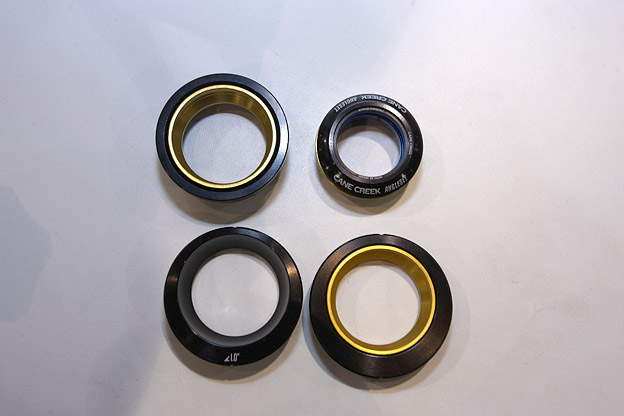 The Cane Creek Angleset is genius. Available in zero, .5, 1, and 1.5 degree -/+. I ran one on my Driver 8 this summer to slacken her out by one degree for the dry fast summer conditions. They are solidly constructed and I was afraid it might be prone to creaking after a time because of the extra movement, but my bike stayed silent. These will sell out and Cane Creek will struggle to keep up with demand. $140 for a single cup, $200 for all three.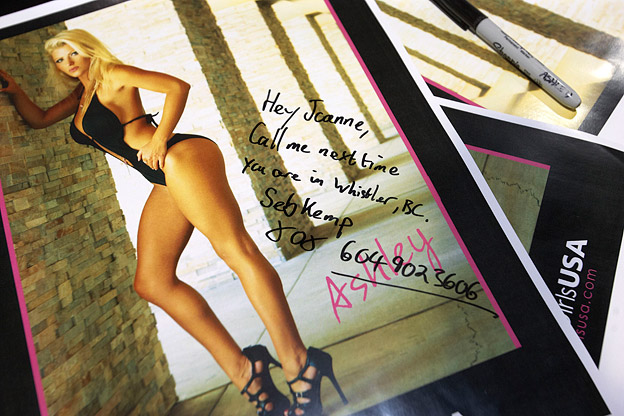 I left this note for the booth babe that had to run away. Lets see if I get the call.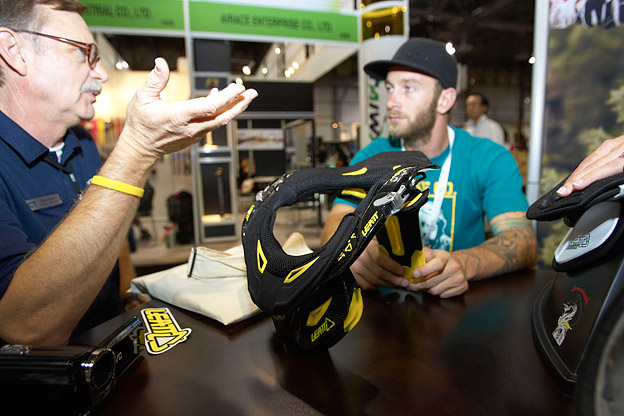 Carbon and billet aluminum Leatt bike specific brace. Featherweight, more clearance for the needs of biking (looking in front of your front tire on steep shoots. Available November 1st. There's the yellow moto version and white bike version. The This one is $685, the Comp and Ride model will be $385 and $285 respectively. That's US$. This dude didn't work for Leatt but here he is talking about squirrels or something.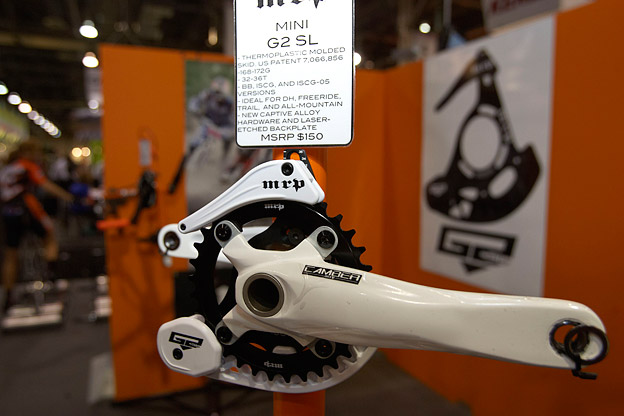 Revised G2 SL. They have made it 25% lighter by drilling out the taco and the props. 191g. White or black at the moment, but colours coming soon. But you know all this because it says it all in the photo thank goodness. By this stage I was a little biked out.
---
Any shiny objects capturing your attention?  Questions for Sir Sebster Skid?  Pose here…