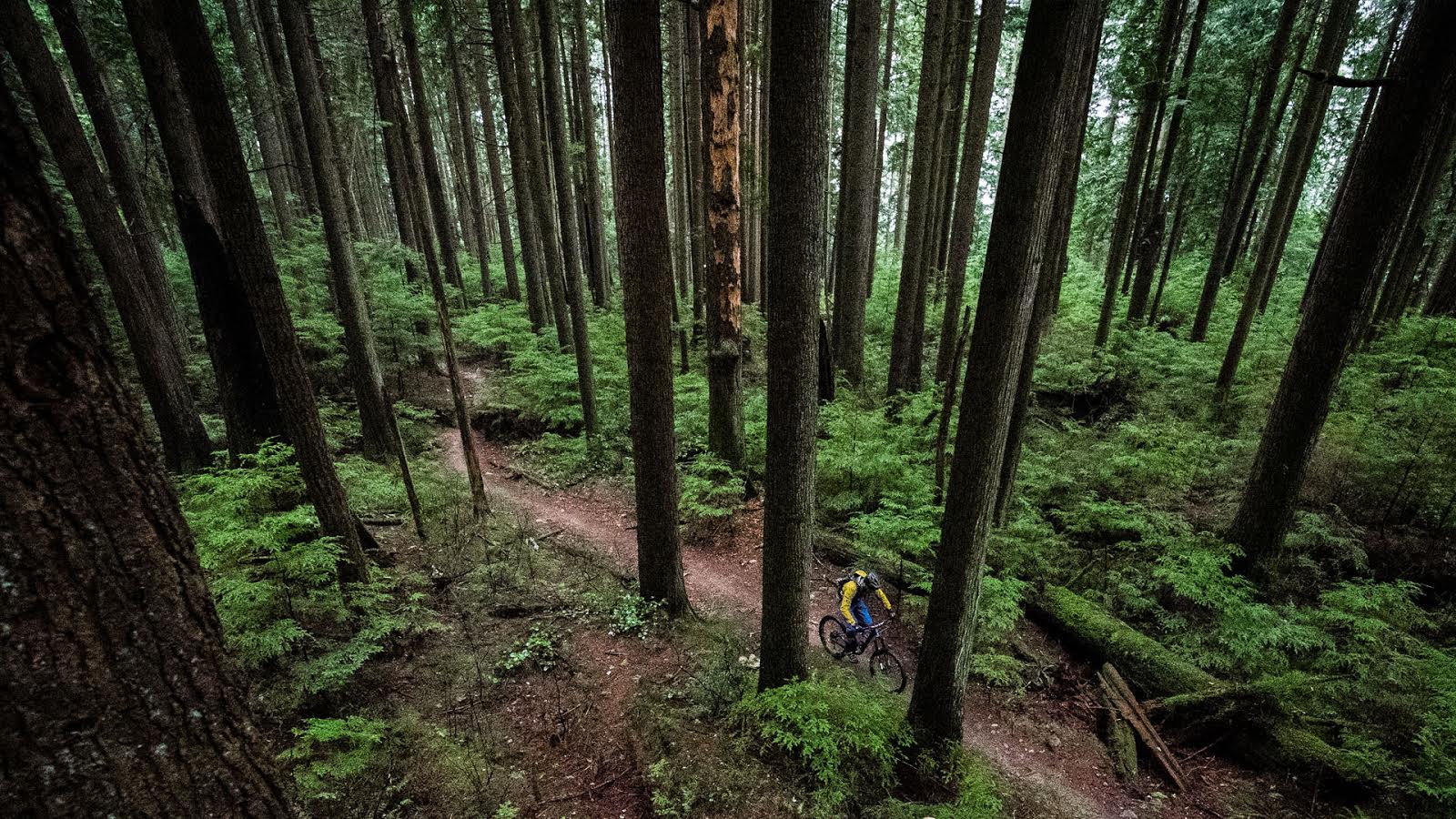 Interbike: Suspension
Suspension, suspension, suspension. It's very rare these days to find a mountain bike without it. It really has become a very important part of our funny little lives as mountain bikers.
The big thing at FOX is the Kashima stanchions. This is not a coating, this shiny gold stuff is fully impregnated into the stanchions so it becomes a part of the metal, inside and out. The Kashima reduces friction, stiction and will apparently help bring some degree of extended life span to the stanctions, bushings and seals.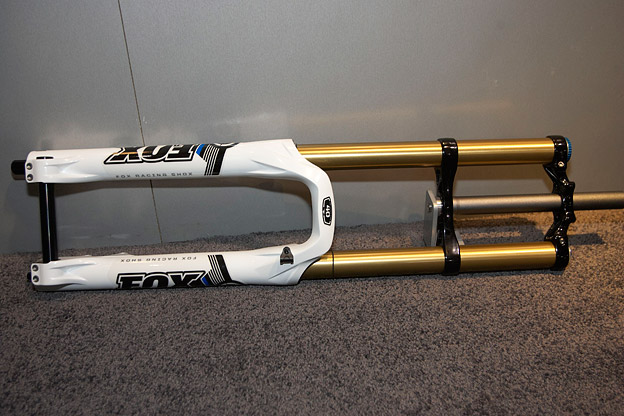 So slick this 40 fell off it's display stand. This Kashima stanctions are available throughout most of the FOX range.

FOX caught a lot of people off guard with the unveiling of a prototype height adjust seat post. Even some of the chaps on the FOX booth were surprised when this thing was pulled out. Details are vague but it this model was a 5" version, but a 4" will be available. Not sure why, maybe for shorter people or people with vertigo. It is air sprung but with mechanical activation, and there will be three positions – fully up, fully down and half way. We should see these available or at least "released" in the 2012 FOX range…which actually means 2011 for people who are content with the real calendar.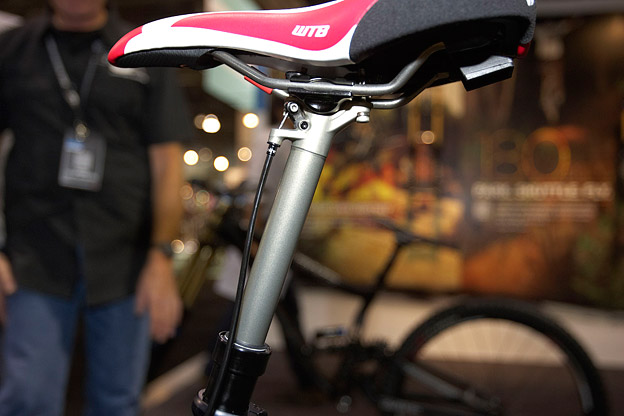 The big FOX surprise was the height adjust seat post.

Marzocchi did have some issues a little while back, and they are up front and honest about it. Now their forks are back on track. I haven't ridden a pair of the revised 888s yet but everything everyone says in glowing. Instead of bagging out more brand new second hand reinventions Marzocchi kept it low key and just brought along lots of hideous looking forks. Terrible colours but great marketing as they certainly attracted attention. The green stanctions (the one on the left of the photo below is actually blue but not much) will be available next year but the lowers wont be. The lowers were just a fun for show-only addition but if you really really like the colors then let Marzocchi know and they might put them into production. [Please step away from the Send button sir]

   Want a pair of these insane colored forks? Then make sure you tell Marzocchi. I'm going to vote with my mouth and vomit in a bag and post it to them.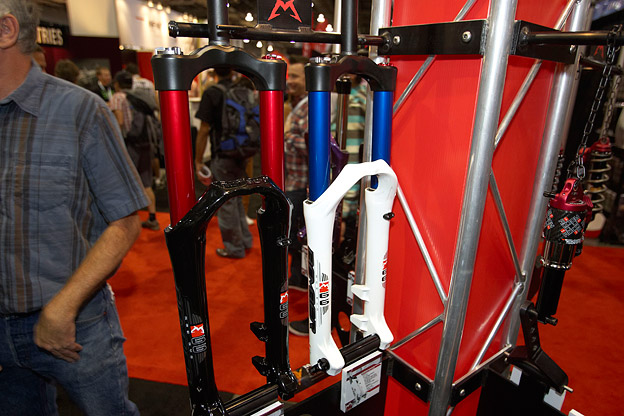 The 66 will be coming with anodized stanctions…possibly maybe. They are annodized and are not the same as the Ti-Nitrate coating that comes on the 888.

White Brothers are really stepping up their game again. Once upon a time they were top notch then they dropped off a bit. Now they return with a 4lb 150mm 32mm stanchion aggressive trail and all-marketing fork. It's air sprung and has a magnetic damper unit in it which is called Aura. There is a 35mm diameter stanction and DH triple clamp coming soon, but for now White Brothers want to you to be stoked on this forks, as they are.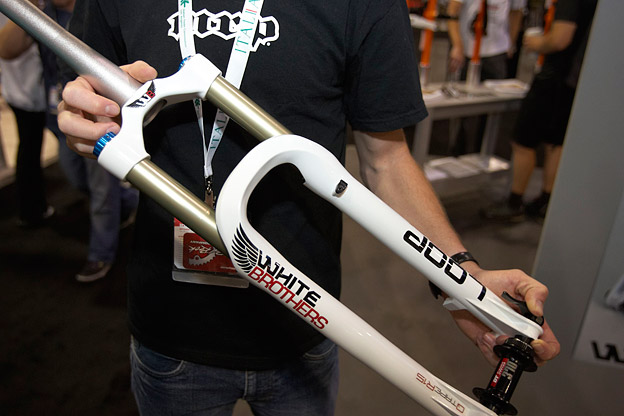 These forks damp with good hippy vibes.

Manitou have also needed a shot in the arm and that's what they did with the aluminum Dorado. It has been a very popular and reliable fork. It has proved itself to be tough enough to not only be raced on, but be hucked to flat by some freeriders like Landry, Buehler and F-Kin-rad-e.
The next stop has been to fill the holes in the catalogue slowly enough that the product produced is good enough. The Marvel is the first next step and is a 100mm fork. The next step is a 150-160mm fork, but Manitou are in no rush – they want to do things right again.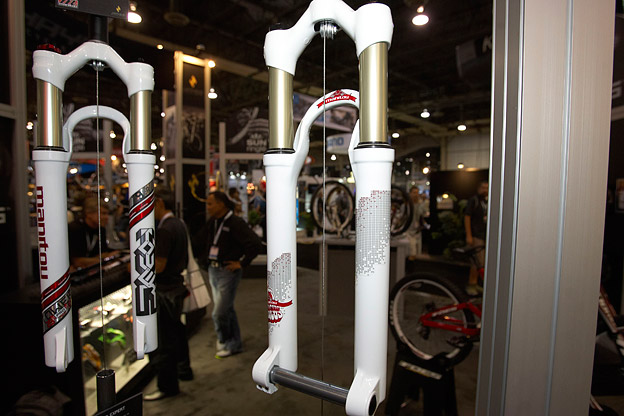 The 100mm Marvel, for XC trail light…another sub-niche in the constantly expanding rainbow of mountain bike "identities".

There was more suspension out there, but it was hard to get around to everyone. More do we really need to be reinventing the wheels every five minutes? Do we need to lust ourselves into a constantly rebranding the brand new second hand and making everything obsolete before it has chance to find its feet?
---
And that wraps up Seb Kemp's coverage of Interbike.  We have some more info on the way (incl. more suspension info) but it'll have to wait until post- Rampage.  So for now we bid farewell to Sebastian and his purple musings.  If you haven't jumped on his band wagon yet – there's a seat over here…