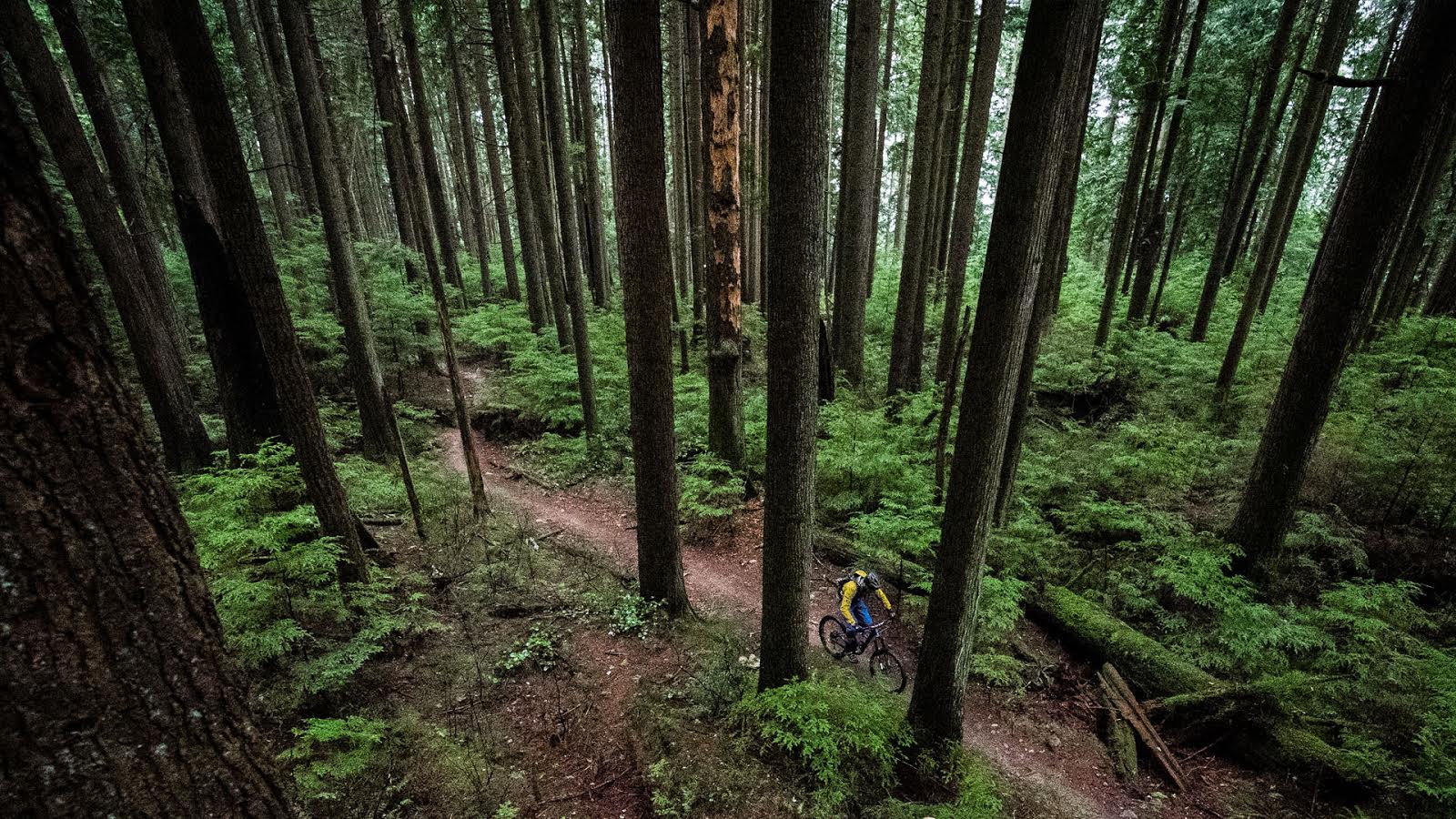 Whistler Report #20

I think the past week may have been the first time since April that I didn't ride my bike on a day to day basis. Although, given the state of the weather and trying to recover from the 5000 down flu that seemed to spread like wildfire, I guess it doesn't come as a huge surprise to me. It's hard to believe that we're staring down the barrel of October already, Phat Wednesdays ended almost a month ago now, and last Thursday also marked the end of toonie ride season. Toss in a broken frame, and tons of rain, and the riding definitely starts to fade a bit.
So with all that, it was nice to just get out for a pedal about town last night. Can't even say I hit any dirt, just hopped on the single-speed and went out for a cruise, soaking in the crisp fall-like air, the colour of changing leaves, and the freshness that a few days of steady rain always seems to have. There was nothing remarkable about the ride, nothing epic, I didn't get rad, I just pedalled and absorbed. Cruised by the AV pumptrack and saw that it's very pond-like right now, nodded to acquaintances along the valley trail as they walked their kids, or raced out to get a quick ride in before the very early fading light caught them out.
Last year's September trip to the Southern Chilcotin yielded amazing fall weather. Fanny Paquette and Robin O'Neill climb to the top of Windy Pass.
Even with the end bearing down on us, there's still a few things coming down the pipe. The crew formally known as CK's have a chalet booked up at Tyax for four days next week and 16 of us are hedging our bets on clearing weather. Apparently the Bike Co. crew have the other two chalets booked out too, so looks like some chaos could be in our future.
Last year's trip up there was awesome – great friends and amazing riding can't wait to get back up there on Monday. Jerome at WORCA is looking to close out his tenure as trails director within the month too, and with it embarks on a fairly ambitious trail building project. The first part of that is this Friday and Saturday. Check out the WORCA site for details.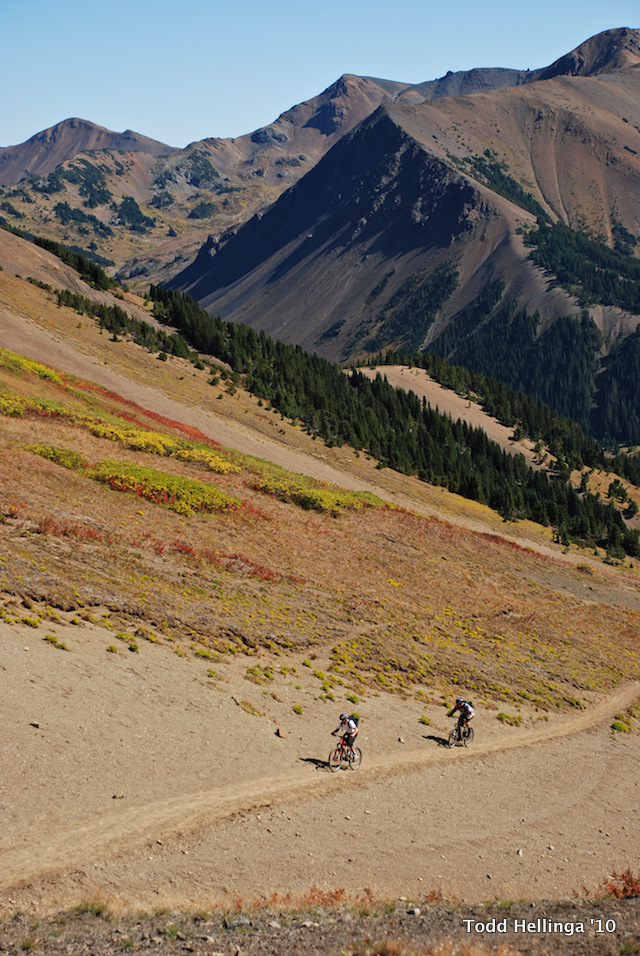 Tom Hey and Adam Mantle single-ringed their way up Windy last year.
Speaking of WORCA, the annual general meeting has been scheduled for Thursday September 30 at Legends in Creekside. Come out to hear directors' reports from the Board, ask questions about the season, or do your part to help keep making WORCA one of the best clubs in the world by stepping up and getting involved.
We're always looking for fresh bodies and minds to keep the train rolling. A huge thanks also needs to go out to this year's board for yet again taking care of all the finer details that keep us out there enjoying all the events all season long. You guys have outdone yourselves again!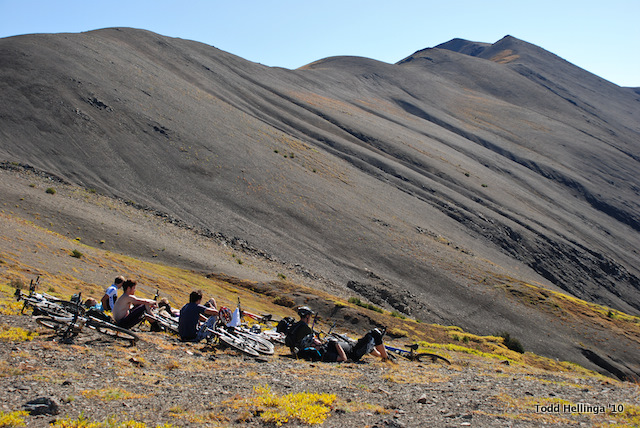 Big group, big mountains. Windy Pass.
I have to admit that I haven't been in the park since the 5000 down: the aforementioned rain, sickness, and working Monday to Fridays have made it hard. From the sounds of it, it's about what I'd expect, tackiness on the lower mountain when the sun comes out long enough to dry things up a bit, and slimy up in Garbanzo.
Although nothing has been confirmed or even talked about too much, Seb had been tossing around ideas for Harvest Huckfest, which typically takes place the last weekend in the park (Oct 9/10/11). We've had some pretty unquie events in the past; three hour enduro (would love to see this again, Seb!), team A-Line race, and amateur slopestyle (which won't be happening), among others have all been done. Guess we'll see what happens within the next couple weeks! After a couple days of sun, the rain is back and looks like it may be with us through the weekend.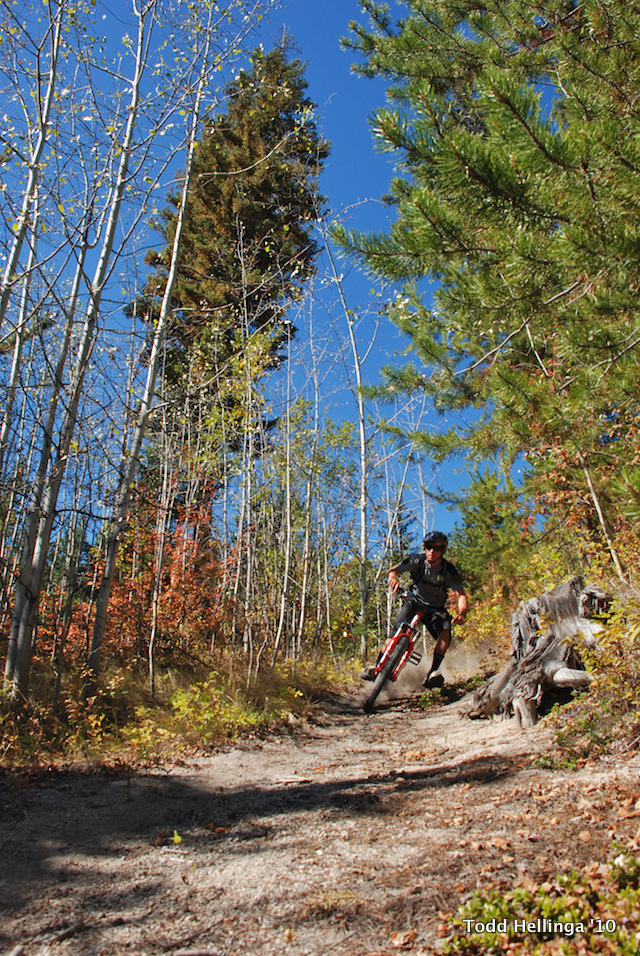 The non-alpine trails surrounding Tyax are also pretty sweet, we found this little gem a short climb away from the chalet last year. Tom loved getting loose on it.
I know I sound like a broken record, but with this wetter weather I can't suggest enough heading north to Pemberton to get some great riding in. One of the greatest aspects of Sea to Sky riding is the diversity that exists only a relatively short drive away. The soil up there lends itself well to wet weather riding, being fairly well draining and sand/gravel based. So if you find yourself wishing to get out of the mud, load up the car and head north!
That's about it from these parts. Don't get too muddy out there this weekend!
---
Jealous of Todd's glamorous life? Wish you were going for a pedal in the Chilcotins? Share your yearning with others on the board.