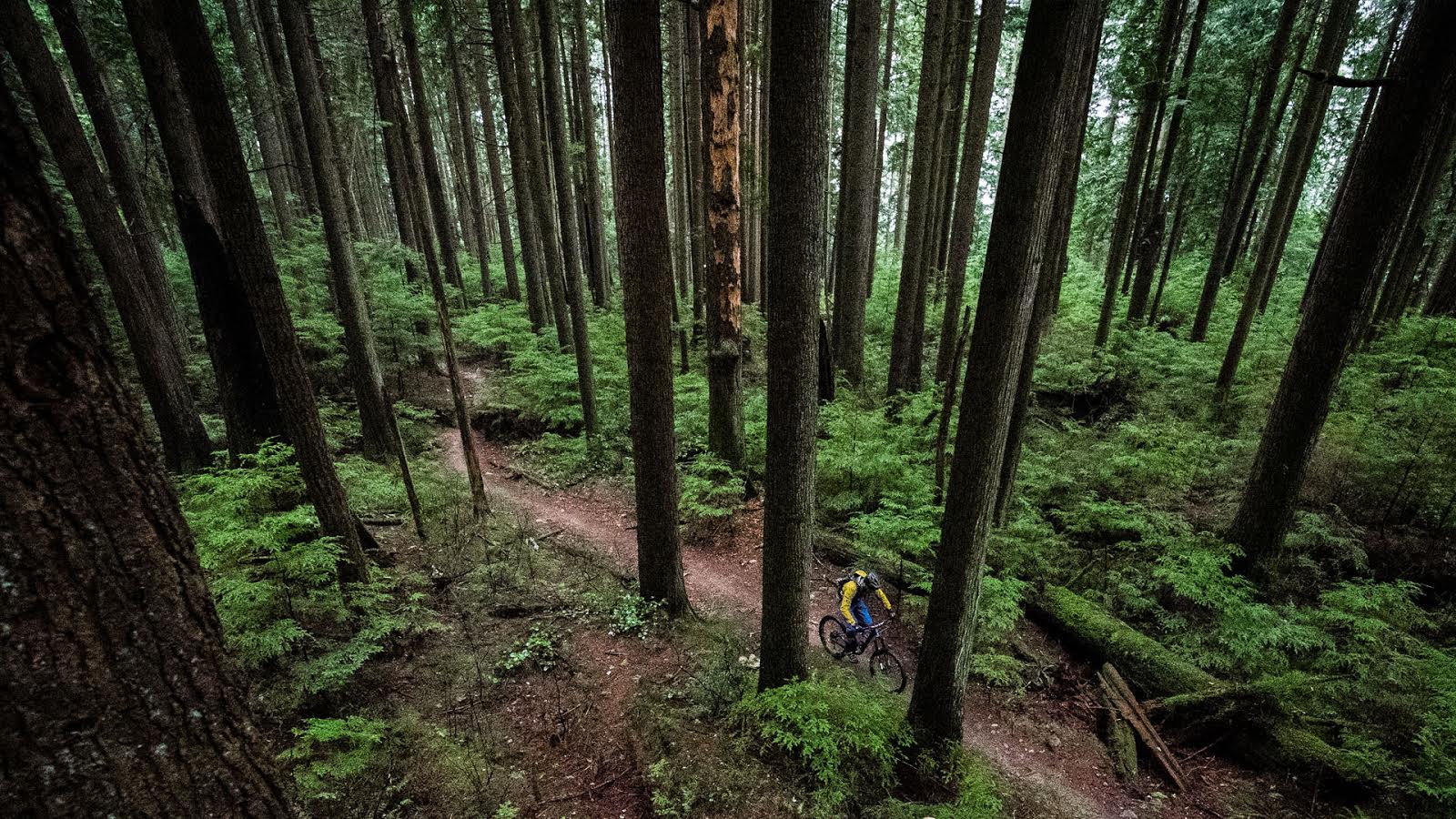 Interbike: Wheels
So what comes around goes around…and around and around. Fergs and myself chose to use an ever tightening spiral technique in order to get around the vast Interbike halls for the past two days. This way we minimized the backwards and forwards and zig zagging of trying to track down needles in a hay stack that characterizes some people's Interbike attack.
Something else that goes around and around and around should be your wheels. So here's a look at some wheels currently on offer for your bikes.
First up is the latest offerings from Easton wheels, the Haven Carbon and the Havoc.
The Haven Carbon are very exciting. They are a wheelset designed specifically for trail and all-marketing riding. They weigh a wafer at 1450g for the 26" and 1590g for the 29er versions (Yes 29ers need good sturdy wheels for more than just riding on smooth buttery California trails. God I need to stop the 29er rubbish).
   Expensive at first but a bargain in the long run perhaps.

OK, now the bad news, they cost $2300US. That sounds terribly expensive but wait a moment. Easton are guaranteeing these wheels for two years, and by guarantee I mean if they break in anyway then Easton will replace them. This doesn't just cover a manufacturers warranty, this means if you taco them, crack them, or the dog chews them then Easton will replace them no questions asked. Now think about that for a second. How many wheels or rims do you go through in two years of riding? Some, a lot or maybe never, but the peace of mind knowing this is the last pair of wheels you will buy for at least two years is divine. It sort of makes it worthwhile doesn't it?
Easton are so confident in these wheels because they have found a dude that has produced a new sort of ballistic grade composite that he has used in developing personal armour for Westinghouse. If it can saves lives from bullets then it can stand up to your riding Easton say.
They come in QR, 15mm or 20mm for the front and 10×135 and 12×135 for the rear, and tubeless ready to go.
Also on display was the new Havoc wheelset for 135 rear spacing riding. So heavy all-marketing use or 135mm wide rear end freeriding. Weighing in at 1750g and available in all combos of rear end use…including the newer Syntace142 "standard".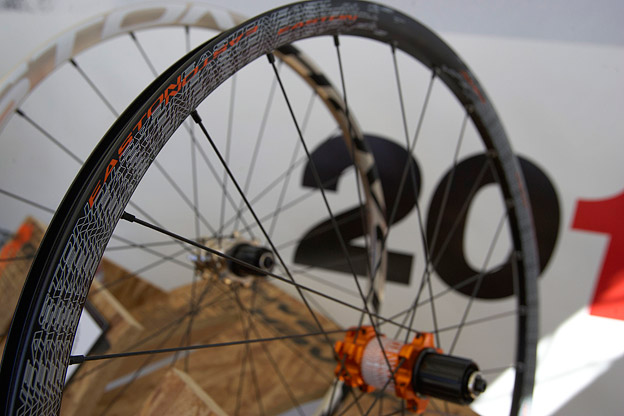 Colour and UST ready to go. Go huck the backcountry.

They cost a less mind bottling $900US for a set and I can tell you that a 150 rear spacing DH specific wheelset in the Havoc are coming soon…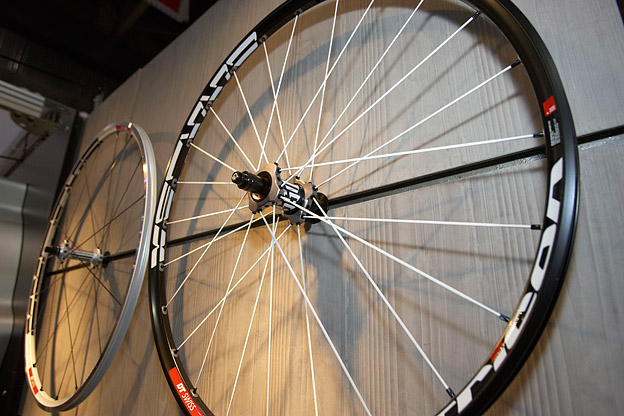 Carbon everywhere. Doubters doubt, those that want go faster will. Or something similarly marketing spiel-esque.

DT Swiss also have a carbon wheelset intended for trail and All-marketing use available. These are $2700US but only come with regular warranty against defects and a crash replacement scheme if you do smash them that will cost you an amount. Don't know what that amount is. They weigh 1550g a set.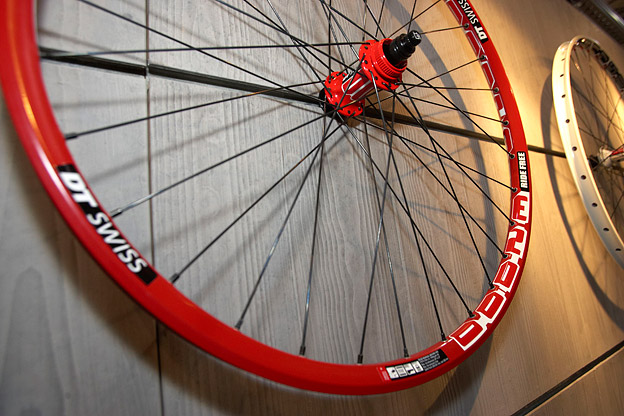 Longer lasting, lighter and still red. Blue bikes need not apply.

The DH/Freeride wheelset, the 2050 has been altered. The rim profile has changed and a new stronger material is now used in the rims to resist denting and folding of the sidewall which was characteristic of the older DT Swiss rims of this caliber. At the same time the weight has come down to a total of 2050g a set due to lighter hubs and the newer material from 2350 last year. Magic!

  The 2050s weren't on display but Paul from DT pulled out a set for Cam to peruse – hence the blurry photo (by Cam not Fergs of course).
There are lots more wheels available as you may know. But these are the most exciting that we found. If you have any suggestions for more wheels that you want to see then drop me a line in the thread below and I will be sure to read it…
---
Comment on things that go round and round here…