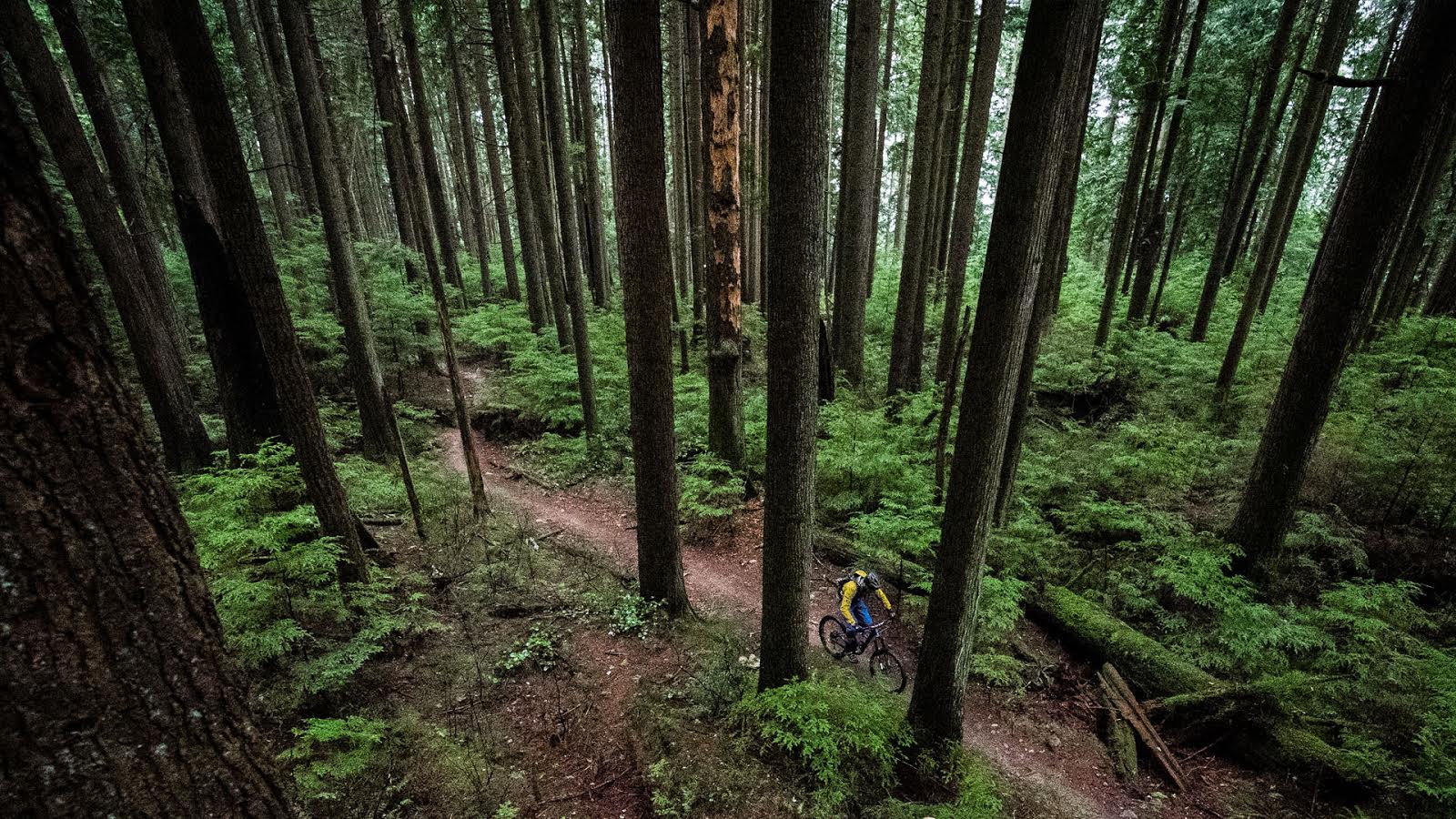 More Dirt Demo
More Bikes from the Dirt Demo
While standing in line on the first morning of the dirt demo to pick up our show lanyards and dirt demo wrist bands, we ran into Noel and Chris from Knolly. Their booth was just inside the main entrance to the dirt demo and was an obvious first stop for bike hunting. I was hoping to grab a Chilcotin, Knolly's new do-it-all bike. Unfortunately, the rest of Interbike beat me to it and I had to settle for a 2011 Delirium. The Delirium is still a great machine, but when you find out they've run out of prime rib and have to settle on a striploin, you know dinner is still going to be good albeit slightly disappointing.

   The 2011 Delirium. New for this year is an increase of 1 in the model year, and some spanky new paint. It's still a solid bike and felt good under my feet. The Knolly guys swapped the spring for a heavier one before sending me out on my ride. They also sent me with the special wrench to adjust the compression dials on the shock. It's all about the details with Knolly, and it's always appreciated. Photo ~ David Ferguson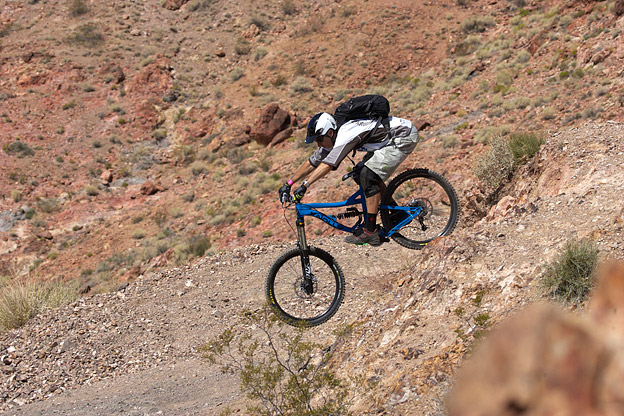 That's Cam riding the Delirium. It's not uncommon to swap bikes, especially when I'm running around with my camera gear. Photo ~ David Ferguson

After returning the Delirium, we walked around to find more bikes. It doesn't take long for all of the popular bikes to vanish from the various booths and you're stuck either waiting around for someone to bring back your next dream bike, or you grab something not on the original hitlist. Option number two is how I found myself pedalling a Specialized Bighit 3 as my second ride for the day. I was hoping to jump onto a Demo but they were all gone, and the lineup of guys at the Specialized booth waiting around for a bike to come in was a little too long for my liking. So off I went with Cam and Seb, who also found themselves on bikes they didn't plan on grabbing. Sometimes that's how the cards fall at the Dirt Demo.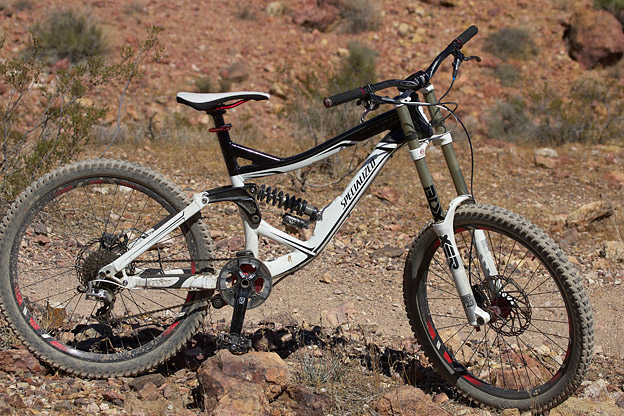 The 2011 Bighit 3 is supposed to be spec'd with a RockShox Domain, but mine had a Boxxer. Photo ~ David Ferguson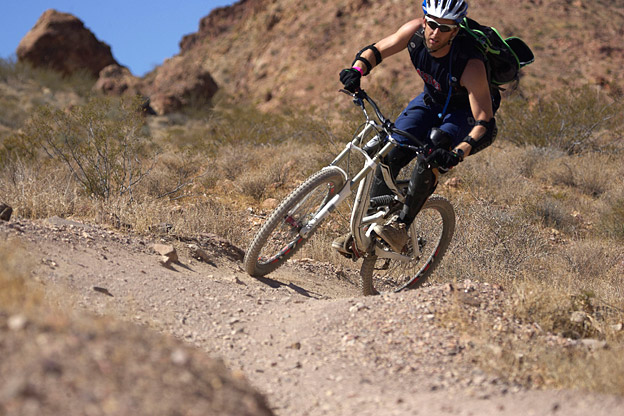 After climbing up the trail on the Bighit, it was a pleasure riding back down. The trail is called Girl Scout and is a nice flowy piece of singletrack. The Bighit was a little more bike than I needed for the trail and would have preferred riding it on one of the downhill gems in Bootleg Canyon. Photo ~ Seb Kemp

Bike number three was a Devinci Dixon SL, their new all-mountain ride. According to Devinci, this is the best all-mountain bike they've ever made. By now, most enthusiasts know that the suspension designs for the latest roundup of Devinci bikes come from the brain of Dave Weagle. Weagle's Split Pivot design used by Devinci essentially puts the rear pivot in line with the rear axle and is supposed to separate acceleration from braking forces in the suspension. Devinci was also keen to allow the end user a lot of flexibility in terms of the type rear shock they might want to use, a feature the Split Pivot design allows for.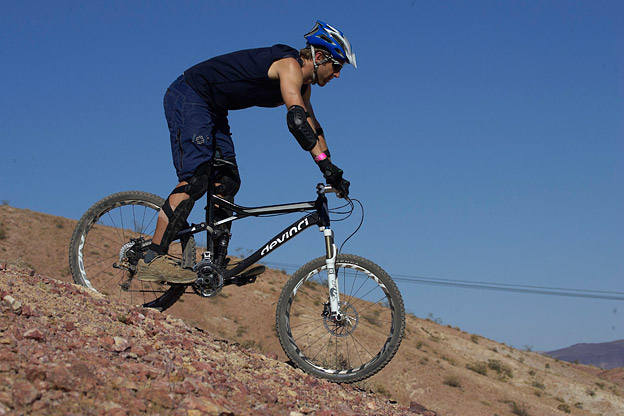 Climbing with the Dixon was great. The SL comes equipped with Fox Float's front (Fox 32 Float RCL 150mm) and back (Fox Float RP23 XV with boost valve) and a SRAM XO drivetrain. I'd love to get this bike on the shore to test it on some familiar ground. Photo ~ Cam McRae


   A little drop in the "Shore" section of Bootleg Canyon. Photo ~ Cam McRae

As always, stay tuned for more Dirt Demo and Interbike action.
Post your comments here and we'll do our best to seek and destroy for you.