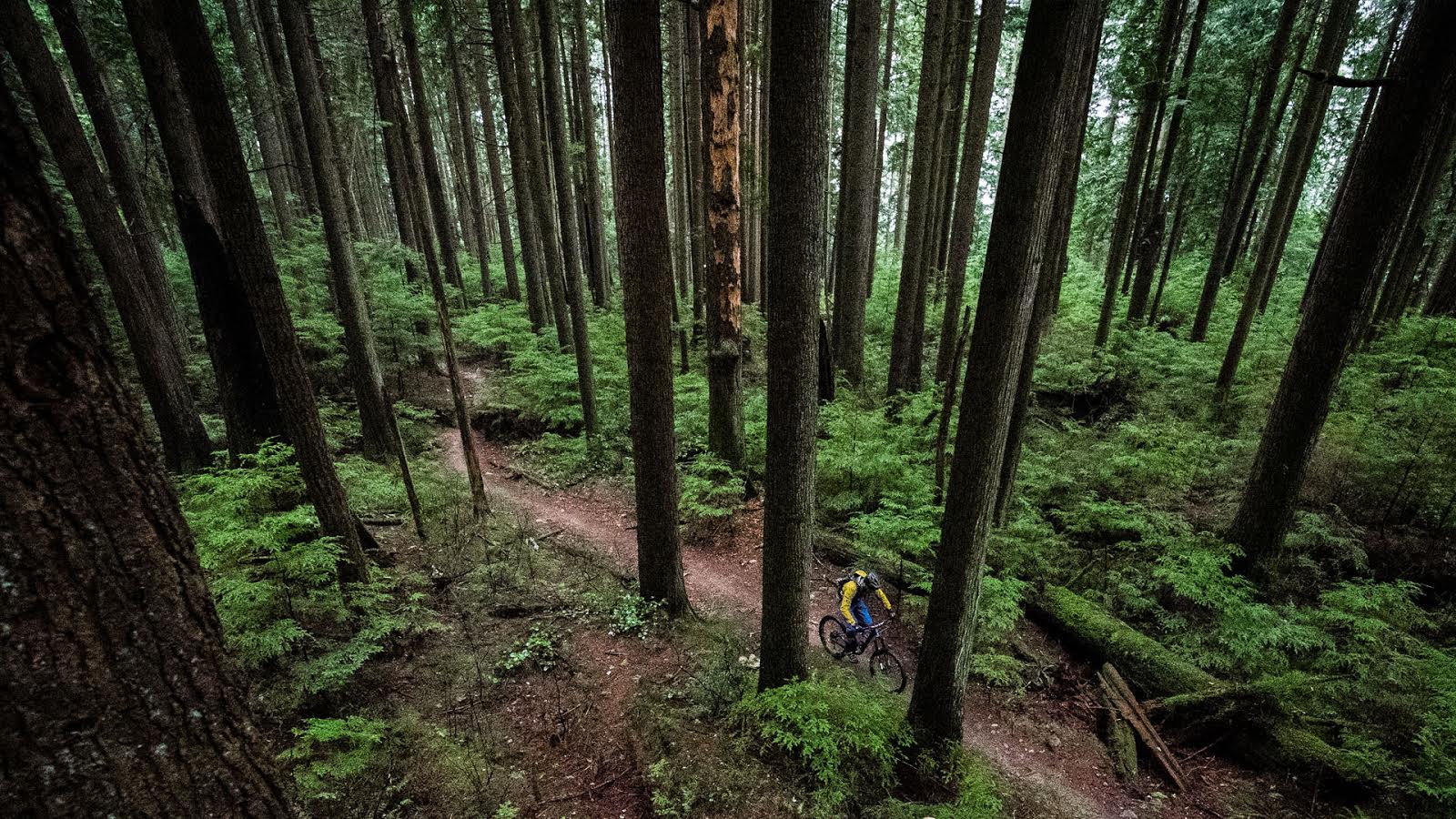 The Last Dirt Demo in LV
Word is just getting out that Interbike is moving back to Anaheim after 15 years in Las Vegas.  Before the move to sin city in the mid 90s Interbike was held in Philadelphia, Reno and finally Anaheim.  And now it's going back to Mickey's home town – and it's also moving back a month to mid August – which is a fantastic time to be walking in a convention centre in Anaheim.  Where would you rather be in August?  And only Anaheim is more exciting than Las Vegas!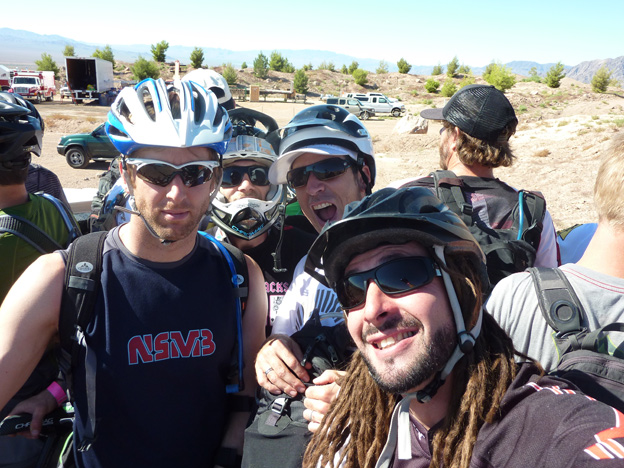 Seb Fergs and I loaded onto the cattle wagon with Hoots Jay to do some riding – and it was as much fun as you can see in this photo and more. Photo ~ Hoots Jay
We're not as stoked as we could be about this news – but thankfully there is no law saying we have to come to Interbike – and I predict this is going to make Crankworx even more influential.  Maybe there could be an expo attached to Crankworx – and what better place for a bike demo than Whistler?
But I'm getting ahead of myself.  For now we're back in Vegas but we spent today riding the wickedly-fun trails in Bootleg Canyon – and maybe tomorrow will be our last day there ever.  Lots to see and ride this year and below you'll find just a taste.  We rode more than you see below today and we'll be telling you about those bikes once we catch up with Vegas.
– Cam McRae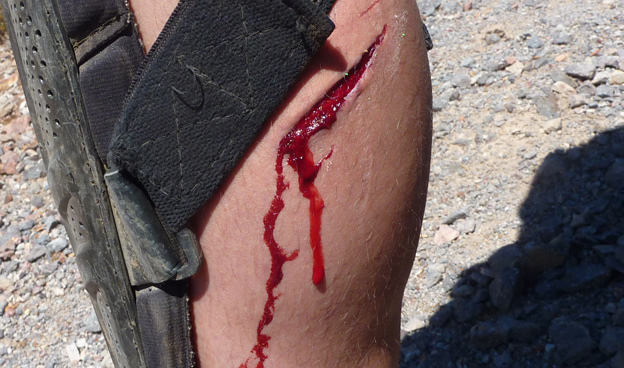 Check out the oxygen-rich red blood dripping out of Fergs' leg. What a waste of good blood. Stupid pedal. Photo ~ Cam McRae

  Seb Kemp is a welcome addition to our crew for 2010.  He seems a wee bit amazed at our approach to Interbike – and ladies in high heels. Photo ~ Cam McRae

  You can see Seb taking a frontal portrait of his lad, who we named the lycra gangster.  Here he shows his gang sign to the world. Photo ~ Cam McRae
---
And now I'll turn things over to the 29er-riding skidmaster – Seb Kemp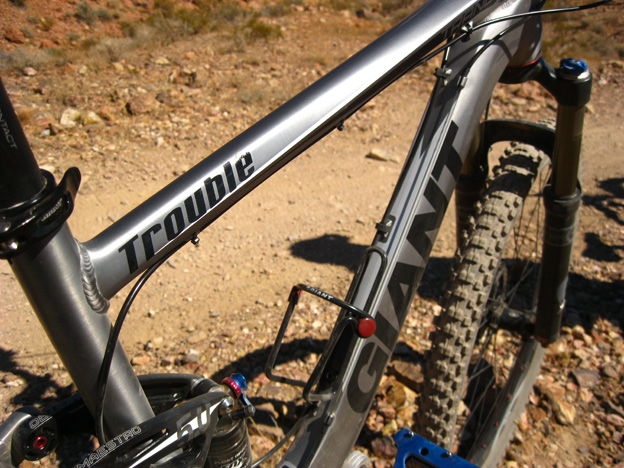 I rode "Trouble" today. Photo ~ Seb Kemp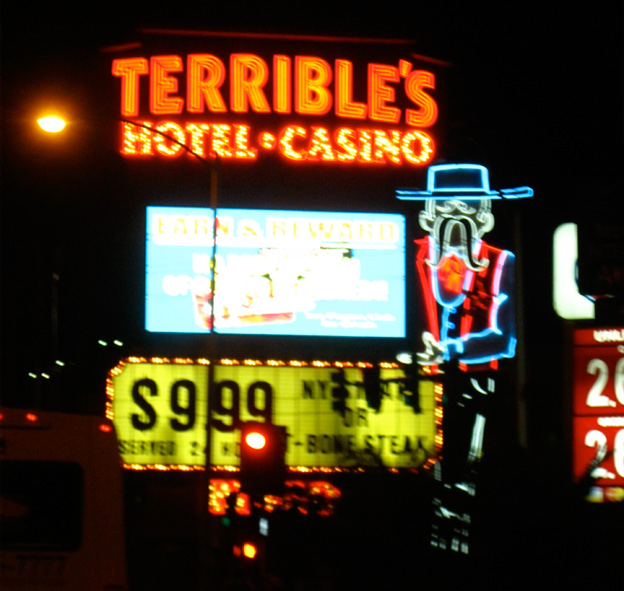 SAYS IT ALL.  Photo ~ Seb Kemp

  Go read a lovely little book called 'Simularca and Simulation' by Jean Baudrillard. In it he rambles and blabbers on for the whole book in an almost indecipherable language about the "desert of the real". Actually don't read it unless you need a gnarly bed time challenge or you need to impress that hot looking hipster girl at the local coffee shop. Anyway, Las Vegas is the exaggeration of a caricature of the desert of the real.
---
From Fergs: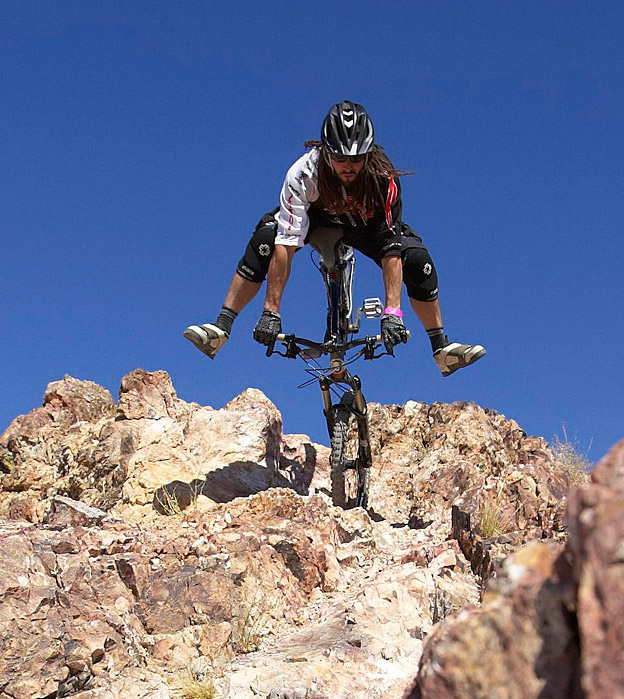 Hoots Jay was the first to drop into this steep techie line, or should I say he was the first to drop into the perfect little tire well on this steep techie line. It's not the sort of place you want to unintentionally go over the bars, but Hoots has cat like reflexes and landed peanut-butter and jam side up. I love how he doesn't even look concerned about his potential predicament. Photo ~ David Ferguson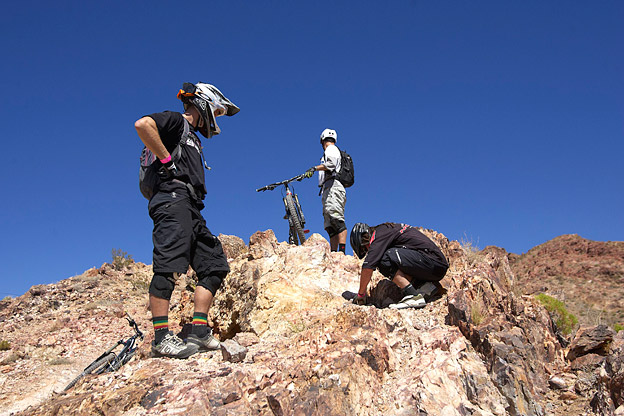 Having just returned from injury Hootie wasn't very keen on banging himself up again.  Luckily his run through the rocks left him slightly bent but not broken. Photo ~ David Ferguson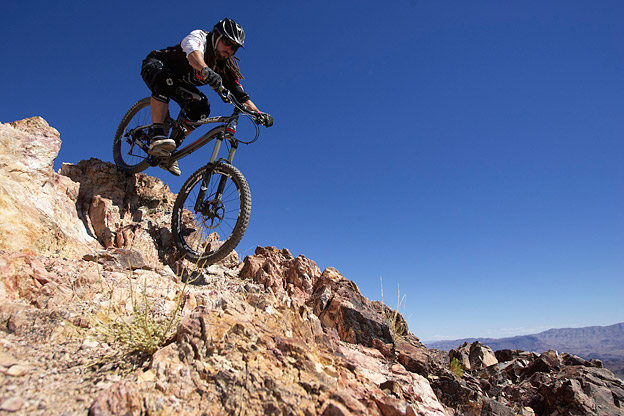 Jay promptly fixed the wheel-well so everyone could ride the line without further mishap, including himself. Jay was riding a 2011 Norco Range and Cam sadddled one up as well.  He was very impressed and he'll report in later with some details about the bike and how it rides. Photo ~ David Ferguson

  Drool Alert: Trek Session 88 with the Trek World Racing paint scheme. I'm not sure if these are available to ride at the Dirt Demo, but we'll find out. Photo ~ David Ferguson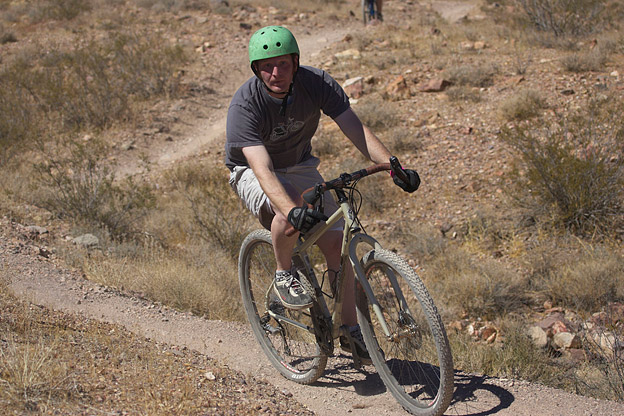 Check out the sweet fully rigid with drop handle bars. Also check out the realization in the eyes of the rider that there's a camera aimed at him… Photo ~ Seb Kemp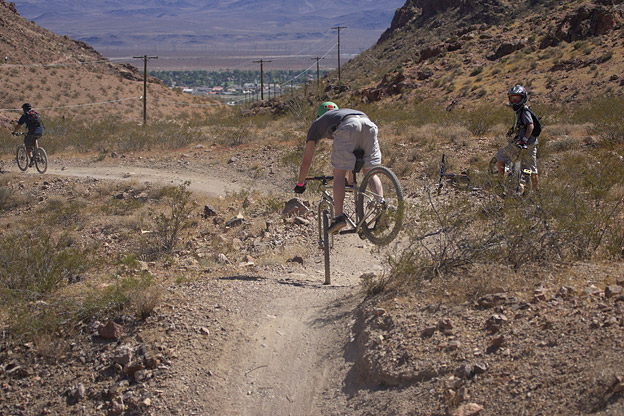 … nothing like some kodak courage to boost your air time and greatly increase your chances of eating sh*t as a result. Luckily this guy managed to stay upright after this awesome landing. Photo ~ Seb Kemp
---
Yesterday's little server issue got us slightly off our game – but we're ready to charge for the last four days of Interbike in Las Vegas – perhaps ever. We rode two new Devincis equipped with Dave Weagle's Split Pivot system (The Wilson and Dixon), as well as bikes from Specialized, Santa Cruz, Knolly and Trek – and we've got a few things to say about each – as well as more photos to show you – so stay tuned for more words and photos on the rides from day 1 at the Dirt Demo.
Send your requests to the thread on our Gear board and tell us what you think about our mishap sprinkled day one from Bootleg Canyon here…