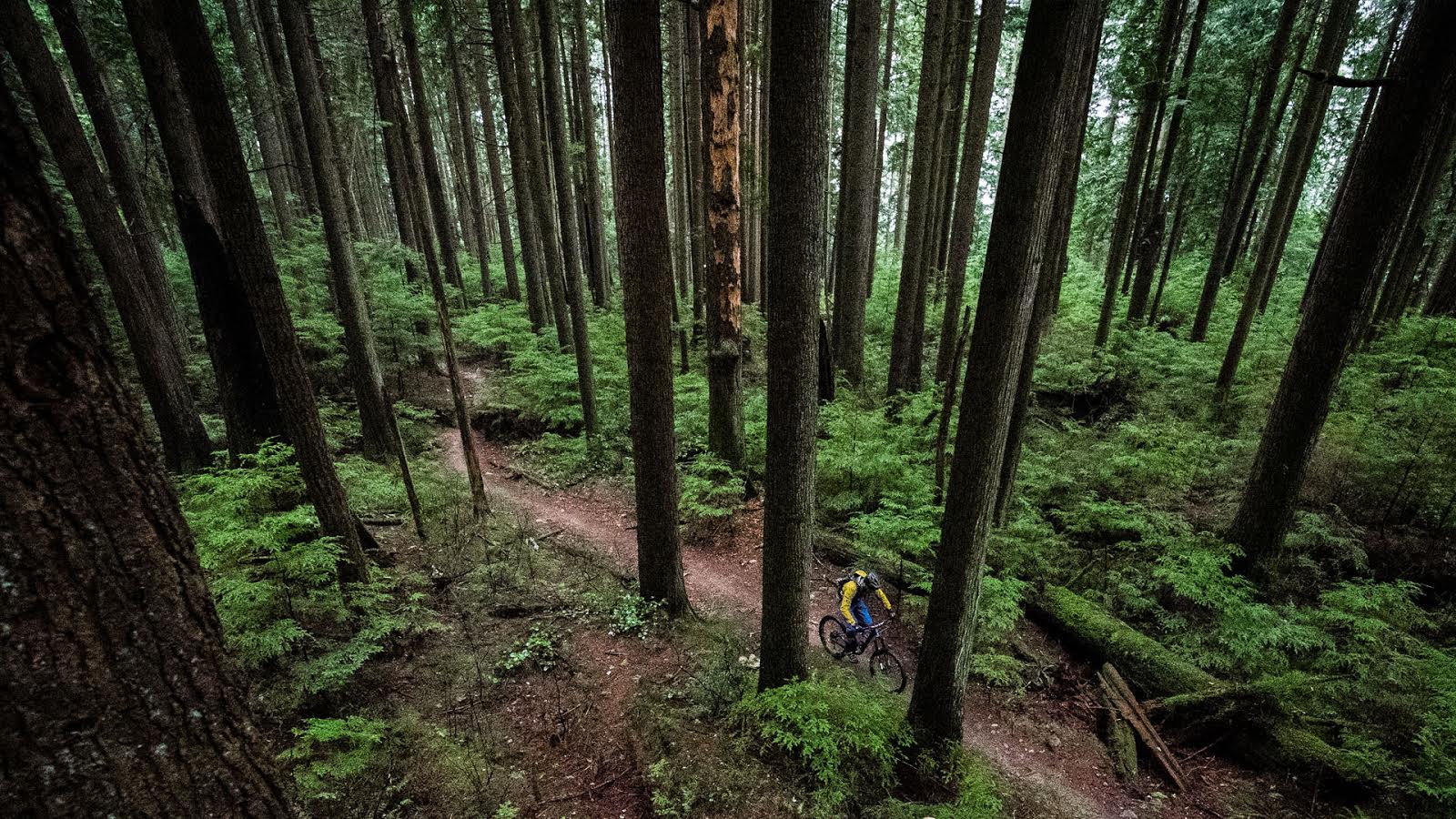 Whistler Report #19

I have to admit that it's been a while, if ever really, that a downhill race has left me feeling that shared excitement that I get out of stuff like the 4 Jacks/Queens, or the Samurai. 3 days out of the 5000 down and I'm still giddy thinking about the experience, and considering I wasn't overly pumped up for the event going in, I guess it surprised me a bit. Downhill racing is usually such an individual thing, whereas in the cross country realm you're always sharing the experience with those around you. Make the downhill a mass start, mix in 15cms of fresh snow on top of the peak and suddenly we have an adventure!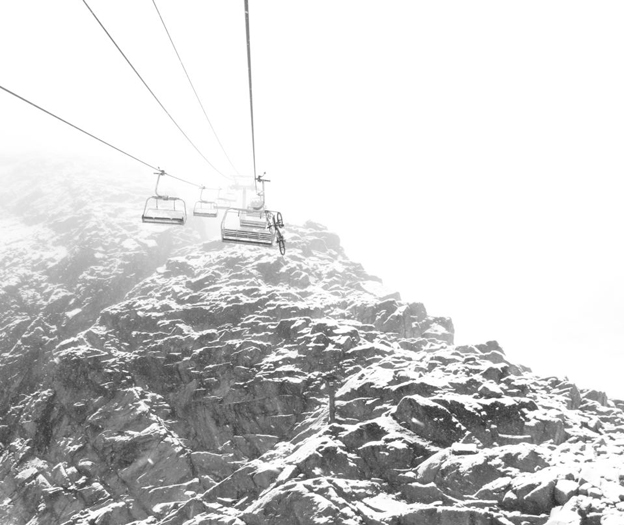 Oh yeah, snow always puts an event into epic status. 15cms of it greeted racers Sunday morning. Malcolm Mclaws Photo.
Sunday's Red Bull 5000 Down in Whistler definitely lived up to the hype as nearly 150 of us gathered on the peak in falling snow to battle it out. I use the term battle pretty loosely though, because it was mostly excited chatter and high fives and the look of excitement on everyone face. The conditions were anything but ideal, but they are also the kind that make you remember an event for a long time. Anyone can bomb down a dry road in perfectly sunny conditions, but what about 15cms of slushy snow, pouring rain, sloppy mud and a lots of people to try and pass? Oh and did I mention trying to rip down Pika's traverse through Harmony bowl with goggles that were completely fogged and muddy at about 70km/h? Yeah, this race had it all!
   Racers lined up under falling snow and the front line was stacked with talent. L-R Tyler Morland, Dylan Wolsky, Paul Stevens, Tyler Allison and Curtis Keene were all front and centre. Malcolm Mclaws Photo.
While I still think the course overall isn't anything really worthy of Red Bull (O-Sin/In-Deep gets used way to much for races, sorry Seb, but it's true!), in the end it wasn't really about the course as much as it was about the event, and people were stoked! And really, who wouldn't be after surviving 22+ minutes of elbow to elbow racing, through snow, mud, and rain over 5000 vertical feet of descending? The finish corral was jammed at the end with racers telling tales of getting sketchy in the snow, or being blind down Pika's, getting passed by buddies and then passing them back. Crashes on wet muddy roots, mechanicals, you name it, it probably happened! There were a couple of wrecks that led to broken bones near the bottom (heal quick Paul and Katrina!), but overall it seems most made it down in good shape, albeit ridiculously wet and muddy!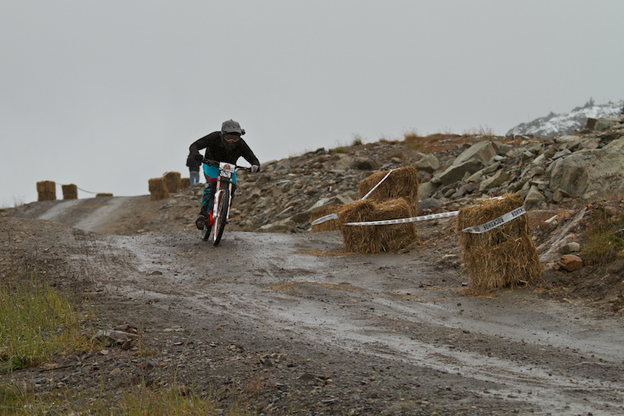 First through the snowstorm and to the roundhouse was Tyler Morland with a healthy lead. Sarah McQueen Photo.
Huge thanks to Cody Swansborough and Seb Fremont, plus all of their staff and vollies who put on another really fun event. There's something about whacky events in Whistler that works. We love the out-there events and for some reason mother nature always likes to throw a monkey wrench into things. As I was riding up the gondola that morning I couldn't help but remember 4 years ago when we started the 2-day Samurai of Singletrack from the Roundhouse, and climbed to the Peak in similar conditions. Very different events, but the thing that struck me was that the feeling evoked by the weather and the prospect of a really unique event and the camaraderie that challenging conditions seems to bring out, was very much the same. So a big thanks too goes to all my fellow racers for enjoying it for what it was, not getting overly serious or aggro, and letting out lots of hoots and hollers all the way to the valley! Think I've been converted so we'll see you next year!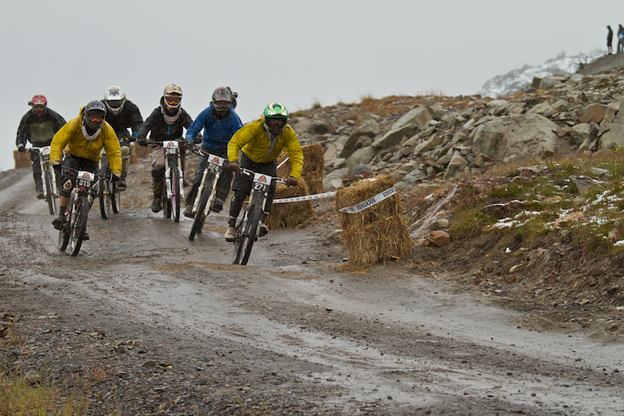 Yeah I cherry-picked a shot with me in it! Here I lead a pack including good friends Alan Golds and Joel 'Rippa' Robinson, vision was next to nil at this point! Slicing and dicing with your buddies is always a good time! Sarah McQueen Photo.
On the opposite end of the spectrum, if spandex and lots of climbing is more your thing than fullface helmets and armour, the 21st edition of the classic Cheakamus Challenge goes this Saturday from the Squamish Airport at 10am. This 70km cross country race has a bit of everything, including pavement and forest service roads, and it saves the singletrack for the end, right when you're feeling punched from the long ride. If you're feeling like 70km and a bunch of road riding isn't your bag, maybe check out the 'lite' version which is about 40km and starts south of Whistler at the Bungee Jump bridge. Race time for that is 1pm. Registration is available online and also day of on site. Check out cheakamuschallenge.com for all the info.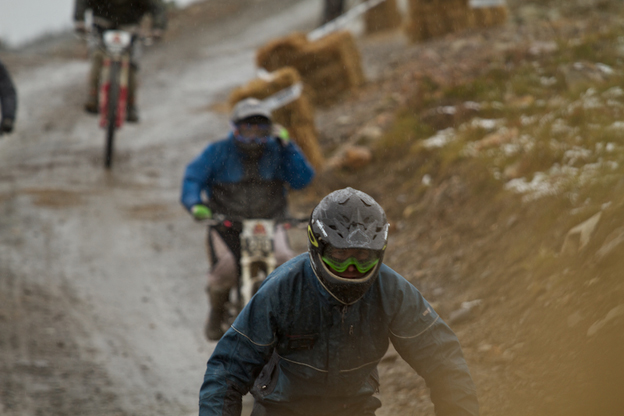 Snow, rain, mud, sweat, fog. Bombing down Harmony at 70km/h with little to no vision was probably the hardest part of the day. Stories of useless tear-offs, zero vision and goggles hanging off necks and handlebars was the norm. Sarah McQueen Photo.
In the park, the wetter weather has meant lots of maintenance taking place, holes being patched, berms being rebuilt. Middle B-Line was closed on the weekend for work and upper had been groomed with a machine. In addition to the Fade to Black opening (see video below), another new little piece of singletrack called Afternoon Delight opened up beside Crack Addict. Seems the addition of late fall trails is becoming a theme. Aside from a few holes that have been eating people, the new trail is getting some good reviews. Get it while it's fresh, cause like most stuff in the park, it likely won't stay that way long! Hopefully we can see some more work like this take place, oh say a bit higher on the mountain. Lower In Deep has seen its day, in my humble opinion, and it may be time to seriously look at building something No Jokish, that isn't New Joke over on that far side of the mountain. Talking to some of our junior racers this past weekend, they confirmed what many have been saying for a while now, and that's that we really need a race oriented track that doesn't get intersected by other trails. Sure would help our racers get up to speed when they get to the World Cup level. Just sayin'…
Seb Kemp and Emily Johnston put together this little vid of them riding the new trail Fade to Black in the Whistler Bikepark.
Out in the valley the trails are turning to their fall glory, tacky and fresh, moss getting really green again, and loam sticking to your bike. Sampled some freshness off the flank that took away the sting of a crack I found in my frame on the climb up, and little birdies tell me that the end of Runaway Train has had something new tacked on to it. WORCA has a few trail days planned for the end of September and beginning of October, be sure to keep your eye on worca.com for all the relevant details. Tonight (Thursday) also marks the end of another successful Twoonie Ride season. Mr. Steve Reid unveils his opus to the world, that being his new trail over on Blackcomb. It's called Golden Boner, and well, you'll have to ask Steve why. Out in Pemberton I've also heard that the extension towards Owl Creek off the top of the microwave tower at Gravitron is progressing and you can do an out and back on it and check out some sweet views. Check out a pic of the view over on the Bike Co. Blog. With some rain and moisture back in the ground fall riding always picks back up again in Pemby, be sure to stop in and visit JI and the gang at Bike Co. and seriously, get a coffee and wrap from the Mount Currie Coffee Company – mmmm, so good!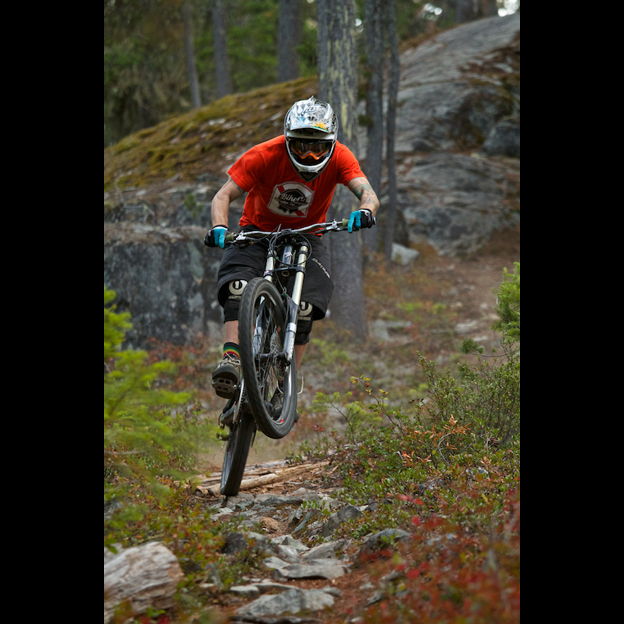 Fall is here, and with it the berry bushes are getting some colour, and moss is getting green again. Seb Kemp is rallying through another season, hard to believe the end is racing towards us faster and faster. Todd Hellinga Photo.
Remember, it's getting dark really early these days so plan your rides accordingly. Getting stuck on some rocky rooty trail in the dark is not as fun as it sounds. Huge thanks this week to Malcolm Mclaws and Sarah McQueen for the great pics of the Red Bull event, and to Seb Kemp and Emily Johnston for the video of Fade to Black. You folks all rock! Guess we'll close it out with the podiums from the 5000 down, till next time.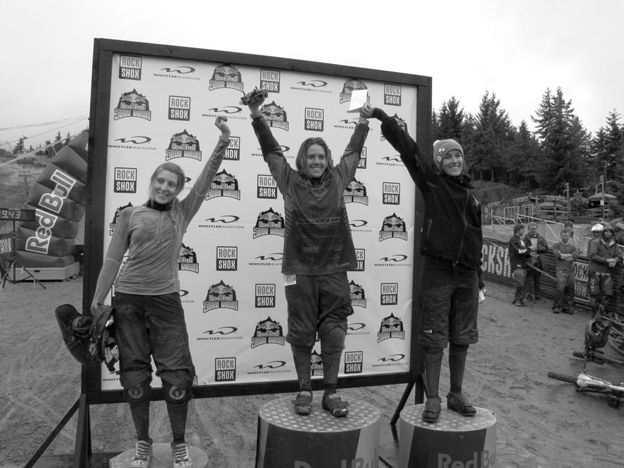 Women's Podium L-R Fanny Paquette 3rd, Lauren Rosser 1st, Brook Baker 2nd. Malcolm Mclaws Photo.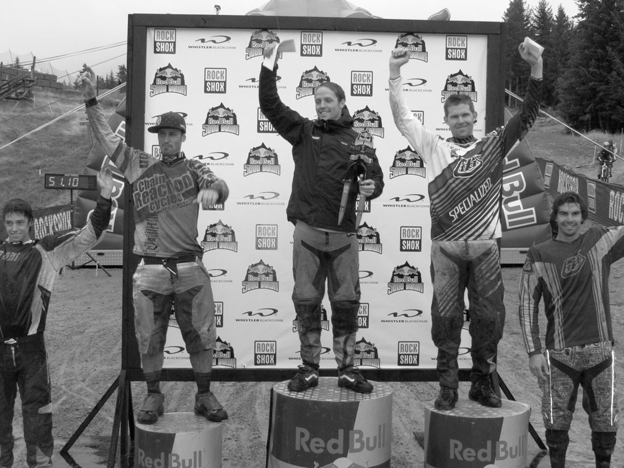 Men's Podium L-R Tyler Allsion 5th, Chris Kovarik 3rd, Tyler Morland 1st, Curtis Keene 2nd, Dylan Wolsky 4th. Malcom Mclaws Photo.
---
Have  you ridden Fade to Black or any of the other new trails Todd has been gushing about?  Anything more to say about the Red Bull 5000 Down? Share here…