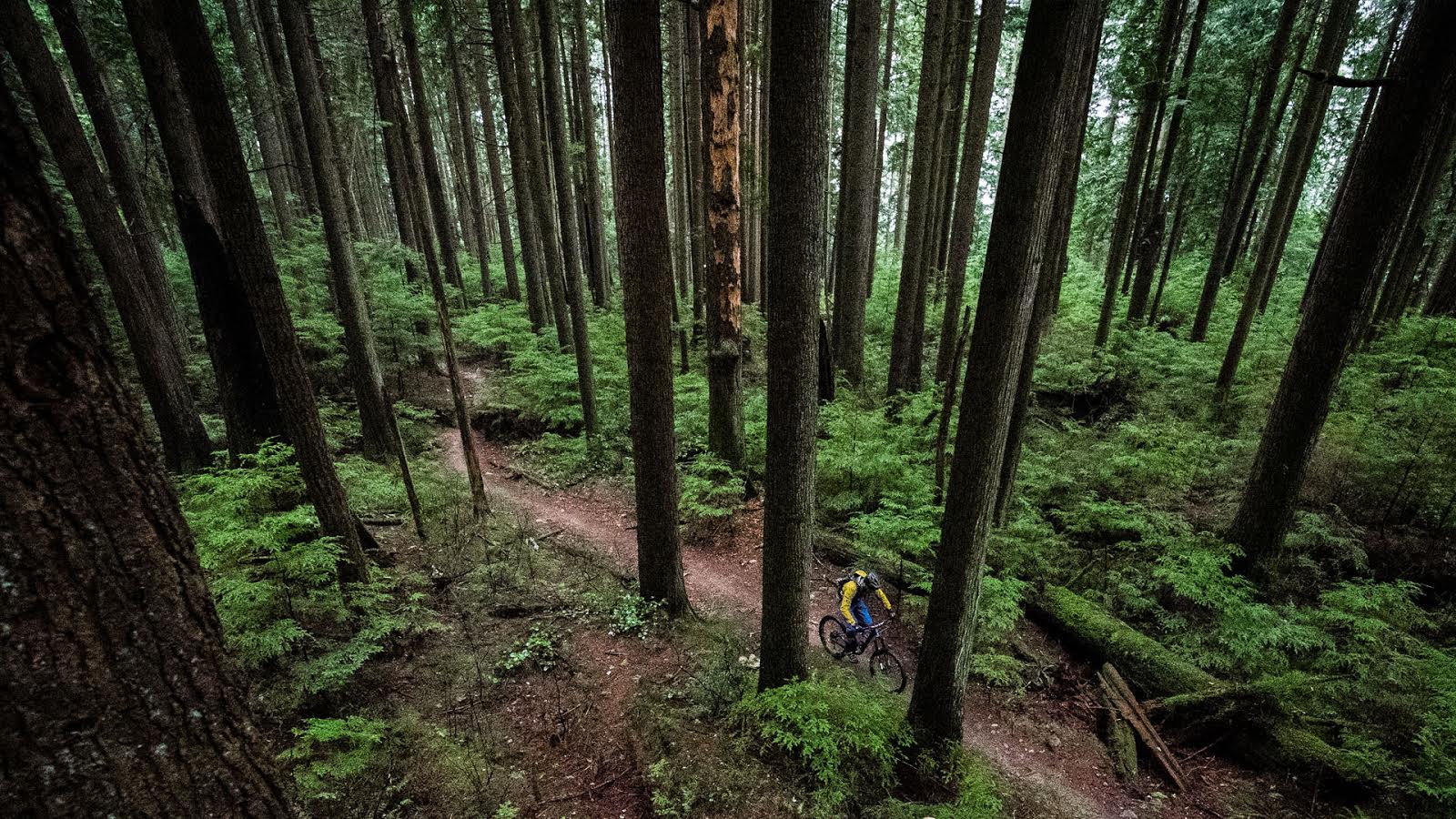 Crankworx Slopestyle Photo Essay
The Crankworx Slopestyle has never had a more exciting start than it did in 2010.  The format, where a high score in the preliminary rounds could carry through to the end, encouraged riders to lay it all out there early – and they delivered like UPS.  Trepidation disappeared and riders began to toss tricks off the huge Monster tower.  It was shaping up to be the most competitive show yet – or so it seemed.
We were lucky enough to have Stuart Kernaghan, Malcolm McLaws and David Ferguson on course shooting for us.  We'll let their photos and captions tell the rest of the story.
Cam McRae

 Graham Agassiz was riding hurt but he still managed a solid performance. Photo ~ David Ferguson

  The Claw laid down a run that was looking like one of his best ever in the Boneyard.  It was a combo – including a flawless three off the Monster tower – that would have guaranteed him a berth in the finals.  Unfortunately the Claw hit hard after spinning the final drop and broke a couple of metatarsals in his hand.  The crowd was behind him and going ballistic until his roll in the dirt. Photo ~ David Ferguson

  The Monster drop was apparently 30 feet down and 40 out.  The biggest feature to ever appear in the Boneyard.   Many riders hated it but it became a crucial seperator for the riders.  If you could trick it big you were worthy of the finals – otherwise you weren't likely to be considered.  It was great for the crowd but many of the athletes thought it was too dangerous.  Martin Söderström crashed off it in the comp but otherwise I didn't see any mishaps.  The Claw threw down a flawless three that had the fans remembering his spin off the roadgap – and they went just as crazy this time. Photo ~ David Ferguson

  Balmy weather, lots of hype and a star-studded roster brought what was reported to be a record crowd to see slopestyle 2010.  The announcers were calling it the biggest crowd in mountain biking.  Photo ~ David Ferguson

  Casey Groves shooting for the moon.  Casey rode clean and smooth and was a deserving third place – and top Canadian. Photo ~ David Ferguson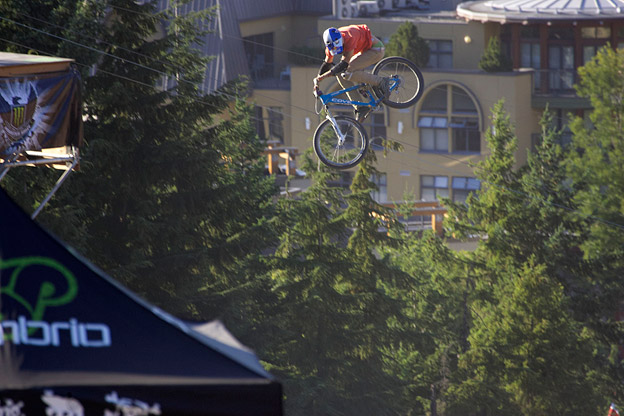 Martin Södertröm knew he had to throw something impressive to be in contention.  Unfortunately his spin off the Monster tower didn't work out and his day was done.  Photo ~ David Ferguson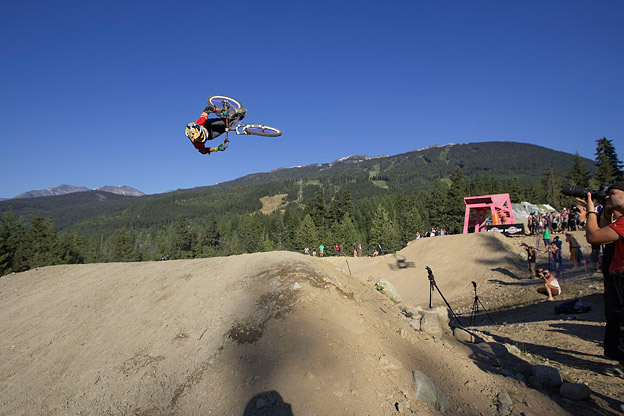 Mitch Chubey, our favourite rider in the finals, rode extremely well as you can see.  Unfortunately he lost a foot and cased this flipwhip slightly in his second run and his straight air off the Monster drop in round 1 did nothing to win over the judges and he finished 14th. Photo ~ David Ferguson

  Mike Montgomery made everything look easy and his second place finish was well-earned. Mike has been throwing some innovative tricks that nobody else is attempting – but none of them came out for the slopestyle.  Could it be that the course is too big for riders to toss their best stuff? Photo ~ David Ferguson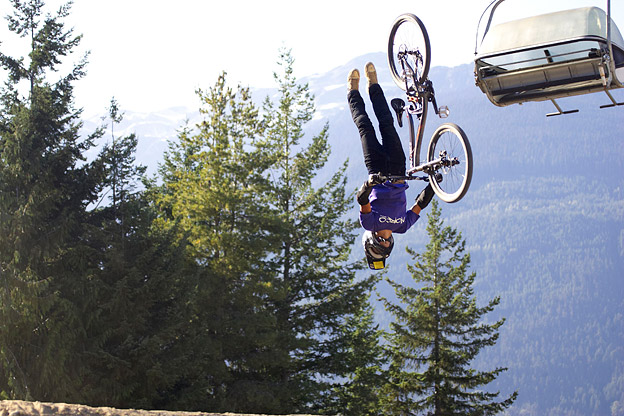 Norco's Sam Dueck had a breakthrough performance by making the superfinals and almost making it onto the podium with a fourth place finish. This super flip shows you why. Photo ~ David Ferguson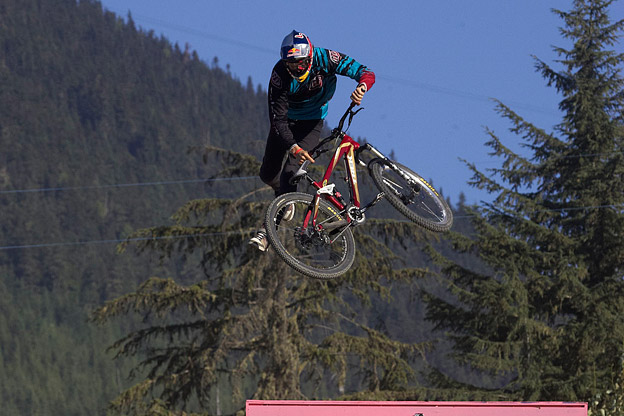 Brandon Semenuk has won just about everything – except for his hometown event.  He was looking like a shoe in for a podium finish with a flawlessly stylish trick-filled run.  He spun the Monster tower, tossed in a huge three whip and seasoned the whole thing with a couple of turbine-smooth truck drivers.  Unfortunately for the hometown crowd and for Brandon, he underrotated his final flip – a relatively simple move for him – and crashed hard.  It looked like a nasty crash but Brandon saw it coming and absorbed it mostly with his shoulder.  Sadly his collar bone was broken and his day was done. Even with his crash his run scored him 8th place. Photo ~ David Ferguson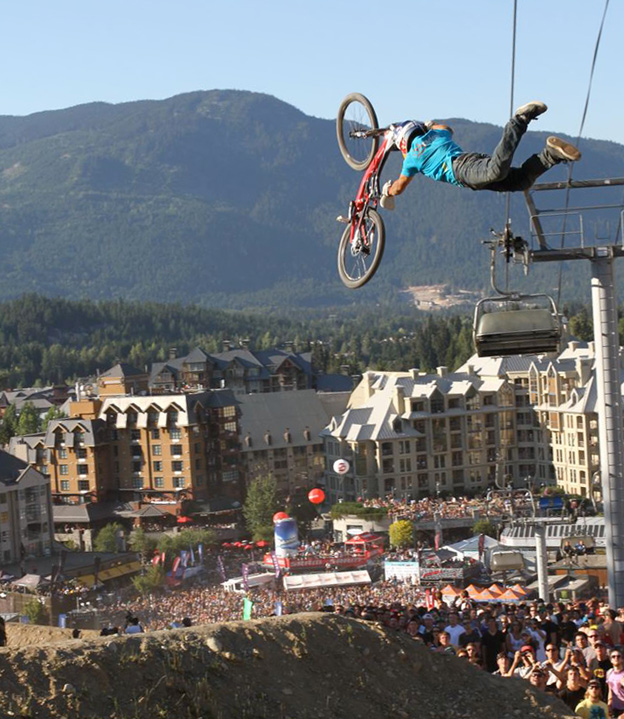 The Claw stretching one out. Photo ~ Malcolm McLaws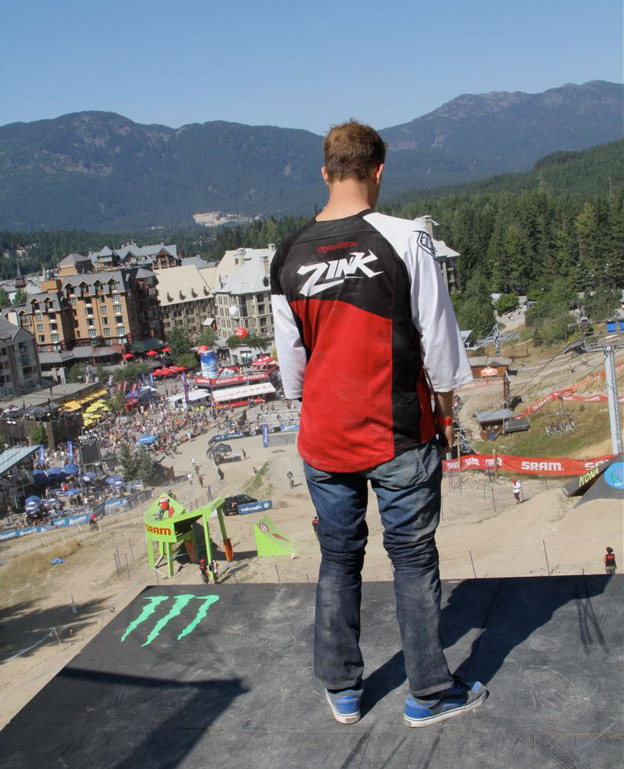 Cam Zink taking a good look at the Monster Drop.  As it turned out this wasn't the difference maker for Zink who spun a lazy 360 and landed pointed in the right direction.  It was his bold move off the big VW gap that caught the attention of the crowd and the judges. Photo ~ Malcolm McLaws

  It seems that none of our shooters got Cam Zink's bold front flip so I grabbed this screen shot from go211.com – where you can find every individual run from the finals archived.  Zink's run was solid but it was his front flip that was the game changer.  Like Andreu's double back in 2008 – one bold move that captured the crowd's attention decided the final result.  The rest of Zink's run was burly, solid and clean, but was the front flip really enough for 95 points? Apparently Cam had never attempted a front flip in a comp before. 
---
The following shots and captions are courtesy of Stuart Kernaghan – our gear editor – who is also getting very handy with his camera.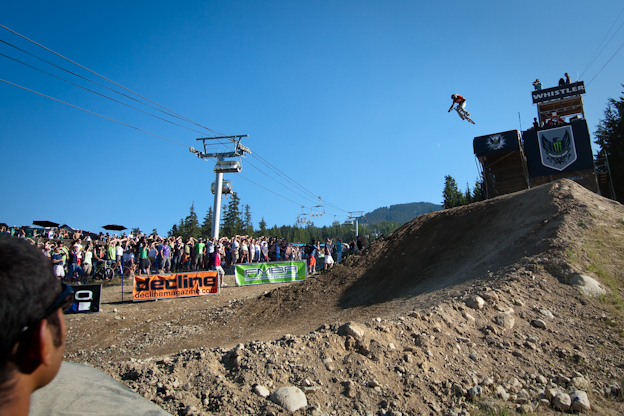 The drop from the Monster Energy platform was 30′ down and 40′ out. It didn't look like much from this angle, but it was huge from the side and it must have looked massive for riders like Kelly McGarry, pictured here. Photo ~ Stuart Kernaghan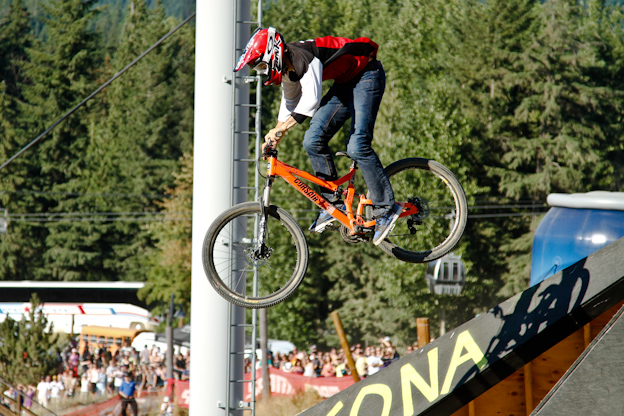 Eventual winner Cam Zink on his new ride from Corsair. This win aboard the Konig slopestyle frame will definitely be a big shot in the arm for the small company. Photo ~ Stuart Kernaghan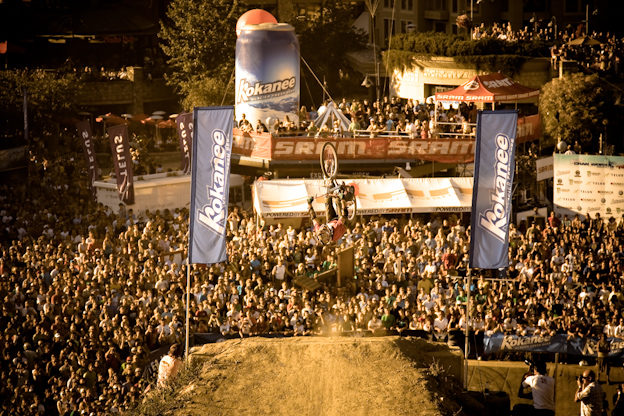 Rider after rider was throwing back flips off the Kokanee Kicker. Here nsmb AIRprentice winner Mitch Chubey does his thing in front of the massive crowd. Every year, they seem to pack more people into Skier's Plaza… Photo ~ Stuart Kernaghan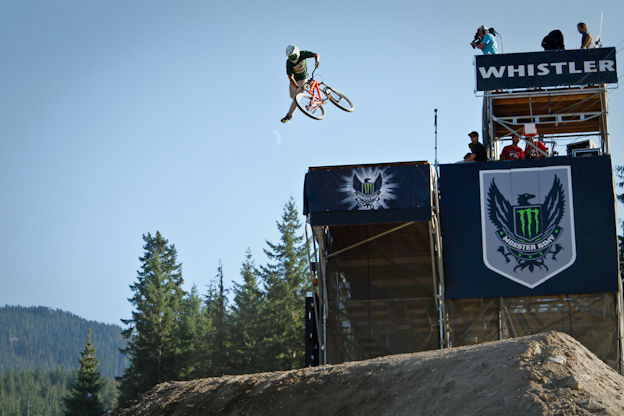 The Monster Energy platform was intimidating, and many riders weren't doing any tricks off of it until just before the competition began. Once it started, though, tail whips and 360s were dropping with regularity. Photo ~ Stuart Kernaghan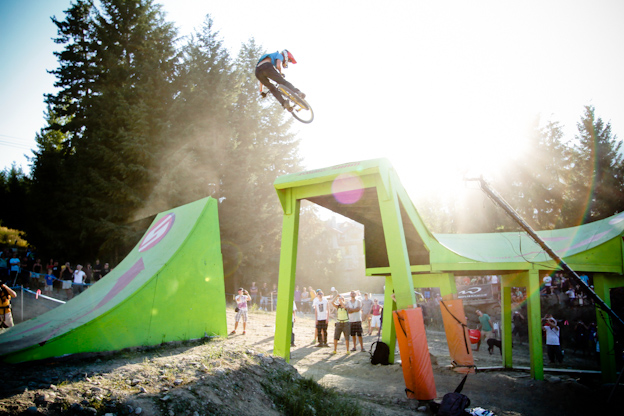 The SRAM catcher's mitt gave riders a chance for one last little trick before they headed down to the Kokanee Kicker. It looked simple enough, but quite a few riders still made this apparatus interesting. Photo ~ Stuart Kernaghan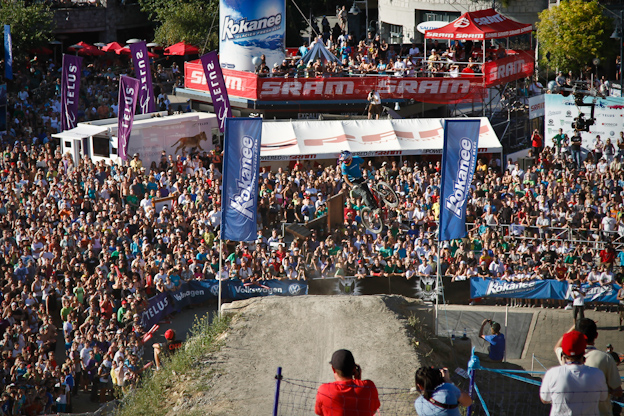 It's kind of funny to think that at 28 years of age, Darren Berrecloth was one of the older competitors. He still threw down some amazing tricks, like this 360 off the Kokanee Kicker, before breaking his hand. Photo ~ Stuart Kernaghan

  Mike Montgomery was killing it all day long on a hardtail, and you could tell that he was pumped – as evidenced here. The judges were impressed with the tricks he was throwing, and he placed 2nd overall. Photo ~ Stuart Kernaghan
---
  Here's a sweet video of the event put together by Eric Behn and Adam Yunker of Spoked Media

---
That's a wrap for your Crankworx coverage.  If you have more to say about this coverage or the comp in general you should say it here…