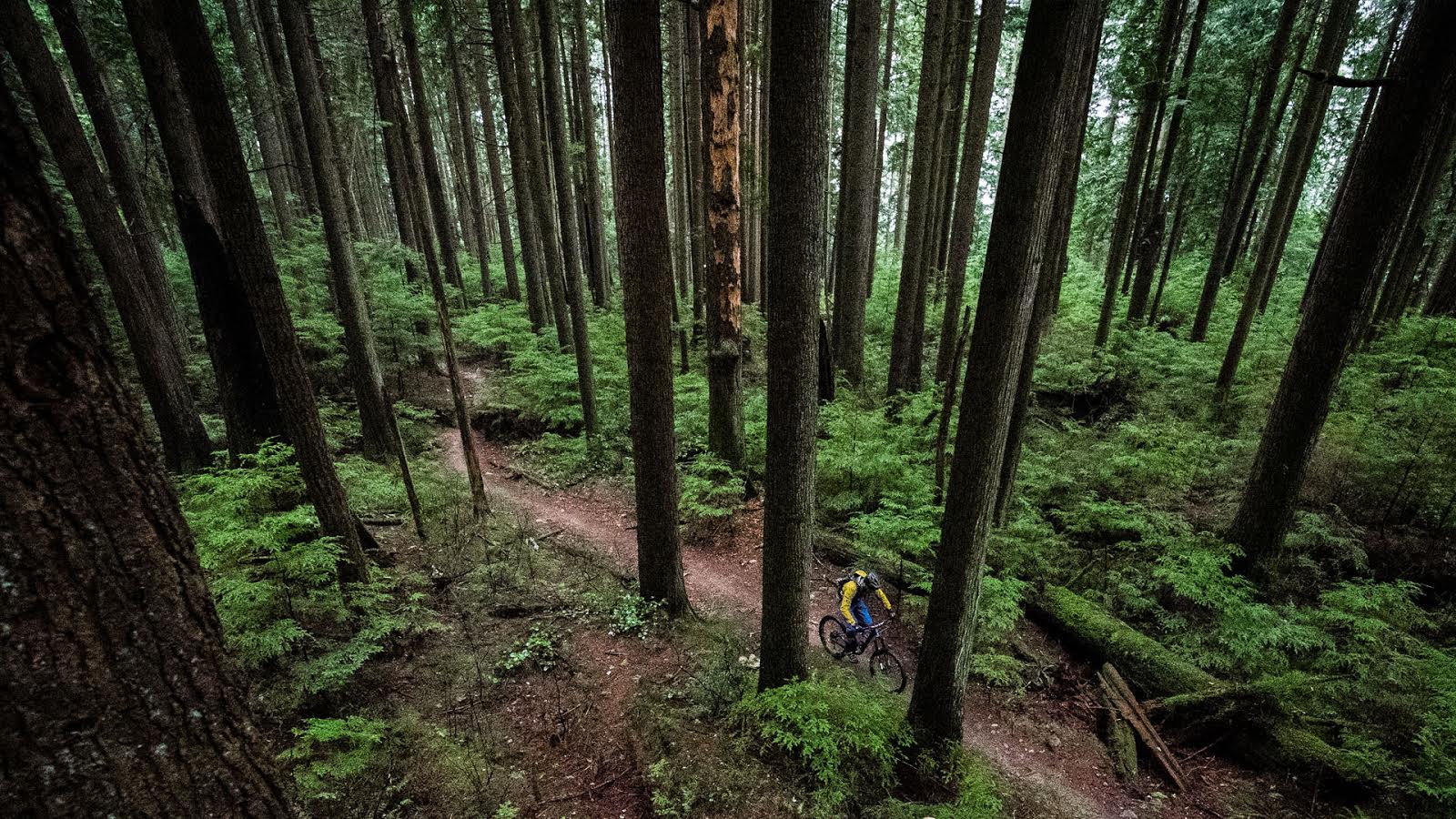 Gear Shots #63
It is a head-to-toe mid-summer edition of Gear Shots. We got you covered from hands, to feet, to fresh wheel meats. All topped off with healthy helping of rear shock bling. Without further ado…
Gravity Light Pedals
Platform pedals have been around as long as the bicycle itself has.  They come in all shapes and sizes but modern pedals focused on aggressive mountain bike riding have come a long way in the last five years.  One of the major advances has been pedals with a smaller, thinner profile; thereby getting the rider's foot as close to the spindle as possible.  As far as the width and length dimensions go, there is a wide variety among brands; which in the end is good for riders.  Want a huge pedal?  Someone has one for you.  More of a minimalist?  Somebody else has got you covered there too.

  The Gravity Light pedals sport a super-thin 16mm profile thanks to their bushing internals. They weigh in at 449 grams a pair..
Full Speed Ahead's (FSA) Gravity line of components is focused on riders and bikes that go bigger.  Gravity's rider roster includes folks like Crankworx winner Ben Boyko, Claymore Challenge founder Dave Smutok and Norco/Ride Guide's Darcy Turenne.  Those folks aren't easy on bikes so in return FSA gets solid feedback on what works and what doesn't cut the mustard.  
In recent years a "middle" category of parts has emerged based on rider and customer feedback.  These are parts that will take some serious abuse but still keep a close eye on reducing weight.  Thus Gravity launched the Gravity Light line.  When it came time to add a pedal to the line FSA wanted it to be thin, light and durable.  The engineers realized early on they could not get both the durability they were looking for and keep the pedal as thin as they wanted to using bearings.  So they went looking for another solution and settled on industrial-grade bushings instead.
Teflon bushings (from Norglide® in this case) make perfect sense as they are light, durable and can have a much smaller profile than bearings in ant application like a pedal.  This allowed the final profile to be only 16 mm thick.  The pedal body itself is extruded 6061 aluminum  while the spindle is chromoly steel.  As far as sizing goes they are in the middle of the pack; not too huge, but there is plenty underfoot to keep you shoe planted.  The pedals come with 6 mm pins that screw in (read: replaceable). There are eight pins per side.  The only available finish is black with some fairly subtle laser-etched silver graphics.  Total weight for the pair is 449 grams.

The pedals strike a nice size balance and the replaceable pins offer plenty of grab not matter what shoes you choose.
When you are riding aggressively you are only touching the bike in two places, the grips and the pedals.  This fact alone cranks up the importance of  what you have under your feet.  The Gravity Light pedals provide a solid platform for all kinds of aggressive riding.  I have been running them on my big bike and their performance has been top notch.  They provide plenty of grab for your foot in a package that is not big enough to attract extra rock and root strikes.  Even when I have missed badly and bashed one, they have just kept right on turning with no complaint.  
The only strange thing about the pedals stems from the bushings as rotational medium.  Using bushings properly depends on a lateral load.  That is to say the bushing that surrounds the pedal spindle needs to be "squeezed" a small amount to keep proper contact with the spindle.  This means the pedals do not spin the same way as bearing pedals do.  If you flip the edge of the pedal with your finger it will rotate about one full revolution and then stop.  You never feel this slight resistance underfoot as any kind of drag (especially in downhill riding), it can just be a bit disconcerting when you are installing the pedal.  
Overall this a great set of platform pedals that delivers on form and function.  MSRP is $119 CAD
Race Face Ambush LW Gloves
If you are in to impact sports (like snowboarding, skiing or mountain biking) and you haven't heard about d3o (say: "dee-three-oh"), you will.  It is a fairly amazing material that is soft in its normal state then hardens almost instantaneously when it encounters a sharp impact, thereby protecting whatever is underneath it.  Race Face saw the potential as a protective medium for mountain biking early on and developed a line of pads and gloves that feature strategically placed bits of the stuff where riders tend to bash themselves.

Note the large Kevlar patch right where you usually land.  About a third of the way up the palm switches to a much thinner sythentic leather, giving you agreat combination of protection and feel in the same glove.

In the case of the Ambush LW Glove that means across the backs of your knuckles and down the backs of your two outermost fingers.  While d3o is the main story of the Ambush LW, it doesn't stop there.  Race Face was smart enough to add several other key features that make this a great all-around glove for riders, not just a technology showpiece.
One of the main causes of glove destruction in mountain biking is the "palm slide".  When a rider sprawls out over the bars the heels of their hands push in to the dirt and that area of gloves can often become ragged or torn.  To counter this the designers used a good sized patch of Kevlar in that area.  The problem with Kevlar is that it tends to be thick, tough material that would not transmit the feel of the handlebars to the rider very well.  With that in mind the material on the Ambush LW switches to a softer synthetic leather about halfway up your palm.  It is still incredibly durable but you can feel your grips quite well through the more pliable material. 

A closer look at the d3o pads across the knuckles and along the outer fingers.

The gloves also feature a large terrycloth thumb panel.  I am huge fan of that for comfortably wiping sweat or grit off your face mid-ride.  The thumb, index and middle fingers of the glove all feature a slighting raised ribbed pattern to help you keep a grip on things.  Now be honest, you didn't think you would be reading the words "slighting raised ribbed pattern" in a glove review now did you?  But there it is and works like a charm to help you keep the solid hold on your brake levers in all kinds of wet and nasty conditions.
I've been using these gloves for about four months now and they continue to deliver.  They fit well, have held up through some decent wrecks and still look great.  They are easy to wash and provide that little extra bit of protection without limiting mobility or rubbing your knuckles raw.  While I don't have any "If I didn't have d3o I would have broken my knuckles" stories, I can certainly say that pads have saved my hands from some unnecessary additional harm.

The strap tabs have been thinned out on subsequent production models.  they were a bith thick  and stiff on this sample pair.

As for the cons, the gloves can be a bit warm for hot weather conditions and the rubber straps/tabs that close the wrist opening are pretty thick on my samples.  Race Face assures me that future iterations will have thinner tabs to promote greater flexibility and easier closure.  Overall this a solid pair of gloves that should merit serious consideration from riders looking to up the protection they provide their hands while not limiting dexterity in any meaningful way. 
MSRP for the Ambush LW glove is $70 CAD
Schwalbe Muddy Mary Tires
When looking for new pair of shoes for the Thunder Smurf project I came across some early photos of the Muddy Marry DH tires from Schwalbe and decided they might just fit the bill.  I knew I would be running the bike at Whistler, Sun Peaks and on local shuttle trails so I need a tire that could handle a diverse range of conditions.  
I settled on the Muddy Mary 2.5 for the front and the 2.35 for the back, both with the downhill double casing and wire beads.  Neither tire is a lightweight with the front weighing a hefty 1444 grams (actual weight on my scale, claimed weight is 1270) while the rear tipped the scale at 1199 grams (claimed weight: 1150). 

A detailed look at the front tire tread from Schawble's Muddy Mary DH tire.  It is an aggressive profile that offers up a lot of traction.
As the tires were headed for my big bike, weight wasn't the primary concern… durability and traction were.  In their defense the tires have a tall profile and an impressive volume.  The front 2.5 barely fit under the brake arch of my older Marzocchi Super T Pro and often gets mistaken for a 2.7 by other riders.  In my search for traction I decided to try Schawlbe's "Glooey Gooey" competition compound on the front and their mixed Triple compound in the rear. 

The rear tire's center knobs took a beating surfing through broken shale at BC bike parks.  The corner knobs are holding stready though.

Both tires stick to the trail amazingly well.  Riding the steeps at Sun Peaks has never been easier for me than it is on these tires.  Tons of traction made most of those runs much less sphincter-tightening than usual.  The rubber has noticeably sticky feel and rebounds very slowly when you press down on it.    While you might think this gives the tires a "dead' feel I have not found that to be the case.  They roll very well and just provide massive amounts of traction doing it.  The larger volume of the tries also helps to insulate the bike from impacts (depending on the pressure you run) and the durability has been top notch.  The Snakeskin protected sidewalls haven't yielded to rocks or thorns yet and don't show any visible signs of letting up any time soon.

The Muddy Mary features Schwalbe's "Snakeskin" sidewall protection.  Despite running low pressures and maching through more than few rocky sections, no flats to report yet.

So what's the catch?  Well besides the obvious answer of weight, they aren't cheap at over $80 a piece.  The rear is showing some significant wear after runs down the sharp shale at both Sun Peaks and Whistler, but that is to be expected.  The front is holding up quite well and continues to provide nearly unparalleled traction.  Weighing the pros and cons of these tires I think they are an excellent choice for anyone looking for a very durable platform that sports a little extra grab.  If you are a on a tight budget (for dollars or grams) you might look elsewhere, but for everyone else they are an excellent choice.
The Muddy Mary is available in both Freeride (single casing, folding bead) and DH (double casing, wire bead) versions.  MSRP for the Muddy Mary DH tire is $83.55 in both the U.S. and Canada.
Diverse Suspension Products Ti Rear Spring
If you have a coil sprung rear shock and you are looking to spice up your ride, few things can make you drool faster than an aftermarket titanium spring.  They provide solid feel and performance, weigh less than the stock spring and let's face it; they just flat out look cool too.  So when I needed a heavier rate spring than came stock on my RockShox Vivid 5.1 shock I went looking for the mythical Ti upgrade.  The immediate problem i ran in to was that most manufacturers did not make springs to fit the Vivid.  It has a larger internal diameter (1.5 inches) than its competitors do so the the same spring that work for the other brands won't fit on the Vivid.  
Then a local suspension designer turned m on the Diverse Suspension Products (DSP) located in California.  They did have a titanium version of Vivid spring in the weight I needed.  A quick hit to the credit card and the spring arrived on my doorstep within days.  Installation is a snap assuming you get all your measurements correct before you order.  Simply screw off the retaining ring and swap out the new spring for the stock one.  Re-tension the retaining ring and ta-dah, instant upgrade.

It just makes you all warm and fuzzy inside, doesn't it?  There is just something about the look of a Ti spring on abike that makes riders weak in the knees.  Oh yeah, they work really well too.
In my case the upgrade was a no-brainer.  I needed a different spring anyway and had always wanted to try Ti.  The weight savings is substantial but not staggering.  The stock spring on the Vivid weighed in at 408 grams and the DSP replacement came in at 273 grams (a savings of 135 grams or right around 0.3 pounds).  If you are simply trying to save weight, there are certainly cheaper upgrades that will give you a greater reduction in total grams.  I will wager that few of them will attract as many glances from other riders.
Looks aside, the spring performs beautifully.  It provides a very smooth and controlled ride when paired with the Vivid internals.  It is tough o say whether the bike sucks up bumps any better as the previous spring had the bike slightly undersprung, therefore feeling quite soft.  
Diverse got their start in the motocross business so they have a lot of suspension experience to bring to their mountain bike products.  They like working with titanium for springs not only because of its light weight but also because it has a lower 'torsional modulous" than steel.  Translation?  It's "springier" than steel.  This allows Ti springs to be designed with a slightly larger diameter spring diameter but less coils.  The titanium version will deliver the the same spring rate as its steel counterpart, albeit with less unsprung weight so the suspension responds to smaller impacts more quickly.  the other notable plus is extended fatigue life.  Titanium springs can last anywhere from two to six times longer than stock steel ones.  If you are rider who puts a massive amounts of cycles on your suspension (Whistler Season Pass holders listen up) titanium might be worth it from that standpoint alone.
So is titanium in your future?  It all depends on the value you assign to it.  If you are a no-holds-barred racer or gear freak, you simply have to have one.  If you a rider who values performance and durability because you use your bike a great deal, you might consider it on those grounds.  If you are an average weekend warrior it will probably be pretty hard to convince yourself the benefits are worth the expense.  The bottom line is they work well and look great doing it.  The decision about how much value they provide is purely personal preference.
DSP's Ti spings range in price depending on the size and application.  All of them come with a lifetime warranty.  My 400 pound, 2.75 inch stroke spring for the Vivid ran $239.95 U.S.  For more information about pricing and availability, or to buy direct, check their website.
Like what you see? Are you Ti convert or a d3o cynic? Speak your piece on the boards