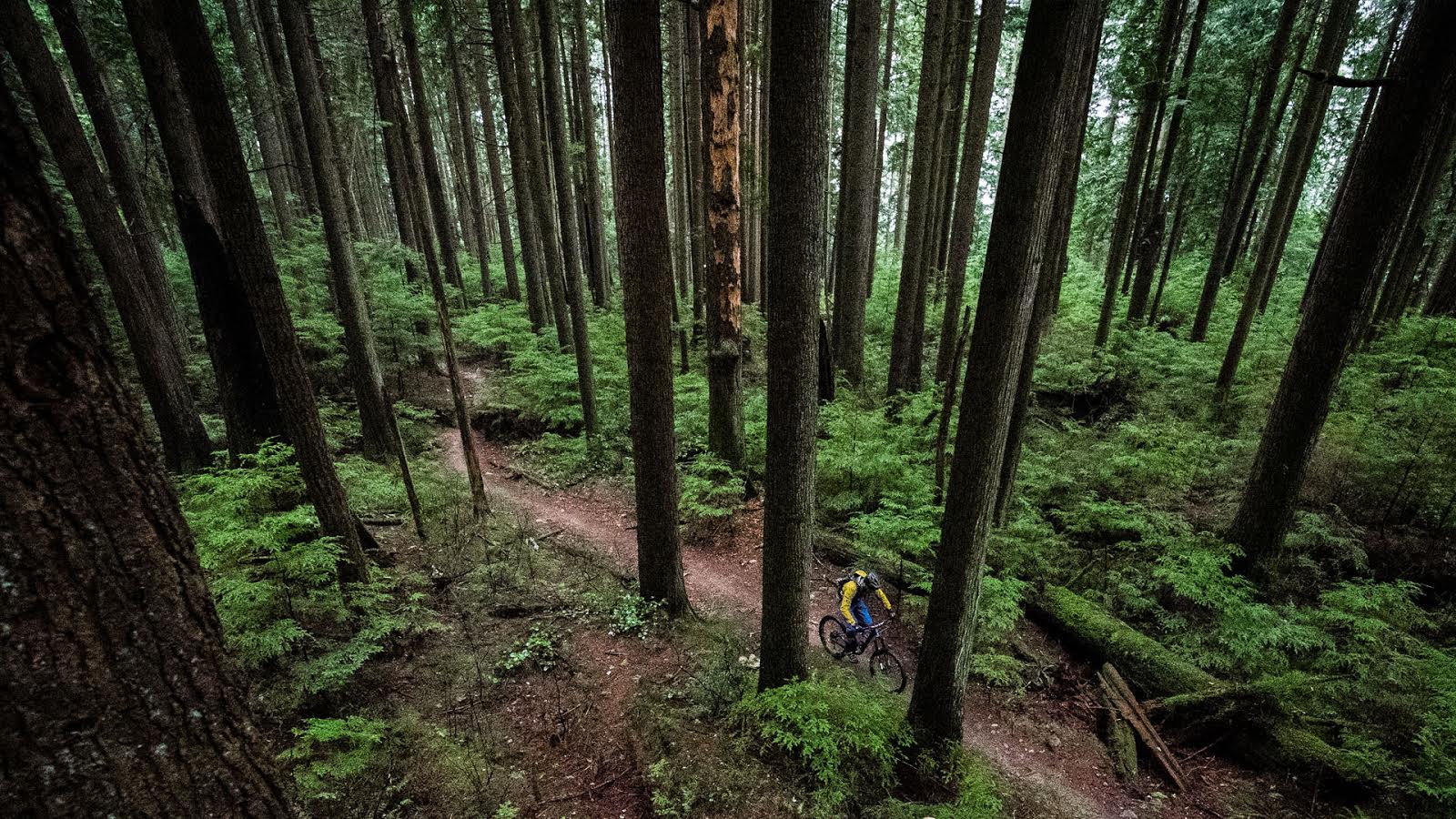 2010 Norco Vixa Review
Introduced in 2009, in response to a demand for a female specific free ride bike, Norco created the Vixa. Starting with a hydroformed frame with 152mm/6 in. of travel Norco, worked to lighten the frame to create a build weighing 37 lbs. The 66° head angle, combined with a 6"  non-adjustable fork, biases this bike towards the freeride category.  Coming in three sizes – Extra Small, Small and Medium with a shorter chainstay and slightly longer top tube compared to the 2009 Vixa, it is built to fit the smaller-statured female. The Medium Vixa was tested for this review. The 2010 colour scheme is eye catching with the bright blues on the black background. The pink grips are a nice touch as is the WTB Deva Women's saddle which matches the frame. Finally, white spokes with blue nipples and white chain with other blue accents offer some more femme fetale flash!
  Nice accents baby!
The Bike
Like all full suspension Norcos, the Vixa comes with the Horst Link rear suspension. This is the Specialized patent that has the rear pivot on the chain stay in order to separate braking and pedaling from the suspension.
A Fox DHX4 Air shock provides reliable Fox performance and ample adjustability for most riders. The stock Kenda Nevegal 2.35 StickE tires are an appreciated addition, the frame can also accommodate the 2.5 Kenda Nevegal. FSA Moto X mega exo integrated cranks are strong and light with the effective Wellgo alloy flat pedal.

  The white chain is blinding in this photo.
Front end
Marzocchi 55 TST Air – This 160mm, 2642g/5.8lbs fork replaced the Z1 two years ago. The 35mm stanchions and 20mm quick release provide stiffness and strength. Designed for all mountain and freeride use, the fork has a lock out feature but lacks travel adjustability. The sag was set to 30% in order to utilize full travel. This fork, unlike some previous Marzocchi forks did not leak oil or need to be repaired during the testing period. This workhorse Marzocchi fork will be appreciated by riders who want something simple.
  Stealth black with white POP! looks flashy!
Rear end
A Fox DHX4 Air provides 6 inches of rear travel, this 0.94lb (426 gram) shock offers air spring preload, adjustable pro pedal and rebound damping. The sag was set to 25% for this test. Rebound is easily adjusted via the small red knob at the bottom of the shock. The pro pedal is a useful addition on this bike due to the active Horst link suspension.
Miscellaneous Component Spec.
The bike is equipped with FSA Handlebar, stem and cranks.
Shifting via SRAM X-7 rear Derailleur Deore front and SRAM X-5 shifters the workhorse of the SRAM line was on when needed.
Braking was provided by the Shimano 575 with 180mm rotor front and rear. These OEM brakes are comparable to the SLX line. They were adequate on technical trails but tended to stiffen up on longer descents. These brakes helped to keep the cost of the bike affordable.
Alex DP-20 double wall low profile rims weigh 490g. They are strong and also help to keep the cost of the bike affordable.
---
---
While some may laugh at the flashy accents, it shows how Norco has put time into the aesthetics  for the female rider. The accessories and graphics add a nice touch. Utilizing the same frame technology as previous Norco lines – such as the Norco Six – similar performance is expected.

---
The Ride
Shore – Fromme and Seymour, Whistler XC and Pemberton Trails.
Sitting on the bike you settle right into the active suspension. The rear is very plush. The fork was firm, even after letting enough air out to give 30% sag, so the lockout was not always necessary. The shorter top tube, part of the women's-specific design, at first was concerning especially for the climbs, but once you settle into pedaling it wasn't as noticeable. Even on technical climbing sections the bike would accommodate any terrain and roll over rocks and roots limited only by the power in your legs. On longer extended climbs the weight became more noticeable. Propedal was very useful on this bike for some technical pedalling.
Once you pointed this bike down you knew that was where it wanted to go, the faster the better. This bike was quick once up to speed which was where its attributes shone. At lower speeds the active suspension and weight needed more rider input to maneuver. The fork was strong and stiff enough to plow through the rougher sections of trail and offered a firm response to those classic North Shore abrupt changes in terrain, such as sharp turns, avoiding obstacles and uphill transitions.
Whistler Bike Park
Designed for some park and freeride use, it was time to see what Whistler could offer. The bike park trails reward bikes that like speed. On fast trails the Vixa was at home. On smoother berm trails with jumps and drops it didn't miss a beat. It railed the trail with confidence and I just had to sit back and enjoy the ride. Not that this bike wasn't as good a technical ride; you just had to work harder when the terrain got rougher or slowed the bike down. On rougher trails something bigger then the OEM 2.35 Kenda Nevegals would have been preferred. When you had to ride at slower speeds you had to use more strength and verve to move the bike. Preloading the bike would allow it to spring over obstacles with agility that kept it asking for more. Truly a playful bike that enjoyed its time in the park. Longer descents did overload the brakes as they become more firm over time. As well the fork was harsh and it was difficult to adjust it to the varying trail properties of the park. The fork performed best on the smoother trails, on the fast, technical trails it was easily overwhelmed and would bottom out regularly.

  The Vixa likes the berms – even with the spoke reflectors still installed.
Summary
Norco's high-end female-specific bike offers a freeride bike that is not overly heavy, affordable and tough enough for the female rider looking for a bike that can do more. A do it all bike for North Shore and technical riding or the heavier bike in your quiver when you want tol soften the edges of a tough trail.
 
Pros:
– Confident and plush

– Very playful and agile at speed
Cons:
–  Shimano 575 brakes faded on longer descents and didn't modulate well. 

–  Marzocchi fork was very firm, on long or rough descents it would get more firm and bottom out easily.
Detailed Specifications
The source for this information is Norco
Suggested Retail  $ 3385.00

Specifications:
Frame Set – VIXA ladies frame w/152 mm travel
Fork – Marzocchi 55 TST 2 Air

Shock – Fox DHX-4

Sizes – XS, S, M

Color – Black with blue accents
Wheelset – Alex DP-20 double wall / stainless spoke with colour(white) / Norco sealed 135 x 12 mm w/ maxle rear hub / Norco sealed bearing 20 mm front hub

Tires – Kenda Nevegal 2.35 front and rear, Stick E Rubber
Stem – FSA GAP ST-FR 230 OS

Bar – FSA HB-FR330A-OS

Post – Alloy 2 bolt MTB post

Saddle – WTB Deva women's saddle
Headset – FSA TH-857 1-1/8″ threadless

BrakeSet – Shimano BRM-575 180 mm rotor
Crankset – FSA Moto X mega exo

Pedals – Wellgo alloy flat pedal
Front
Front Shifter / Derailleur– Sram X-5 trigger 3 speed / Shimano Deore
Rear Shifter / Derailleur – Sram X-5 trigger 9 speed / Shimano X-7 medium cage RD
Geometry for a M Norco Vixa:
Standover – 758mm/29in
Head Tube Angle – 66
Seat Tube Angle – 71.2
Effective Top Tube Length – 570mm/22.4in

Wheel Base – 1145mm/45.07in

Bottom Bracket Height – 363mm/14.3in
Bike Weight – 37lbs
The Norco in Action!

Vixa on Fromme
Vixa on Kill Me Thrill Me
---
Is the bike for you?  Or for the freerider girl in your life?  Let us know what you think about a female freeride bike
here…