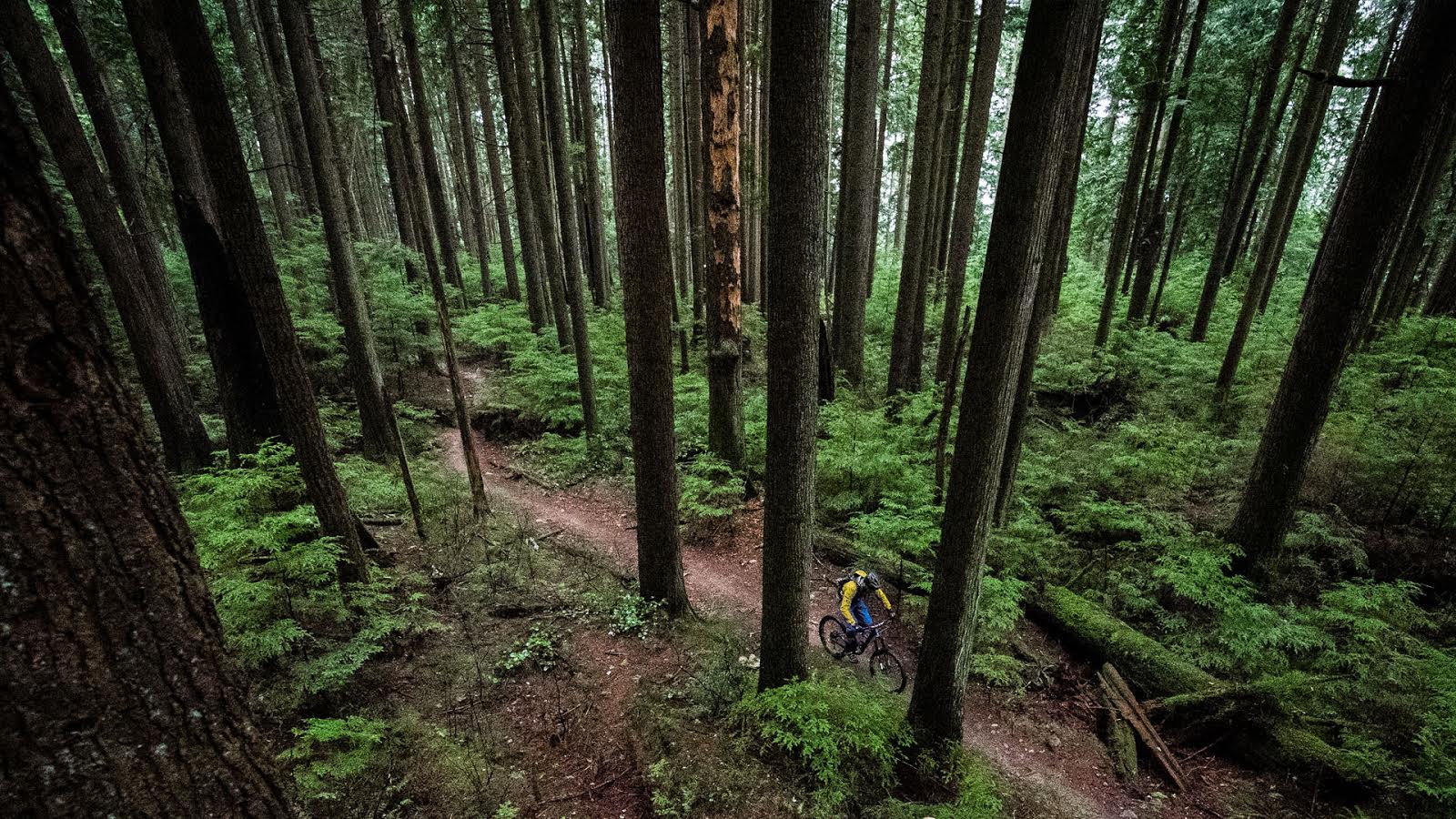 First Look: 2010 Cove G-Spot
When a Handjob won't do and picking up a STD is out of the question, it's time to take another look at the G-Spot. For 2010, Cove completely redesigned the venerable G-Spot from the loam up.
The biggest change for the G-Spot is the suspension design. Gone is the rocker arm linkage with pivots on the seat stays and around the bottom bracket, in favour of the same floating pivot point suspension design as its big brother, the Shocker. So, how does this new version of a Shore classic ride? Good question…

Clean lines, great angles, and a proven platform, the all new 2010 Cove G-Spot.
Cove uses its Dual Link suspension system to attach a solid rear triangle to the front triange, which makes for a stiff and reliable bike. The front triangle uses custom drawn and shaped 7005 tubing to keep the ride low and light yet strong. You won't find a thread of carbon on this frame, and I like that. This hand-built aluminum steed tips the scales at 9.15 lbs., which includes everything for all you weight weenies.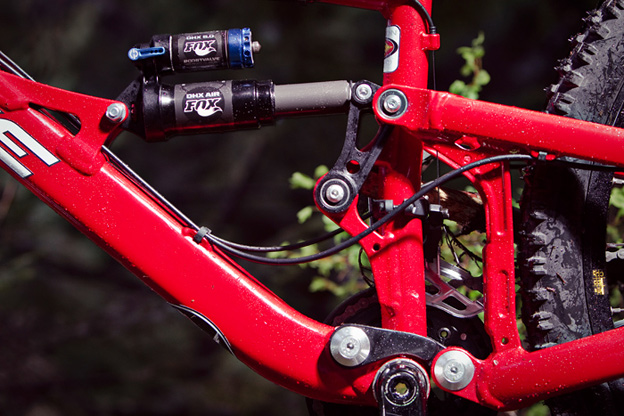 Cove's Dual Link system acts as the erogenous zone, which when stimulated, can lead to high levels of … enjoyment.
 
If you happen to have a fetish for finishing details, have a closer look at the G-Spot's linkage. Each piece is meticulously machined and finished with aluminum hardware, sealed bearings and a touch of ano. Or maybe you like the thought of full-length seat tubes for your lanky legs. Cove has you covered if you enjoy the ride up.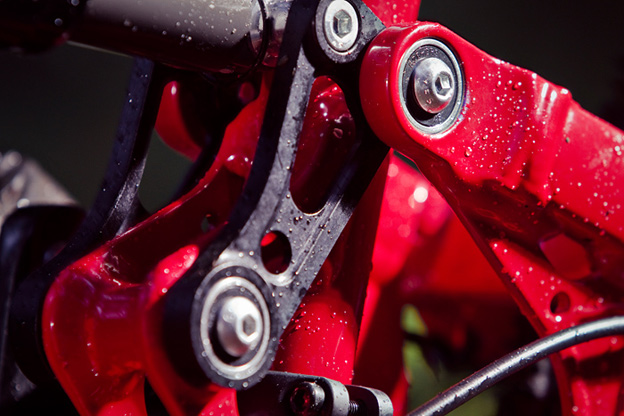 Sealed bearings and meticulous machining keep the G-Spot smooth and sexy.
 
After rigorous testing and development, Cove Bikes decided the G-Spot's sweet spot is 6". The bike uses a 2.6:1 leverage ratio for a particularly supple ride, and it  can take hit after hit thanks to its custom tuned 2011 Fox DHX air shock.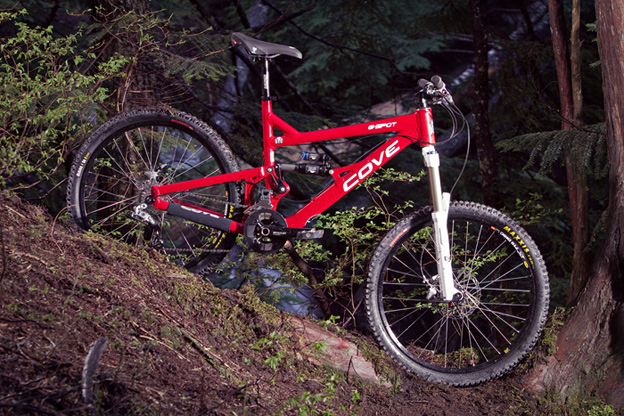 6" in the back, 6" in the front hit the sweet spot for the G-Spot.
 
I'm not surprised to see Cove using full 1.5" head tubes on their new bikes for a number of reasons. They offer more real-estate for welds, making for a stiffer and stronger frame, as well as offering more versatility and customizability with things like internal headsets and forks.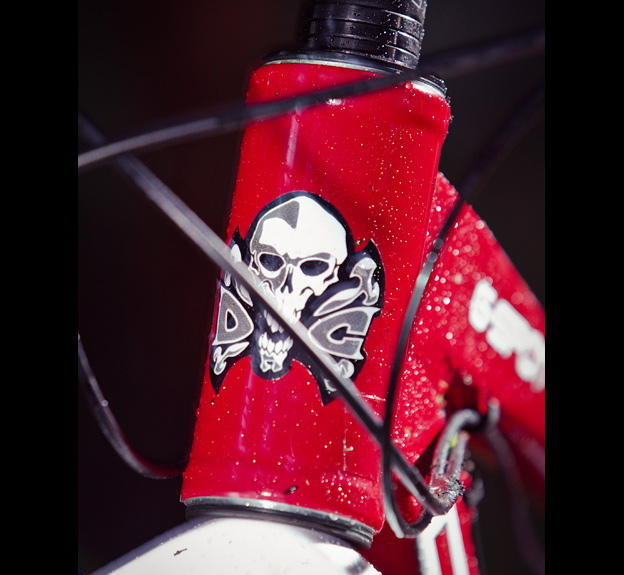 The front end is kept low with the headset inside the G-Spots' 1.5″ head tube.
 
One look at this bike and it's clear Cove is still passionate about bikes made in Vancouver. The welding on the G-Spot is done by Yess Products in the Vancouver suburb of Surrey, and it's some of the most precise and consistent I've ever seen.
When I picked up this test bike from Cove's world headquarters, I had the chance to see some of the many custom color options available on many of their models. Cove offers countless combinations of frame colors, anodized hardware and decal options to build your ultimate dream bike.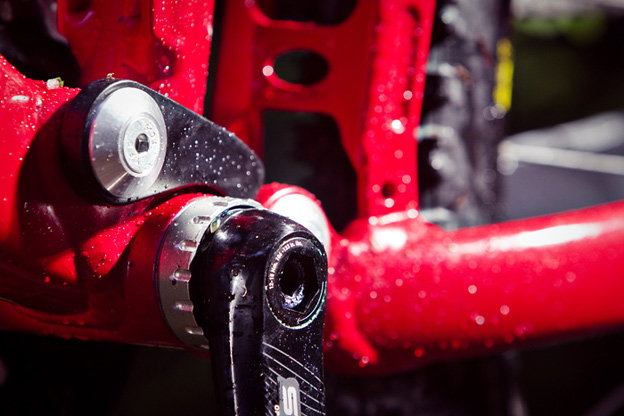 Born, developed, tested, raced, evolved, and still made right here in Vancouver.
 
SOHCAHTOA
Cove Bikes may be small by production numbers, but they still spent a lot of time to get the right angles for this bike. The G-Spot sports a 67° head angle, 14" bottom bracket, and 71.5° seat angle. These numbers put the pilot and machine in the ideal aggressive all mountain/freeride shralping position. Cove has also gone with a sloped top tube to increase standover and sex appeal, with some gusset action on the seattube for added strength.
shralp (shr
lp)
n.
            1. Excellent use of body movement, mode of transport, and terrain.
            2. A blend of shredding and ripping
            3. An overwhelming amount of booch!
Example:         
            Did you see Connor shralp that G-Spot!
Photo example below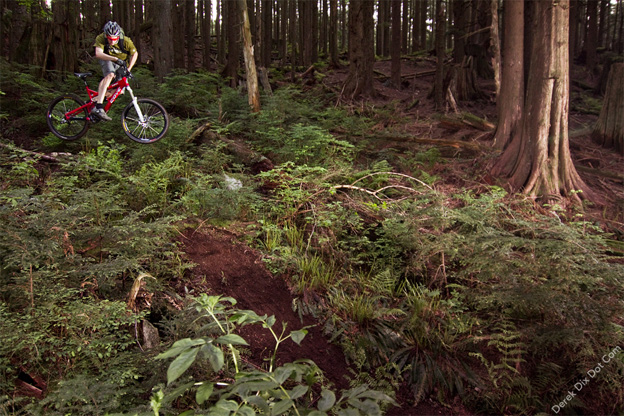 Derek Dix has an eye for shooting and building. The Jungle Book Gap circa 2003.
 
The package
This test bike represents Cove's Team build. If this is any indication as to what's possible with the G-Spot, expect to see some trick custom Coves this year. For an aggressive all-mountain bike, the Team build is spot on, with a handful of SRAM, Mavic and Maxxis components working together.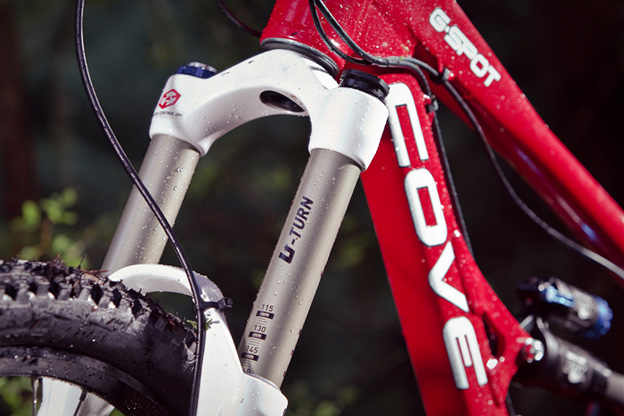 Cove handpicked this kit featuring parts from SRAM, RockShox, Mavic, Maxxis and Fox.
 
Upfront is a 160mm (6.25") RockShox Lyrik U-turn that can be dropped down to 115mm (4.5") for improved climbing geometry. Controls are mounted on a 28" Truvativ Hussefelt bar with minimal rise, which feels pretty good for stock. This mounts to a 60mm Truvativ Aka all-mountain stem – another clean-looking SRAM product.

Command central aboard the 2010 Cove G-Spot.
 
Avid pretty much owns the disc brake market these days, with great performance and value. The G-Spot comes with Elixir Rs, a mid-level Elixir with all the stopping power minus some carbon and dials. I had my settings dialed in seconds with its tool free design. These connect up to 7" rotors front and back.
When things get too hot onboard the G-Spot, grab a handful of Elixirs.
 
It's important to be comfortable while riding the G-Spot, and that's why Cove specs all their bikes with custom Cove skull WTB saddles. These mount to full length 30.0mm Truvativ Holzfeller seatposts for your climbing pleasure.

Moving parts never looked so good on a G-Spot
 
Cove carefully spec'ed the drive train and gearing so you can venture into the nether regions on your G-Spot. Upfront is a 36-24 tooth dual ring with bash guard setup controlled via X.9 triggers and X.7 derailleur. In the rear is a SRAM 11-34 tooth cassette controlled by a X.9 mid cage derailleur. Horsepower is harnessed via Truvativ Stylos, a light yet strong all-mountain crank.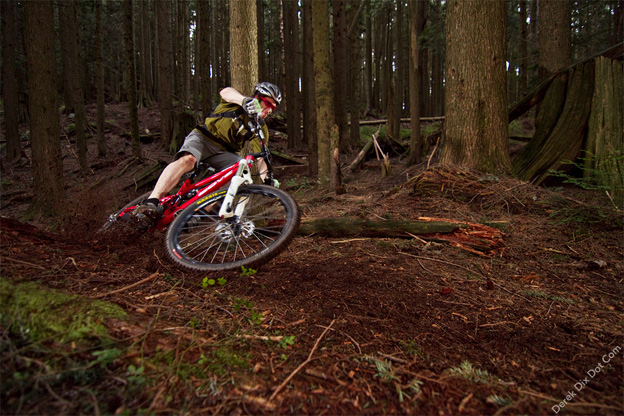 Do 67° and a 14" bottom bracket add up to a mini Shocker?
 
Cove always does a great job on its derailleur hangers and this is no exception. It's nicely machined and anodized, and fits into the dropouts like a glove. There are no ISCG tabs on the frame, but Cove has designed a custom adapter that securely connects via machining around the bottom bracket. Mavic wheels and Maxxis rubber always put a smile on my face. This build sports Mavic 721s with a Shimano XT rear hub and Minion 2.35s. North Shore approved? Check.
All-mountain riding has grown hugely over the past few years as advancements in equipment allow riders to rip down trails without having to shuttle to the top. A lot of that has been made possible by bikes like the G-Spot, which are bridging the gap between XC and freeride.
I'm a die-hard downhill racer, but I'm also finding that AM riding on the G-Spot can provide all the thrills of descending coupled with endurance training. It looks like this new bike from Cove may well be the ultimate all-mountain assassin. But you'll have to tune in for the full review to find out for sure.
---
Are you in the mood to shralp?  Is this the machine you'd like to do it on?  Have you ridden one?  Speak the truth here…