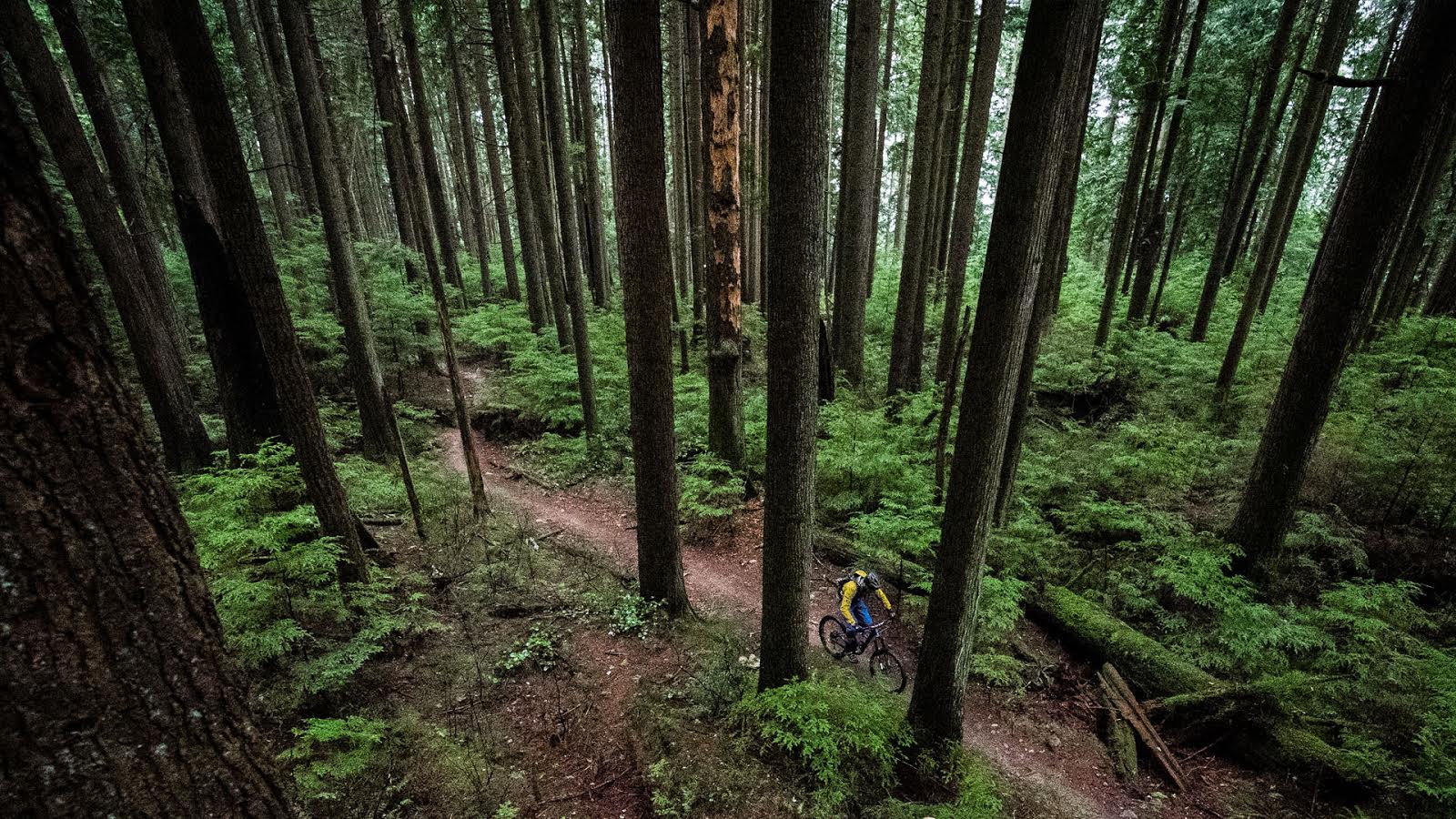 Project Thunder Smurf
Trail bikes are fun, all Mountain bikes may indeed be the best thing since sliced bread and even dirt jumpers have their time and place. Despite all that, sometimes you just need a big bike. Multiple Shore shuttle laps, full days in a bike park and sneaky recons pushing up "secret" trails are just some of the times when having a big rig with meaty tires and seven-plus inches of travel underneath you is a very good thing. 
Marin debuted their new top shelf big bike offering at Interbike in September, 2009. Officially dubbed the Quake 7.9 it features seven inches of travel and parts kit worthy of a gravity-fueled beating. I was looking for a frame to fill the role of shuttle steed and testbed for gravity-inspired parts. The kind folks at Marin decided that they could part with one of their demo frames from Interbike and shipped it to me earlier this spring. 

  The Smurf spoting its original build on its first day at the jump park.  It had the bars, crank, pedals and wheels from my old big bike as well as the stock steel spring on the rear shock.

While its given name doesn't exactly tickle my fancy, the Quake 7.9 does have one of the best nicknames of all time. The top level 7.9 frame only comes in one color; a bright 'Team Cyan Blue.' The engineers at Marin took one look at it and dubbed it "Thunder Smurf". Case closed. You won't hear me calling this bike "the Quake" any time soon. 
The frame is clearly aimed at the freeride segment. A lot of bikes have blurred the lines between downhill and freeride of late, but with DH bikes getting more and more specific in their geometry (think lower, longer and slacker) there is certainly room for bikes that fill the needs of freeriders who don't need (or want) a race bike. The Smurf features a higher bottom bracket and a slightly steeper head angle (Marin claims 64.5 for the stock build, but my setup measures out steeper at 66.5) than most modern DH racers. This allows for more pedal clearance through rocks and roots, a rear end that is easier to finesse off slow speed drops and a flickable ride through tight switchbacks. All decidedly solid traits for an FR bike. 

  The view from the top.  Looking down at the suspension link doesn't make your knees cringe like it did on the previous design.  The width of the frame in this area has been seriously reduced.

The frame features a One-Point-Five headtube, ISCG '05 tabs on the forged, single piece bottom bracket shell and all the gussets and bracing you'd expect in a bike aimed at rough stuff riders. It is not overly light but that isn't the primary concern in this class. My problem with Marin's Whyte-inspired suspension designs in the past has been the width of the upper link. This area is right between your knees when you are standing and tended to smack the inside of your legs. It was uncomfortable to say the least. Marin heard the complaints and cut almost a third of the width out of the link. This leaves plenty of room to move around while keeping your knees out of harm's way. 

  The heart of the beast.  The Whyte-designed Quad Link II pushing a Vivid 5.1 rear shock wrapped in a  fancy titanium spring from DSP.  The tabs of electrical tape covering the link's dust caps ensure that if they do contact your legs (or pads) they just slide right on by.
The other subtle (but important) design change is the optimization of the suspension leverage ratio. Marin wanted to improve suspension action by making it more linear. To do this they repositioned the virtual pivot point (which Marin calls the 'Instantaneous Pivot Center' or IPC). An added benefit of the change is an improvement in chain force/torque effect. This allows the design to work much more seamlessly with smaller chainring setups (such as a Hammerscmidt) should you choose to use one. 
The stock complete Smurf comes equipped with a Rock Shox Totem fork and Vivid 5.1 rear coil shock along with full Shimano Saint running gear. I decided to start frame only – so I swapped most of the parts off my old DH bike to get it up and running. Since that initial build a couple of months ago the bike has already undergone a pretty significant rebuild and will continue to evolve with new and different test parts throughout the season. 

  Pimp my ride: the "after" photo.  New Gravity wheels, Gravity Light pedals, Maximus BB and crank and a carbon DH bar (all from FSA) make this one seriously upgraded shuttle sled.
For now it is running a tried and true Marzocchi Super T Pro fork up front, the Vivid 5.1 with an aftermarket titanium spring from Diverse Suspension Products (DSP) out back, SRAM shifting, an MRP G2 chainguide, Hayes Stroker Ace brakes, and a full selection of gear (headset, bar, cranks, bottom bracket, pedals and wheels) from Full Speed Ahead (FSA) components. Schwalbe tossed in a set of their so-far-excellent Muddy Mary tires and it was off to the hills. I've already had it on the Shore, up at Whistler and it was along for the ride at the opening of Sun Peaks last weekend too. 

  You know it's a good bike when that jump you've been planning to build for about eight months suddenly gets put up in one day.  The Smurf getting first tracks over the newest diversion in my back yard.  |  photo: Beck Snyder
Initial impressions are good.  Very good.  The bike likes to be pushed hard, it corners well and absolutely obliterates bumps.  I felt fresher after two days at Sun Peaks on this bike than I have in years.  I'll be filing Gear Shots articles all summer on the frame as well as the current selection of parts hanging off of it, so keep an eye out for those. In the meantime, polish up your own big bike and pray for more sun, so all the snow left on the highest trails gets gone in a hurry. 
Currently Marin offers two complete bike options featuring this new frame, the top of the line Quake 7.9 and the mid level Quake 7.8.  I'll post the Canadian MSRP's in the next update about the frame but for now you can chew on the U.S. prices, which are $4725 and $3675 respectively.  Full details on both builds can be found here.
Ed Snyder
Building (or buying) a new big bike this year? Trading out some parts on your old one? Got a better nickname (that you can share out loud) for your bike? Spill it all on the boards…