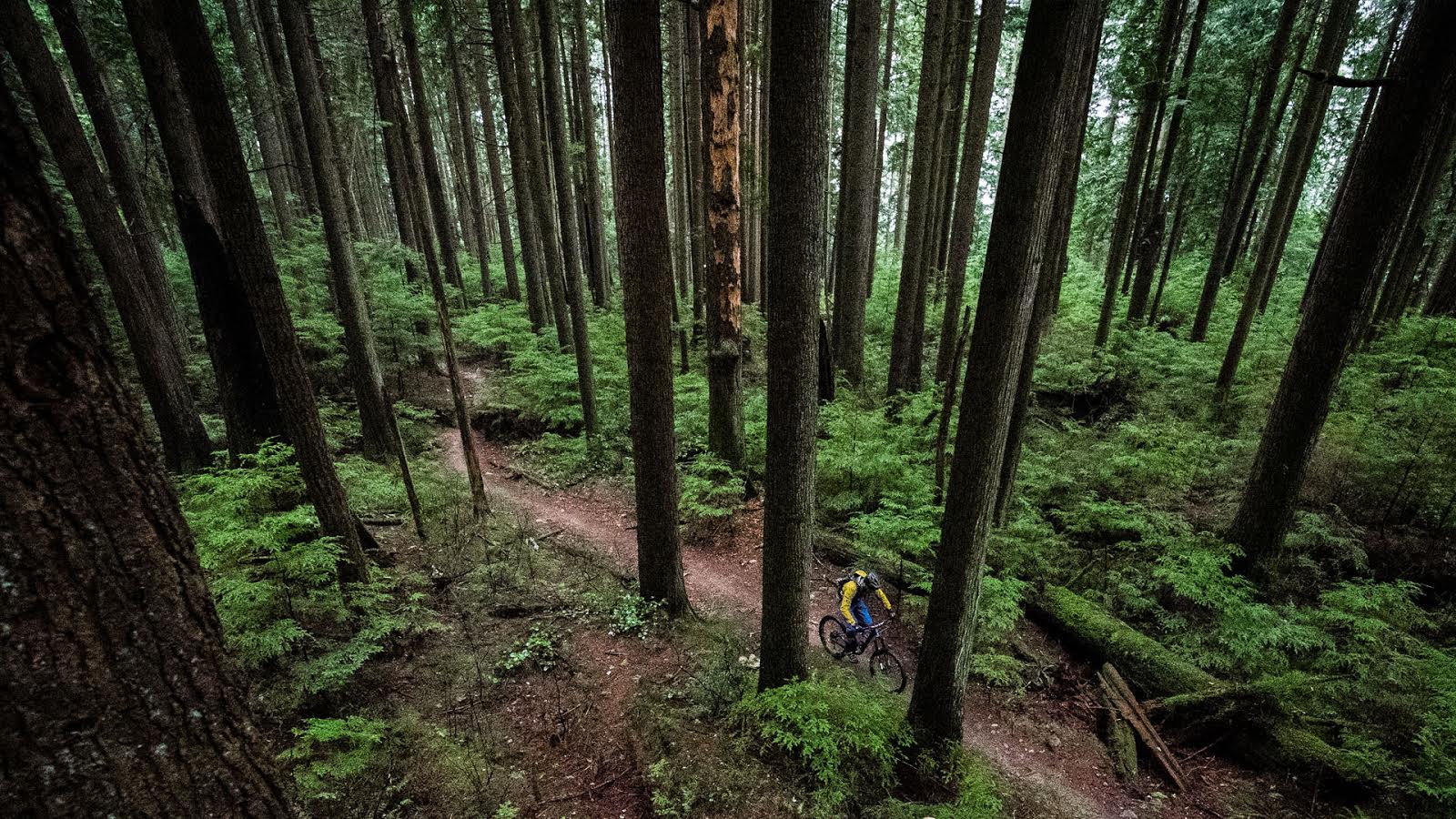 2011 Specialized Demo8 – Initial Impression
A few weeks ago I took delivery of next years Specialized Demo8 to bash around the steep and deep of the North Shore and beyond.  I have it tough, I know.  It is nice to see the major players recognize the North Shore as a great testing ground.
Here are major differences from this years model that Sam Hill won the WC DH series last year:
– 12x150mm thru axle (actually not much stiffer but the DH crowd demanded this)
– 83mm shell (handles OSBB, BB30, PF30 and threaded cups)
– adjustable geo (13.5″/64 – 13.9″/64.5) via a eccentric shock mount.  The 13.5/64 is the same as the 2010 model.
– ISCG 05
– 16.6″ chainstays (slightly shorter)
– frame is close to a 1lb lighter
– 3.0″ x 9.5″ shock.  A little more travel and less leverage ratio.
– narrower design that sheds mud better
– headtube around 8mm shorter for lower body position
– lower overall center of gravity
So, what does it look like !
Ain't she pretty.  Apparently there will be 2 colour schemes for 2011.

You can see where they shed some light.  Shock is super easy to take out now.
The welds are drop dead sexy.  Early spyshots had the bike pegged as being carbon.
You can see how everything is so much sleeker.  Mud is not going to collect in too many places.  You can also see the new BB shell.  
So how does it ride ?  I'll compare it to the 2010 Demo8 and it's quite noticeable.  The travel is more progressive and it feels like there is a lot more of it.  I know the term "bottomless" has been way over used but this is how it felt. No harshness at all.
I had the suspension setup by the team at SuspensionWerx and ended up with around 27% sag front and rear.  I managed to get a 2.5″ Ti spring on the shock (stroked out to 3.5″) and it saved over 300 grams.  Nice bonus.  I really can't stress how important is to have your suspension setup properly and maintained.  No matter what bike you ride.
I found on the knarlier trails that I ride all the time I was taking more aggressive lines and generally more confident riding.  With the lower center of gravity it feels more stable and with the more rearward travel, it is more planted than previous models.
I've had 3 days in Whistler so far and can really notice that it turns more aggressively in the corners, less pop on the takeoffs and just generally more planted. 
So far pretty stoked on the new bike.
Here's a couple of boring shots off my Blackberry while filming with Digger on his last flick  "The Last Dig".
The main dude behind North Shore trail building.  Buy his DVD when it comes out so he's not so grumpy. Location unknown.
Old guy still ripping it up !
 Big shout out to Buckwheat at John Henry Bikes for building this puppy from the ground up.
Next up, 2011 SX Trail.
Cheers,
JW