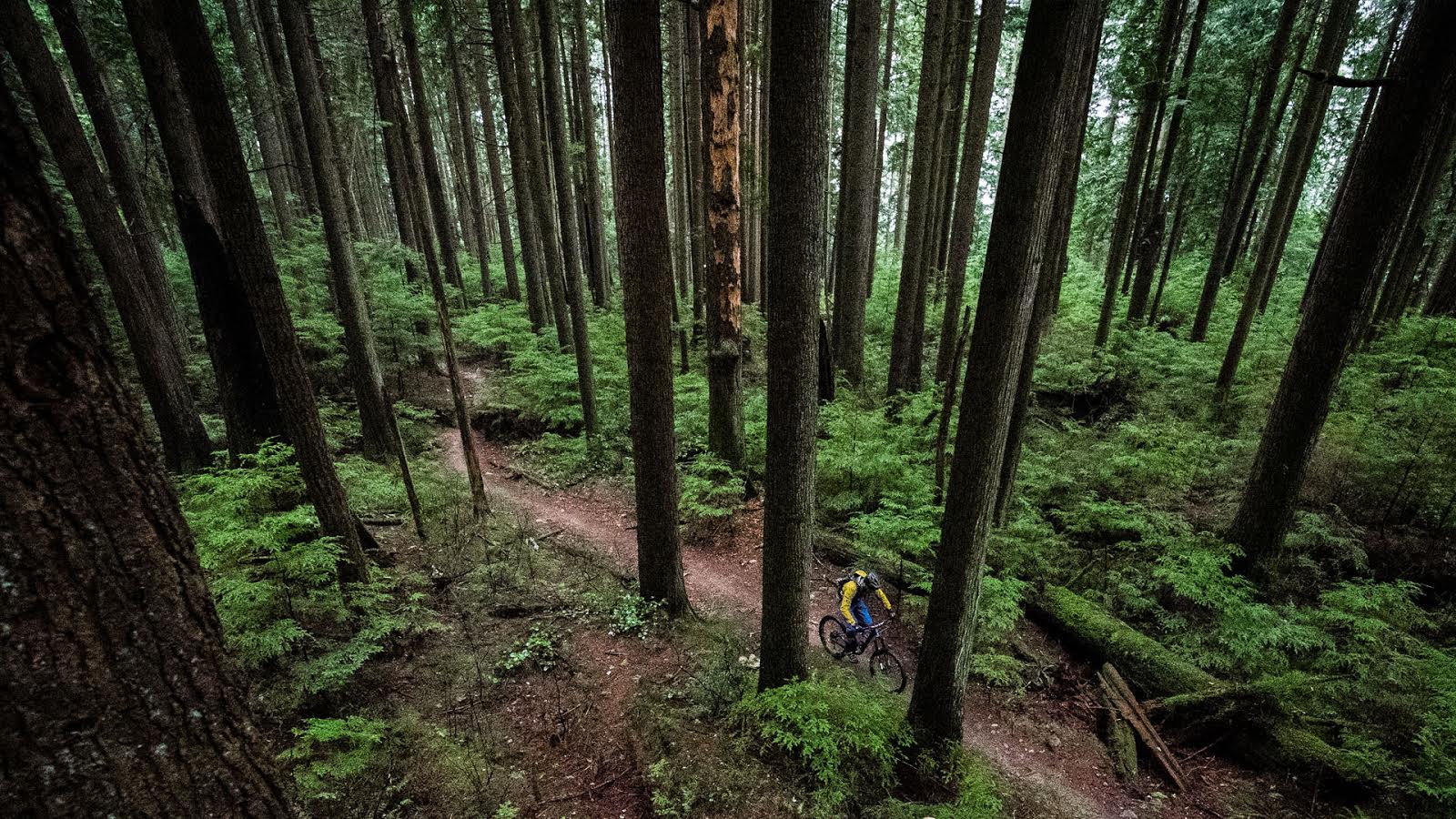 Whistler Report #7

After having a friend get t-boned in the day lot today (Sunday) I figure I might as well get on my soapbox and remind everyone to PAY ATTENTION to what's going on when you're cruising around the parking lot looking for a place to park, or on your way out. It is a seriously busy place, especially on weekends, with people on bikes, families with little kids walking to and fro, other cars, etc.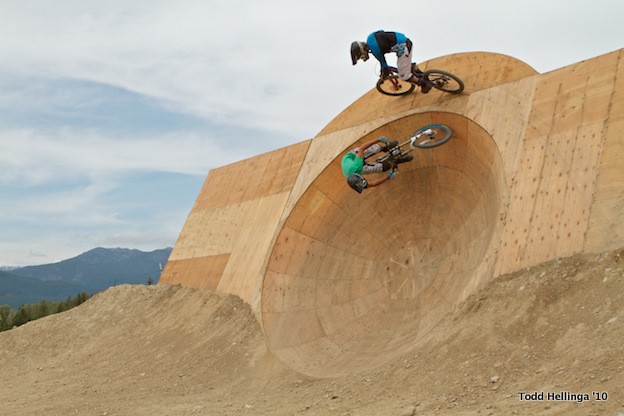 I promise to stop posting pictures of Dylan and Paul…as soon as they stop getting so rad! Dylan gets inverted in the Subwoofer while Paul carves over him.
The car incident definitely put a damper on a good few laps first thing Sunday morning. Nice tacky conditions with the sun coming out later in the day made for good times. The trail crew was hard at work again last week tweaking more than a few sections with a couple of significant rebuilds. We cruised into Karate Monkey and immediately noticed some fresh dirt on the first stretch. Nice to see some of the holes getting filled back in, and then the first big left hander has been completely rebuilt and is now awesome.
I stopped to talk to some of the trail crew guys at the next right hander that now seems horribly inadequate and was happy to learn that they're working their way down the trail, so expect more of the same over the coming week. We also chatted about the infamous A-Line 4-pack (now 3-pack) section of trail. Personally I thought the slightly tweaked 4 pack section was riding quite well last week, but apparently there was a spree of accidents on that section over a very short period and the order came down to rebuild. Sounds like the area is just kind of prone to weird builds due to topography and sections that take some getting used to. It sounds like the crew is trying to come up with the right formula but they still havent' nailed the perfect safety/fun combo.
In good A-Line news, the S-berms after the rock drop got a steroid boost and some extra height and steepness. Oh my, so much fun. Just look out for the soft spot mid berm half way up on the right hander until it dries out and sets up a bit better. What better way to end an A-Line lap than by hitting the lower Canadian Open course. It seemed to be a pretty popular option today. I think the wind may have kept a lot of people off the biker cross course. The last hit at the bottom by the lift seemed to claim more than a few people on Saturday.  I personally saw at least 5 over the course of a couple hours. Steep take off, steep landing folks, proceed accordingly! There's really so much work being done, it's really hard to give you a comprehensive list, but it's safe to say that you'll see tweaks and fixes on most trails on the mountain right now. Thanks to the trail crew for keeping things buffed and exciting.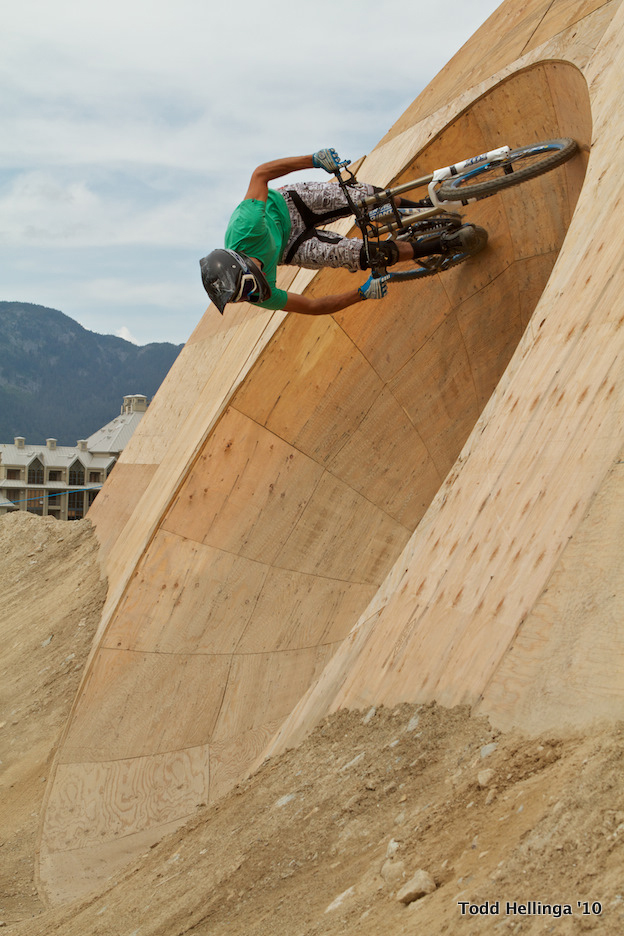 Dylan gets way up in the bowl.
The other big news is the opening of Garbanzo this weekend. Brian Finestone has a couple of really cool pictures up on the Whistlerbike.com page of Tristian Merrick, one of them on the access road off the Peak at Sun Bowl. 30 foot wall of snow? Check! It sounds like the vast majority of the upper trails are good to go, although Upper Freight Train is still under a bit of snow so unlikely for this weekend. Time for Top to Bottom no stopping laps, yes!

  Tristan Merrick turns it sideways as winter gives way to summer in the Garbanzo Zone.  Photo ~ Brian Finestone.
The first Phat Wednesday of the year goes tonight, by the time you read this we should have our first winners of the year, and their winnings will likely be in the till at the GLC! Next week we'll have race #2, so sign up online at WORCA.com and keep you eye on the Phat Wednesday page for all the results and up coming races. I'd like to give a big shout out and thank you to Seb Fremont for all his hard work again this year putting this series together, and also to all his great staff and vollies whom without none of this would be possible! Remember, this series is supposed to be about having fun, so ride hard, then leave it on the trail, say thank you to the vollies! See you out there!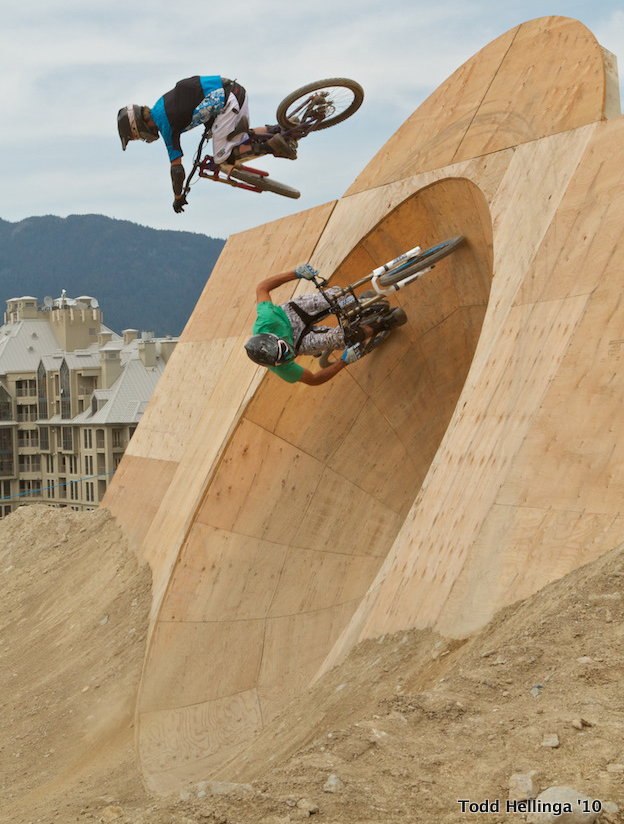 Yeah, I don't even know what to say about these guys at this point!
Although I haven't had a chance to check it out yet, I've been told by Jerome David, WORCA's director of trails, that access to Train Wreck via the original trailhead has been re-established. Apparently you can now ride from the Flank trail at Miller Creek Cafe all the way to the old highway alignment and then into Train Wreck without having to cross the highway. The next trail day is scheduled for July 3 and will be sponsored by the fine folks from the Dirt Series camps. Thank you also goes to Bear Back Biking and Ticket2Ride who have been putting in a lot of sweat equity on the trails again this year!
Only 3 weeks until the 4 Queens and things have been eerily quite regarding tire selection. I guess most people figured out what worked for them last year and it isn't quite such a big deal! Word from Tony Horn is that the final course for the Sunday in Pemberton is still being finalized, all you should know is that you should prepare to hurt! The Bike Co. continues to keep us up to speed on happenings in Pemberton and points north. News of the week has the Gun Creek Trail all the way to Spruce Lake clear with wild flowers blooming and everything! Thanks to Dale Douglas from Tyax Air for cutting out the blowdown. I know I can't wait to get up there! The other news is Tenquille access via branch 12. Apparently there is a LOT of blowdown and things are pretty slow going. However, once you hit Wolverine Creek and the descent, everything is dreamy! Not sure on snow at the lake level.
  Be sure to stop and smell the flowers now and then, appreciate nature and your surroundings!
Well, that wraps things up for another week here in Whistler. Although it's been anything but summery, the trails are in amazing shape, so grab your wheels and get up here for some fun times on knobby wheels! I'm off to Idaho Friday to cover Scott Bikes 2011 launch for NSMB so will be shredding buff singletrack in Sun Valley this weekend. Can't wait to check out someone else's scene and ride something completely new. Have a blast wherever you're riding this weekend!
---
  While Todd's in Idaho Cam's going to be on his turf in Whistler riding the carbon Santa Cruz V10. The stoke his high right now.  Hitting up Garbanzo this weekend?  Make some noise in the Sub Woofer?  Parlez this way…