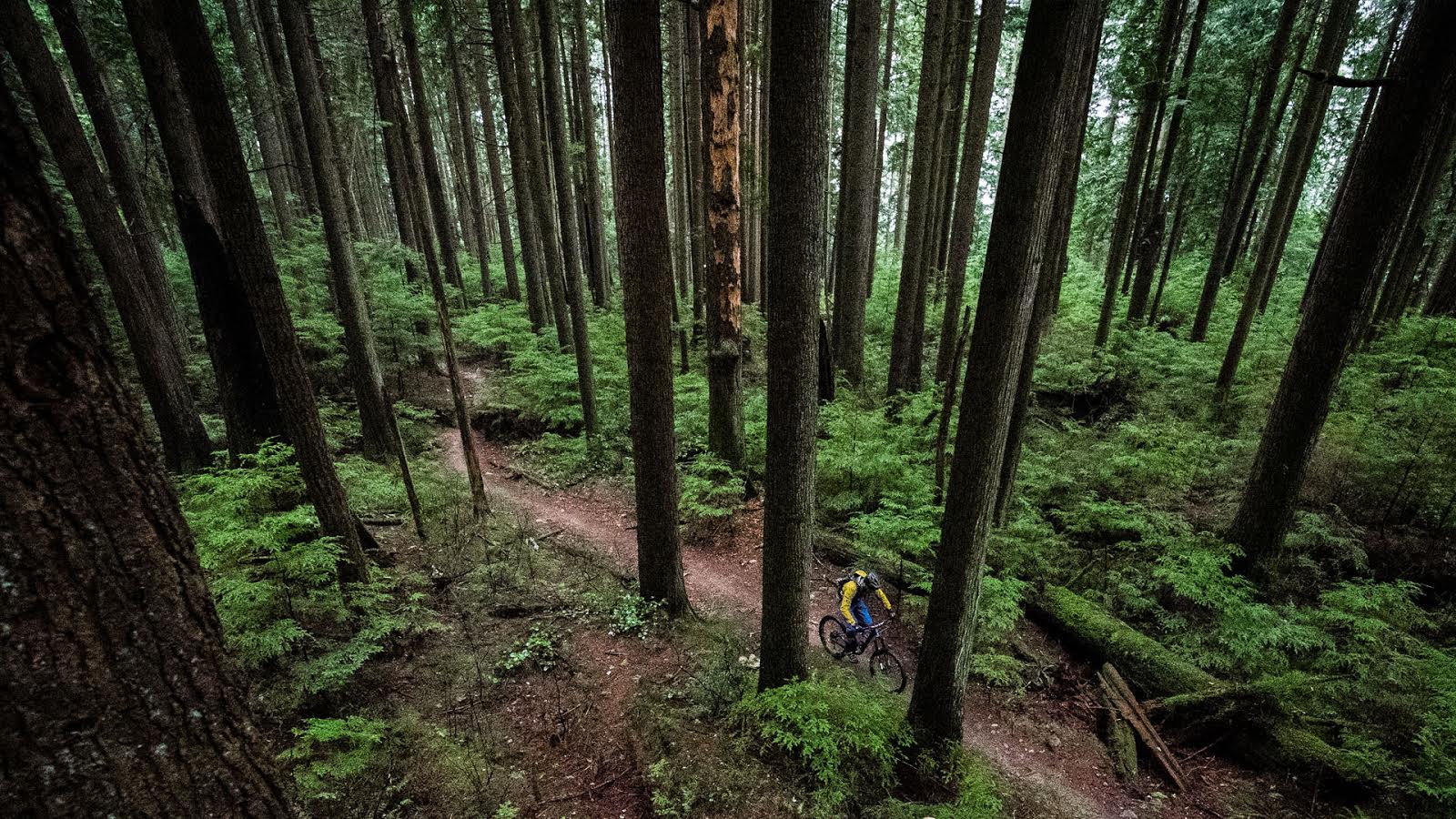 Magura 2010
A quick flight to Phoenix in mid-May usually means I'm enroute to the Magura product launch in Sedona. It's also a chance for a dose of authentic warm sun. Last week I was fortunate enough to check off both of those boxes. This is the third year I've attended the Magura product launch, and once again Magura proved their excellence as hosts. Just like a regular at Moderne Burger, the more often I visit, the better I get to know the proprietors and their establishment. In Magura's case it was a warm welcome from the familiar faces as I walked through the door (or rather, as Tony and Jeff waved me down with a flashlight from the foot of the driveway after I drove by the house twice in the pitch black Sedona night), followed the next day by the familiarity of some of the trails. As we're probably all aware, knowing what is waiting around the next corner on the trail allows us to dial the trail in that much more. And so it was with the riding over the last couple of days, but more on that later.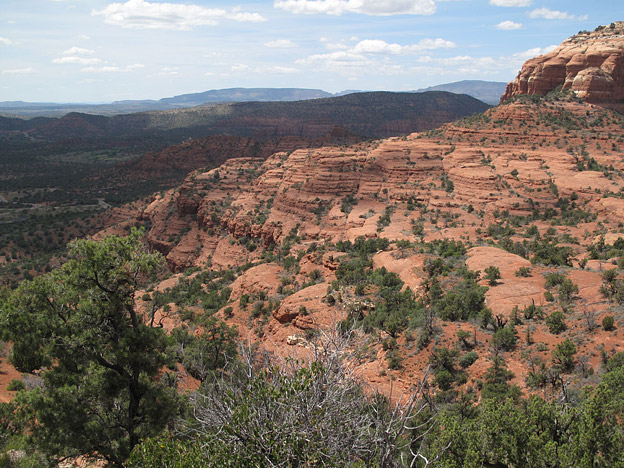 A perfect day for riding in Sedona. Last year we had rain, this year we had perfect weather.

Another advantage of being a regular attendee is the development of a sharper familiarity with the product and with the slight changes in the product from season to season. Last year there were no major revolutions in the product line – focus was on some internal changes along with the partnership with Vaude and Uvex for distribution of those goods in the US. This year follows the trend with the only major hardware change being newly designed brake rotors. One other notable change that will probably impact the company more than the consumer is a redesign of the 15 year old company logo. The new logo is symmetrical and easier to place on products. I think it looks pretty good.

Updated looks for the Thor

In an effort to help the company keep their focus and drive, Magura has created Mission Performance. I would describe it as a mission statement combined with a dynamic record of the mission progress and direction, all bundled in a tidy micro-site. Their mission statement or intention is bold: "We are going to make the world's best disc brake for bikes". On the web site there is a timer counting down from 170+ days from the time of this writing. I anticipate some big news when it reaches 0, sometime in early December.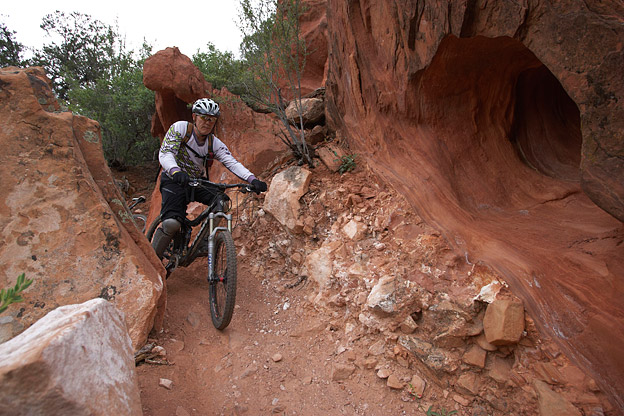 John Finch: bbq master, dry humour, great stories, trail builder and a fantastic rider. Riding the back side of Hangover on day 1.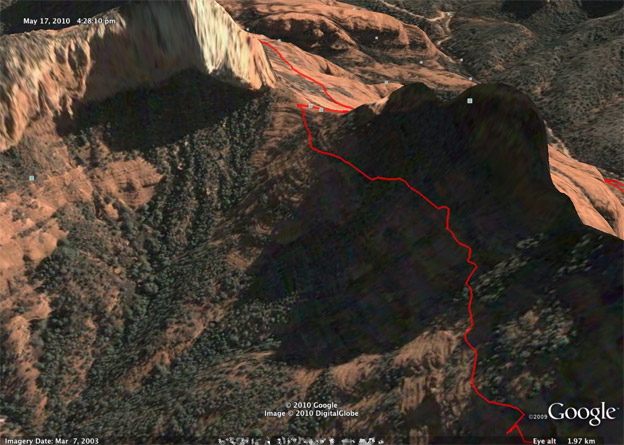 A small glimpse of the back side of Hangover. It's taken me a few attempts but I think I've finally got the knack of this trail, and I look forward to riding it again.

On the backside of Hangover, you ride along a small ridge shrouded by trees and shrubs, hiding the fact that most of the time you've got some nasty exposure to your right.

Brakes

Storm is the name Magura has chosen for their new rotors, and they come in two flavours. They both have a redesigned shape from the current rotors, lending to a lighter weight over the previous models. The Storm comes in 3 sizes: 160, 180 and 203mm. The lighter Storm SL comes in those 3 sizes as well as 140mm. These new rotors will replace all of the current rotors by September of this year, including the rarely seen venti-disc. All of the rotors will be available in 6 bolt or centre-lock configuration. The centre-lock will come with a special Magura adapter. The non-SL version of the rotor is slightly thicker and will handle heat a little better, although Stefan assures me the lighter weight SL will be perfectly capable for almost everybody. The Storm SL will come with the Marta SL Magnesium brake. All other brakes will come with the Storm rotor.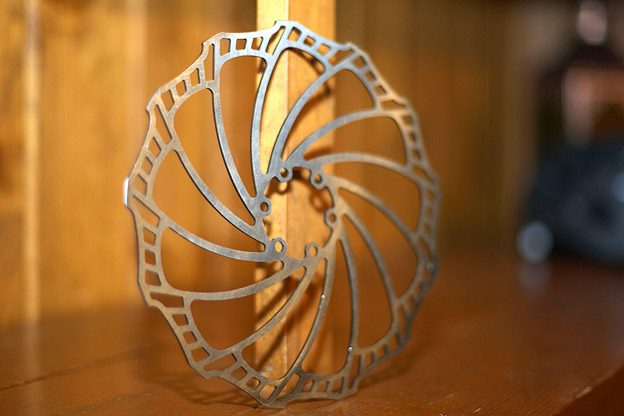 The new Storm rotor from Magura. I rode with these rotors both days, and they performed as well as any good rotor should.

This year you'll also see the Marta brake with new graphics and re-branded as the Marta FR, with the intention of showing that it's suitable for free riding (and not just the ultimate light weight brake, as described by Stefan). All of the other brake models are still up for grabs including Judy, Louise, Louise BAT, Louise Carbon and Marta. If you happen to be a commuter living in Europe, you might be pleased to know that Magura has spent some time working on new rim brakes, with production starting now. Apparently they will also be available in the US. During the presentation, there was a long enough pause after someone asked about a new disc brake for 2011 that led us to believe Magura has something big in store. We'll have to wait until next year to find out.

  Marta FR: on the second day of riding, we were rewarded with a fantastic technical downhill full of steep chutes and loose dirt. With a pair of these brakes on the Cannondale I was riding, I felt like a pro on the slippery steeps because the modulation of the brakes was so precise and there was no fade despite my white knuckles.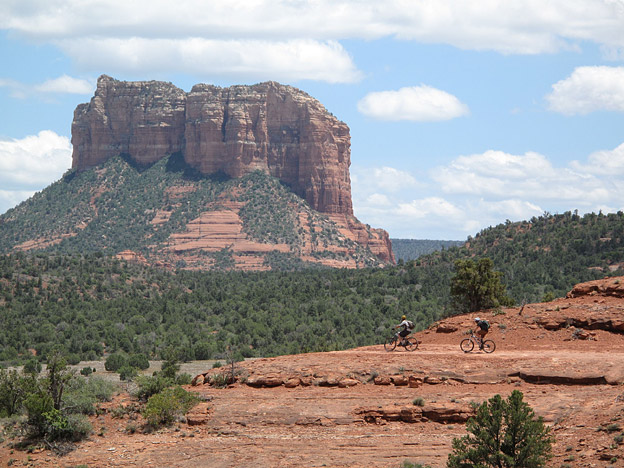 The steep chutes mentioned above were probably an hour away from us at this point. The trail is called Highline and is by no means a freebie. While there are amazing vistas like this, there is also a good chunk of climbing up through a dry creek wash. We definitely earned the descent. Hangover is a wicked trail, but Highline was my favourite of the trip.

Suspension
There are three significant changes in the suspension department, but no major redesigns on any of the forks nor are there any new forks for this year. For OEM customers, Magura will allow customization of colours and logos on the decals. The base colours of the forks will be black or white. All models have had some tuning done on the compression damping. The shim stack has changed from last year, resulting in more low-speed damping, which in turn results in less pedal bob and better ground response (better "feel" of the ground). The fixed travel forks (Durin 80, 100 etc.) have a smaller air chamber to allow for a more progressive spring rate. The lower air pressure in the smaller chamber helps reduce seal stiction and improve the plushness. Stefahn says that it will also help avoid dive-in on steep steps. Steerer tubes have a few options: 1 1/8″ all the way, 1 1/8″ to 1.5″ or 1.5″ all the way (the later coming in this fall).

The Durin 120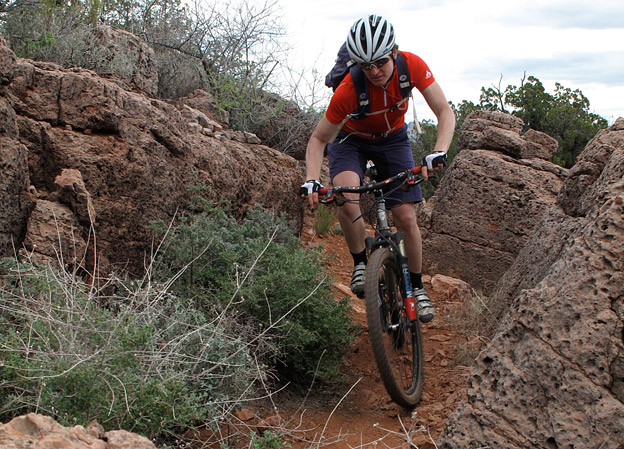 Ruthie Matthes negotiating a tight squeeze.

UVex and Vaude
Along for the ride with Magura are Uvex and Vaude. Magura USA has been distributing goods from these two German companies since last year. It's nice to have another option in the market place. I have been riding with the Vaude North Shore 20 pack, new for 2010. It doesn't take much quality time with the pack to realize how much thought has been put into the details of this pack. I love details. The pack itself has an access to the main compartment from the top, as well as an access from the back at the bottom. The interior of the pack can be divided into two sections, separated from each other by a barrier that zips into place. The top 2/3rds of the pack is accessible from the top, and the bottom 1/3rd is accessible from the zipper on the back.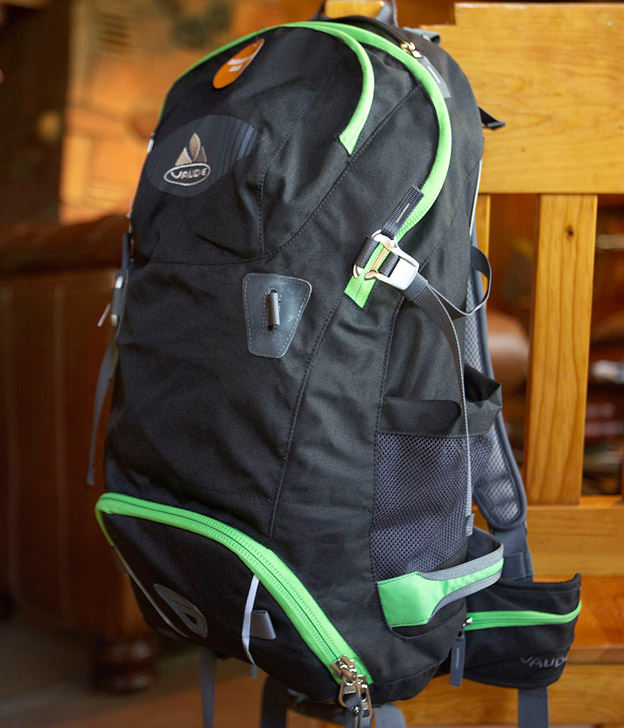 Vaude's North Shore 20 pack. Notice how the zipper pulls have buttons on them to keep the two zippers together so they don't slowly open during a ride. Inside the top of the pack are two pockets, one of which is specifically designed for your favourite portable music player – a standard for packs these days.



  A gratuitous riding photo of Shannon Mominee from Dirt Rag on Hangover.

The lower chamber is great for keeping my camera gear in a space all to itself for quick and easy access, something I've been looking for in a proper riding pack. Just in case it wasn't easy enough to geek out over the riding packs, Vaude also offers a solar panel that clips onto the back of their packs that can be used to charge up your cell phone or ipod while you're riding. Check out their site for more info.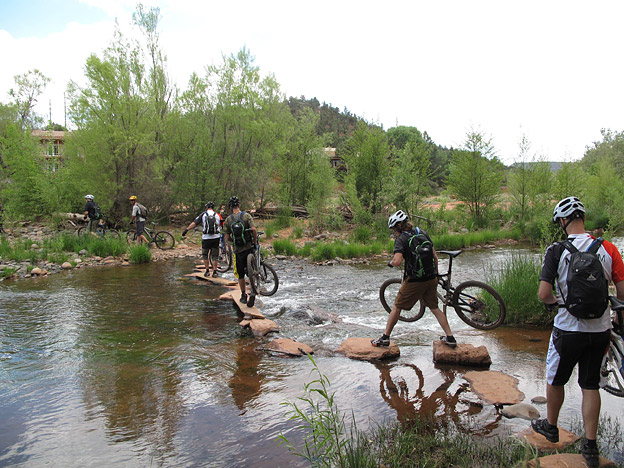 We crossed this creek twice, the second time being after our ride. I wanted to jump in and cool down.

Uvex brought some samples of their helmets and sunglasses. Mario Kummer, former Olympian, Tour de France domestique, and Astana team manager, was the sole representative from UVex to give us the rundown on the gear. The helmets are stylish, lightweight, well built (in Germany) and have some great adjustments to give a perfect fit. One can adjust how high the 360 degree head strap sits in the helmet. There are 20+ helmet models to choose from in the US, and an even larger number in Europe. Not all models are available over here yet because of the different safety standards. 

  Mario Kummer on part of Highline. Mario was a great guy to ride with: awesome sense of humour, good skill on a mountain bike (a relatively new exploit for him) and the climbing power of a goat.



  The XP 100, one of the helmets from the impressive lineup from Uvex

Uvex also has a huge selection of sunglasses. They were kind enough to leave us each with a couple pairs. I'm not a goggles guy when riding my Whistler bike, I prefer well ventilating shades. I chose to keep a pair of the Uvex Crow Pro polarized shades. They've got interchangeable lenses, breath well and are plenty comfortable.

  Uvex Cro Pro's, my new favourite pair of riding shades. Photo courtesy of Uvex.



  Some of the shades on display from Uvex.

Riding in Sedona is definitely something every avid mountain biker should have on their list of must-do's. The city itself is like a little boutique city, something slightly out of the ordinary settled in an extraordinary landscape. The trails I've ridden over the past few years seem to get better (especially as I get to know them) with a good variety of terrain supporting different riding styles. If you can track down John and Janet Finch, I'm sure they'd be happy to show your around. I'd like to thank them, Magura (Tony, Jeff, Stefan), Uvex (Mario) and Vaude (Paul and Ruthie) for hosting yet another great press camp. I look forward to seeing what Magura has in store for us at the end of the year.
And all the best to Jude Monica on a speedy recovery from a serious illness.

My ride for day 2 of the camp. To be honest, I've never been a big fan of Cannondale, but I was happily surprised by this steed.

Questions or comments? I'll keep an eye on the article forum over here.