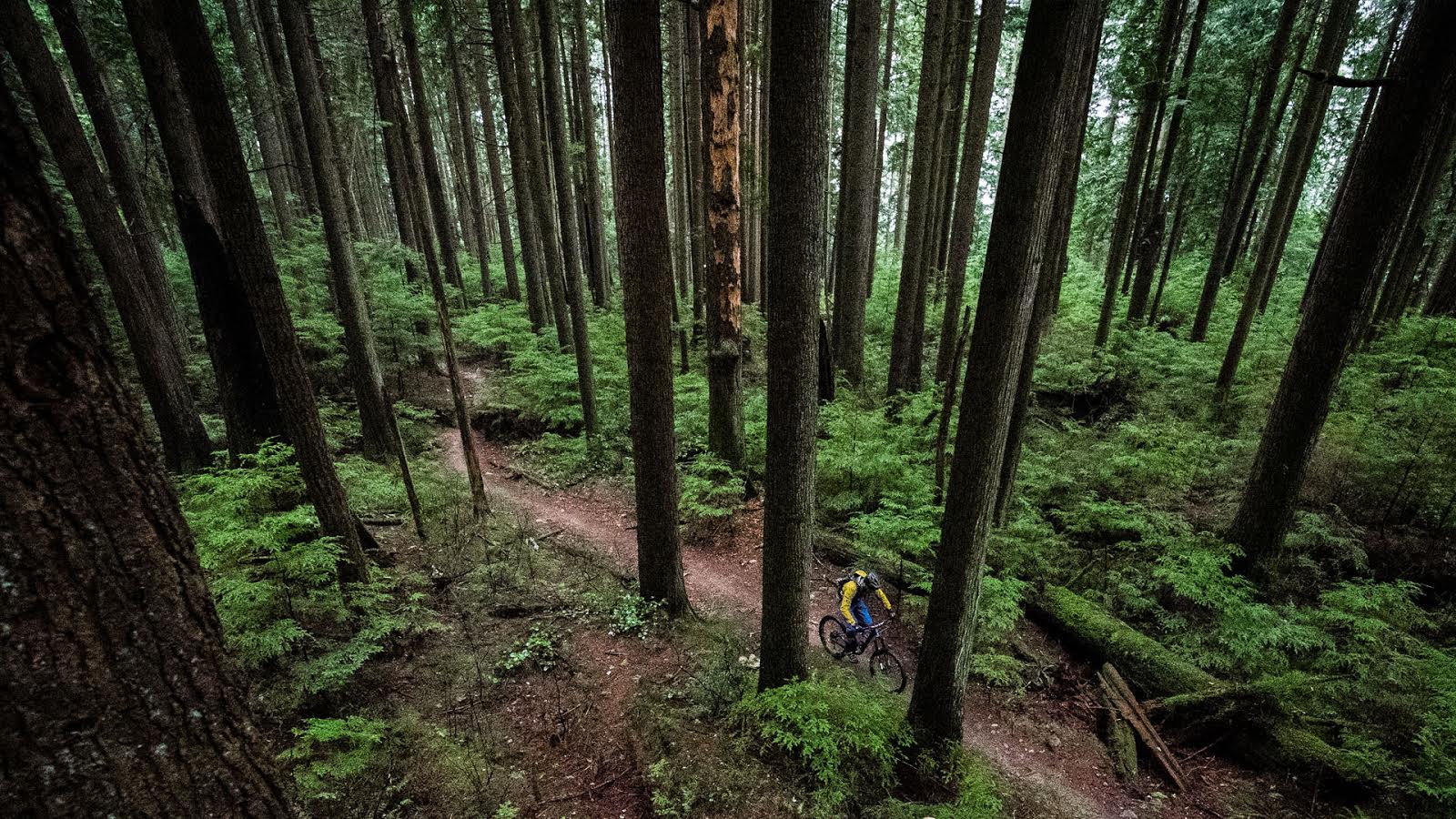 Whistler Report #6

I think it's good to be put in your place once in a while. We had one of those rides this evening, you know the ones. You ride one trail and feel like a rock star, high fives all around, huge smiles plastered on your loam covered faces. "Hey, why don't we finish with Boyd's?" I casually say, like it's no big deal. Well, seems the long winter may have dulled our memory of said trail somewhat. It was kind of the anti-loam trail. Or anti-dirt I guess you could say. I forgot how punched that trail is from all the big bike Ride Don't Slide traffic in the summer. There is no dirt on it, just smooth polished, off-camber roots, longing to punish your hesitation and second guessing. Combined with the rainy evenings and mornings, a bit of mud on the tires and it pretty much put us in our place. I think I'll save that one for the big bike! I could go into the "I remember when…" stories about that trail, but no one wants to hear it! It was good to see a little bit of work taking place up there, but it's still really punched.
  Sometimes you need to get off the beaten path to find the goods, there may be a Green Monster waiting for you to slay. Dylan Wolsky slays.
The trail crew has been busy in the bike park this spring buffing things out. Fresh work on Samurai Pizza Cat has a few of the gnarly holes before the always deadly off-camber roots rocked in a bit. It's definitely helped turn the flow on a bit more in there. The crew also undertook a pretty heavy rebuild of the last part of Schleyer where the two ladder bridges used to be. That's right, used to be. They were pretty shady in the wet anyway and they've been replaced with a step down and a big berm apparently. I haven't had a chance to scope it out yet, but sounds like a pretty good improvement. There's also been a new entrance built to Ninja Cougar, for those who don't like sending the first part of A-Line to the road. Look for the new entrance a couple corners into B-Line. The gang also built a new entrance into Upper Angry Pirate too, no more mud bogging at the start, now you're into the trees immediately after the bridge, try and pump through it to the old part without pedalling, it's doable!
Conditions are really good from what I'm hearing. Rain during the night/morning and nice days means sweet schralping for all! Sunday was certainly tonnes of fun, and I'm really looking forward to extended play starting this weekend. Shout out to Dan Gronross for making it through his hiatus from the bike. We had fun ripping many laps with a good crew on Sunday. Reminder to all that one week from now at this time we should all be gathered at the GLC celebrating the first Phat Wednesday of the season. Please, PLEASE sign up ahead of time on the WORCA website! This race is always busy, with long lines. If you're already signed up you just have to pay your $2 to get your number plate instead of waiting in an even longer line to join WORCA first.
  Sometimes you need to slay something a few times, just to make sure, Dylan is sure.
Word from Johnny I. from the Bike Co. Up in Pemberton is that the Pemberton Valley Trails Association fundraiser last Friday evening was a super mega success! Final tallies are being made but apparently about $7000 was raised! This is an awesome show of support for Pemberton trails, and it also means that the connection from the cell tower at Gravitron over to Owl Lake will be able to be continued. This is a good thing for riding up there and is going to add something very special to their trail system. JI does a great job of summing the night up and has a pretty extensive list of people who deserve our thanks, check it out here and say thanks when you seem them around! And remember to join your local club wherever you live, they do so much to keep trails open and in good condition, as well as add so much to a communities social fabric, be a part of it!
  We were stoked to walk away with the second place trophy in the citizen category! Paul Stevens, Kevin Landry, and Katrina Strand admiring the craftsmanship.
I'd also like to give a big shout out to the North Shore Mountain Bike Association, Wade Simmons, our fellow racers, and of course all the vollies who made Wade's Excellent Adventure such a great time. I don't get down to ride on the Shore a whole lot, but I always enjoy it when I do. It was great to participate in such a laid back, low stress, high fun event. As per usual I forgot how much a few laps on the Shore beats one up. It's definitely full body riding with no slacking! And to anyone that knows Digger, please, pass on my gratitude for a job well done for the amazing work on Ladies Only. Wow! I said thanks when I passed him just before the swamp teetter totter, and the smile on his face said it all. He no doubt heard us coming from a mile away as we hooted, hollered, and generally giggled ourselves silly down that trail, so much fun! Thanks for the great times, can't wait for next year!
Well, that's it for another week from Whistler, lets hope the sun decides to stay and play finally!
---
Do you have any updates to add from the Whistler Bike Park?  Did you get some laps in this past week?  Update us – or heckle Todd (and the Cool Kids) if you'd rather – right here…