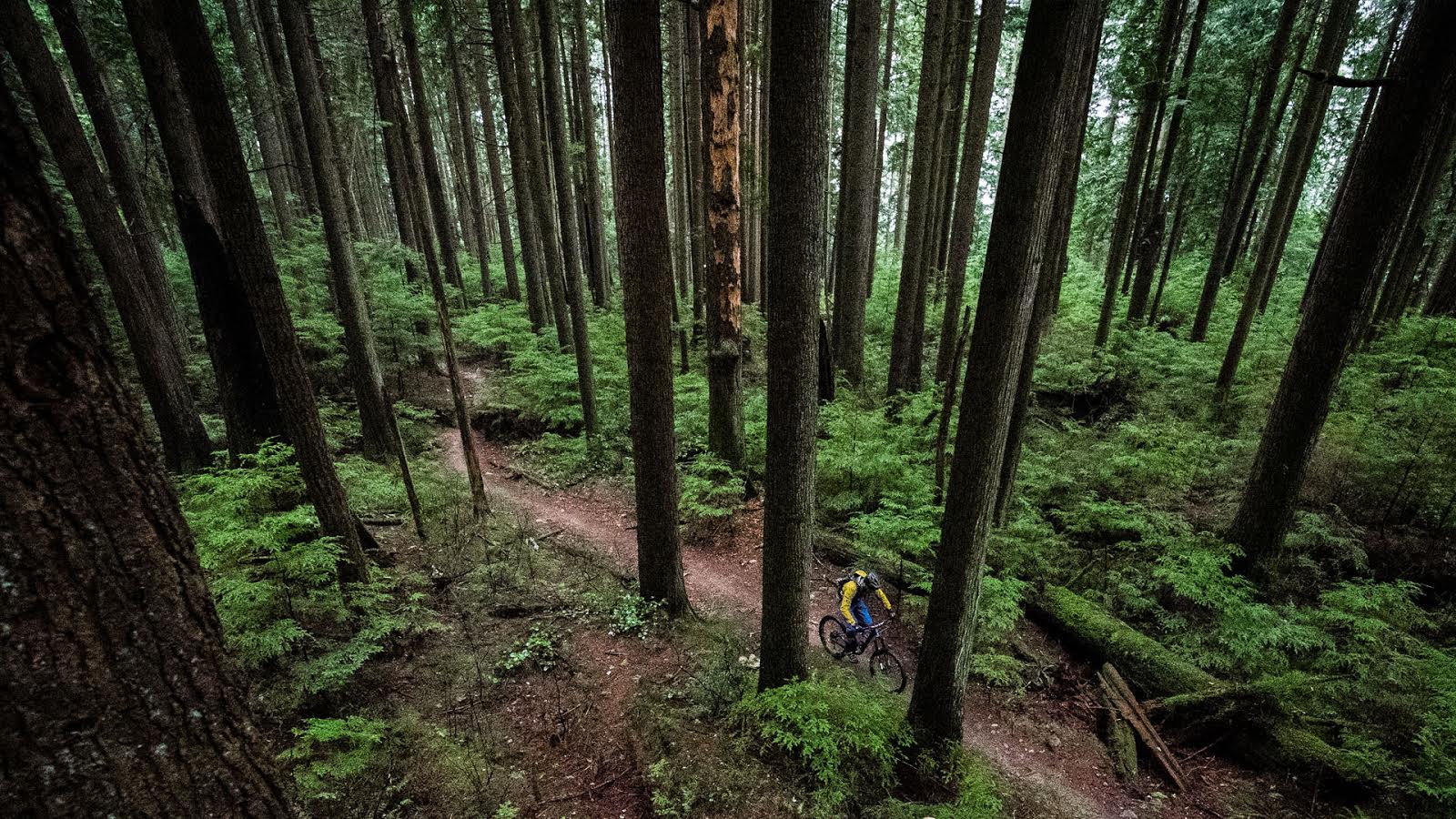 Wade's Excellent Adventure
What a day on Fromme!  On this past Saturday, June 12, 163 Adventurers' took part in Wade's Excellent Adventure vying for the Fromme Cup!  The weather was spectacular even if the trails were still slippery in spots with 3 weeks of most often rain prior to the big day.  But the clouds cleared and it was a glorious day!
The teams assembled at the starting line and the Corporate Teams were first out of the gate, followed only two minutes later by citizen class.  By the time it was finished, Team BFJCC representing Cove Bikes had won the Fromme Cup with the fastest time of the day at 3:29:21.  The Citizen division was won by Team Pennywise, a two person team comprised of the Traslin Brothers in 3:32:23.
CORPORATE 1. BFJCC (Cove) 3:29:21     2. Fake Runkle did it (MEC) 4:11:15     3. Norco 4:41:50

  The team from Cove Bikes took the Corporate Challenge and will have their names engraved in the Fromme Cup.
Team BFJCC COVE BIKES will have their names engraved on the Fromme Cup and hold the Cup for a year until next years Excellent Adventure.
CITIZEN 1. Pennywise 3:32:23     2. CK's 3:51:25     3. Ripper Dads 4:27:30
  Team Pennywise – Andy & Mike Traslin
TOP 10 OVERALL 1. BFJCC (Cove) 3:29:21    2. Pennywise 3:32:23 (Citizen-2 PERSON)    3. CK's 3:51:25 (Citizen)    4. Fake Runkle did it (MEC) 4:11:15    5. Ripper Dads 4:27:30 (Citizen)    6. Norco 4:41:50    7. Goodpedallas 4:59:25 (Citizen)    8. MHPM 5:05:34    9. The Gumbies 5:12:06 (Citizen-2 PERSON)    10. Finished Guaranteed 5:16:41
For those of you who didn't participate in the event, the competitors rode three trails; 1) 7th Secret/Leopard/KK/Roadside Attraction 2) Upper/Lower Oilcan 3) Pipeline
The following 4 signs were collected and arranged to phonetically spell out the final 'Secret' Trail.  See if you can figure it out:

  If this seems a little counter-intuitive to you, you aren't alone.  At least in this case the clues are in order.  Everyone seemed to know we were riding a certain trail last anyway, so it wasn't really a problem.
The energy was huge from the moment Tippie jumped out of the truck and began his marathon party on the megaphone for the next six hours!  Thank you Tippie for keeping the juice flowing all day!

  These grrls are having a hard time letting go of their racing history – not to mention their 10 year-old lycra.  Actually they were dressed up for Eron Chorney's (with the sign) Stagette.  This was a surprise for her.  They didn't finish the event because they were off to the spa.
There are so many people to thank for making it all happen.  First, to the team of volunteers who made it all happen at Registration and in the Mud Bunnie burger pit!  As most of the vollunteers were Mudbunnies, the NSMBA gives special thanks to you!

  Tippie, you're a non stop party!!
The Apres Party at the Bridge Between was a great time too with Wade giving away two Shimano XTR Wheelsets, a set of Marzochi 66s (Thanks Naz!!) and the big prize of the night was a Rocky Mountain Slayer SS that was won by the very appreciative Monika Marx!  Way to go Monika-we know you'll triple everything on that Slayer!

  Monika Marx took the big draw prize – a Rocky Mountain Slayer frame!
Rhonna Gurevich as the event organizer made sure every t was crossed and every i dotted and is owed great credit in creating the master plan – and getting a solid team in place to make sure things ran smoothly. The fact that there wasn't a single hiccup attests to Rhonna's preparedness for the event.
A big thank you to all of the sponsors who made the event possible:
Rocky Mountain Bikes-Kieran thank you for running the demo fleet and keeping people rolling all day.

  Jerry Willows ponders this clue. 
Planet Foods-Thank you for keeping everyone fueled with those delicious organic Sharkies, Ultima Sports drink and some of the tastiest chocolate on the planet.
Thank you to Marzocchi, NSMB, Oakley, Dakine, Race Face & Shimano for your support and amazing prizes!
Thank you to all of you who participated in the event and got into the spirit of the event by having fun, even while suffering through a demanding course!
Thank you to the District of North Vancouver.

  Team Whistler went home with some hardware! Left to right:Tobias Pantling, Paul Stevens, Katrina Strand, Kevin Landry, Todd Hellinga and Matt Juhasz.
Thank you to Upper Lynn School for allowing us to use your parking lot.
Thank you to the Bridge Between for hosting the great after party!
And of course, last but certainly not least, thank you Wade for all of your time and effort in the making of a Great Adventure!
We look forward to this event happening next year!  Stay tuned for the date-we'll see you there!
We asked Matt Dennison to put together a video of the event – and we love the results.
---
The Second Wade's Excellent Adventure was a huge success – and it looks like this will be a yearly event.  Check the thread here…