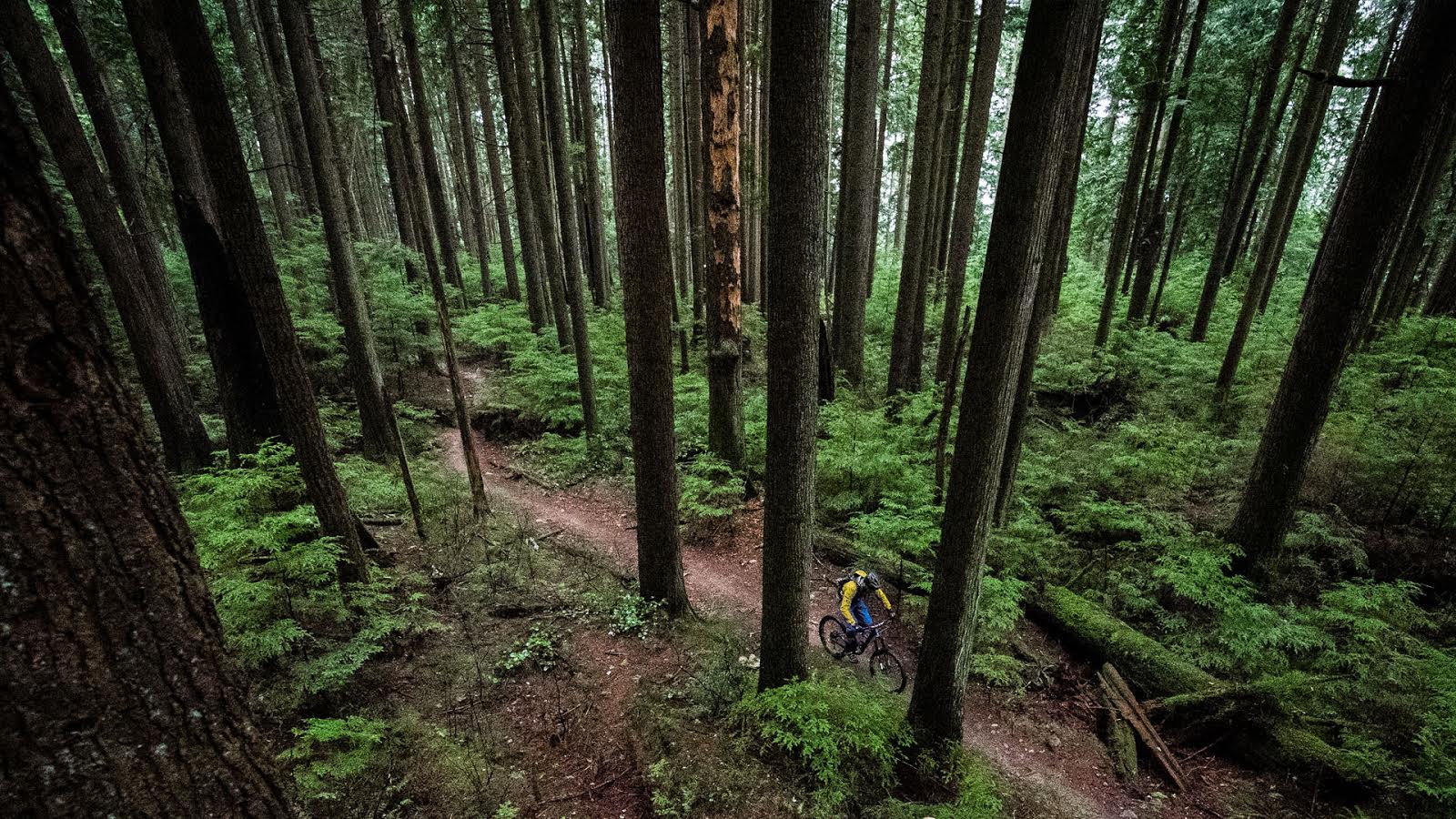 REVIEW: 2010 Trek Session 88
Trek has been making downhill bikes for some time, with the Session 88 being the latest generation of DH bike from the company. (We tested the first version of the Session 88 in late 2008. – Ed.) The bike has been making a name for itself on race courses all over the world since it was introduced, but Trek hasn't been sitting around since then. Revisions to the bike have led to claims from Trek that the new version is "aggressive, balanced, lively, and controlled." I was out to see if those claims were legit, and how it fared on B.C.'s trails.
From the moment I picked up the Session 88 at Obsession Bikes, there was an aura of excitement, anticipation, and uncertainty that surrounded the bike. Much like the feeling a racer experiences at the top of a downhill course. Coincidence? Not likely, after all this is one of the most highly engineered rigs on the World Cup circuit.
Because bike shops can't offer refunds on used bikes, it was my goal to test the Session 88 for as long and hard as I could. At 6'2" and 190lbs. with a history of DH racing and freeriding, I'm no stranger to the industry's dreaded word "warranty" (insert hack comments here).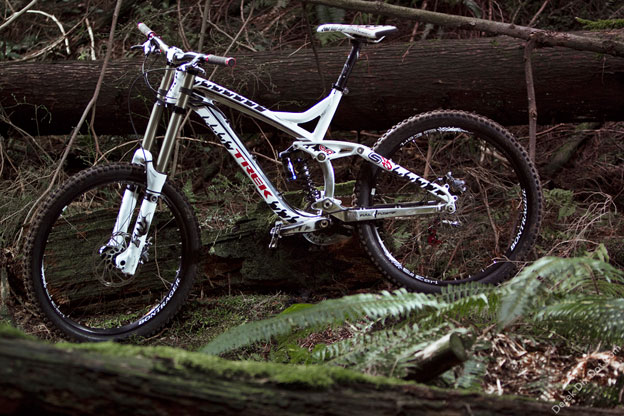 The most difficult photo for Derek was me off the bike…
The 2010 Session 88 generated a buzz wherever I took it with its racing colors, clean lines, shaped tubing and attention to detail. This interest and enthusiasm comes with its share of doubt. One quick search on Google comes up with a number of discussions and rumors surrounding the Session 88. The biggest concern riders have about the Session 88 is its overall durability and reliability, which is understandable when you're spending close to $7,000.
This review wraps up my long-term test of the 2010 Trek Session 88. I am fortunate to have had the chance to test the Session 88 for the last seven months. And unlike recent winters here in B.C, the riding never stopped. This gave me the perfect opportunity to really ride the bike in a number of conditions and environments to see if it lives up to its expectations or if most of the buzz is actually hype.
Racing is all about pushing the limits of all aspects of the sport, whether it is the equipment, the course, or the pilot. This is most evident in the world of motorsports where some equipment expires within minutes. It's sort of like accounting for you business folks: you can only depreciate the amount of the asset used in the current year. When you purchase a high-performance mountain bike like the Session 88 or any other World Cup-type DH rig, it would be naïve to think it would last forever. Those looking for the most robust bike generally will be looking at different options than riders and racers looking for a competitive edge. 

…later resulting in separation anxiety. The 2010 Trek Session 88, taking a breather in the forest.
Fortunately, companies like Trek are beginning to bridge the gap between race-only and practical high-end consumer models through its continuous development and manufacturing advancements. It's evident Trek has done its homework with the Session 88, working closely with the likes of Andrew Shandro, a Canadian DH racing pioneer, and the Trek World Race Team.
You just have to spend a few minutes on Trek's web site to see its dedication to development and passion for bikes. Gravity-fueled bikes are the newest addition to the world of cycling and Trek is using this as an opportunity to showcase its latest advancements in suspension and materials from its road and XC products.
"Our goal with developing a new freeride and DH bike is in line with Trek's guiding principle to have the best in class product for every category we pursue," said Joe Vadeboncouer, Product Manager for Trek.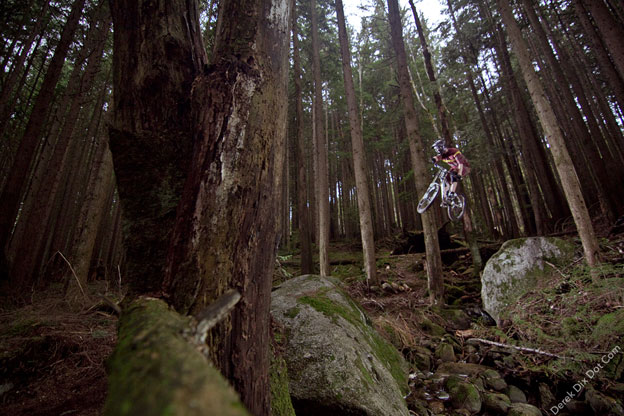 The French call me Con-air. I call this the rock to rock. One of Diggers finest, circa 2002.
I think it is awesome that same bike that the Trek World Racing Team races can be had through a dealer. This means enthusiasts and aspiring racers can have the same opportunity that world's best racers have, giving them the confidence and technology required for today's highly technical and demanding courses. It is this forward thinking that Trek has put into its entire line of bicycles making them lighter, stronger, and more efficient.
In my first write-up of the Session 88, I outlined all of the features that I like to call Treknology. Now it's time to see how they fared. The quick recap: after seven months of countless off-road tailgated shuttles, mud-laden bike park laps, high alpine freeriding, secret one hit wonders, NEDS, and even letting Jamie Biluk, the "Manitoba Plow" and National DH Team member, have a go, the bike is in perfect condition. Aside from a quick five minute brake bleed, the Session 88 has spent zero time in the stand. The 2010 Session 88 is to date the most reliable and durable DH bike I've ridden. 

Don't concentrate on the lever, or you will miss all the heavenly glory.
Why is it performing so well? Well obviously it's the pilot! The longer I ride bikes, the more I have learned what makes particular bikes stand out. I look at it like a recipe: you need to have all the best features (ingredients), tools (kitchen), and a company with a vision (chef) and they all have to work in harmony – cheesy but true.
The Session isn't a great bike because it has a magnesium Evo link, or custom tuned Fox Suspension. It's Trek's ability to bring all of the features together resulting in a highly controlled and balanced platform. All of the Sessions features complement each other, whereas some bikes end up sacrificing one feature for another.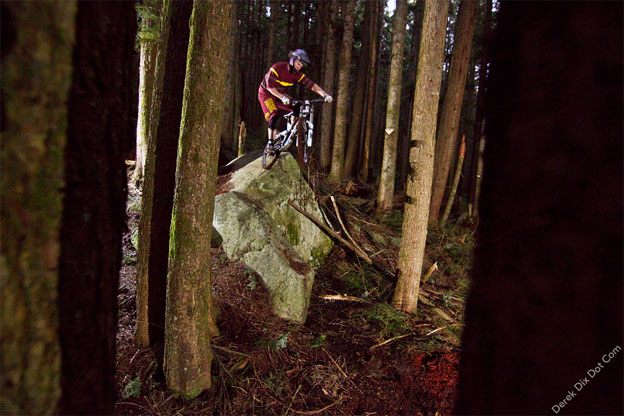 An enjoyable nugg assembled faster than an Ikea side table.
Trek has done an outstanding job creating a suspension design tailored for today's DH racing and big bike riding. It's lively and progressive, which makes it feel more like a trail bike than an 8" travel DH bike. I was surprised that I could run a 450lb spring with little compression adjustment, which shows how the Session's suspension design does most of the work rather than the shock, leaving more room for adjustment and tuning within the shock.
The Session likes to ride in the top 4" of its travel over most terrain, allowing the rider to easily maneuver technical sections without feeling bogged down like some VPP bikes. Trek is definitely at the forefront of a trend towards light, lively, shorter-travel DH bikes. It's easy to see why this is becoming a trend as bikes like the Session are simply more efficient, versatile, and balanced. 
One look at Whistler's 2009 Canadian Open DH course and you'll realize that jumps and gaps are back in a BIG way. Those of you who made it through practice understand the importance of feeling balanced in the air when everything's working against you.
When I hit the course, it quickly became apparent that the Session 88 is one of the most stable and balanced bikes available thanks to its suspension, geometry, and weight distribution. The Session 88 allows you to come at jumps with confidence. Up front is the Fox World Cup 40 ready to do whatever it has to, and in the back the custom tuned DHX RC4 ensuring the perfect dampening for that 40′ step down.
I never once felt the Session pull anything shifty. In fact, I owe it a big thank you for saving my arse numerous times when the pilot encountered "turbulence".Tthe Session is a very forgiving bike – a quality anyone at any level can appreciate. 

Still waiting for Trek or nsmb to foot the bill for the heli drop.
Whether you're jumping between the tape or in front of the tape, the Session has proved itself in the world of freeriding with riders like Cam McCaul and Brandon Semenuk navigating the airspace over Utah during the 2008 Red Bull Rampage. It's hard to ignore the Session's versatility and ability to compete, rather dominate as a freerider.
During my time on the Session, I had the opportunity to test its freeride abilities in front of the lens of photographer Derek Dix. Hitting new lines for the first time can be tricky, but what it really comes down to is confidence and the Session 88 instills nothing but. Freeriding on a DH bike can be cumbersome, but the Session felt like a bike of half its size, and easily maneuvered some technical lines. Unlike some DH bikes that refuse to let go of the earth, the Session stays close the ground when you want it to and jumps when you say jump. Ability to freeride? Check. 
Forgiving is always good, whether it's your girlfriend, golf club, or bicycle. The well-balanced Session 88 proved to be the most forgiving bike I have ever ridden. It's nice to know that even when you're off, your bike is on it. I came up too short, too far, off line, and on fire numerous times and was amazed at its ability to save my riding. I credit this ability to its balanced geometry and suspension.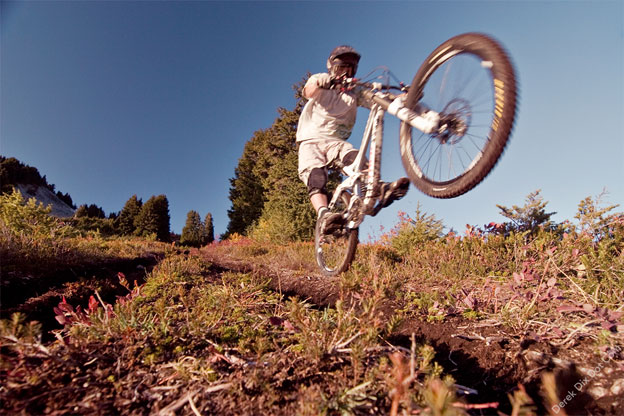 Derek got the shot but I got his arm.
Thankfully, you don't have to be a mechanic to tune the Session's suspension. In fact, you don't have to do anything – it comes custom tuned from Fox specifically for the bike. If you think you can do a better job, however, all you need is a shock pump and a pair of hands.
After seven months of abuse, the Fox suspension feels better than day one. Everyone swears by Fox shocks but many still haven't warmed up to the fork – the 40. This was my first experience on the 40, after riding just about everything else in the business. I can honestly say the 40 is the most predictable, reliable, and smooth fork on the market. It's the perfect match for the Session 88 and I hope to see it spec'd on more bikes in the future.
Many people have expressed doubts over the durability of the frameset and thin-walled tubing.  Isn't it weak? Not at all, actually. Trek's proprietary Alpha Red Aluminum is hydroformed and shaped to create a specific ride feel that's stiff and strong, not to mention sexy. Despite all the rumors, the Session's frame proved to be one of the most reliable and resilient frames I've ever had.
What's more, the attention to detail on the Session is like nothing I've seen before. Every bolt has its specific torque setting etched on, welds are smooth and consistent, the machining is incredible, the tubes are gorgeous, and the graphics are flashy. What more could a rider want?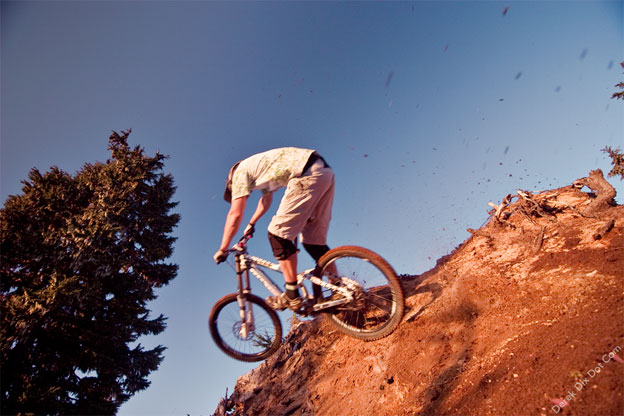 Connor hitting the slash and berm.
Bontrager is Trek's in-house component brand. It's becoming more and more common to find these types parts on mountain bikes for numerous reasons including price, ascetics, and control. Companies walk a thin line when equipping their high-end products such as the Session 88 with these parts, because they don't have the same reputation or appeal as name-brand parts from other companies.
Off the floor, the Session 88 comes with a Bontrager saddle, post, flat pedals, grips, bar, and wheel set. At first that seems like a lot, but the only part I had to replace before riding was the narrow bar. I'm a big guy and understand the advantages of a wide bar. I tested both the Chromag OSX and Truvativ's Boobar on the Session and loved both. (If you haven't tried wide have a look at Sam Hill or have a chat with Danu at Hukk Bikes.)
As for the rest of the parts, the Bontrager saddle and post have performed as well as they look, the grips are grippy, the pedals are pedally (if you like flats), and the wheels are still true. The Big Earl wheels were a big surprise. In fact, they appear to be the most reliable wheel set I've ever ridden. They may not be the flashiest or the lightest down to the last gram, but they work incredibly well. Regular wheel maintenance is the key to a wheel's longevity, but I've only had to tension the rear once and it's as good as new. Booya Big Earl!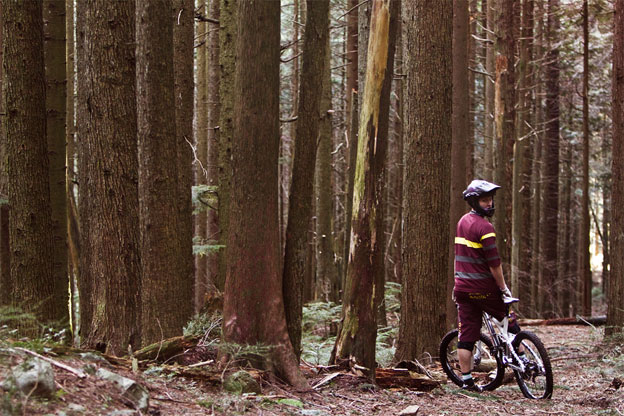 Taking a moment, to let Derek catch up.
So what's the catch? All I've done so far is rave about the bike and all its heavenly glory, because it is that good. No catch, but there is one minor flaw and that is Trek's decision to spec the Session 88 with Avid's Elixir CR Mag brakes. For those of you who aren't familiar with these brakes, they are one of the lightest hydraulic disc brakes on the market. Their intended use is "XC and trail".
Don't get me wrong – these full carbon and magnesium brakes are incredible…until you crash. All it takes is a light impact to the bar and the lever body cracks. I know this because it happened to me within a couple months. It's one thing when this happens in your backyard, it's another when you've travelled across the country racing and you have to track down a spare brake hours before your run.
Next year, I'd like to see the Session 88 come with Elixir CR' rather than Mags. I can handle the extra 45 grams a brake in exchange for the added peace of mind. 

Romancing the stone on board the Session 88.
I'm not limiting this bike to DH racing alone because of its versatility and ride ability. The Session is the perfect weapon for any rider looking to improve their game. I'd also recommend this bike for riders that love shredding but cant afford getting injured and would appreciate the Session's incredibly forgiving and controlled ride. The Session certainly changed my perception of Trek: it's clear that they are passionate for gravity riding and development, and I look forward to see what Trek has next.
If you're in the market for a new gravity sled, make sure you check out the Session 88 or its less-expensive brother the Session 8, which comes with a great build for $2,300 less.
Look like the kind of bike you want to ride? Think the tin-can myth has been busted? Take it to the boards and spill your guts.