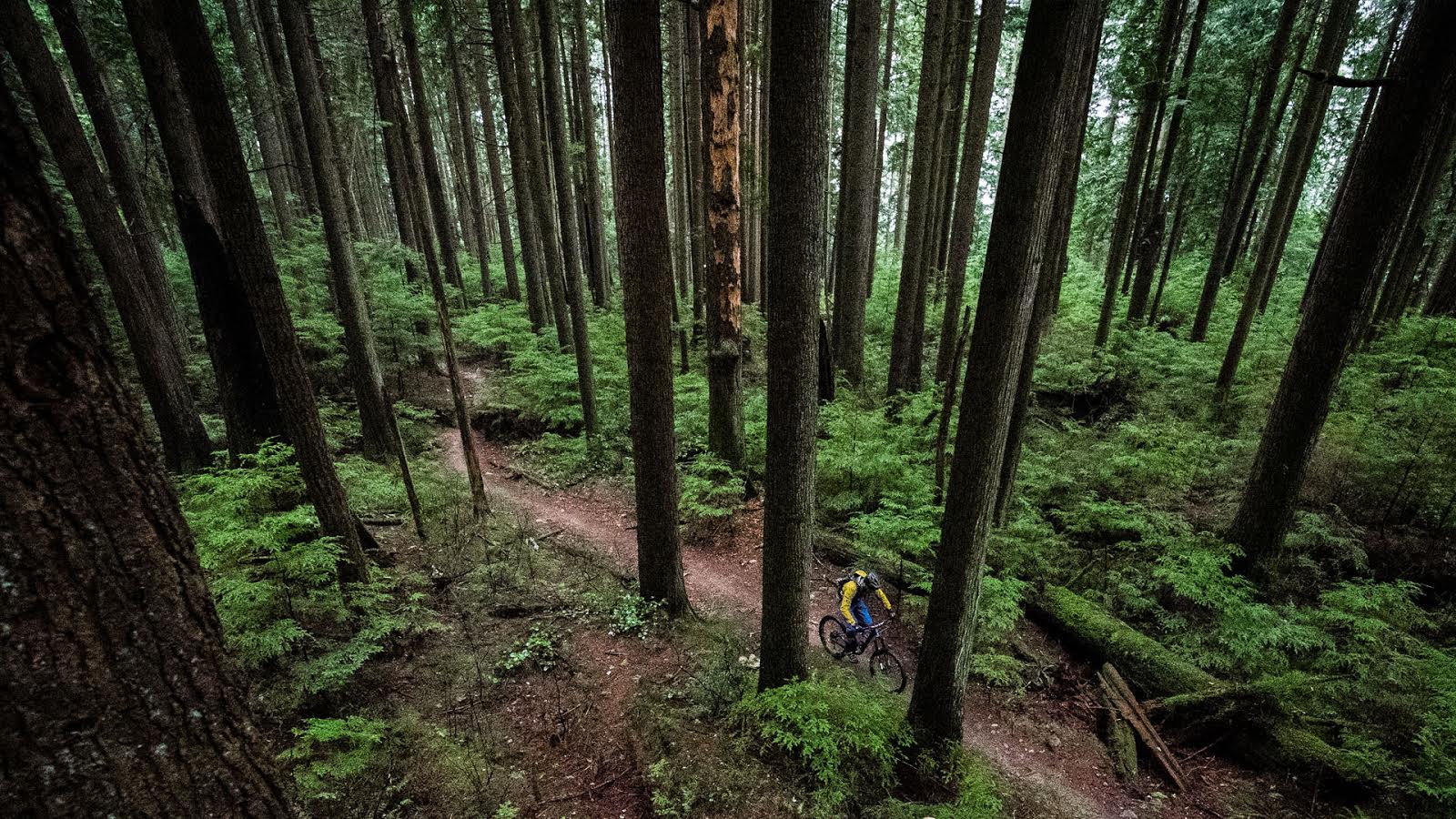 The Whistler Report
Well, the sun is shining, the trails are slowly emerging from their winter blanket after the second snowiest season on record, and skis are being passed over in favour of wheels. Its bike season in Whistler!  Hopefully this column will be a bit of an eye into the mountain bike culture and lifestyle that is Whistler, so look for chatter about the bikepark, valley xc, events, and maybe even some Pemby/Chilcotin/Squamish babble.  It may be long one week, and short the next, but regardless I'll be sharing the stoke via photos and maybe some video too. We love our riding, and for a lot of us that means a bit of everything; big bike laps in the park, dirt jump and pumptrack sessions, XC of all sorts, and everything in between.  So I guess we may as well get started. here's what's up in Whistler this week.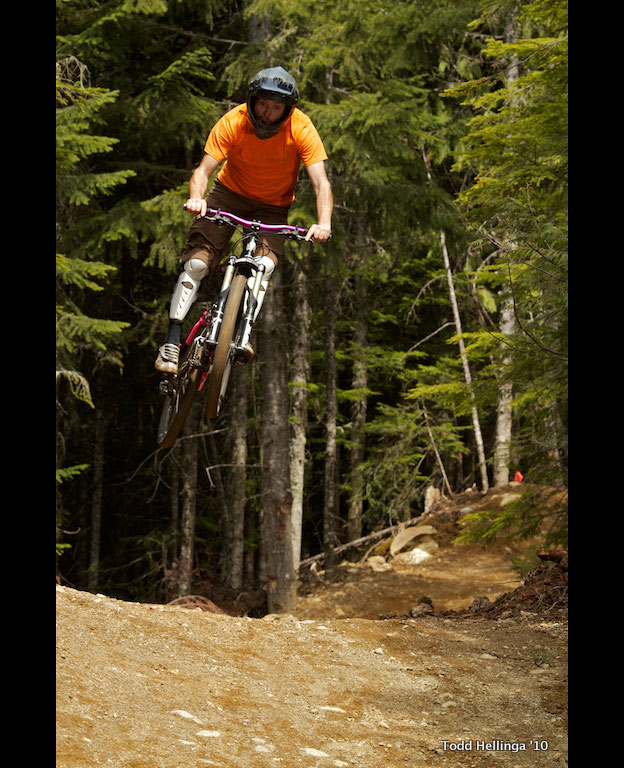 Hi, my name's Todd and I'll be your host, I also have fun sending it on A-Line! Photo ~ Carlos Zavarce
A-Line! A-Line! A-Line!  Okay, I love the valley XC a lot, but I'd be lying if I said I wasn't really excited about the park opening on Saturday.  While the trail crew did an outstanding job last season with much-needed maintenance on all the trails, their crowning achievement was the end of season A-Line rebuild.  If you didn't get a chance to hit it up in the last couple of weekends of '09, the whole upper section was rebuilt, as well as parts of lower, and let me tell you, it's the best A-Line has ever been.  I haven't enjoyed upper A-Line in many years, it had weird jumps that were hard to maintain speed over, short ones that needed to be longer, and vice versa.  But that all changed last fall when I went from being a pretty die hard hater, to a lover, in the course of a few berms and a couple of jumps. The whole trail just flows again; good speed that's easy to maintain with some bigger berms, and fun big floaty jumps all over the place!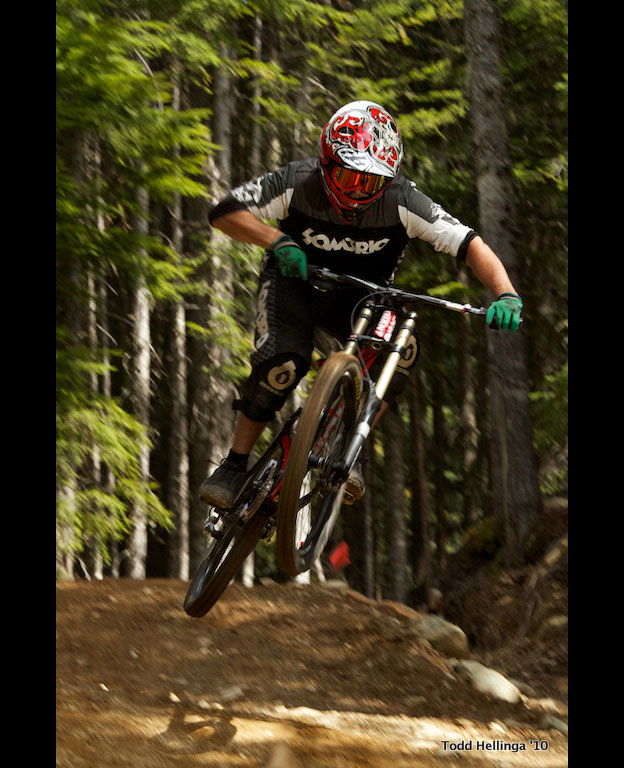 Carlos Zavarce moved back to the West Coast a week ago, welcome home buddy!
Went on a bit of a scouting mission on Wednesday and I can say that the trail is pretty much immaculate and has 'little bike' written all over it. I will definitely be spending day one on my Cove Hustler. Yes, its that buff!  I may even go so far as to call it right now and say that Saturday has the potential to be one of those 'best ever' days on A-Line.  The lips and berms have been buffed out, it isn't wet or muddy, there's very little snow run off and best of all, nary a braking bump in sight.  The trail looks amazing and I can't wait to shred it up Saturday!  Yeah, there will be some other trails open, but you really won't care once you ride A-Line.  See ya there.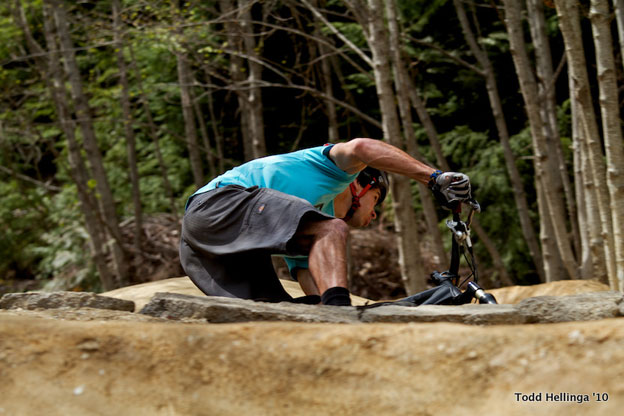 Dylan Wolsky at the local pumptrack, always a good time.
While the bike park season is only days away, many of us keeners have already been riding the valley trails for the past month or so.  The snowy winter is however taking its time melting out, and many mid to upper elevation trails in the valley remain under snow.  The lower west side trails have all been riding well, and the no flow zone in Emerald has been destroying early season legs with last weeks WORCA toonie race testing people's strength and stamina.  Section 102/Kill Me Thrill Me is also fully clear and open for putting you in your place!  In other WORCA news, the next Trail Day is May 22, come out and give back to the trails we all love.  Keep your eyes on www.worca.com for all your club news.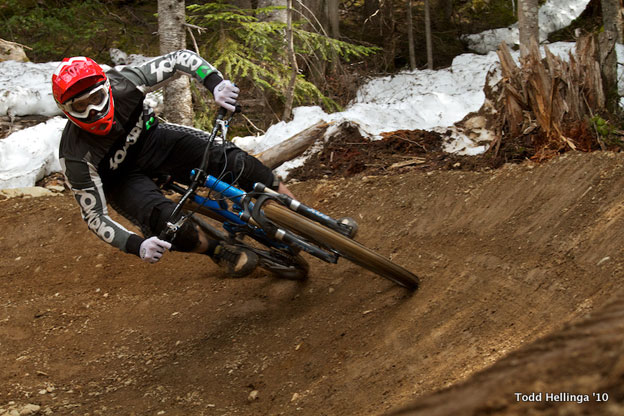 A-Line's berms have been raked to perfection, Adam Mantle approves.
This year is also shaping up to be jam-packed with lots of events, with races in all disciplines and levels of insanity.  The legendary 4 Jacks is being followed up this year with the 4 Queens, and after staring at the course profile of day 4 today, gotta say that my legs started burning just thinking about the levels of pain we're going experience on that amazing and brutal weekend in July!  More info here…   

On May 29 the inaugural Nimby Fifty will take place in Pemberton, although its actually only about 35km.  This is shaping up to be a doozy of a classic including a climb up the truly epic Big Nimby trail with its 101 switchbacks.  Lots more info at nimbyfifty.com and in this thread.  Riding has been stellar in Pemberton this spring and I highly recommend a trip north on 99.  Stop by the Bike Co and get the scoop on all the latest goods. You won't be disappointed!

Finally on the events side, Whistler/Blackcomb hosts the Crud to Mud Ski/Board and Bike race on May 22.  Ski or Ride from the Roundhouse down a course to the top of the bikepark where you swap out snow gear for your bike and pin it to the finish.  Lots of info on categories on their site.  The Fluidride cup also makes its debut in Whistler on May29/30, hope to have more info on that for next week.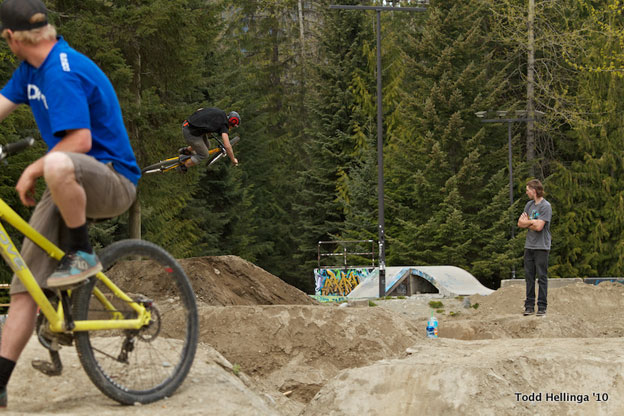 Alex Pro killing it while Kenny Smith and Mulletor look on.
Before I wrap things up, the Municipal dirt jumps have had their spring cleaning and seem to be riding well, see attached pic of Kenny Smith, yes, kicking ass.  The town pumptracks have also been a popular place to be of late. Lots of big sessions and people hauling ass around berms and rollers!  Finally, everyone's favourite watering hole reopens on Saturday at the base of the bike park.  Be sure to hit up the GLC Saturday night for a showing of Anthill's Follow Me, followed by Damage Inc. (Metallica cover band)  If you've been at the GLC for any of DI's other shows, well, you won't be missing this. Bring ear plugs!
See ya on the trails!
---
The Whistler Report is going to be a weekly feature on nsmb this summer.  Stay tuned every Thursday to find out what's running fast, what's happening, who's in town and where you should ride.  Heckling, approval and other nonsense should be directed here…