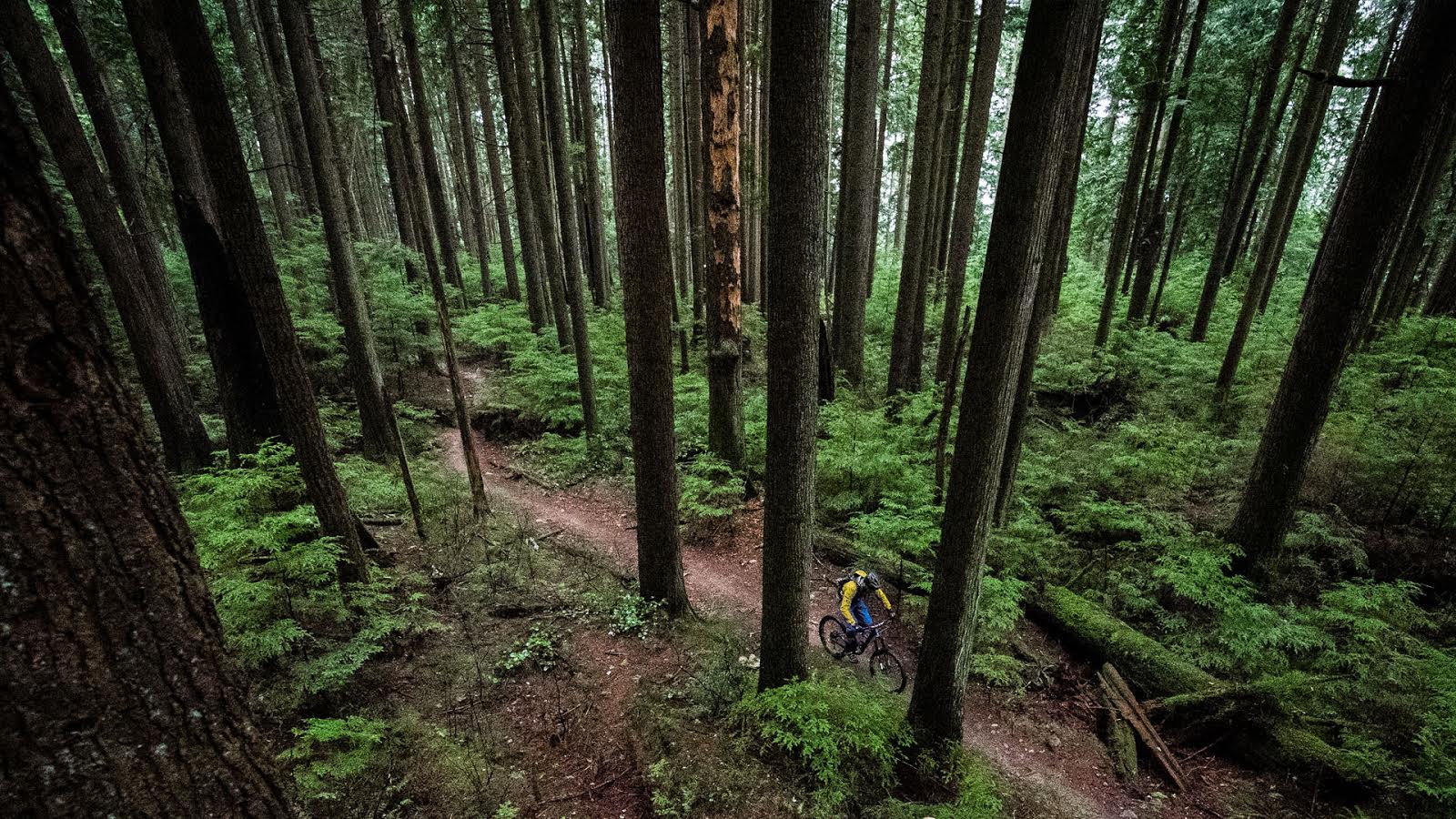 Wade's Wisdom
First of all I'd like to pass on my congratulations to Wade and his wife Lisa who are brand new parents.  There brand new baby boy was born on Tuesday and he's already gripping the handlebars.  That explains Wade's absence at Garda and Sea Otter – and maybe the delay in getting this out.  Actually no – that was my fault!
Earlier Wade asked this question:  "Are we living in a mountain bike Mecca? I don't mean here specifically, but in terms of time. Does the trail access issue seem to be cooling off? And I'm wondering if it's because of the work of advocacy groups, and the fact that the general population is just becoming comfortable, more understanding towards mountain bikers. People are slow to change..what's your view?"
Below you'll find a few responses – one of which has won a brand new set of Shimano XT Cranks.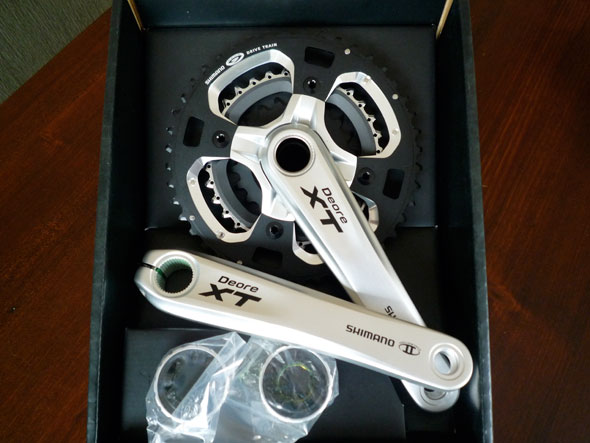 ---
Hey Wade!
I think overall access is improving but still hinges on a number of factors. The number one thing thats expanding the amount of trails we get to ride on is the efforts of dedicated individuals and grassroots advocacy groups building relationships with land managment agencies and the non-biking recreationalists we share the mountains with. Without their efforts mtn. biking would still be largely an underground "poach and run" affair in many places. I live and ride in Ashland, OR and have watched this issue go through different phases over the years. The bottom line here seems to be that as long as bikers maintain the trails that they ride, with permission from the other stakeholders involved, we can not only keep riding our longtime faves, but also make strides towards building new trails in the future. The key is making sure that everyone who uses the trails gets included in the conversation. Thats building local community, and if the community understands bikers to be a positive, responsible, and respectful bunch, then it will support more trails being open and more trails going in.
Cheers!—-Caley

  Caley riding near Ashland Oregon.
Hi Caley,
You make some great points. I totally agree with you that we need to bring all user groups together, and unify the advocacy actions. We all share the same core interest, getting out in the local trails/parks and recreating. It seems so hard to work together when in fact we are already connected on a fundamental level. When we lose the resource to development or other, we will all be looking at each other thinking the same. Which, could be the case soon in West Vancouver where the Rodgers Creek development many cause some trail/access loss, check it out at: http://www.britishproperties.com/communities,future_communities.
I also like the point you made about bikers maintaining the trails they ride. If done well, that will not only keep the trail great and enhance it for other users, but will also open the eyes of the opposition groups and naysayers. Only time will tell, as always.  
Now, bikers being a responsible, respectful bunch, well… we might have our hands full! Positive…for sure! But I guess that all depends on the trail experience.
Cheers, Wade
---
Wade,
Just wanted to drop you a note about the access column you posted up on NSMB.  My name is Adam McCoy and I am a northwest kid that grew up bmxing and skateboarding in the 90's.
Just want to give you my thoughts on the this access issue.  It kind of reminds me of street skating back in the early 90's.  Skateboarding was booming with new school deck shapes and innovative tricks.  I remember being 14 years old and getting dropped off at one of the banks in town where about 20 or more kids were skating a waxed up ledge and busting crazy high speed low to the ground flip tricks.  The scene was so sick and the vibe was on point. It was like skateboarding was totally reborn.  Skated where you want and when you want. Even the local police department didn't know how to handle the situation with all these kids waxing up ledges and grinding the paint off of handrails.  We would just skate all day long moving from one parking lot to the next as we got kicked out. We were such a large group that we had power and confidence. For a long time Access was unlimited.  We dominated for a several years and eventually the city built a skate park. Skateboarding was never the same again.  Kids lost the creativity of the streets and became programmed to skate what the city provided which was totally crap.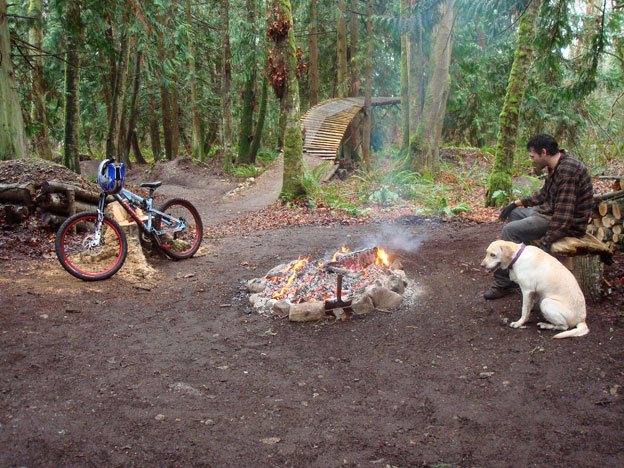 This somewhat reminds me of our scene with bikes and access.  We have so many sick renegade outlaw trails in the deep woods. Even most legit trails started out illegal.  These skate kids got away with the streets for so long in the middle of broad daylight.  We have the cover of the woods and build incredible trails in remote locations before any even knows what is going on.  Our scene is so much bigger then most realize because it is not happing on main street in public parking lots on a Monday afternoon.  As a rider and builder, I am often surprised to hear about a new secret trail, or that some friends bumped into some ladder bridges when hiking out to a deep woods fishing hole. You think your in the loop with other builders…  Every builder has their hands on some cover project or two.  Now when driving down the I-5 I look at every tree covered hill to the east and wonder just how many secret trails there are on each one of them.
I recently attended a DNR meeting last month to listen on a discussion about recreation and access to the forest lands.  They told us that there were over 1000 miles of illegal trails in Skagit county alone.  They were totally aware of what was going on, and had talks to maybe someday adopt them under a DNR user agreement.  This would probably result in rules and limits on heights of drops and gaps and other restrictions. Imagine handrails on every ladder bridge!  Some decisions would be for the environment to have some control around salmon streams are good, but this change would take the scene to a new place.
So for now the access to me is what you want it to be.  If you want park, go to Whistler, if you want gnarly single track or free ride trail, go build one, or find someone who already did, probably on a hill pretty close to your own.  There are so many choices around here it is hard to believe I live here. Hopefully there will still be places where the scene can exist beyond the politics and preset rules. I call it the "micro scene" just you and a few buddies and your secret spot deep in the forest away from main street. Enjoy what it is now, because someday we'll be talking about the good old days.
Adam
Hey Adam
Great insight into the scenes and situations of mountain biking! So many parallels to be drawn between other sports. The template is cast of where MTB is to go I suppose, if you look at the growing pains in the past of skateboarding, snowboarding, etc. I am in 100% agreement with you in the fact that we have to keep things interesting and changing referring to your comment about kids losing the creativity in their riding/shredding. Bike parks could/do have the same effect. I guess we do need a standard to things, if recognition is to move forward.

The access we have to riding is cherished by people elsewhere. You, me, Forest, we know this, and that's why it's a special time when we get shown the goods in a micro scene. When you hunt long enough for "the goods", you get this knack of finding it. When you're ready for a trail, it'll find you! That's how the feds at the meeting know about it. If you really analyze it, there is no way the DNR will ever have enough power to police all the trails. This is why I always chuckle a little when I here a zone might be shut down…impossible!

Good read Adam, thanks. Would love to get down and rip with you like the good ol' days!
Wade
---
Aloha Wade,
I'm from Salzburg and I know you from riding at lake Garda (in Spring 2007, we did a shuttle ride together up Mt. Baldo) and Kamloops (I bumped into you and Johnny Smoke, you were riding with a group of nice guest, I'm the one who crashed on a wooden gap jump and ended up at the hospital, nice boobs from Prince George though but I can't remember them because of my crash;-)).
When I went to BC for a year I had a certain picture about the shore and the trails there in mind. The trails didn't disappoint me at all! But I didn't expect at all that there could be something as "trail neighbor issues". But when living in NV I realized so close to the city it is pretty the same pain in the ass situation as here in Salzburg. Too much people with different interest and some of them with to less of an idea about what mountain bike free-riding is about; Even worse in Austria we a forced to ride on hiking trails all the time. All the land is owned by private persons and when riding down a certain trail you will very likely pass the land of 10 or more different landlords. Because of this there is almost no chance to get a permission for building a trail (there is always at least one grumbler). So when riding a trail you will pass by hikers. Some bikers slow down, greet, wait and when the hikers went by, ride on. But some bikers don't care about hikers and fright them when showing up fast. This is not a big issue on less utilized trails but became an issue on our local mountain (Mt. Gaisberg, pretty much within Salzburg which is awesome but lot of hikers and bikers). Even worse some local bikers organized a illegal downhill race the end of last summer which didn't de-escalate the situation at all. Shortly after the event park rangers started to put notes onto cars (yes, some riders drive up the mountain but not me;-)) saying trail riding is illegal (to be honest they are right, that's what our law says) and when doing it again they will get sued. Later on I have heard that never police started to intercept riders on the trails giving them tickets. For now it is silent because of winter time. But in the spring…
Tricky situation. For our local mountain I would say things got worse! Guess we have to back off for a while riding other trails on other mountains AND we have to teach some riders how to deal with hikers (the motivated youngsters mistakenly think trails are downhill courses;-) ). Doing an illegal race is probably stupid at all.
In general I think riders get organized lately. Even in Austria some have achieved a lot in terms of opening up trails for riding. Guess we should found something like the "GMA" (the Gaisberg Mountainbike Association) but as always everyone is waiting till anyone else is doing it. I really like the idea of the NSMBA trail days. I have even participated at one during my year in BC. It was fun and I felt I have given back something the shore has given to me (English is not my mother tongue so this may sound a little pathetic;-) Anyway, me and my buddies look forward to an awesome summer! If you are around Salzburg give me a shout. I'll be able to show you some flow trails. Are you coming to Lake Garda this spring?
Andreas
Hi Andreas
I remember your crash in Kamloops, that was a good day riding, except for the crash of course. You opened up a big gash that Smoke attempted to close. I remember too, that you were stepping it up because the girls were sending the big jumps. Good times.
 
No Garda lake for me this year because I have my first baby due May 13. I love that place! What a beautiful area for riding and hanging.
 
Sounds like you are having the same problem in Salzburg as everywhere else mountain biking is popular. I also understand that in Austria, riders are on hiking trails mainly, and that you have a much higher population density than what we have in Canada. Not to mention all the private land too! But oh, those hiking trails are sooo fun to ride!  As a rider, you really have to be so respectful in that situation because you are on "illegal" trails. I don't buy that totally though. Some trails are for sure strictly hiking. But the others are only illegal because people are adhering to laws that were written probably so long ago that a mountain bike didn't even exist. Times do a change, and we are in the time of laying down the roots for mountain bikes to prosper. We, as mountain bikers, do have to show respect to the hikers but once those hikers die off, God bless them, their kids in tow will be familiar with our needs. They probably ride themselves. Riding communities need to bond together and organize trail days. It really gives you a great feeling when you participate in a community trail day, something hard to describe. "Giving back to what it gave you" was well said. Maybe you should be the one to organize a trail day in Salzburg. Like you said,"everyone is waiting till anyone else is doing it".
 
I'd love to come shred some flow trails with you Andreas, hope to see you soon!
Cheers,
Wade
---
Wade's busy with his new baby boy but he did choose a crank winner.  Caley from Ashland gets the hook up!  Email me and we'll sort out getting them to you.
Thanks to everyone who wrote in and to everyone who is working toward a sustainable trail system and keeping things harmonious with other trail users.