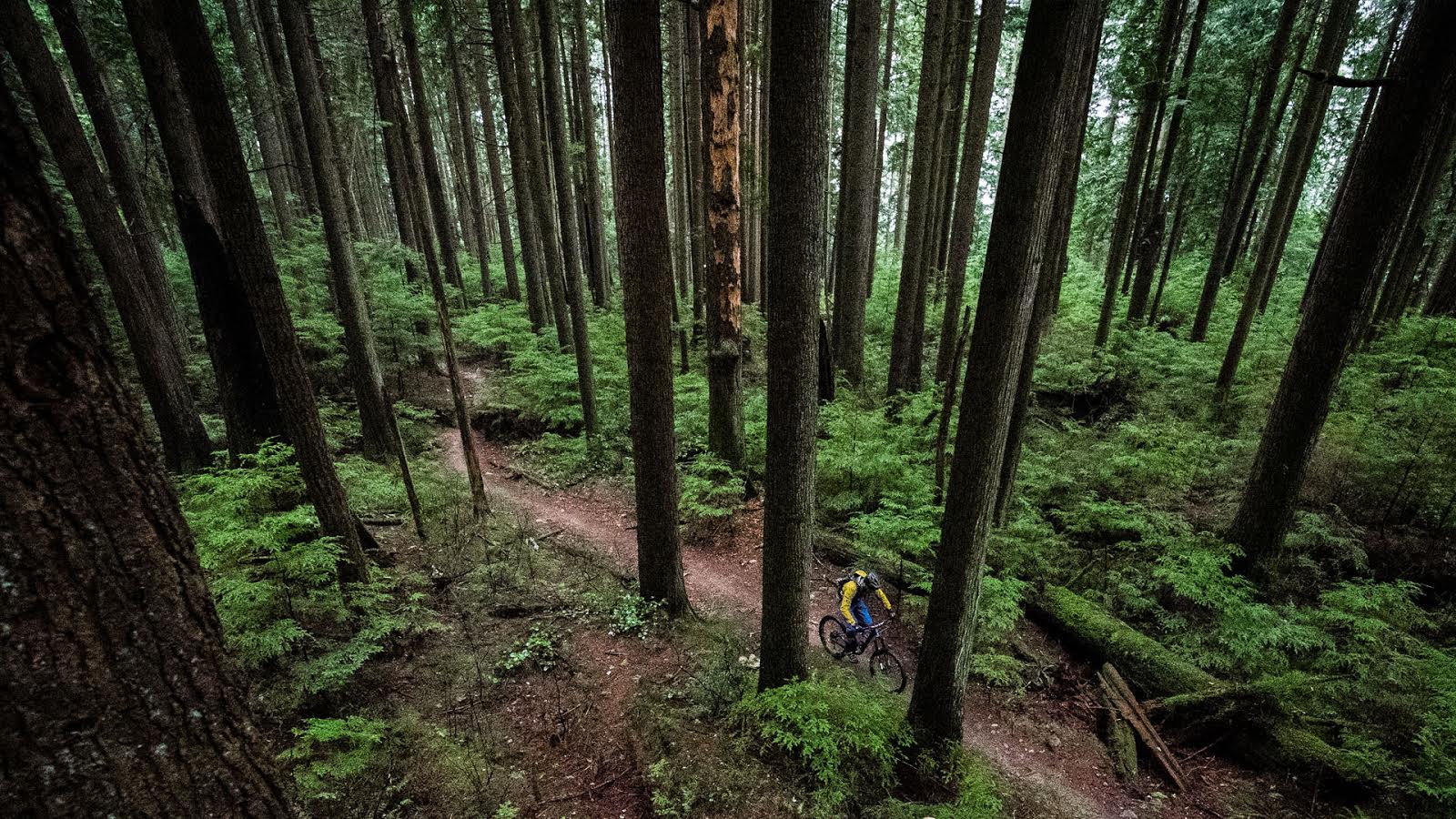 Black Rock
It's the location of Wayne Goss' segment in NWD 10.  It was highlighted as one of America's 'Secret Stashes' in Bike Magazine's July 2009 issue.  On the cover was a picture of Kurt Voreis leaning into a succulent rusty red berm in Black Rock, Oregon. I drooled over the photos inside that issue. Voreis tabling his bike through the pine trees, McCaul dropping big wood-to-wood platforms.   The rich red dirt looked so moist and inviting in those photos it begged you to stroke the page when no one was looking.  I read words like 'paradise' and 'miracle'.  I knew I had to get there.  Black Rock was promptly moved to the top of my bucket list. So when my friend Brad Horsely from California told me he'd be stopping in at Black Rock for a few days on his springtime migration up to Alaska, I dropped what I was doing, packed my bags and grabbed my passport.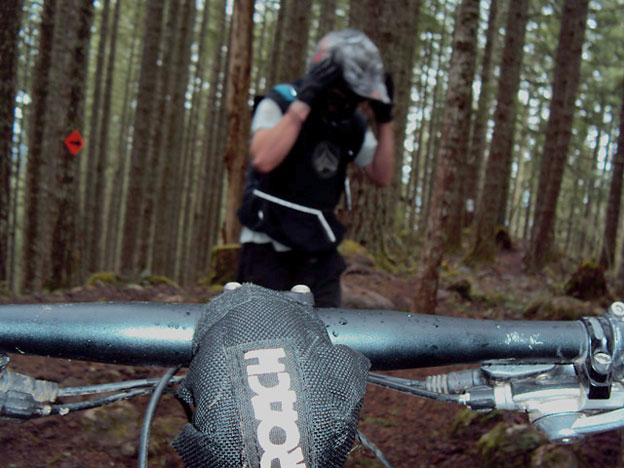 Finally ready to drop in for our first greasy run.  Brad didn`t know it yet, but he would be face down in less than a minute after this pic was taken! Thankfully it was the only wipe out of the whole trip. Photo ~ Mark Wood
I left smoke in my wake and stopped little on my 8-hour drive south on the I-5.  I roared through Washington and when I made the Oregon border, I made a right turn at Salem. Driving through a handful of small towns littered with moss covered roofs and rusting Chevys, I finally found myself in a small, empty parking lot just outside of Falls City.  I stood at the base of the forested slopes of Black Rock, a babbling brook behind me as the only soundtrack.  It was quite an unassuming starting point for a treasure trove of riding.  I couldn't wait to see what the pines concealed.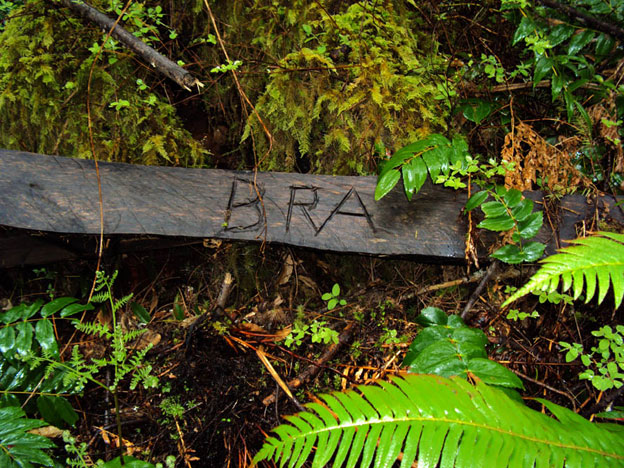 BRA!
On day one the mountain was ours.  It had rained lightly all night prior and we soon discovered the dirt was slick and skittish in the wet.  Pushing up the access road, we could see the trails snaking through the forest.  We pushed into the trees, scouting one of the jump trails, assessing the gaps.  The soil was definitely greasy on both the lip and landings so we weren't keen on hitting much if anything until it dried a bit.  Avoiding stunts and jumps we decided to explore the green ranked Banzai Downhill.  It was a perfect example of what sort of fun you can have on a green run.  It was a fast, buttery smooth trail and from the moment we dropped in we were treated to a symphony of berms on a 10 minute descent.  From the first turn, I felt my back tire slipping.  Within the first minute, Brad's bike washed out from underneath him, slamming him in the blink of an eye.  Covered in greasy dirt, he learned an early lesson as we continued to the bottom; more drying time needed.  Taking a long lunch at the bottom we purposefully gave the dirt some time.  We wanted to hit some of those perfectly built jumps we had scoped on our push up.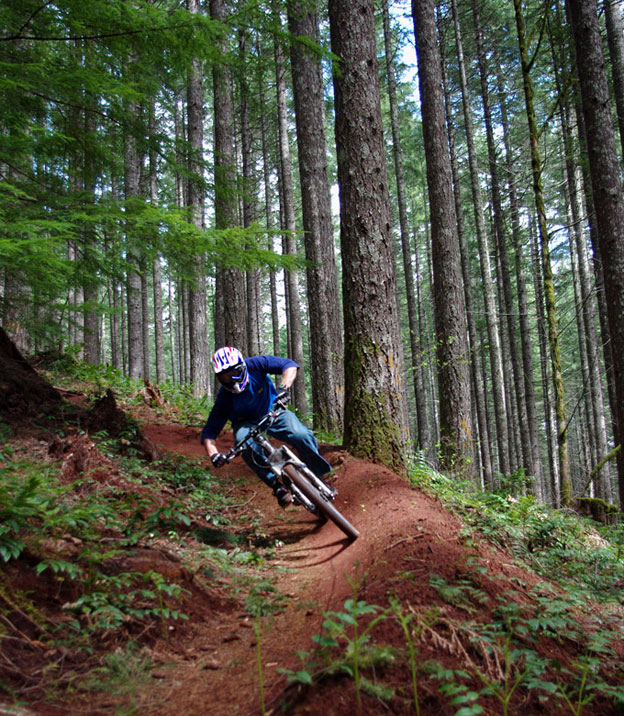 The berms at Black Rock should be filed under `perfection.`Photo ~ Brad Horsely. Rider ~ Mark Wood.
By the time we pushed back up the dirt was much different.  It dries quickly.  We were ready to try one of the best jump tracks on the hill now that trails were tacky.  Brake Check is the A Line of Black Rock.   Albeit all gaps vs. tables, it is a two minute line that starts out with some smaller jumps/drops on top with Sunday Stroll, letting you get your flow before hitting some of the bigger features lower down like the 25 foot step down or the 20 foot hip. In all, there are over 20 gaps on the adrenaline-charged run.   Brad had arrived two days before me and had the line dialled.  "I knew I had to get it figured out before you rolled in!"  He figured he owed me for the guiding I gave him in Whistler last year.  You gotta love having friends like that.  I'm not sure I'd be confident hitting some of those bigger jumps by myself in such a secluded spot.  From the first run down Brake Check I couldn't wipe the smile from my face.  I'll admit, it took me a handful of runs over two days to get it dialled. But the take-offs were gentle senders and the trannies super smooth, making it easy and inspiring confidence on every run.  If you were a bit short, each jump had a 'cattle guard' as the locals called them; a case pad of wood slats. Brad would excitedly ask me every time we passed each other, pushing our bikes as we sessioned the line, "Did you get wood on that run?"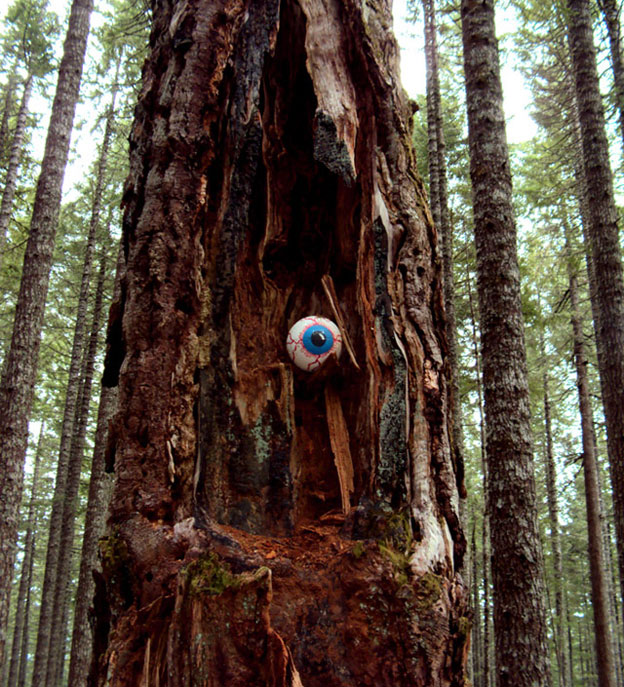 Sometimes it felt like you were being watched.
As we sampled the other trails, I discovered you could go as big as you dared here.  The trails are filled with gaps, wood to wood stunts, rock drops and ladder rides.  It's a great spot to push your limits and step up your game to whatever level you want.  You might find yourself going bigger than you ever have before.  Riding Black Rock is the equivalent of a powder day for a skier or boarder; it makes gods of men.  Most stunts offer two lines – big and bigger. What's great is you can trust every stringer, rung, take-off and landing because everything on the hill is professionally built and governed by a code of construction standards laid out by BRMBA.   Tucked away near the top, visible from the road, is a pro line that includes a 20 foot step up called the Salad Mixer.  Seeing it in person though, it is much bigger than 20 feet implies.  It has dire consequences if you miss the platform landing.  Should you come short, you'll fall into a boulder field two stories below from which you'd be lucky to walk away.  Owen from BRMBA told us a story of a visiting pro who ditched his bike in the air when he realized he was coming short.  Desperately lunging, he managed to grab the end board, dangling off the lip by only his fingertips!  "Most pros take a look at it and figure the risk just isn't worth it," Owen continued, "we're thinking about laying in some bark mulch below."  I decided I'd wait until they had installed mattresses before giving it a try!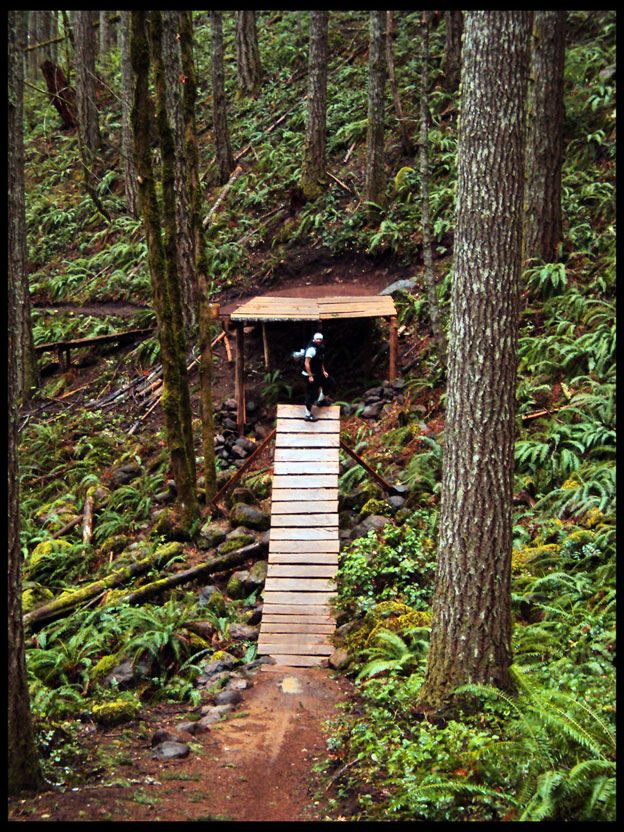 The Salad Mixer.  It`s a big lip and a full commitment unless you wanted to end up shipwrecked on the boulders below.
Although there's big enough stunts for the hard core, there's some featureless trails too that offer buff, high speed flow that will make your eyes water.  And anyone can ride them.  Regardless of what line you take to get to the bottom, your tires roll on magical dirt.  Sure, it was slick in the wet, but it dried quickly, and properly moistened, it sculpts like a Rodin and predictably holds your tread. If you've never fully experienced what it feels like to truly rail a berm, you easily find yourself leaning into the dirt, listening to your tread make that delectable high speed 'PFFFWAAAP' sound, shooting you out like a bullet.  If the marketing people were to come up with a slogan for Black Rock, I might suggest 'Satisfaction Guaranteed'…for everyone.
On our second day the sun was shining bright and the dirt was now absolute perfection.  It was a deep maroon, grippy and predictable. We wouldn't have it to ourselves today however, but that was alright. There was plenty for everybody.  At the parking lot, there were two riders with New York plates busy building their DH rigs, on their way back home from Sea Otter.  They were first timers as well and were eager to savour the goods.  On our climb up the road, Brad was sure he'd heard a truck behind us.  Sure enough, we turned round to see a shuttle vehicle pass with a couple bikes in the back.  I stuck my thumb out for the next truck and Andrew Shandro stuck his head out the window "Sorry bro, we're a bit tight for space."  It was a full truck; Vanderham, Gulevich, Shandro and like a rose amongst thorns, the Canadian beauty Darcy Turenne.  They would be shooting for two days in Black Rock with Sterling Lorence, for the 2010 Dakine product line.  Black Rock certainly kept some good company.  It was their first time here as well, and they were quickly getting stoked on the flow.  When they later passed us coming down as we pushed up, they stopped for a break to absorb the atmosphere.  You found yourself doing that a lot here, just looking around and appreciating the solitude of the place.  All I could hear was Gully saying over and over, "how about that dirt eh?"  I think in total, there were no more than ten riders on the hill that day, and half of us were Canadians.  Good company indeed.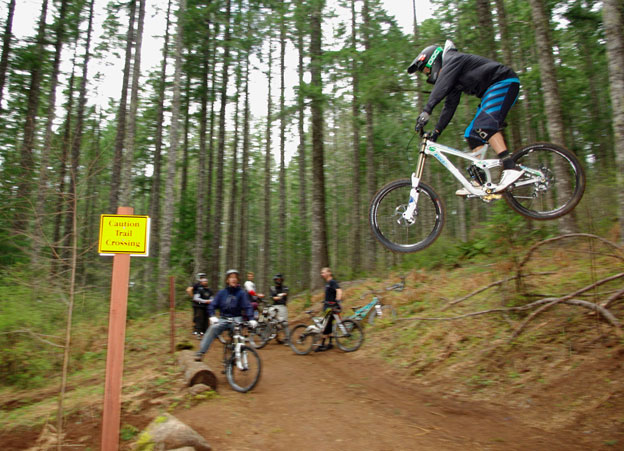 You had to look left, right and above at any road crossing.  You never knew who would be dropping in.  In this case, it was Andrew Shandro.  You can see Sterling stoked in the background! Photo ~ Mark Wood
With an access road comparable to the grade of the fireroad on Fromme, the push to the top is the equivalent of going up to the seventh switchback. It's a little over an hour push or an easy 40 minute pedal. And since the road is never far from the snaking trails, you can easily jump off the trail to push your way back up to session your favourite parts. The trails here were rarely steep, including lots of side cut sections with the main emphasis on flow – and little braking required.  Perhaps this was why there weren't any brake bumps to be found.  With the exception of the short technical rocky section up top, and if you can refrain from casing jumps, you could easily run single ply tires here, which I did, never flatting once.  Plus, nothing is armoured – it's not necessary.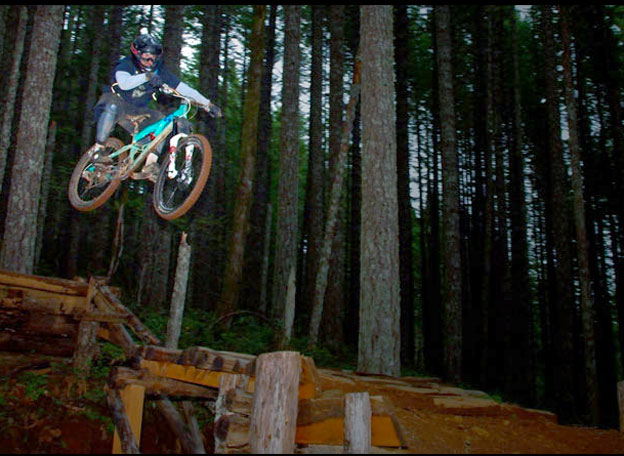 Brad not getting wood on the step down on Brake Check.   Note the cattleguard and how that dirt sticks to the tires.  Photo ~ Mark Wood

Although at times it would be nice, you don't really need a big bike.  Sure, we saw lots of pros styling their big rigs, but my 6" Nomad was big enough to handle most of the big lines and still be nimble and quick in the serpentine berm to berm to berm trails.  It was nice to have something you could hit everything on the way down and pedal back up to do it again.  Whatever you ride at Fromme, Burke or the Woodlot to get you to the top and charge it to the bottom, is perfect for Black Rock.  But if you want to hit the bigger stuff, and a big rig helps you with inspiration, that'd be no crime. Brad had a 7" Commencal Furious overbuilt to easily 50 pounds.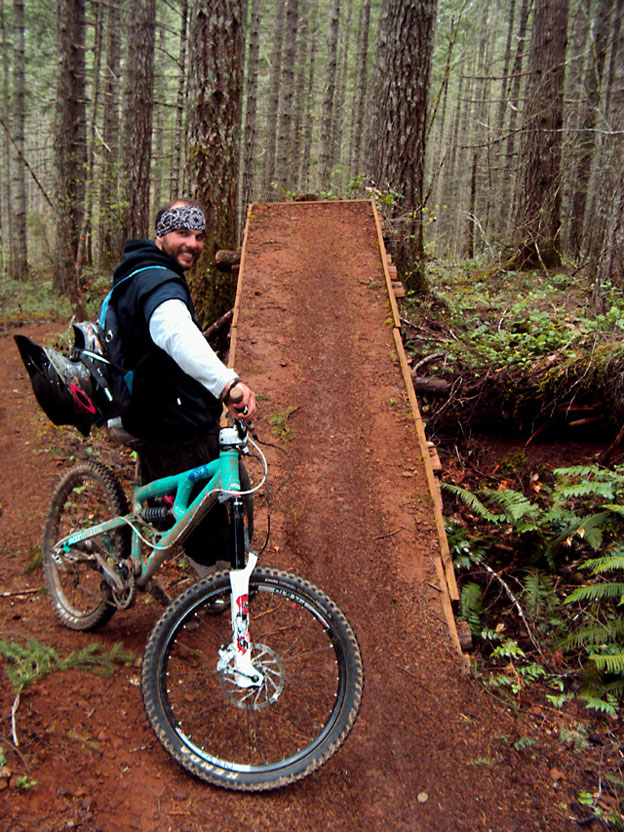 A couple jumps required you to split the goalposts.  This was one of those.  One of Brad`s favourite take offs, this one had a beautiful cribbed in lip. Photo ~ Mark Wood
We later sat with the Dakine crew at the bottom of the hill at the end of the day.  Gully & Darcy were joking and playful, hamming it up for the camera. Vanderham was quiet, eventually pressing Owen about the big jumps on the hill.  Shandro was gracious and engaging and we spoke of the Shore back home, how much he loved the trails, but also how we could use a bit of what they had here.  "Don't get me wrong, I love the Shore, but it's a tough place to learn," he continued, "and we've got such an opportunity from a tourism perspective." I had to agree, remembering how the Shore could beat down a beginner, or test even a seasoned rider on our 'green' runs.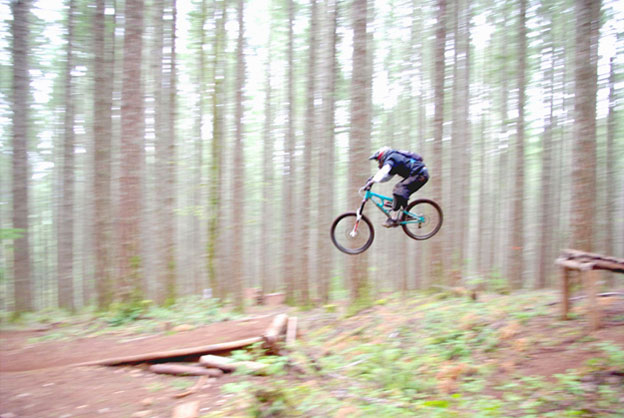 This one was a bit of a reach right after a berm.  You`d have to take 3 or 4 big ring pedal strokes coming into it to hit the sweet spot on the tranny Rider ~ Brad Horsely. Photo ~ Mark Wood
Some berms and flow with little consequence would be a nice addition to the Shore.  Someone new to the sport could experience all the good things about riding at Black Rock; the fresh air, the exercise, the flow, the spirit of it all.  And that's how you foster a culture; make it easy to take those first few steps.  Frankly, the more people we can have riding bikes the better.  You start from the ground up and create a fun environment that provides an opportunity for challenge and progression.    Here, before us, was a shining example of an inclusive riding area.  Shandro came back from the cooler with two cold ones for us.  We greedily drank to his health.  "Those beers taste good don't they boys?" he asked.  I smiled, thinking to myself, almost as good as the dirt Shandy!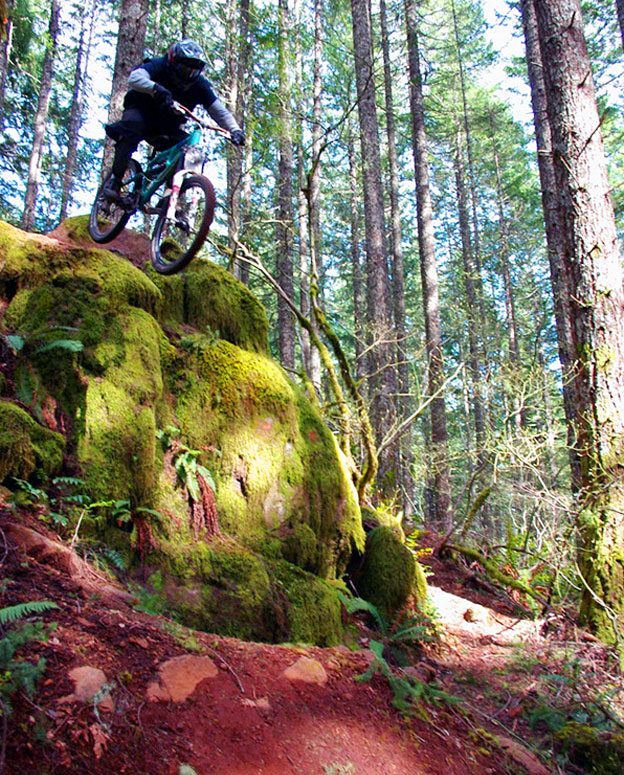 This was a fun drop they call the Cliff Drop.  There`s two lines off the top, on the right side looking at the photo is more of a popper lip if you wanted some extra hang time. Rider ~ Brad Horsely.  Photo ~ Mark Wood
When we packed our bikes in the parking lot two dads were heading up the hill with their combined four kids, all under ten years old.  I doubted they would be hitting the gaps on Brake Check, but that may come in time.  The kids were regulars by the sounds of it and they were excited to get climbing, one of the boys excitedly talking about beating his best time to the top.  I asked him what his secret was to being a good climber and he told me to "Take it easy, you've got to have a steady pace." I loved his confidence as he sincerely gave me advice.  Here was a kid who had all the options just a few pedal strokes into the forest; smooth buff cruisers, gaps and drops for when he was ready, and all the steps in between to set him up for success. 
Black Rock is a very special place.  It was "satisfaction guaranteed", for all levels of rider.  It lived up to its hype and well beyond.  I'll most certainly be back, as much for the greens as the double blacks. 
---
Have you ridden Black Rock?  What's your take on this hidden gem?  Serve it up…