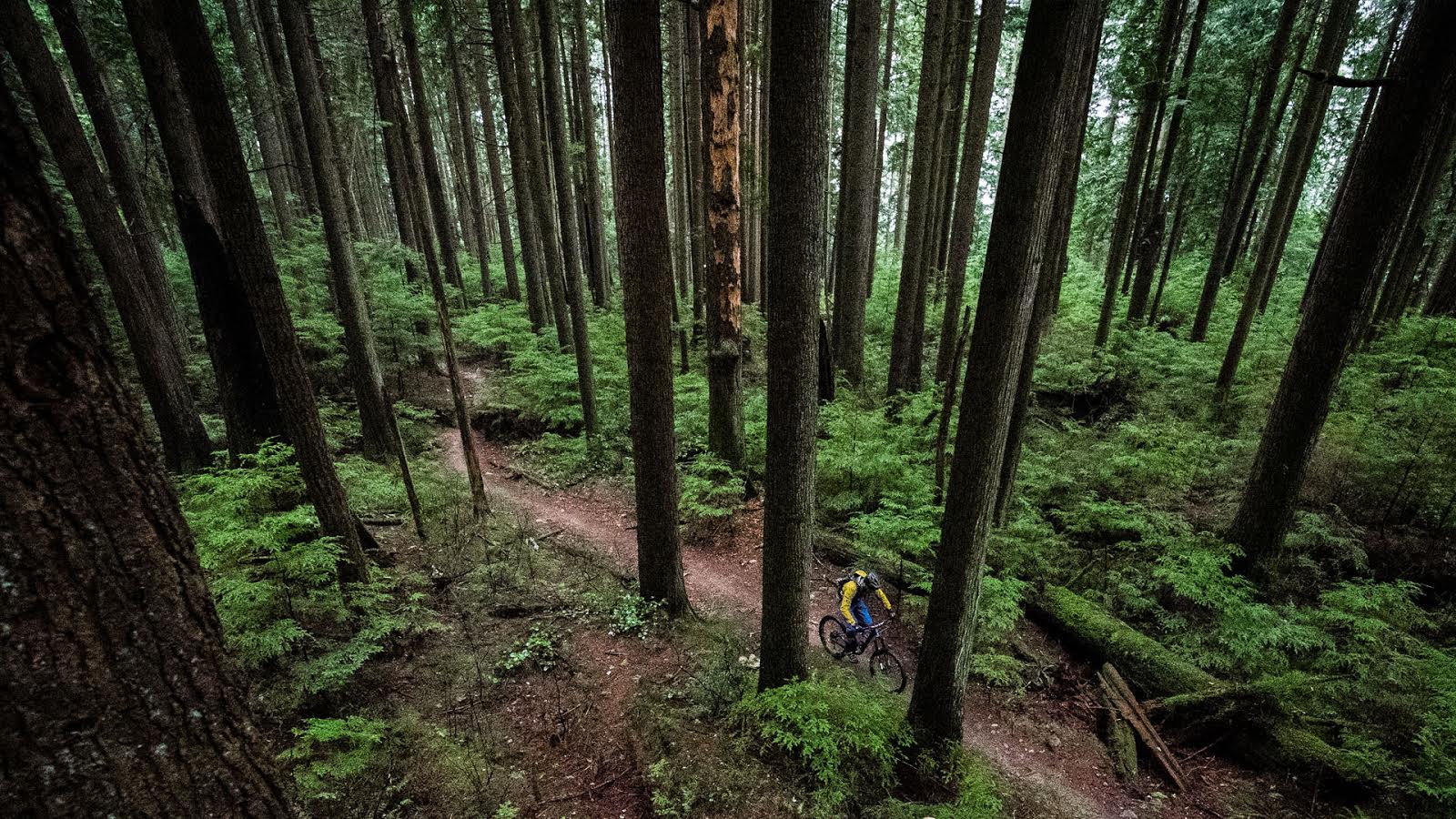 Sea Otter Cassic 2010 Trip.
Here we go again! (no relation to the film) It's April 13th 2010 and a portion of Team Wolf is off to Sea Otter. Justin Wyper, John Rempel and myself are accompanied by Wylie Easton and Sam Dueck for a road trip from Langley, B.C. through the western States with the eventual goal of ending up in Monterey, California for the Sea Otter Classic as well as Aptos' famed 4:20 Post Office Jam. Anyway, on this trip we're gonna try to keep it a little more informed, so the aim is to give you guys daily blog posts about the trip, so look out for that!
Day 1
We filled up the NSMB Tacoma to the brim in Justin's driveway with bikes, parts, gear, sleeping bags and Watatchee then headed for the border, not really knowing what to expect.
Loading up the truck took a little longer then planed, there where to many things and not near enough room. 

Justin Doesn't travel with out his wolf Wa-Ta-Chee. (Wa-Ta-Chee is a real wolf… and there is no way we would let him bring him, he brought the smaller vertion.) 
 Turned out the border guard we met was super bro, he let us through with little problem, though it was all I could do to stifle my laughter when he looked at John's passport and Drivers License photos. We crossed the line at around 9:00 pm and after loading up on energy drinks, beef jerky, peach Os and unfortunately pork skins, we were officially California bound. 
 You know you are in the states when you can buy Pork skins at your local gas station… these are probobly the worst smalling "chips" (if you can call them that) you will ever smell. Thanks John!
Wylie confused Washington DC with the state we were currently in and requested a side trip to see the White House. Our emotional high was tested early however when the GPS made us exit the I5 early in Seattle and do a sick loop around the University of Washington before spitting us back out onto the Interstate as if nothing had happened. Regardless, we were now back on track and with oar the GPS saying the estimated time of arrival would be in 14 hours we weren't doing too bad.
Gassing up was something that happend many times on the way to Seaotter. here we are gassing up wile lost by the washington university.
Wyper decided he really needed to get in the zone for his driving shift, so after popping Ke$ha on the stereo he turned the Cruise Control on the truck and settled in for the long haul. Our plan was to drive through the night to get to Aptos around 2:00 and hit up the famous step up. The thing is I was writing this post at that time, so it has yet to be determined if we'll meet that goal, one thing is for sure though, if John's memory bank is as good as the stories he tells, we'll be entertained the entire trip.
Day 2
Well the overnight trip turned out to be a pretty good idea and we arrived in Aptos at 1:30 surprisingly awake, and ready to ride. I got pegged with the graveyard driving shift, which turned out to be not bad under the circumstances, just kept the tunes loud and talked to Wylie and John about how highways need to have massive bermed corners to make it funner to drive. Anyway, we made it, and after stopping at Epicenter Cycles for a quick repair and "pro walk" at Post Office we headed to the step-up. 
John any wylie… what more is there to say… just look at this photo, neither of them drove, but both where wired on rockstars the entire drive down keeping us all entertained and those who wanted to sleep awake.
 
Epicenter is a new shop about 100 meters from the post office jumps… and what makes this show so cool? it is owned and founded by MR. Cam McCaul. they are also super cool and helped us out with a few bike repairs wile we where in town. 
The session at this jump was pretty awesome under the circumstances. Some pretty cool stuff was thrown considering we had just driven 16 and a half hours with minimal sleep. Things started off quite hairy, with us barely being able to do our stock tricks trying to get used to the lip, with me puncturing my front tube mid 360, and Wylie accidentally kicking his valve stem across the jump, but after a while it turned to a rad session. Everyone was trying new tricks and dialing old ones. Wyper was throwing sick NFC flips, 360 tuck no handers and had some solid truckdriver attempts. Sam the trick machine, who just learnt barspins, threw a double, as well as 360 truckdrivers, 360 tailwhips, flip whips, super flips and double whips. I was super stoked on the day myself, as I learnt some new tricks such as dumped 360 t-bogs, 360 tables, no look flips, flip unturndowns and was sooo close on 720 attempts.
step up. from justin wyper on Vimeo.
step up. from justin wyper on Vimeo.
Now greasy, sore, tired and hungry, we brushed off as much sand as we could and headed over to Los Gordos, Aptos' legendary burrito joint for some dinner. After ordering much more than we could eat, our new goal was driving about 40 minutes to Monterey and checking in to our semi-shady motel. Thus ending day 2.…
Day 3
After some much needed but inadequate sleep, the crew threw about ¾ of the bikes in the truck and missioned over to Laguna Seca  Raceway, the site of the Sea Otter Classic. Wyper had hours worth of meetings to attend to and Wylie and John were late for Dual Slalom practice, so me and Sam basically chilled with Casey Groves riding pumptrack and little dirtjumps at the College Cyclery test area for most of the day. Walking around the pits at Sea Otter is definitely one of the funnest things to do for a dedicated rider. The place is filled with new products and teams, free stuff and some of the nicest and funniest people you'll ever meet (enter Brett Tippie). After a whole morning and early afternoon of oohing and ahhing over parts and catching up with people, 
ODI has made some sweet new bars. coming in two diffrent lenghths and diffrent bar extenders, and bar ends.
Justin Wypers new black market Killswitch built up with the 2010 NSMB.com Parts kit.
MRP's new Lopes SL guide, diffrent then the g2, or mini g as it does not have a bash ring making it the lightest guid on the market at 98 grams.
Cnnondale's flash carbon. This bike is so sick! 12 pounds, and shimanio DI2.
Deity shoed up and suprised every one with their new look. they have redesined every thing from grips to cranks, they also have a new ht frame…  keep an eye out for Justin Wyper's sigiture grip coming soon.
One cool thing Deity is doing now is direct mount stems.
We rallied over to the step up again to film with the guys from Camp of Champions, which turned out to be a pretty sick session. What I didn't realize when we were leaving was that my wallet was still sitting at the top of the run in, so when we got to the hotel and Wyper and I decided to go get some candy from a nearby gas station my happiness level dropped considerably. I then hopped in the truck and unenthusiastically drove the 40 minutes back to the step-up, something I never thought would happen to me, being mad driving to Aptos. The GPS decided to cheer me up even more by taking me 20 minutes off track to the END of the road the step up branches off of, instead of the beginning. Either way, my wallet was found, money and all, exactly where I left it, so I could be thankful for that. After a quick fillup I made it back to the hotel and crashed into my sleeping bag, exhausted.
Part two to come soon stay tuned for days 4 to 6.