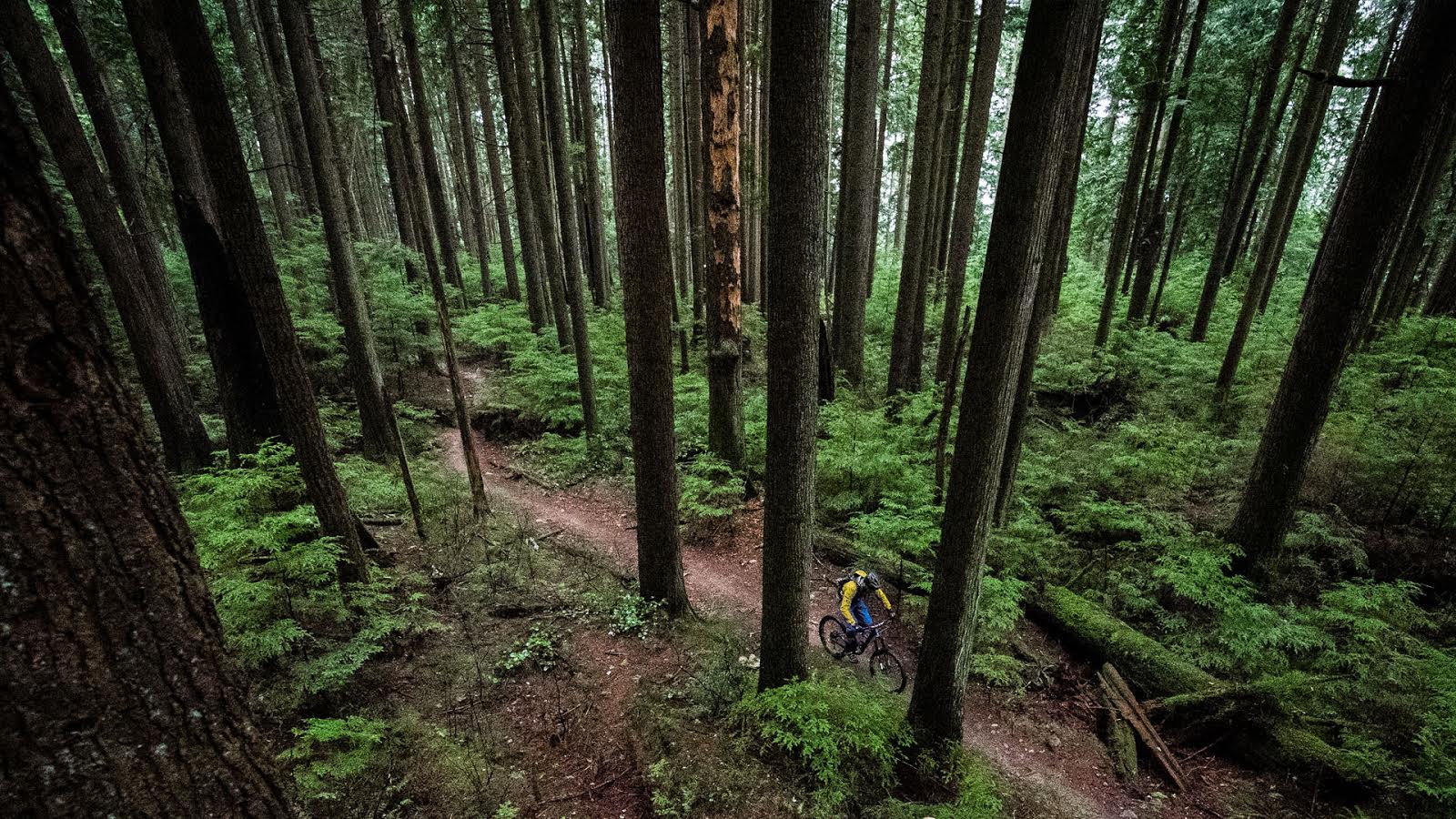 Banshee Spitfire
Sometimes you get on a bike and the way it feels just makes you smile.  That didn't happen in this case.  My first real ride on the Banshee Spitfire started out with some crazy shifting from the rear derailleur.  Turns out the cable had slipped out of the pinch bolt.  Once that was sorted I started smiling.

  Things didn't start out smoothly – but it wasn't the bike's fault. The hollow pin chain is a nice touch – but make sure your chain tool can handle it on the trail.

New for 2010, the Spitfire frame bounces on 5 inches of rear travel, and is targeted at the crowded 'trail' segment.  It has an adjustable head angle, and depending on fork, upper shock mount setting and head set choice it can range from 66 to 68.1 degrees.  The suspension linkage is Banshee's own virtual pivot point design, known as VF4B. The system is highlighted by great looking CNC'ed linkage plates and bushings at all the pivots.  The frame comes with a tapered head tube standard.  Keith Scott at Banshee revealed the system is designed to take a 1 1/8" zero stack top with a 1.5" traditional bottom for the headset.   This was done to provide customers with more options in terms of fork and headset choice and it also made the head tube lighter and less tapered than other manufacturers' versions, which made it easier to build.  The Spitfire comes standard with a Fox RP-23 rear shock.

  The head tube taper is more subtle than most.
I first tried out a large sized frame, and even with an 80 mm stem found it a tad long.  Even though I am just about 6'1", I found the medium long enough and I don't have to raise the post to the max.  Try before you buy.
Build Kit
I'm testing the UXC kit – one step down from the über-expensive Gucci build kit.  SRAM X-9 shifting with an X-7 front derailleur powers the wheels and Avid Elixir CRs scrub speed.The Fox 32 TALAS RLC with QR 15 up front is a step up from the UXC kit.  About those wheels, Mavic Crossrides; very, very, sexy looking but needed a funky brake adapter to make the 6 bolt Avid rotors work with the centre lock Crossride hubs.  The wheels are matched with a Sram PG950 11-34T, 9spd cassette.

  Blue on blue – too much?  Avid Elixir CRs with 160mm rotors.  Perfect for the spandex crowd.
Cockpit and cranks are all Raceface – a Deus XC crankset with three rings and Evolve 31.8 mm XC Riser bars and 90 mm 6 degree rise stem.    The final cockpit component is a WTB Silverado saddle mounted on a Banshee branded seat post.  I paired the cranks up with some Crank Brothers Smarty pedals in blue to finish things off.  Grips are some Funn lock-ons and the other rubber are 2.2 WTB Wolverine Race XC.  The chain is a nice touch – a Yaban hollow-pin to save you a few precious grams.  The build came in at 30 lbs even with my pedal choice.
First Impressions
Banshee did a nice job with the graphics.  The name on the downtube isn't a decal – the letters were masked and then removed after the paint was applied so Banshee emerges in polished aluminum.  It looks awesome and it will never wear or peel. I did find a couple of things that bugged me about the paint finish; a few overspray splotches and a little scratch right out of the box, but nothing you would notice unless you are fussy. 

Spec.
The parts package clicked together nicely.  Despite having anemic 160 mm rotors, the Elixirs have provided lots of power and decent modulation.  The shifting (aside from that first ride mishap) has been very good – just what you'd expect from Sram's X-9 parts, and the fork has been dynamite.  So far the frame feels pretty solid, and the suspension has been supple and predictable.  

  A Fox Float RP23 provides the bounce for Banshee's VF4B suspension design.
So far I have been riding with the rear suspension set in the 'Aggressive Trail' position (upper front shock mount), which allows for the slackest head angle possible.  With the fork at 150 mm I get a head angle of 66.2 degrees – nice and slack for  descending.  For the way up – or for windy single track you can crank the fork down to 130 mm and the head angle steepens to 67 degrees and then to 68 in the 110mm setting. Banshee Bikes doesn't recommend putting 100-120 mm travel forks on the Spitfire as the bb height starts to get too low.  I have noticed that in any travel setting I have to be careful with pedal placement, and getting over logs can be a bit tricky, but I'll trade improved handling for BB clearance any day.

  She sure looks purty.
I have been impressed by the way the suspension seems to conserve speed  (Did I mention this bike begs to be jumped off of every little root, rut and curb you encounter?).  Part of the quick pre-work loop I have been doing has a small wooden stair set you can launch – probably only 3 feet in height.  The first time I hit it, the suspension soaked up the hit no problem and then it felt like my bike picked up 2 km/hr in speed.  It wasn't like getting bucked from having too little rebound damping on, it was like hitting the throttle on a motor bike.  If this is what the Legend does, no wonder everyone who tries one wants one.

  A Fox 32 TALAS RLC with QR 15 keeps the Banshee heading in the righ direction.  The Race Face name adorns the cranks, stem and bars and she rolls on Mavic wheels and WTB tires.
Over the next few months I intend to ride the hell out of this Spitfire;  XC races, Super Ds, the 12 hours of Cumberland and as much trail riding as I can fit in.  We'll see if this 'little' bike can live up to the legend of the WW2 fighter plane it's named after.
CDN pricing.
Spitfire – Journeyman XC build = $3165CDN
Ultimate XC (build pictured above) = $4000CDN
Gucci XC =  sold out
Frame and RP23 = $1825CDN
US pricing.
Spitfire – Journeyman XC build = $2855US
Ultimate XC (build pictured above) = $3600US
Gucci XC = sold out
Frame and RP23 = $1550US
---
Is 5″ of rear travel enough in B.C?  Are 6″ bikes the new trail bikes or is this your cuppa?  Opinions welcome here…