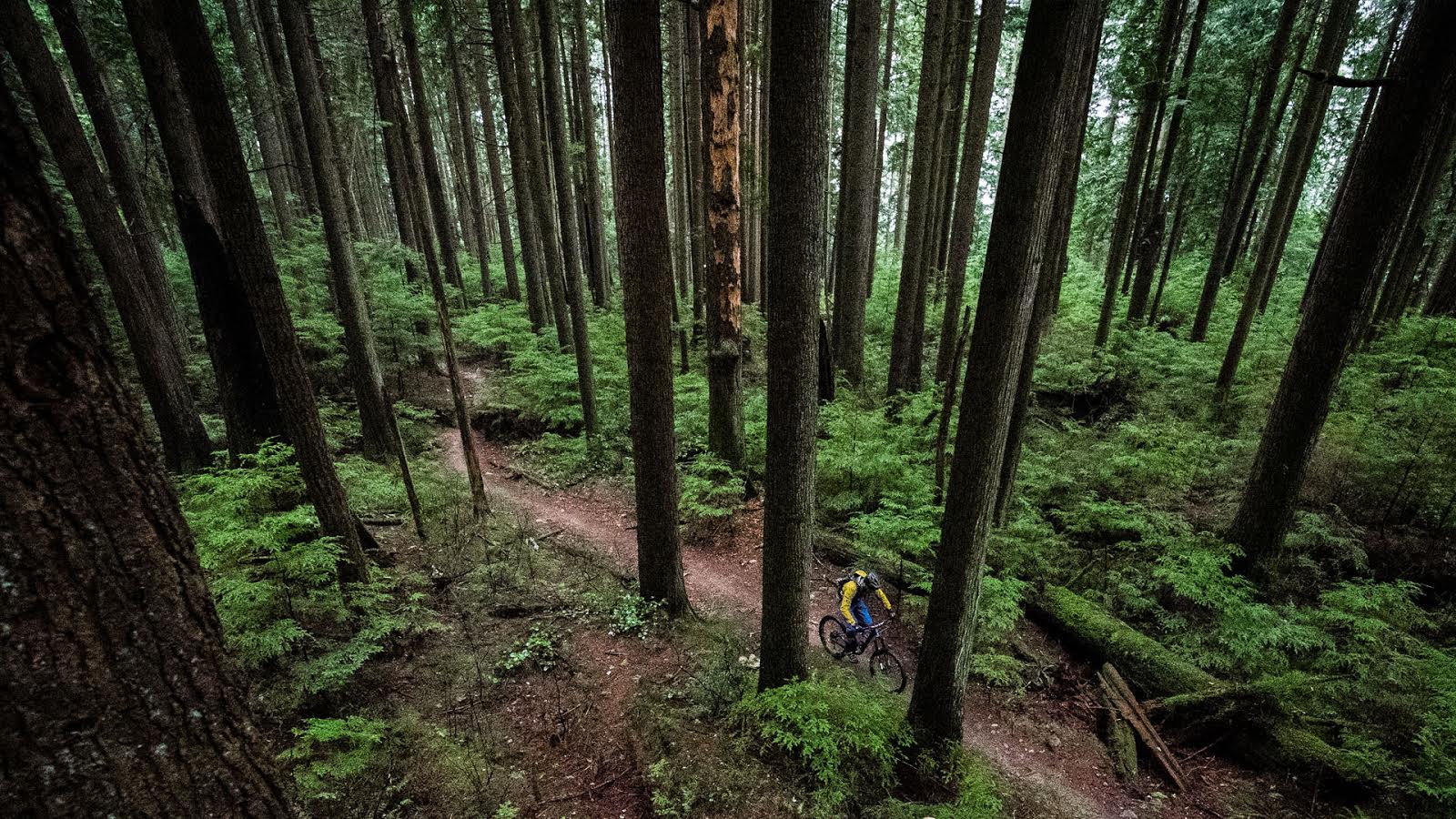 Slopestyle Olympic Sport
Lausanne, Switzerland – March 31st, 2010  The IOC has announced that mountain bike slope style will be added as a full medal Olympic sport for the 2012 Oympic games in London.  The announcement follows on the heels of the recently formed Freeride Mountain Bike World Tour (FMB World Tour).  It's been acknowledged that one of the prerequisites for a sport to gain full medal status is an organizing and governing body to establish norms and standards. FMB World Tour can make judgements about facilities, equipment and safety as well as establish judging criteria that are reproducible and consistent.  Clearly the IOC was satisfied by the professional and thorough efforts of those behind the FMB World Tour.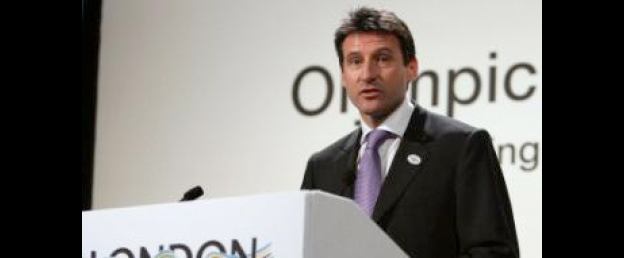 Who knew Lord Sebastian Coe is actually a secret slope style fan?
Not surprisingly Tarek Rasouli has been in contact with the IOC about this for some time and the head of Rasoulution was one of the few people in the industry not surprised by this announcement;  "It's something we've been working on for over a year.  The IOC approached me with their ideas and laid out what we had to do to make slope style legit.  With the help of my board and all the major slope style venues we have accomplished that.  I am really stoked and I can't wait to see the first slope style athlete accept a gold medal."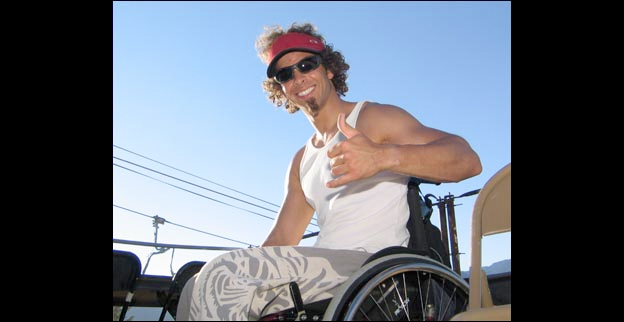 Tarek Rasouli – the man who turned slope style into gold. 
In order to further establish legitimacy for the sport of slope style it has also been announced that this summer's Crankworx slope style will also be the 2010 World Championships.  Because of this nations like China, Russia, Kazakhstan and Japan among others have all announced that they will be fielding riders at this year's event in Whistler.  The Chinese team has been secretly training in Aptos California under the guidance of former Superheros Randy Spangler and Gareth Dyer and are said to have several promising athletes to debut this summer.

  Left to right – Geoff Gulevich, Cam McCaul and Darren Berrecloth.  Photo ~ Stuart Kernaghan
Brandon Semenuk, one of the top athletes in slope style, was less loquacious but equally positive.  When asked for comment he said simply, "sweet."  Darren Berrecloth, a pioneer and front runner at most comps since the beginning strung a few more words together.  "It's about time we got some respect.  We throw our carcasses around for the crowds and get rad wtihout much recognition.  What would you rather watch – some dude in tight pants on a horse jumping over a puddle – or someone pulling a dumped three over a huge gap?  Slopestyle's time has come and I hope to be standing on the podium in London."  Cam McCaul was clearly moved by the news as well.  "I think it's super rad but hey – have you heard my new bird call?"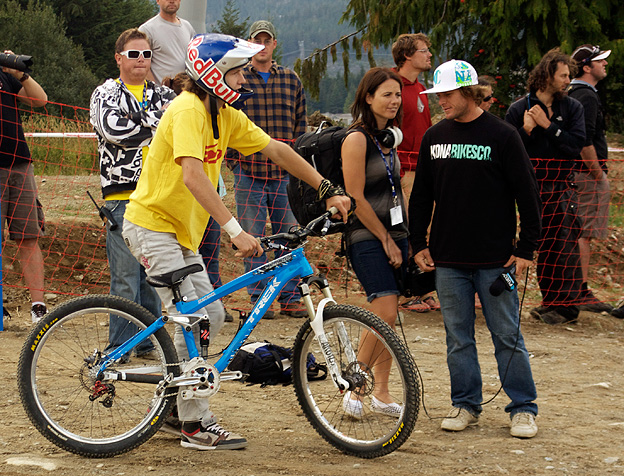 Brandon Semenuk talking to John Cowan – or rather listening – about the Olympic rumours.  Photo ~ Stuart Kernaghan
An issue that confounded the London 2012 organizing committee was a venue for the event.  Games chairman Lord Sebastian Coe was pleased to announce that Primrose Hill near Camden Town has been selected as the site for the event.  "We're ever so pleased with this lovely location for the mountain bike slopestyle event.  This demonstration of skill and bravado will debut in London and it's sure to be a smashing bloody success!  I've admired the sport of slope style for years and I'm proud to have been able to give it a leg up."  Lord Coe went on to say that his money was on the UK's Sam Pilgrim to take the gold. "I've got 20 quid on our lad already."  Lord Coe went on to say that the success of the half pipe at the winter games made the selection of slope style a shoe in.  "It's clear that in order to attract youth and the sponsorship dollars that come along with them we'll need to get rid of the posh and prim olympic image.  I can't wait to see the riders get rowdy!"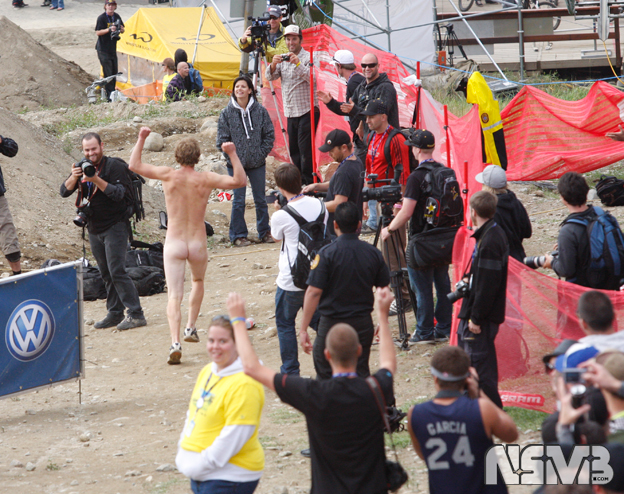 It's unlikely that this sort of thing will be tolerated on Primrose Hill in London.  Photo ~ Malcolm McLaws
The design of the course is nearing the final stages with Jeremy Roche of Crankworx supervising the production and veteran rider John Cowan handling the heavy lifting of the design and build.  When contacted for comment Cowan didn't seem too pleased with the restrictions placed on him now that slope style has hit the world stage. "It all seems a little foofy to me.  They want everything to look pretty – with manicured lawns between all the hits and cloth coverings drapped over any structures.  This isn't an equestrian event – what are they thinking?  I need to make a gnarly course for the riders but they want everything to fit into strict height guidelines.  I want it be rad you know but they're cramping my style.  I know what I'm doing and don't need a bunch of poncy Brits telling me how to build a slopestyle course and…."  Cowan had more to say – much more – but the reporter ran out of tape.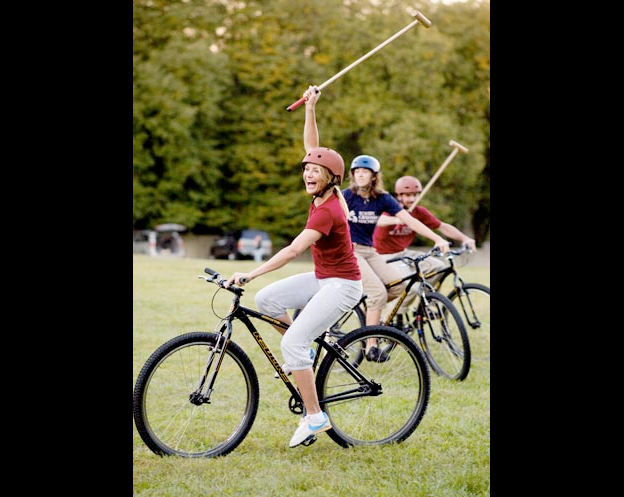 It's rumoured that Josh Bender will be fielding a team in hopes of making the US Olympic mountain bike polo team for London's 2012 Summer Games.
In related news mountain bike polo will be a demo sport in London.  Lord Coe was even more enthusiastic about this more civilized presentation of 26″ wheels.  "We've decided all the teams will wear dapper white uniforms as well as actual polo helmets to give it a distinctly English flair."  Tryouts for mountain bike polo national teams are being held the world over with a world championships to be held in Dublin this fall.
---
First the FMB World Tour and now this.  Will this legitimacy hurt slope style and mountain biking or is it a logical evolution?  Give us your take here…