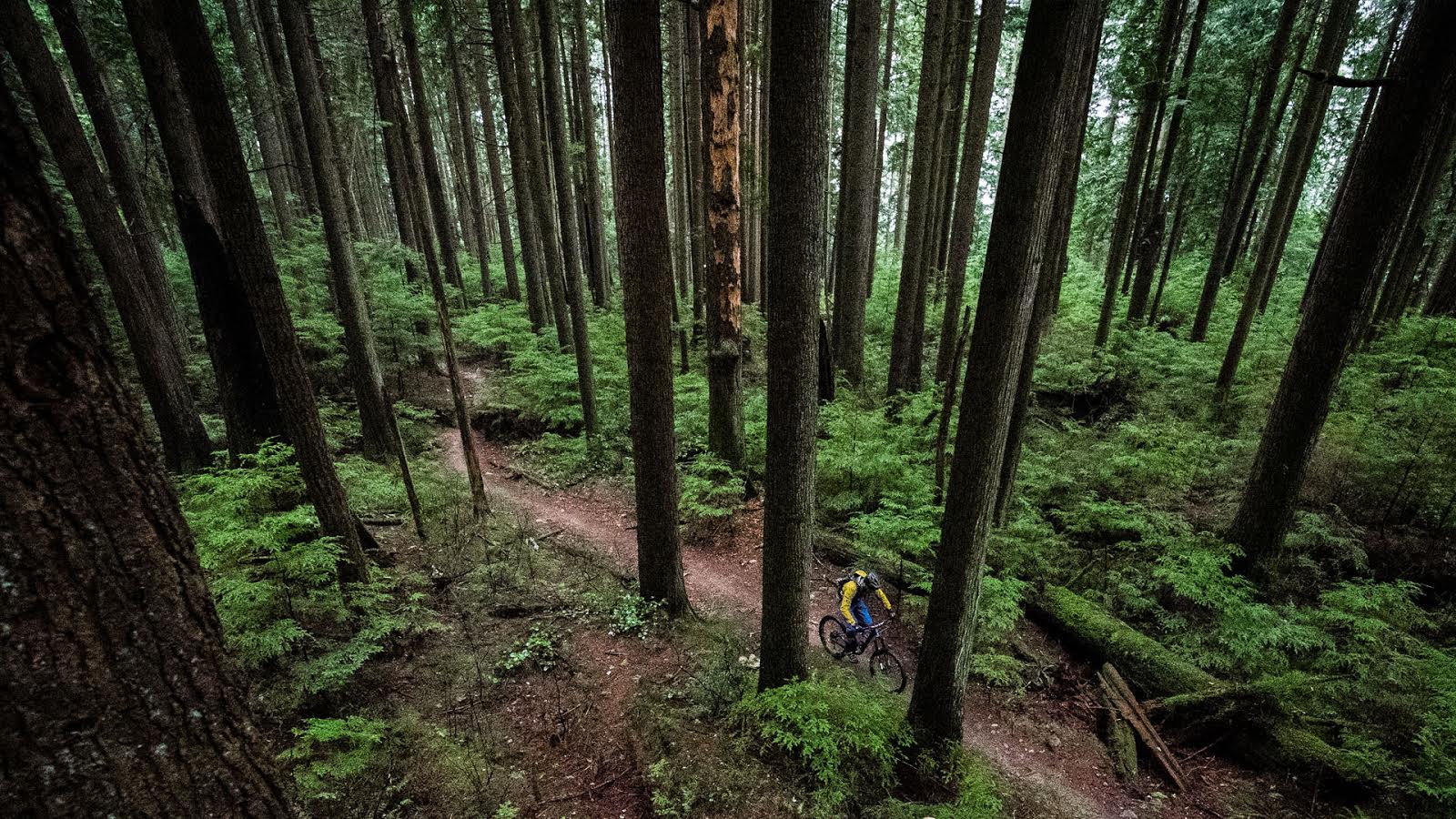 Jeff Bryson
When it comes to getting attention in the bike industry nobody gets more than the pros. The folks who win contests, star in video segments and grace the pages of your favorite magazines are the most talked about riders in mountain biking. And they probably should be, it's their job.
But what about those people who put on the events, make the movies, print the magazines and fix or innovate in the world of bicycles? A lot of important individuals who in our industry tend to hide in the background. In a series of interviews we are going to give you an inside look and a shout out to some of these people, looking at what they do and what drives them to keep up the hard work with little recognition.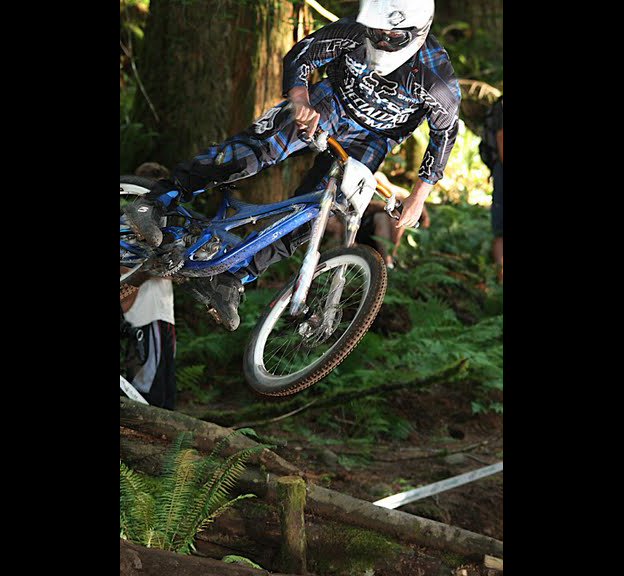 Jeff Bryson turning it sideways.
Our first victim is Jeff Bryson from Hayes Canada. Jeff is a guy that came into our lives last season  and he's made quite an impression on the shop and for Hayes brakes.  Jeff approached us by phone at the Bicycle Café Kamloops for our Unicorn 5000 Dh race. He wanted to sign up his Bryson Clan for their first race to get some early season racing under their belts before Canada Cup season got under way.
When Jeff appeared in the shop he came in as an ambassador for Hayes. He came with technical advice, re-build kits for problematic brakes, and helped us solve a customer's issue with some El Caminos by upgrading him on the spot. He made such a great impression we were very happy to sit down with him and learn a bit more from this ambassador for the industry.
Who are you and what role do you play at Hayes? 
I am Jeffery Gordon Bryson and I help Hayes with Product Development and Product Support. 
Where did you start with bikes and how did you end up where you are today? 
I grew up in Edmonton always riding since I can remember.  A shop opened up down the street from my house, I was the shop groupie until they started teaching me mechanics.  After high school I moved out to NV to work and ride my bike – yada yada yada – now I'm still here.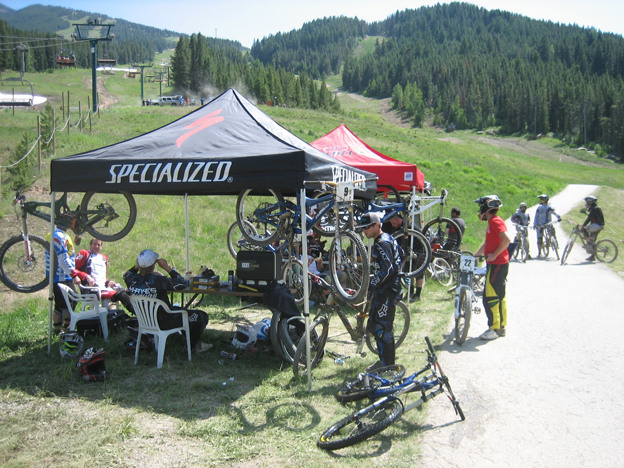 What were your ambitions as a young person, did you ever know riding would take you to where you are?  
I always loved getting lost in the Edmonton river valley as a kid. Mom couldn't tell you to clean your room when you were out riding.  I knew I would always be into bikes but I never thought it would take me here.  
How do you make Hayes better for the rider?
 
I push the product feedback from all my friends and riders to Hayes. 
You have an impressive resume in riding and racing as well, tell us a bit about your best riding moments this season? 
Riding with the Clan for the first time at the Unicorn 5000 was the best as a team, and a good indication of how the season was going to pan out. Also, when my pre race routine came together at nationals with a 10th overall. 
The Bryson Racing Clan is everywhere this year, how do you balance a Canada Cup circuit and have time to be the go to guy for Hayes Canada?  
For me it's all about the relationships.  The people around me help out a ton.  If its not Buckwheat dialing in my bike its Julie Durand out at Specialized making our travel easier, to Hayes supporting me, the team and the shops with product, support and repair parts.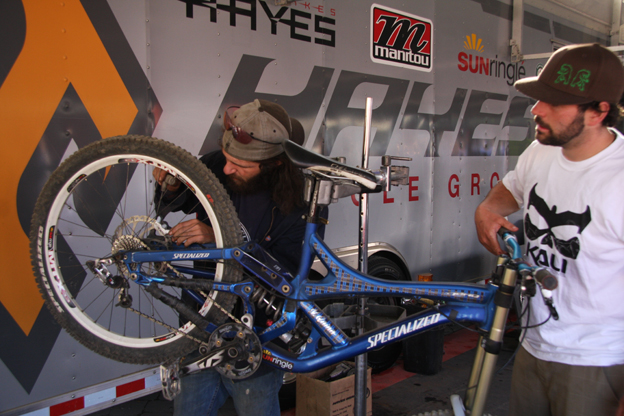 Buckwheat 'rippin' the tools' as Jeff watches (pretending to be helpful for the camera?)
What do we expect to see from the Bryson Clan next season? 
A great "Clan" of people out riding and racing.  A couple of juniors, maybe a girl and of course Buckwheat will be rippin the tools. 
How do you select riders for your Clan team? Who makes a good candidate? 
I really like the riders with passion and that put the effort in.  I think the riders who really want to be on the team will be the riders with the best most consistent results.   I'm really busy so the riders that bug me the most will be the riders on the team. 
Where is the sport of DH racing right now and where do you see it going? Is DH racing back? 
I think it is in a great spot right now and its back for good.  I think racing will still be competitive but I think there should be more of the fun aspect to it.  I would also like to see it more family oriented "start em young keep em keen"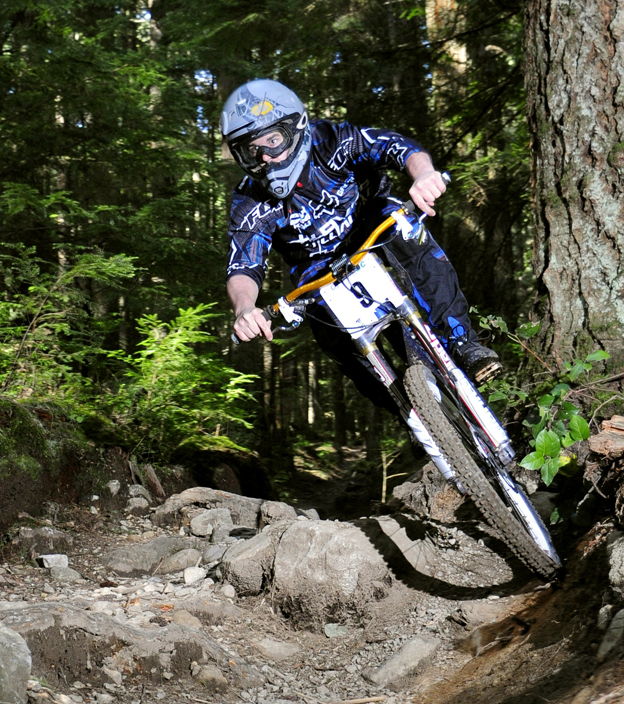 Jeff railing at the North Shore Bike Fest Smackdown DH Race in 2009.  Jeff was second overall with a 2:44.  Photo ~ Layne Marrett
What do you do for fun other then ride, race and work on bikes?
I love to tinker, I have a 1950 Chevy pickup that takes a lot of my time. 
Has your Hayes program made Hayes a better brand for the consumer? 
I hope so, I feel the more support and education you can give to your customers on the shop side the better. If a rider is on Hayes he or she will be able to get all the support they need at a race from us.
Any new products in the future for Hayes?  
They got some brakes coming down the line that have more usable power – Sick!    I'm riding a Dorado Pro (aluminum Dorado) right now running at 100% and it is proving itself greatly.  
Is there improvements you'd like to make on Hayes? Will your input help make those improvements? 
Being a mechanic I would love to see them come out with a "Wheelsmith" tool line.  I like the blue stuff but would much prefer the green stuff.  I hope to always be involved with Hayes on the development side of things.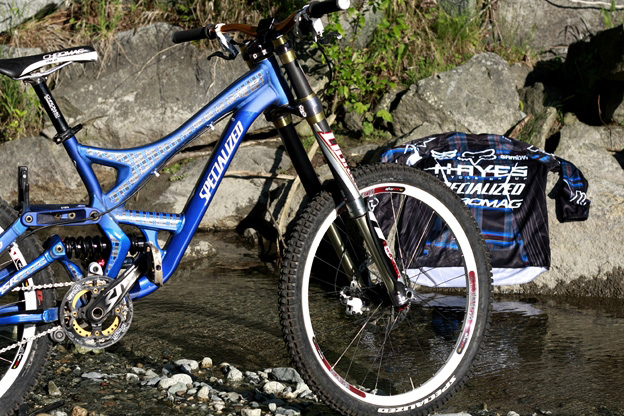 Last year's Clan set up and pyjama suit.
What would you call the single best technological advancement in recent mountain bike history, in your opinion?
Five10 Shoes
How receptive is Hayes to the riding community in Canada? Are we a market that counts? 
They are very receptive.  They have a lot of relationships up here in the bike industry that set the trends.  They follow it close to see where it is going.  They also do a lot of testing up here. If it works here it will work anywhere.   
How has the Hayes/Ringle/ Manitou partnership been working? Does it benefit the company? 
The "Hayes Bicycle Group" has done a lot of restructuring the past few years.  When hanging out with all the product managers, engineers etc you see the passion for riding is there.  You are going to be seeing some wicked products coming down the pipes.  It benefits the company yes – they can offer more to their customers at a better price.     

  The 2009 Bryson Clan. Left to right – Nick Quinn, Brett Hornfelt, Jeff Bryson and Tyler Gnitt.
What do you ride with what parts and any particular special set ups you prefer? 
I ride a Specialized Demo 8, with Manitou Suspension, Hayes Brakes, Sun Wheels, Cromag cockpit, Gamut Chainguide (all my sponsors) and a mix of Shimano and Sram drivetrain parts.   I like my suspension stiff, wide bars and extra long pedal pins.  
Who are riders, teams, and significant people in the industry that you respect or inspire you?
Owner and good friend of the local bike shop growing up Randy Ross, Kenny Maude for showing me the ropes when I moved to NV and all the Old and Young riders for keeping me on my bike and pushing the limits. 
Thanks Jeff! Keep on killing it on and off the trail for customers, shops and riders everywhere!
---
Anything to say?
Say it here…