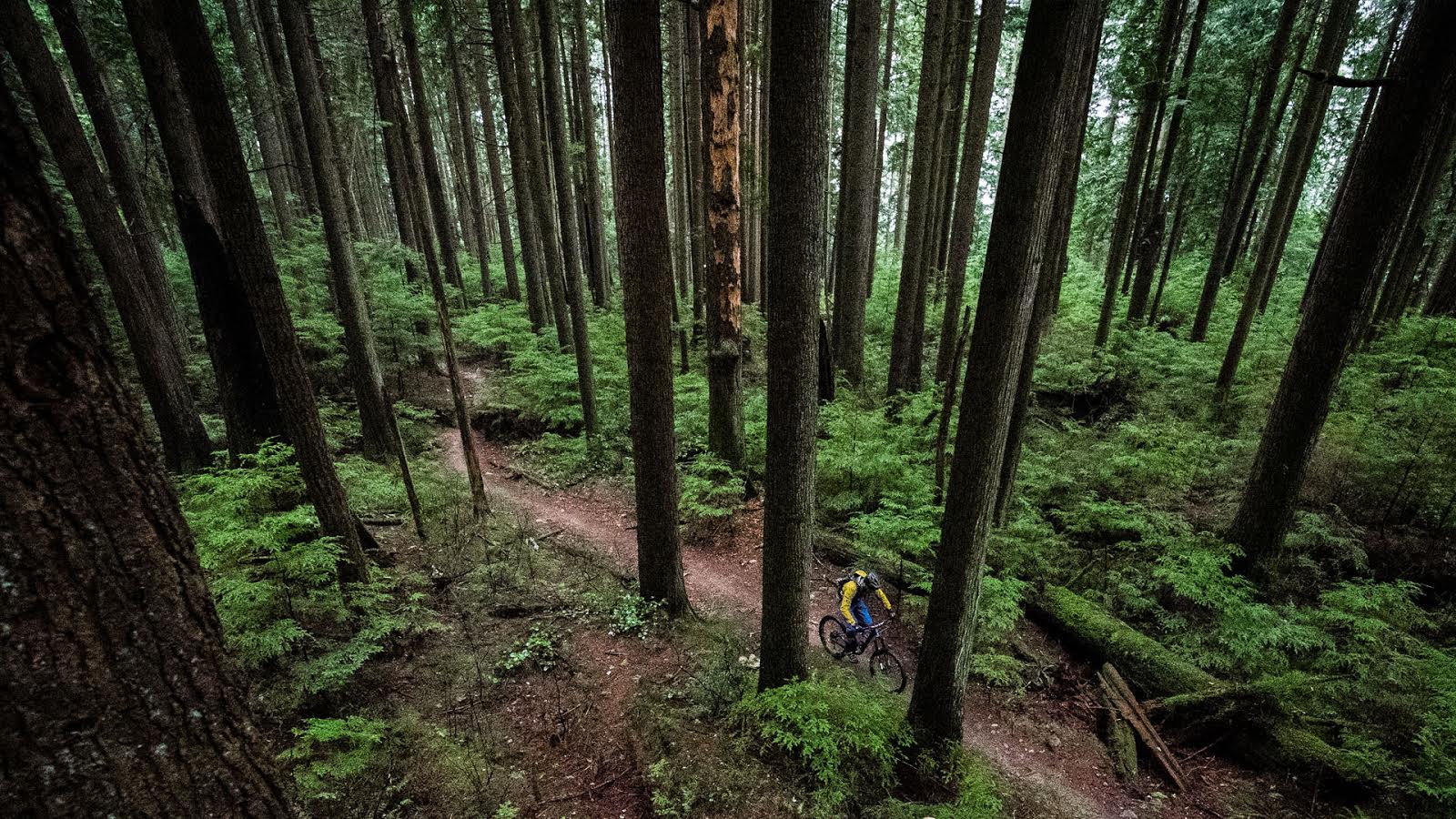 Readers' Rides # 18
A green heavyweight – but it rides great!
Steel is real! Many fans of this well-proven material are sure; aluminum and carbon frames can never reach the aesthetic and functional pinnacle of high-quality steel-frames. 

  What's not to like? Marc's Pulcro No Remorse.
This is a fringe obsession, so you won't see freeride bikes made of steel very often. Dirt jump bikes and classic hardtails are often made of steel, but long travel machines with nice and thin steel tubes are rare. My Pulcro No Remorse is one of these exotic beauties. I've been riding it for seven years now. And as you can see on my page fahrtechnik.tv it still is my all round-weapon for freeride missions and daily fun with lots of play riding. 

   There's much to be smoothed in the bony world of urbanity.
But let's take a look back shall we? In 2003 I mainly rode street, dirt and freeride on my aluminium hardtail. But I wanted more; for bigger hucks and more fun on downhill and freeride-trails I needed a full suspension bike.

  The tried and true Fox Vanilla.

While I was moving up I didn't want to give up the agile handling of my dirt jumper.  A dual slalom fully would have been an interesting solution but I wanted more travel! It seemed like a custom made bike would be the only way to perfectly meet my needs. Unfortunately custom-made frames are too pricy.
A sweet Nicolai Frame was too expensive for me, but surfing the web I found this small one-man manufacturer named "Pulcro" (which sadly doesn't exist any longer). I checked the webpage and fell in love with the 180mm-model "No Remorse." It seemed like the ideal frame for my custom dream bike; short geometry in combination with lots of travel wasn't usual in those days. I also decided to build the bike with a Rohloff-Hub -14 gears with a grip-shifter and no hassles. Back then one of my video heroes demonstrated that the Rohloff was strong enough for freeride missions. Tyler Klassen was sponsored by the German cult manufacturer and that was good enough for me.  My 20 kilo (44 lb) big bike with its Rohloff hub was the best bike for my riding style from 2003 to 2008 which also involved climbing mountains and shredding down the best singletrack.

  If Tyler Klassen was on one that was good enough for Marc.  Rohloff it is!

I also took part at downhill races and legendary street sessions in Cologne. I had some really great days with lots of stunts and adrenaline rushes, but I also had to eat dirt sometimes. My worst crash was a failed huck over the huge stair gap near the Cologne Cathedral (watch NWD 6 with Jeff Lenosky on youtube for some impressions of Cologne). My Pulcro also had to fly over some big doubles –  and it was challenging to get it up to speed. 

   Don't say street.  The Pulcro is just about right for what we used to call urban riding.

Unfortunately it's heavy because of all the steel parts, which I took from my dirt jumper when I built it up in 2003. Nevertheless I rode endurance races on my green machine and didn't care about the weight. Since 2008 I've relegated my Pulcro to playing on my home trails and having fun on jumps and similar stuff. For XC-Racing it's really too heavy – but riding it during the whole winter keeps you fit and strong. Change to a lighter bike and you will fly to the top of the mountain. 

  Pretty happy on the trails and woodwork as well.
Now let's go into details with some of my parts. I grabbed the FSA Cromo-Cranks from my dirt jumper and I also ride DH-tubes for their durability. I rode Sun Rims Mammoth wheels in the front and rear till I crashed hard over-shooting a sniper landing. Since then I've been riding a strong Veltec-wheel which I bought from a friend for five Euros. Until my big crash in Cologne in 2004 I had a sweet Marzocchi Junior T doublecrown fork on my bike, but after the crash I decided to change it to a singlecrown. After riding a really smooth Manitou Sherman Flick I got back to Marzocchi and put on an "All Mountain III special edition" with 150 mm of travel.  
After Pulcro went out of business I checked the web for some other guys riding the No Remorse and found some really beautifully built up steel machines. I also like other steel frames like those from Firebike or Witchbroom and Zumbi. They show that steel isn't just a hardtail thing. Riding a steel freeride bike isn't common in times of hydroformed frames, but it's cool to know that the steel frame will last a very long time – maybe longer than I will.
That's a wrap!
---
Readers' Rides brings some crazy beasts out of the woodwork.  It doesn't necessarily have to be crazy – it just has to have a story behind it to qualify for readers' rides.  Or it can just be freaking cool.  If you've got one send it here and we'll fire back some guidelines.
Ever heard of Pulcro?  Think steel duallies will make a comeback?  Ridden anything like it and would you like to?  Is it the best name for a mountain bike ever?  Express remorse or joy here…