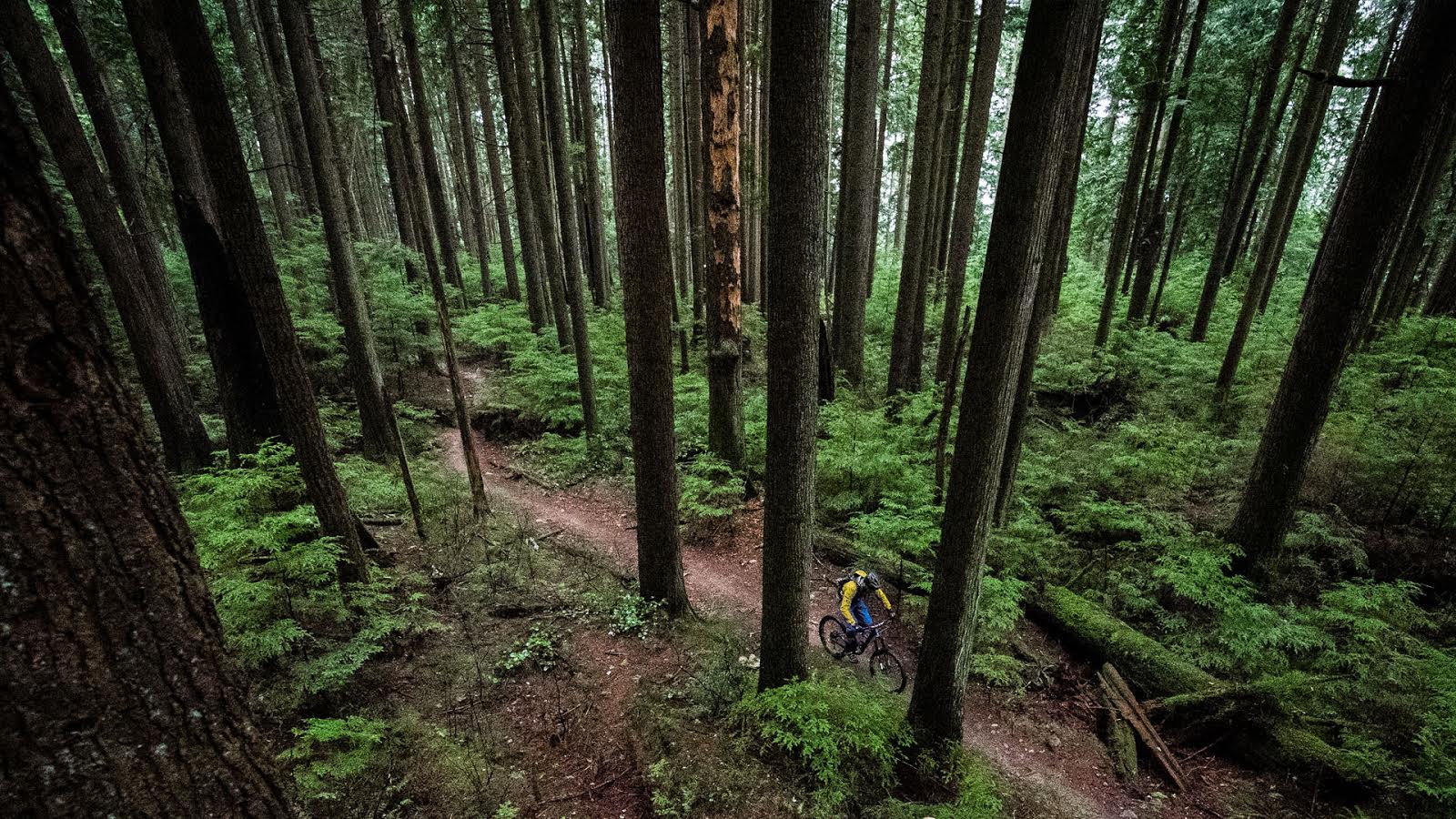 Panaracer CG 2.35 4X-AM
When Cam asked me to review a new Panaracer tire, I naturally went and checked out the web site. The site didn't instil much confidence. There were a bunch of mistakes regarding their new tires. And they couldn't have devised a more confusing naming convention for their "Rampage" tire; what's the difference between the "Power", "SC", and "26" versions? I did however learn the following:

  The Panaracer CG 2.35 4X-AM Tire. Guess what CG stands for?
•     "CG" stands for Cedric Gracia,
•      Claimed weight is 810 grams
•      Tire compound is "Combo Compound", which is essentially a 42-44A durometer knob with a "hard sell compound covering over the head of each knob to lock in the softness and control"
•     "Excel in anything from damp to super dry conditions and terrain"
•      Have an Aramid folding bead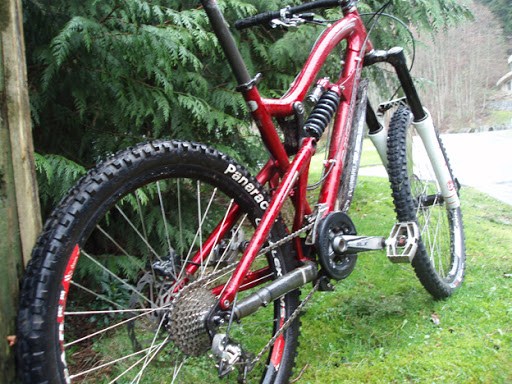 My "all-mountain" test steed, a Santa Cruz Nomad.
First off I must say the name "CG 2.35 4X-AM" is a bit uninspired. Given Cedric Gracia's colourful past I would have hoped for Panaracer to play on his personality a little more. Anyway I unrolled the tires and mounted them. Strangely there is no suggested rotation direction indicated on the tire. So I mounted them up with the sharp braking edge facing into the trail. The tires have subtle yet identifiable graphics, and they look good mounted to the bike. When inflated the bead seated perfectly on the rim, and ran perfectly straight and true. The tires appear well made with slightly thicker side walls than a comparable single ply from Kenda or Maxxis. There are a number of Panasonic logos on the tires, which I hoped meant piezoelectric nanochips or some other electronic wizardry in each knob. A poke around the website and an interwebz search didn't shed any light on the Panasonic and Panaracer pairing, or any electronics in the tire.
 

  I mounted the Panaracer CG 2.35 4X-AM as shown, which resulted in minimal rolling resistance.
On the trail the first thing I noticed about these tires is that they're wicked fast. I can't think of a faster rolling tire I've used at a 2.35" width, which is hardly surprising given the amount of rubber on the center knobs. The net result was fresher than normal legs for me at the top of the climb – bonus! Once I started descending however I couldn't help but wonder why Panaracer over-moulded a hard compound on top of a soft compound? The net result is that the knobs on the CG 2.35 4X-AM are compliant like a soft compound tire (which increases rolling resistance) but offer reduced grip on slippery surfaces due to the hard compound in contact with the trail. It seems like a poor compromise to me, and goes against the convention of all other tire manufacturers.
  Taking a short rest from the rough job of testing gear.
Considering the hard compound and closely packed centre knobs the CG 2.35 4X-AMs did a remarkably good job on dirt and wet rock, but offered very little grip on wet roots and wet woodwork. For use in Vancouver the CG 2.35 4X-AM tire is best used on the rear as a fast rolling tire in place of a 2.35" single ply Nevegal or similar on an XC / AM bike, where it did an admirable job in even the wettest conditions. Unfortunately when climbing up technical trails with wet roots and woodwork it was very easy to spin the Panaracer CG 2.35 4X-AM under even the lightest of loads. As a front tire I think it's just too nervous and skittish for use on Vancouver's generally wet, rooty and rocky trails. If you can keep the CG 2.35 4X-AMs on dirt (preferably dry) it will make a good all-mountain and 4X tire due it's good side walls, minimal rolling resistance and good cornering bite.
  My idea of all-mountain is likely a little different to most. No matter which bike I'm on I enjoy pinning single track. The Panaracer CG 4X-AM was fairly good in the bends, and allowed me to not only rip this turn, but pull off a model pose as well.
---
Tim is fast becoming our tire guru.  Any questions for him about the CG tires or any others?  Launch them this way…