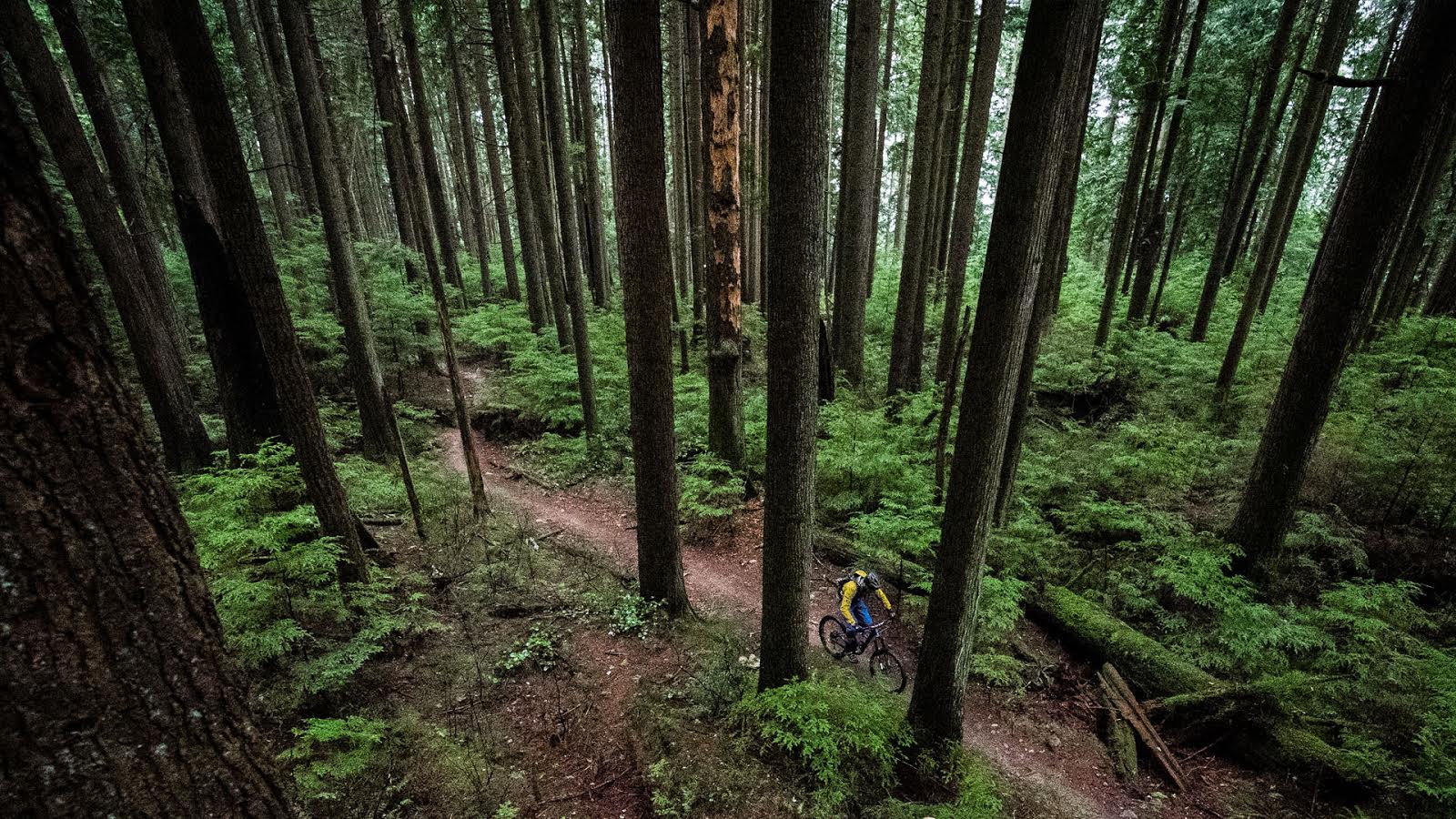 Project Bike: Part III – Wrap-up
My familiar trusty "more experienced" (read: older) frame has undergone a pretty significant transformation. Bars, headset, seat, shifters, brakes, derailleurs, drivetrain and tires were all swapped and their effect was undeniable; trail capability went up, weight went down and the fun factor came close to the mystical number 11 on the dial. But I left the best for last. Wheels and new suspension for both ends of the venerable test bike were on tap. Here's a close look at each part and at how they made a good bike even better.
X-Fusion H3 LT Rear Shock
X-Fusion started over a decade ago as a maker of rear shocks for other larger bike manufacturers. Their handiwork made its way on to some industry heavy hitters (Specialized is one example) before they decided to take that knowledge and create their own line. Much of their focus has been on forks but they haven't forgotten how to make suspension for the back of the bike. The sum total of their work so far is wrapped up in the H3 series of rear air shocks.

  The H3 LT handles platform damping with a 4 position adjuster lever (blue) stacked directly on top of the rebound adjuster dial (red).  The change in ride quality between this shock and the old one is simply amazing.
The H3 and its longer travel brother (the H3 LT) feature all the best bells and whistles found on premium rear air shocks; independent platform and bottom out controls, external rebound damping, nitrogen charger internals in a light weight package – just over 360 grams. For those among you that don't "habla" metric, that is under four fifths of one pound. While a low weight penalty is great, suspension is all about about how it feels on the trail.
The H3 LT does great job keeping the back end of the frame in line. It may even be the most improved piece on the entire project bike. That has a little something to do with our starting point (the 5th Element Air that was on the fame was never a terrific performer) but don't let that take anything away from the H3 LT. It provides supple suspension no matter how you cut it. The adjustments are easy to reach and for the most part, very effective. It is very quiet under load and stiction free. I checked the air regularly in the beginning of the test but got lazy about that task fairly quickly, as it was always the same. Even after a month of inactivity the pressure remained unchanged.
Initial installation was a bit of challenge as this frame is older and is listed as a "non-standard" fit. John Valera at X-Fusion knew of a team rider running a similar frame (an SX trail) and had fit a shock on that frame, so he was fairly confident we could make it work. Another issue cropped up with the stock 5th Element shock: it had thinner mounts than other manufacturers. Stymied, I asked Cam for lifeline and he pointed me in the direction of James at Suspensionwerx in North Vancouver. James is a bit of a wizard when it comes to all things suspension, and he immediately recalled the issue I was dealing with. A quick call to his supplier and and a set of thinner conical washers were in my hot little hands less than a week later. They fit perfectly and the only other modification I had to make was removing the metal air cap on the bottom out control valve so it didn't contact the frame. They say you can't buy experience but that is exactly what you are getting when you deal with pros like John and James. A huge thank you goes out to both of them for helping to shepherd me through a tricky and potentially project-stopping problem.

  It was a bit of tight squeeze but with a little help from my friends it fits perfectly.  The only catch is I could not run the air cap on the bottom out adjuster as it sits very close to the frame.
Once in place the shock performed like champ. It has a lightly progressive feel through most of the stroke on this frame but ramps up very solidly at the end. I have yet to "hard bottom" the bike while running this shock. The only minor complaint I have is that the four position platform adjuster does not seem to be as effective as some of its counterparts. While it does change the way the shock reacts, it does not seem able to elminate pedal-induced bob. That is a pretty minor complaint after seeing how drastically it improved the performance of the frame. I'd swear I had almost an extra inch of travel over the old setup, and the quality of that travel is not even in the same neighborhood.
What the real downside? As the old cycling axiom goes "Light. Strong. Cheap. Pick two." This shock is definitely light and certainly strong, but it doesn't come cheap at $430 CAN ($370 USD). As a value proposition it still rates fairly high though as it costs a almost $60 less (in USD) than it's counterpart from Fox and it is significantly less than buying a new frame, even though in this case that is exactly what the end result feels like. This part was strong contender for "best in show" on the project bike despite the cost.
2009 Sun Ringlé Charger QR 20mm Wheelset
Sometimes putting two solid, existing products together to make a third is just too easy and it never happens. Sun Ringlé didn't miss their chance when they matched their Flea line of hubs with their tested-tough Equalizer rims to create the Charger line of wheels. By the simple additions of some double butted Wheelsmith spokes and wheel building know-how these two performers became the Charger wheelset. For the 20mm version of the Charger a Dirty Flea rear hub and the heavier duty Jumping Flea front hub were paired with the welded 27mm wide Equalizers and aimed squarely at the all-mountain rider.

  The Jumping Flea 20mm front hub is plenty stout and the bearings are still slick as goose snot after a full year on the trail.

This setup is light enough to climb (front = 898g with rimstrip, rear = 1051 g with rimstrip and included skewer), wide enough to take high volume tires and strong enough to keep you rolling through the rough stuff on the way down. After running these wheels on lots of XC and AM adventures and even dipping in to a little light FR/Shuttle riding they still look like new. They are round and true, spin like a top and even the stickers with the Charger logos are intact and fade free. My only desire left unfulfilled with these wheels is quiet. They are what my riding pals call "fishing reel hubs". When freewheeling they make the same noise that Chis King's (and several other manufacturers) hubs do. At high speeds it sounds like you just hooked a marlin. If you like being reminded of hockey cards in your spokes have at it.
So what does all this goodness wrapped up in a stealthy black package cost? Well therein lies the rub. It seems that Sun Ringle used this logical combination of parts as a stepping stone during the 2009 season. For 2010 the Chargers have been up-gunned fairly drastically. They are now a whole different animal, having been completely redesigned. The new versions feature tubeless compatibility by integrating the Stan's No-Tube system in the design, a front hub with swappable cones so you can run 9, 15 or 20mm front hubs (a supremely handy feature in these days of multiple standards) and completely new direct pull spoked hubs. While we can show you what they look like on the web – we don't have a price for them.

  I thought these stickers felt a bit cheap upon first inspection.  However after a year on the trail they still look just this good; no fading, cracking or tearing.  The pattern on the tire is the Snakeskin treatment that helps with puncture resistance.

Your local shop can no longer order the 2009 versions from Sun Ringlé but you can still find them online.  Price Point has them at US$499.98 – a bit of a discount from their original US$560 MSRP. 
X-Fusion Vengeance HLR Fork
Here is the one you have all been waiting for. The main event as it were. X-Fusion's gutsy all-in move from the back of the bike straight in to the 6-inch travel fork wars. It takes a lot of gumption and a boatload of development work to take a full swing at established class leaders like Fox, Rockshox and Marzocchi. But that is exactly where X-Fusion has put their stake in the ground with the Vengeance series. Their ambitious target is to deliver performance that rivals the big guns at a slightly lower price.
In the last installment of this series I said we had some winners, no real losers and an incomplete. The fork is that incomplete grade and here's why: X-Fusion was brave enough to send me one of their prototype forks last summer and let me have it for the long-term. This may not seem like huge risk, but with everything they have riding on this product launch it is not insignificant. That being said there are things about this fork that are not the same as the production versions. The various prototypes were in testing for over 2 years. X-Fusion knows an initial misstep means that they might not get another chance so they are being as thorough as they possibly can be.

  Money shot: literally.  It is enormously expensive to develop a fork from scratch, but X-Fusion is well on their way to fielding a competitive product at a competitive price.
The two major differences in my late-version prototype and the production version of the Vengeance HLR are the internal rebound damper and the thru-axle system. The damper is the keystone to this fork's success or failure so we'll talk about it first. Any rider who has spent significant time on the prototype will mention "the thunk" at the top of the stroke. When the fork extends fully there is an audible thud. X-Fusion knew about it before they even showed me the fork (much less sent me one) and they were already crafting a permanent fix.
They knew how important it was to eliminate it even though it doesn't affect the fork's performance. It affects something even more important; the rider's perception of the fork's performance. There are no two ways about it and they know it. Solve the problem and riders will focus on the fork's merits. Don't solve it, and that is all anyone will talk about. Based on that alone I have to believe that the new version of the damper shipping in the production version does not go "thunk". Only a ride on the production version will say for sure but I'll bet good money it is gone.
The Thru-axle was a simple screw-in arrangement on the prototype as X-Fusion had not yet settled on what standard to use. In the end they partnered with Syntace to come up with a design they are calling the "X-20 Axel."  Syntace is a non-nonsense engineering outfit so my hopes are high for a solid performing system that is fairly elegant at the same time.

  This rebound adjuster knob is a thing of beauty.  Its' picture could go in in the mountain biker's handbook of "parts that work exactly the way they should". | photo: courtesy of X-Fusion
Those are a lot of "if's" to lead off with, but there are quite a few things I can tell you about the fork with confidence after having given the prototype a solid beating. The crown and the lowers are plenty strong. Holding your desired line through the nasties is not an issue. The adjustment knobs are some of the nicest I have used, especially the rebound adjuster. It has such a light action paired with a definite click when you hit the indexing notch. A first rate design overall. The independent high and low speed compression adjustments work just as well as its competition's do. My only complaint is that when you turn the lower adjustment knob the upper one turns as well. It is simply the way it is designed and it does not affect the upper knob's settings but it is still a bit visually disconcerting. That being said the knobs are color coded (anodized) and easy to turn even with gloves on. The metal cap that covers the adjustment knobs is handsome and plenty strong to keep them from getting smashed by wayward rocks.
Earlier I said suspension was all about how it feels on the trail and the Vengeance has ample credibility here. Because it has an air spring (almost infinitely adjustable) and it lets you control high and low speed compression independently, you can pretty much make it feel any way you want to. The stanchions are plenty slippery and the seals are tight. After that it is really up to you and the way you set it. So while the grade is "incomplete" based on its prototype status, if there was a notes field after the grade on this report card it would read "very promising student".
It still amazes me that that you can wedge all that steering stiffness, suspension and adjustment in to burly fork and still have it weigh under five pounds. Given how much early attempts at spindly three inch forks weighed, it just blows my mind… in a good way. So for a reasonable (for what you are getting) sum of $920 CAN ($799 USD) you can have the HLR version of the Vengeance in any of three steerer tube configurations (1 1/8″, 1.5″ or tapered) and your choice of blinding white or jet black. Not bad for an upstart. Not bad at all.
Summary
So where did we end up after a year-long odyssey? To begin with I took a 2006 Specialized Enduro – that was spec'ed for light duty – and stripped it almost bare. In the end the bike that emerged is solidly in the all-mountain category and can even handle light freeride duty; a major upgrade in capability. The most drastic improvements were in the fork, rear shifting and of course the rear shock. In a lot ways the rear shock is the heart of a full suspension bike. If it works well your experience on the bike will almost certainly be good. The bike was certainly rideable with the old setup but the new setup does exactly what we intended it to… pin the fun factor. 
   A totally differnt animal.  A much more capable machine to ride that comes with the extra cherry on top of being a pound lighter than when it started.  Less really is more.

Previously, when the going got steep and rough this bike had to be finessed. Now you can drive it to the line that looks like the most fun and feel confident you'll come out the other side grinning. As an added bonus we dropped almost a full pound (down to 31.1 pounds) from the older, less-capable setup. If you are mountain biker you've gotta love progress.
Hopefully this series gives you some ideas about what to update on your own ride.
Ed Snyder
There are questions out there… I can feel them.  Pop off right here about X-Fusion, your favorite product that got changed or discontinued, or upstart manufacturers in general.