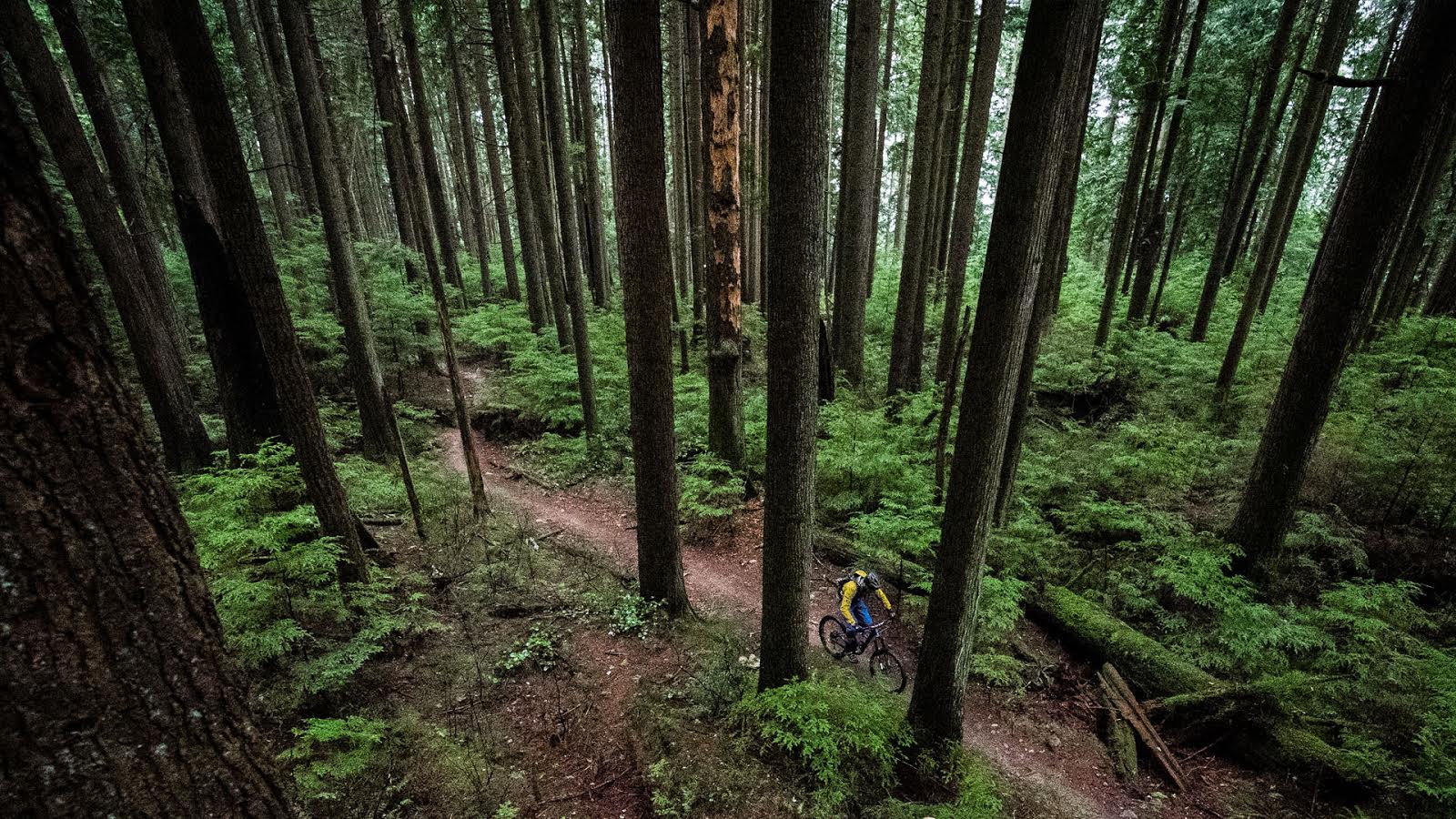 Gear Shots #61 – Norco, Race Face & Chromag
2010 Norco Vixa
Words by Sharon Bader, photos by Lee Lau
Norco introduced the Vixa in 2009 in response to a demand for a female-specific freeride bike. The bike was a hit, and it's back in 2010 with a few minor tweaks to make it more rideable. New for this year is a shorter chainstay and slightly longer toptube to improve the fit for smaller-statured female riders.
The hydroformed frame offers 152mm/6" of travel. The 66° head angle on the bike, combined with a 6"  non-adjustable fork, biases this bike towards the freeride category. It is available in three sizes: extra small, small and medium. I'm testing a medium for this review.

The 2010 Norco Vixa, all decked out for serious riding on a trail near you.
Like all full suspension Norcos, the Vixa comes with the Horst Link rear suspension. This is the Specialized patent that has the rear pivot on the chainstay, to separate braking and pedalling from the suspension.
The Vixa comes equipped with a Fox DHX4  air shock, which provides reliable Fox performance and ample adjustability for most riders. On the front, a Marzocchi 55 TST 2 air fork offers 160mm of travel. The 35mm stanchions provide reliable freeride stiffness, as well as all-mountain performance, and while the fork has a lock-out feature, it lacks the travel adjustability that you get on all-mountain forks. Kenda Nevegal 2.35" StickE tires come stock on the Vixa, and are a good choice; there's enough room in the frame for a 2.5" Nevegal, if you want something wider.

White spokes, blue nipples, and a durable drivetrain mix up aesthetics with function.
FSA Moto X Mega Exo cranks are strong and light, and are complimented by the effective Wellgo alloy flat pedals. Drivetrain components consist of the lower-end SRAM X.5/X.7 parts, which keep costs down but performance consistent. Stopping is handled by Shimano's 575 hydraulic disc brakes. The Alex DP-20 double wall rims at 490g keep the wheels light and strong. The Vixa is also spec'd with a telescoping seatpost, which makes it easy to raise the seat for climbing and then drop it for descending. Total weight for the bike is 37 lbs.
There's no mistaking that this is meant to be a women's bike. The 2010 colour scheme is eye catching, with bright blues on a black background. The pink grips are a nice touch and will appeal to many female riders. The WTB Diva women's saddle also matches the frame – a nice touch. Finally, the white spokes with blue nipples and white chain with blue accents offer some more femme fatale flash.

The visual appeal of this bike was as important as performance, if looks are anything to go on.

Some people may laugh at the flashy accents, but it shows how Norco has put time and thought into this bike for the female rider. The choice of parts and graphics are nice touches, as well. The fact that the Vixa relies on the proven design and technology as previous Norco bikes like the Six makes me think that it is going to be a solid performer as well.
The Vixa makes it possible for women to get a high-end, female-specific freeride bike that is relatively light, affordable and tough enough to do just about anything. It's a do-it-all bike for North Shore and technical riding, or the heavier bike in your quiver when you want a bike that will soften the rough edges of a free ride trail. Stay tuned for the full review after I've had a few months to abuse the Vixa and see whether it lives up to its promise. MSRP for the Norco Vixa is $3,385.

The author heads down the trail on the Vixa, ready to tackle whatever she comes across.
Interested in a video on the Vixa? Check out this link: Norco Vixa Gear Shot – NSMB.com from Lee Lau on Vimeo.
---
Race Face Sixc crankset and handlebar
Words and photos by Stuart Kernaghan
All-mountain is where it's at these days when it comes to mountain biking. Five and 6" bikes that climb without killing you but can still descend quickly through the rough stuff are the largest segment of the mountain bike business, and just about every company is looking to tap into that market. It may be with bikes, with riding gear or components, but everyone wants a piece of that sweet, sweet all-mountain pie. 
Although components specifically designed for the all-mountain market aren't a new thing, carbon fibre AM parts have been rare thus far. And until now, there was no carbon fibre crankset specifically designed and built for AM riding. Race Face has changed that with the introduction of its Sixc bar and crankset – Sixc (the "c" is silent) taking its name from the 6" bikes that make up the lion's share of the all-mountain market.

The Sixc crankset doesn't use the standard woven carbon fibre outer layer. That doesn't make it any less sexy.
The Sixc cranks are a marvel of engineering designed and built just east of Vancouver at Race Face HQ. I asked to take pictures of the manufacturing process, but it's top secret. Race Face marketing manager Julian Coffey said that other manufacturers are so interested in learning how these cranks are built that they're buying sets and then cutting them apart in an attempt to figure out the moulding process.
Like many crank arms, the Sixc arms are hollow. Unlike other carbon cranks, however, there is no internal aluminum spine around which the carbon is wrapped. The RF engineers figure that this process gives the best combination of strength, weight and stiffness for this application and have ended up with a crankset that is actually as strong as the Atlas AM cranks.
Technical specs of the cranks are about what you'd expect from a high-performance drivetrain component (carbon or otherwise): 3mm of chainline adjustability to deal with complex full suspension frame designs or chainguides; and co-moulded pedal and spindle inserts that are also mechanically locked into place. Race Face says that their unique bonding process ensures that these metal inserts will never loosen or creak.

The backside of the driveside crank. It looks a lot like most other cranks, but there's a lot going on underneath the surface.
The bottom bracket spindle is a piece of CNC-machined cro moly steel that is permanently moulded into the driveside crank arm. It ain't goin' nowhere, as some friends from the South might say. That also helps with power transfer, which is a good thing.
Sixc cranks are available in several flavours: double ring with a bashguard, the (old-school?) triple ring set-up or triple with a bash guard. Sixc cranks are available in 170mm and 175mm lengths, and are designed for 68/73mm bottom bracket shells. They're available in four chainring combinations: 22,32,44; 22,32,44 and a bash ring; 22,32 and a bash guard; and 24,36 and a bash guard. Cranks are installed and removed with an 8mm crank bolt puller; chainring bolts are alloy Torx hardware.
After long-standing issues with bottom bracket durability, RF also tricked out that part of the package. The new BB bearings use a new custom triple wiper seal to hold on to the grease better than before and keep the gunk out. They're packed with Phil Wood waterproof grease to ensure many happy miles of low-friction spinning.

Hopefully, this new bottom bracket is able to withstand B.C.-style abuse and moisture.
Arguably the two most important numbers when it comes to these cranks are weight and price. The triple ring 175mm set-up weighs in at 760g. And it costs US$669. To put that into context, a Shimano XTR triple crankset weighs 770g and the MSRP is $675. In other words, the Sixc crankset is a light-weight premium product with a load of technology. And that doesn't come cheap.

The Sixc crankset mounted and ready for action. Note the rubber caps on the end of the crankarm, to protect against damage from trail obstacles.
The Sixc bar was produced to compliment the cranks. It uses Race Face's specially designed composite material, laid up in a pattern that provides super high strength while still being very light. Aesthetically, it's a very nice compliment to the Sixc cranks, with matching finish and decals.
It's 725mm wide, and comes with reinforced clamping zones for your fancy lock-on grips. You get 9° of rearward sweep and 4° of rise on the Sixc bar, and 20mm of rise. Clamp diameter is 31.8mm, as you'd expect, and weight is a light 225g. Unlike some carbon parts, the finish is matte instead of carbon weave. MSRP for the bar is US$130.

The Sixc carbon bar. There's not a lot to show with a bar, but it's smooth, sleek, and plenty wide for AM use.
I've always been a little leery about carbon bars, but speaking with Coffey put my mind at ease. These bars are rigorously tested for strength and durability, and the company even goes so far as to conduct daily destructive testing. That means they grab a bar out of the day's production run and test it until it breaks. Without getting into a long discussion on destructive testing, everything can be broken. Deciding what is an acceptable breaking point for these bars, and having all of them break at or above that point, ensures they are well built and strong enough for all-mountain abuse.

The new RaceFace Atlas AM stem holds the Sixc bar snugly, and provides a stiff connection between bike and bar.
Normally, cranksets don't get an extended test here on nsmb.com. They're pretty straightforward kinds of things – either they work or they don't. The Sixc is a bit of a different beast, though, so the crankset and bar are going to get an extended beat-down.
They're new products and expensive ones at that, so in the name of good mountain bike journalism, I'm willing to play guinea pig for you. Check back in a few months to see how much damage one rather large rider has inflicted on these gossamer wings of carbon.
---
Chromag Bikes Seat Collar QR
Words and photos by Stuart Kernaghan
Chromag produces a range of products, several of which we've profiled before on the site. Since then, Ian Ritz, the man behind Chromag, refined the company's seat collar quick release for the better, so we thought it would be a good idea to shine some light on the new model.
The Chromag seat collar QR uses a machined brass insert that sits between the lever and body of the clamp. It's that insert that the lever itself cams over on. The brass insert works one hell of a lot better than the plastic or soft aluminum parts on many seat collars. The QR is very smooth, thanks to the brass insert, and it's much, much more durable than other materials.

The Chromag seat collar quick release, in black ano. The brass insert, at the end of the lever, is the secret to its goodness.
Also revamped is the QR lever, which gains some length for additional leverage; a 6mm bolt is used to adjust tension. If you're tired of your seatpost slipping, get one of these QRs and your problems will disappear. Instantly.
CNC polishing makes for a smooth feel, while hard anodizing preserves the finish. You can choose from black, pewter, red, gold, blue or green colours to match your other Chromag parts. Collars are available in common seattube diameters (many freeride and all-mountain frames will use the 35mm size shown here); check with your Chromag dealer for the full range. The solid construction results in a QR that is 50g, so weight weenies should look elsewhere.
The $50 price tag may seem a bit steep for a seat collar QR, but it's solid, it works well and you can bet that you'll have moved on to a new frame long before this collar ever packs it in. Last but not least, it also has that special Chromag je ne sais quoi, and you can't put a price on that.
Like what you're seeing here? Got questions about the bikes or cranks? Head on over to the boards.