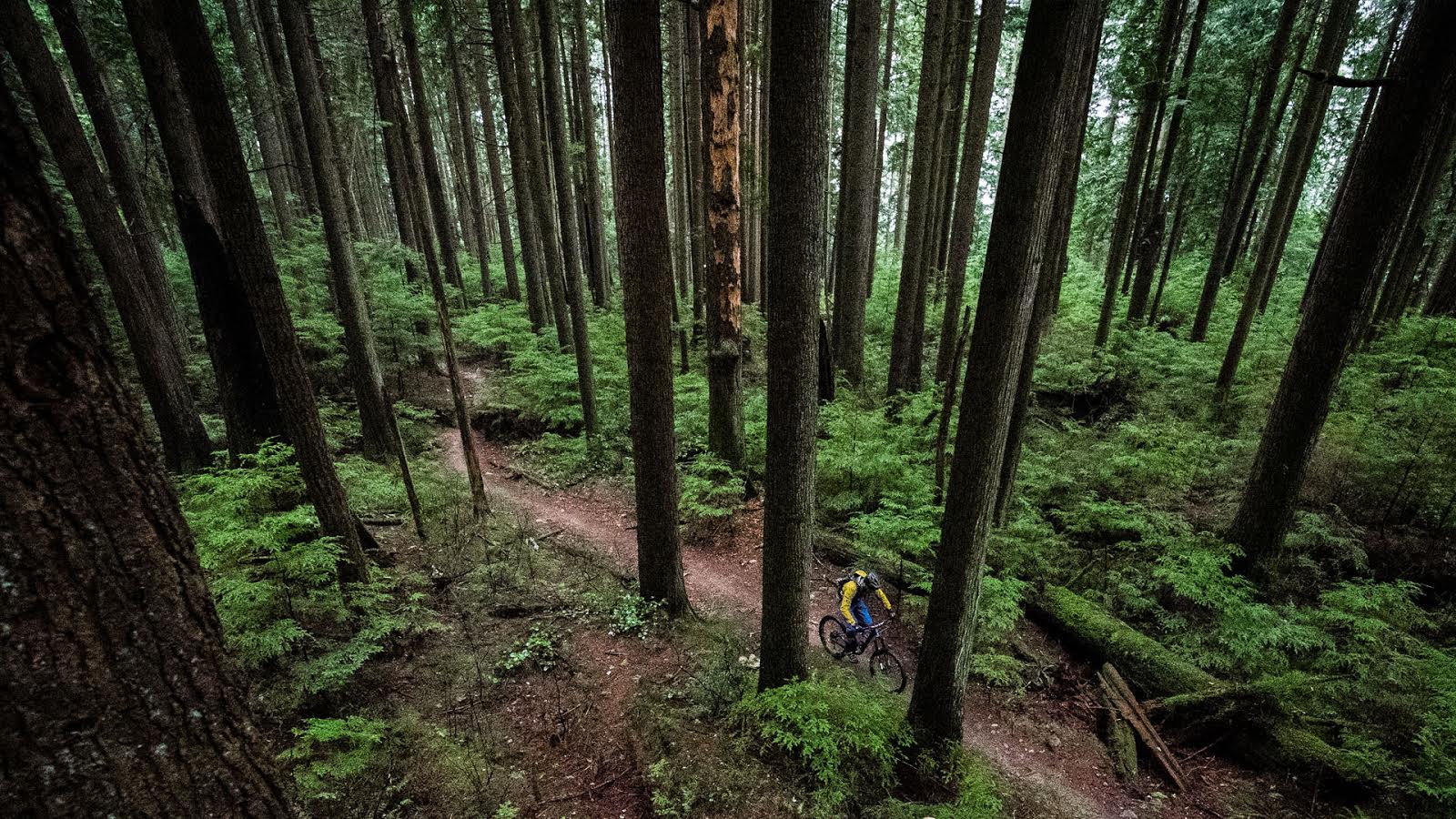 Digging with Digger
When I first started building Air Supply over a decade ago I didn't have a clue how to use the natural surroundings to make a trail happen. I apprenticed under the two builders that made the Shore and Shore-style riding what is: Digger and Dangerous Dan. I spent hours working with Dan on Circus learning how to work with the wood that the forest offered. I pestered Digger any chance I got for ideas on how to move water off the trail, make boxed transitions and how to solve the many problems that kept coming up during building. Sometimes my fellow builders, Brent Upson, Eamonn Duignan and I would luck out and Digger would have built something on the trail for us.
   Digger planting ferns around a new section on King of the Shore. He works so fast the camera can't focus. Part of Digger's philosophy is to narrow the trail wherever possible and to keep things looking green.
Fast forward to present and I am working on the complete opposite of Air Supply's triple black diamond difficulty rating by smoothing a little trail on Fromme called King of the Shore (KOTS). The idea was to turn this trail into a true beginner trail on Fromme that was easily accessible for novice riders.
   The rotten log bridge is out and a new drainage-enhanced widened route is in.
Full self-interest disclosure is necessary at this point. I live about 5 minutes from the trail's end and I use it as an uphill on a regular basis. My 7 year old son and his buddies use it as a downhill (they call their gang nsmb.grom).
    Junior Hansen, Nsmb.grom rider, railing the extension of the bridge near King of the Shore's exit.
With a little financial help from our friends at Mountain Equipment Co-op I began last fall by walking through the trail with North Van District park ranger Graham Knell. He loved the idea of making it a beginner trail as it had not been maintained in years and Fromme was sorely lacking in the easy trail category. He gave me a permit and dropped off a huge pile of yellow cedar that had been milled from telephone poles.
    Yellow cedar re-claimed from telephone poles compliments of the DNV.
What a bonus that was since it takes so much time finding and milling cedar from the forest. I have been picking away at the trail whenever I get time. A few weeks ago I ran into Digger and he wanted in on fixing the trail up. This is the equivalent of a lottery win for a trail builder. The man, the myth, the legend wants to help on my project! I said maybe – yeah right, I said let's do it now. He was busy with his Ladies Only re-furbishment project and agreed to start when he got a chance. I am taking my master's degree right now (hence the slow picking away at the trail). One of the courses I am taking talks about people with two kinds of mindsets: growth mindsets and fixed mindsets. The growth mindsetters love challenges, they stretch and develop themselves, produce exceptional amounts of effort and are always looking for new ways to learn and tweak what they know. Fixed mindsetters are afraid of challenges, worry what other people think and want immediate success. Digger is definitely a growth mindsetter. He has taken building trails to a new level, experimenting with building techiniques that enhance trail longevity and rider experience. I am excited to have his work on the KOTS. He also likes the idea of working the trail he helped build years ago.
    The sad and messed up second corner is now happy and smooth.
The project should be completed by late spring and ready for the uphillers and novice downhillers. Uphillers beware – even though it is smooth it is still granny gear friendly. Parents of juniors, you might want to wait til it is done as there are some spots the groms aren't going to like.
---
Have you ridden King of the Shore lately?  Do you know its history? Have you cleaned the climb?  Clean up here…