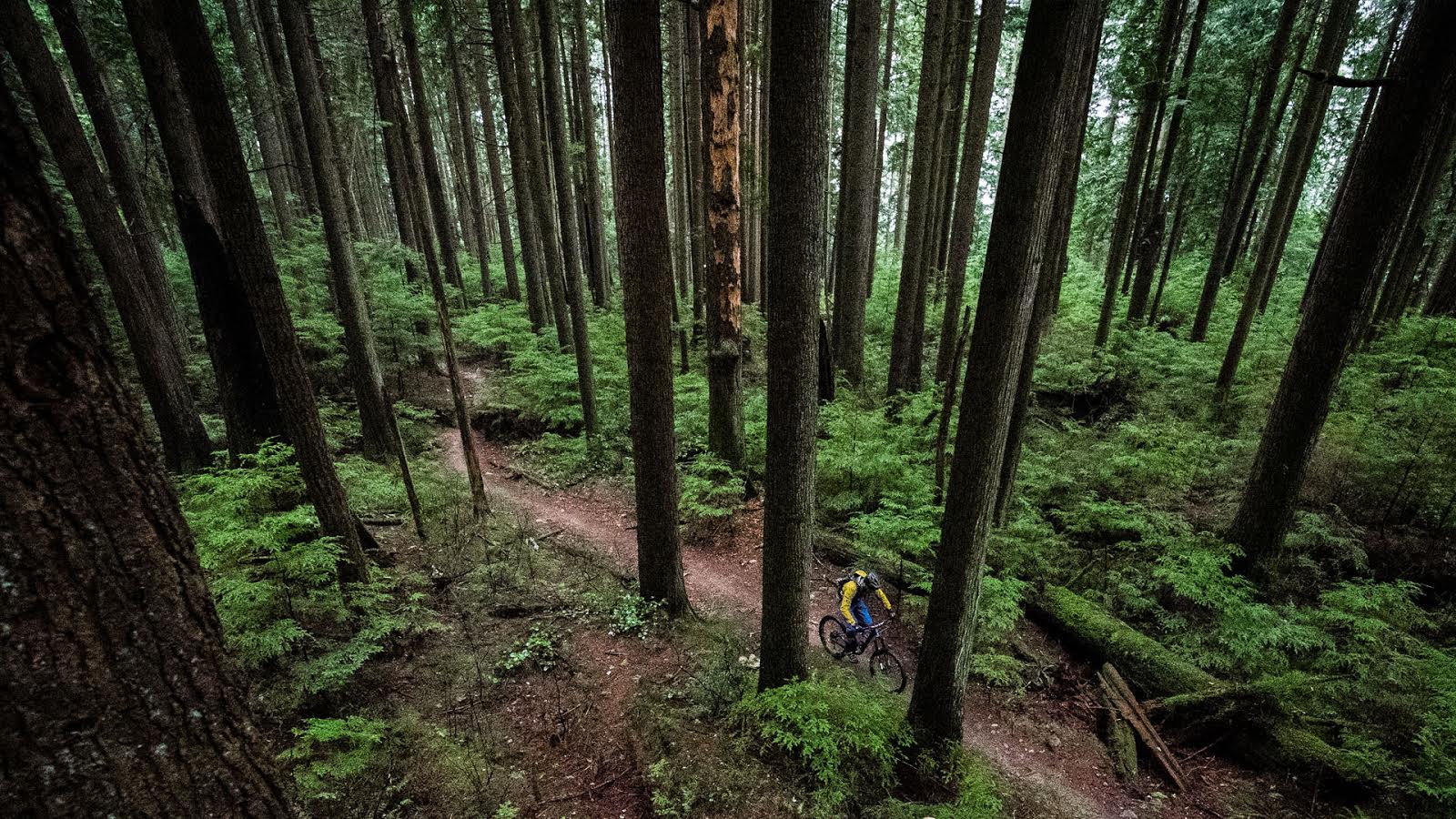 Okanagan Summer Sampler
Old school but still tasty and easy to drink
We arrived at Sun Peaks, after our adventures of the previous day just in time to check into the Hearthstone Lodge and grab dinner at Masa's Bar and Grill.  After dinner, Steve Crowe, who lived on the mountain for a year, gave us a quick walking tour of the village, and what a nice village it is!  "European Ski Village" definitely comes to mind as you walk around the very neat and tidy base area.

  BRAAAP – Chayse Marshall scrubbing at Sun Peaks – oblivious to Andrew's mancrush.
The next day we were met for breakfast at Mantles in the Delta by Melanie Simmons, the Media Relations Specialist with Sun Peaks Tourism. She had made all the arrangements for the day, including hooking us up with a pretty stellar group of locals to act as tour guides.  Included were Chayse Marshall, Dylan Sherrard and Paulo Valle who was spending the summer at the mountain away from his native Costa Rica.  As luck would have it, Matt Hunter was able to join us also as another group he was supposed to meet were running a little late.

  Matt telling a good story about surf trips in Central America.
Now, a moment of reflection here.  I will have to admit to being a little bit of a fan boy who has probably watched the entire Collective series a few times too many.  Seeing Matt in person was a little intimidating at first, and I had to try not to be too self conscious.  However, after talking to him for a while, you begin to realize that he's probably one of the most laid back guys you could meet. He just happens to kick ass riding a bike.

  Andrew Gower going sort of fast at Sun Peaks.
With 39 runs and 1,954 ft of vertical, Sun Peaks is one of the biggest mountain bike parks in the province.  One of the things that really impressed me was the amount of maintenance; all of those trails and they are all well looked after.  We even had a sneak peak at some new wood work that was partially finished, and it was burly, solid looking construction.  The park opened for riding June 27th and the season finishes September 27th with lifts running from 10:00 am to 5:00 pm daily.  Fridays you can ride until 7:00 pm in July and August, and from September 7th to the 27th the park is only open Friday's and weekends.

  Dylan Sherrard knows how to pin it at Sun Peaks.
For our first run, we headed down Mach, a steep, fast and loose intermediate trail.  Unfortunately, I managed to fall off a small rock drop at the first road crossing in front of the entire group! Doh!  After that, we pinned it down part of Home Run and then transferred onto Arm Pump.  The loose steepness and knar had me feeling a little intimidated, especially hitting these trails for the first time with some wicked fast riders.  

  Chayse airs out his shirt.

On the way up the chair for our second run I ended up sitting with Matt and Paulo and got to listen to Matt tell a pretty funny story about this Toyota van he and some friends had driven to Central America and back not once, but twice.  Someone they lent it to didn't know the pay off the border guard routine so the vehicle was confiscated.  Turns out it only cost $350, so it would seem they got their money's worth.  For our second run we hit Steam Shovel and ended at the 4X Course.  Now, this is the only real "jump" trail on the mountain, and it was fast and fun with a variety of jumps.

  Matt may be 'that guy from the Collective' – but he's also as approachable as they come.  And did we mention fast?

Three days of hard riding and road tripping had me starting to feel blown so Dylan, who had a beat up shoulder, agreed to show me a couple of different blue runs.  We headed off down Mach again, and linked it up with Gummy Bear to Home Run.  Speed was the name of the game on that run.
After lunch, our tour guides headed off for other things and we all decided to try a run down Sugar ending up on Arm Pump again.  With lunch in me, and some more stretching during the break, I was finally starting to get my groove on!  I really enjoyed Sugar – a fast, tech advanced trail with a whole bunch of wood stunts and features.  Hitting Arm Pump again was even more enjoyable, as I knew what to expect this time and could ride with a lot more confidence and speed.  That is until I got a freakin pinch flat on the last section of trail.

  Chayse using home field advantage. 
While the rest of the crew headed up for another run, I changed my flat and then waited at the bottom for our last run of the day.  This time the plan was to hit the DH course, and finish on Arm Pump again.  I tell you, that DH course was steeeep – and sustained, long straight sections of steepness.  You can just imagine the elite level Dh racers letting it all hang out and going down those lines at mach chicken.  Arm Pump was even more fun by this point, and it actually felt like I was beginning to flow the trail a little.  That us until…yup….you guessed it, another pinch flat – in almost exactly the same part of the trail!  I didn't know up to that particular moment in time that I was so good at throwing 47 lb free ride bikes!  GAHHHHHHHH!!!  A quick hike down and my day was over.
After that, it was all clean up, pack up, quick swim and a barbecue at Steve's parents house in Kamloops (thanks!) and then back down to the Fraser Valley.
BUT…
I'll be back.  Road tripping the Okanagan, even the short trip we got to do, was awesome.  I've already been telling all of my riding buds that next summer we are all taking a week off, hitting Silver Star for a couple of days, getting a house boat for a couple of days and then finishing up at Sun Peaks.  I can't wait.
For more information, click on the following links:
Sun Peaks
Hearthstone Resort
---
Now that Andrew's summer sampler has been poured down our throats – so to speak – I'm keen for summer to hurry up and arrive.  Itching for sun, dust, berms and Okanagan air.  Summer plans coming together?  Okanagan or other trips coming together?  Questions for Andrew?  Rip it up here…